June in Valencia unfolds like a sunlit tapestry – with warm & sunny days, buzzing festivals, and stunning holidays. Undoubtedly, it's one of the best times to enjoy the Valencia weather. June offers us nearly perfect weather and a joyous start to the summer. Come visit Valencia in June and discover why it's one of the best months to enjoy the city.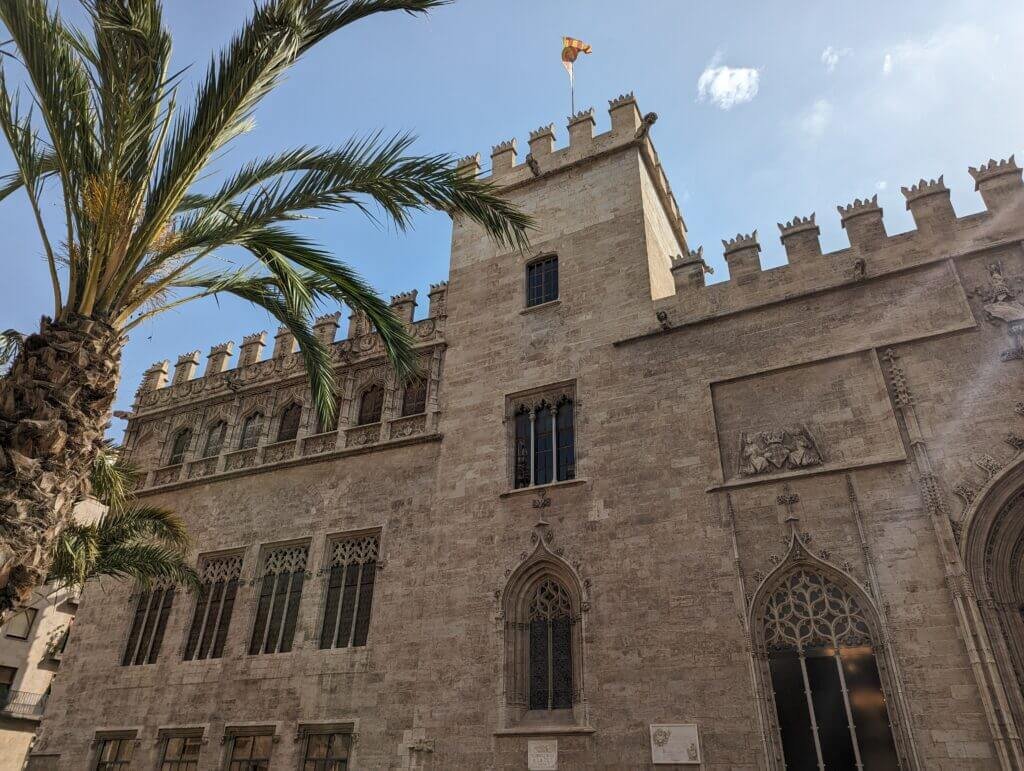 Is June a Good Time to Visit Valencia?
Absolutely! June ushers in the peak of summer, painting Valencia with a vibrant palette of sun-soaked days and music-filled evenings. Valencia in June is bright, sunny, and full of summertime festivals.
So unless you are a full-time summer hater, then June is one of the best times of the year to visit Valencia.
But let's go over the pros and cons of visiting Valencia at the beginning of summer:
Pros
Warm and inviting weather with average highs of 27.1°C (80.8°F)
Great beach time with an average sea temperature of 21°C (70°F).
Music festivals and the unique Sant Joan holiday
Long days with an average of 271 hours of sunshine – perfect for outdoor activities.
Cons
An occasional heat wave is possible
Tourist season is picking up, so lines are getting longer
As the city embraces the warmth of summer, let's dig into the details about the weather in Valencia in June, all the events taking place, and some top tips for your holiday. 
Valencia Weather: June
Valencia in June presents plenty of sun-soaked days and pleasant evenings. Lower wind speed and pleasant weather conditions make this a great month to visit.
The days are getting longer, with more average daily sunlight and fewer clouds. With a 78% chance to have a perfectly sunny day – cloud cover won't ruin your Mediterranean adventure.
Temperature
Valencia in June brings warm days and pleasant nights, making it the perfect time for outdoor adventures. The average temperature tends to make it one of the most beautiful times of the year.
Average highs of 27.1 °C (80.8 °F)
Average lows of 18.6 °C (65.5 °F)
But that warmer weather also means you need to be prepared. Bring sunscreen and a hat, especially if you're unable to spend time in the shade. That Mediterranean sun is no joke.
When it comes to the Valencia weather, June only offers one problem: the occasional heat wave. With record highs of 38.2 °C / 100.8 °F, it's possible to get some staggering temperatures.
Note: Want to support sustainable travel? Make sure to filter for hotel options with eco-friendly practices.
Rain
June showers are rare in Valencia.
With an average of 29mm / 0.9″ of precipitation and only 3 rainy days, it's unlikely you'll have to worry about bringing an umbrella.
In the early parts of summer, Valencians are more worried about droughts than ruined beach plans.
Note: The most likely time for a rain or cooler days is the first week. In Spanish, there's a saying: Hasta el 40 de mayo, no te quites el sayo (Until the 40th of May, don't take off your winter tunic).
What to Wear in Valencia in June
Dressing for Valencia in June is all about embracing the sun and staying cool. If you're ready to enjoy the summer Valencia weather, June is prime time for you. Here's what you should pack:
Light and breathable clothing
Swimsuit
Sunglasses and a hat
Comfy shoes and beach sandals
A light cardigan for the evening
Enjoy the warm summer days and refreshing evenings. July and August start getting a lot warmer, so enjoy one of the best times of the year to visit Valencia.
What to Do in Valencia in June
June in Valencia is one of the best times to enjoy everything there is to do in the city. But this summer month also offers some extra special events you won't get to see any other time of the year.
So if you have the opportunity to come to Valencia in June, I highly recommend it. Here are some of the best things to do in June:
Sant Joan
Called Saint John in English and San Juan in Spanish, this holiday marks the arrival of the summer solstice.
Even though it's officially a Christian holiday, celebrating the birth of Sant Joan, the most famous celebrations throughout the Valencian Country are remarkably pagan.
In Valencia, it's a vibrant night filled with music, fireworks, and bonfires at the beach. During La Nit de Sant Joan, people build fogueres (bonfires) on La Malva-rosa beach and party through the night.
Some people say that jumping over the bonfires brings good luck, while others say that you have to jump over a certain number of waves in the sea – backwards!
In either case, this is one of the most exciting holidays in Valencia. June lets us celebrate the beginning of summer with an all-out party that you won't want to miss!
Note: The celebration takes place on midnight of June 24th. In other words, it begins on the night of the 23rd and continues into the 24th.
L'Orgull
Valencia continues to host one of the largest pride celebrations in the world each year. Spain is one of the best countries in the world in terms of LGBTQ+ rights, and Valencia's Orgull is there to continue the fight for progress.
You'll see parades down Carrer de Colom and past the Plaça de l'Ajuntament. The City Hall Square will also host an all-night concert to celebrate the spirit of diversity and inclusion.
So if you're in Valencia in June, make sure you take part in the city's pride festival. Come enjoy the lively atmosphere filled with colors, love, and drag queens. And don't forget – the parades and parties are a joyful celebration, but at its heart – Pride is a fight for freedom.
Note: While June brings L'Orgull in Valencia, Spain hosts pride events throughout the entirety of summer.
Corpus Christi
60 days after Easter, Valencia celebrates the Corpus Christi. The city becomes absolutely filled with flowers and intricate arrangements.
The holiday originated in 1263, celebrating the spirit of convivència (coexistence) within the Valencian society.
For me, the most exciting part of the festivity is seeing Les Roques. Les Roques are intricate wooden carriages that are centuries-old, depicting mythological creatures and religious motifs.
Here are some of the events during the Corpus Christi:
El Capellà – Mounted priests that invite people to commemorate the festivities.
Les Danses – Tons of symbolic, storytelling dances that you need to see for yourself.
Nanos i Gegants – Small and Giant statues that are danced around in celebration.
La Poalà – Members march through the street and have water thrown on them from balconies, but they'll attack back!
Les Roques – The triumphant carriages are marched through the city, just as they have every year for the last 7 centuries.
La Processó – A solemn procession of biblical, symbolic, and royal characters.
Music Festivals
Thanks to the perfect Valencia weather, June brings a medley of music festivals across the city.
So if you have extra time to spend during your time in the city, then make sure to check out some of the outdoor music festivals that help make Valencia in June a summer paradise. You'll find festivals in the Turia Gardens, City of Arts and Sciences, and the beaches.
Here are some exciting festivals that repeat every year.
Big Sound Festival – The largest in Valencia
Festival de les Arts – An indie music festival in the Ciutat de les Arts i les Ciències
Mar i Jazz – A jazz festival near the beach
Tips for Traveling to Valencia in June
If you're coming to Valencia in June, then there are a few things you should keep in mind to make sure your experience is unforgettable:
Bring Sunscreen: Seriously, don't skip this one. Even in a shaded park, you'll still want sunscreen and a hat.
Drink Plenty of Water: Make sure to stay hydrated. You can stop at small fruit stands for water, but it's cheaper to head into a grocery store like Consum, Mercadona, or Carrefour Express.
Stay as Long as You Can: Valencia in June is one of the best times of the year. Make sure to come for at least 3 days to make the most of your trip!
Not Everywhere Has A/C: While hotels definitely won't be a problem, a lot of restaurants won't have air conditioning. So be prepared to enjoy the outdoors and dine a la fresca.
Need more tips for visiting the city? Make sure to check these out:
Is Valencia Worth Visiting in June?
Absolutely! Valencia in June is a perfect blend of summertime festivals, traditional celebrations, and outdoor experiences.
The weather in Valencia in June is unbeatable, with warm and sunny days. You'll start to come across longer lines because the tourist season is starting – but it's absolutely worth it. 
Book early
By the way, don't forget to book your hotel early. June is the beginning of tourist season, so hotels in the city center get filled up fast. 
Bon viatge!
FAQs
How Hot is Valencia in June?
June in Valencia has warm days and pleasant evenings, with average highs of 27.1°C (80.8°F). But since the city welcomes in the summer, there is the risk of a heat wave.
Can You Swim in Valencia in June?
Yes! The Mediterranean Sea's average water temperature of 21°C (70°F) makes for a great time to enjoy refreshing swims. The water is a bit chillier than in August, but after some sunbathing, you won't mind!
How Many Days in Valencia Is Enough?
Spending 3 days in the city is usually ideal for a quick immersion into the city.