Planning on coming to Valencia in January? It might not be prime beach time, but this Mediterranean city will make sure you're starting off the year the right way. Keep reading to find out what there is to do and what to wear to handle the Valencia weather (January edition).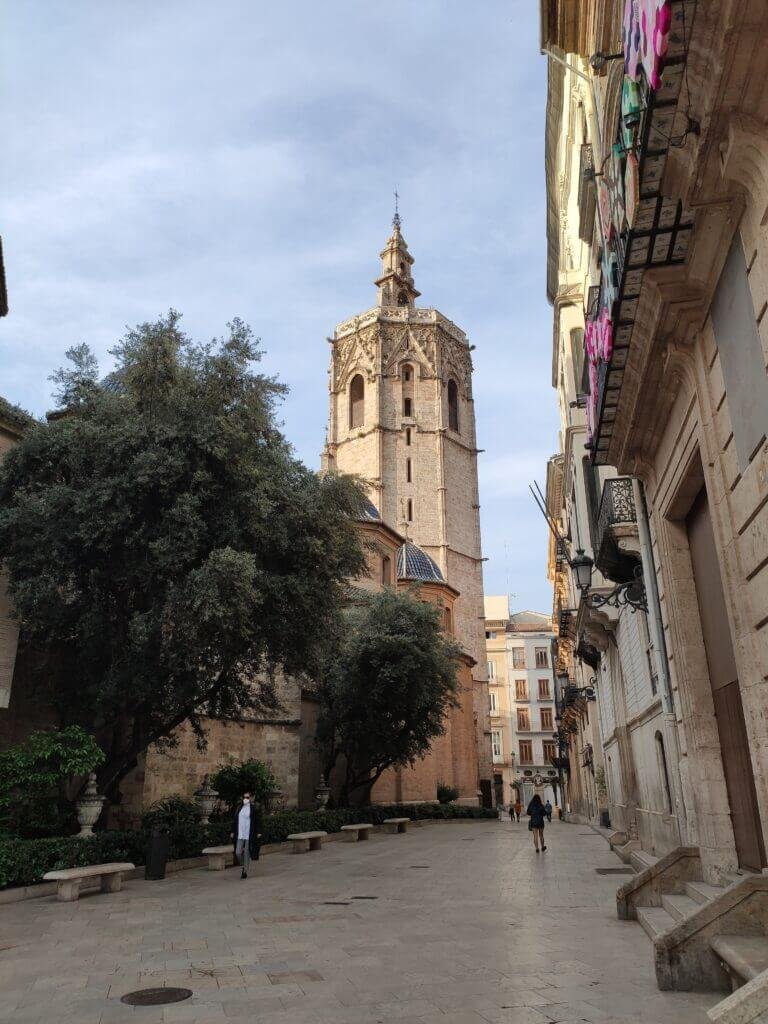 Is January a good time to visit Valencia?
January is a great month to visit Valencia. Thanks to the Mediterranean climate, the weather is relatively mild in the winter. If you're coming from up North – you'll probably find Valencia in January to feel like fall.
It's also a much cheaper time to visit since you'll be in the off-season, which is a big plus for budget travelers. And despite the colder temperatures, there are still plenty of things to do. 
But there are a couple downsides to traveling to Valencia in January. Let's look at some of the pros and cons:
Pros
Cheaper hotels and flights
Less crowded
Mild winter (highs of 16.4 °C / 61.5 °F)
January festivals and events
Cons
Coldest month of the year
Fewer hours of sunshine
Bad time for the beach
Some restaurants may be on holiday
So let's dive into why traveling to Valencia in January might be a surprisingly great option.
Valencia Weather: January
Overall, January in Valencia isn't nearly as terrible as some other popular travel destinations like Madrid.
Thanks to the Mediterranean Sea, the temperature stays relatively mild and it's practically unheard of to see snow in the city. Compared to the northern and central parts of Spain, this makes Valencia in January practically a paradise.
But don't pack your bathing suit just yet. Let's dig into the details so you know exactly what to expect and wear.
Temperature
According to Spain's weather service AEMET, Valencia in January tends to have highs of 16.4 °C / 61.5 °F during the day.
So if you're coming from the North – then this might sound like a pretty warm "winter".
On average, the city has lows of 7.1 °C / 44.8 °F. And as of now, the record lows have been -2.6 °C / 27.3 °F.
In other words, you can't complain too much about the Valencia weather. January might be the coldest month, but even then – it's nothing a winter coat can't fix.
But the water temperature stays around 13 °C / 56 °F – so swimming in winter isn't really recommended.
Rain
Valencia in January tends to be a lot cloudier, and has more rainy days than in other parts of the year. But with 4.4 days of rain in January, the entire month only gets an average of 1.5" of precipitation (37mm).
This means that it might occasionally drizzle, but it's unlikely that your entire trip gets ruined.
With only 171 hours of sunshine, it's definitely not the brightest month of the year. But if you're looking to enjoy some museums and get a brief respite from a colder home, then January is a good month to travel to Valencia.
But besides all this, in my opinion, the worst part about the Valencia weather: January has a 63% humidity percentage. This means it might feel colder than it actually is.
So let's talk about what to wear in Valencia in January so that you can enjoy the Cap i Casal – even in less-than-ideal weather.
What to wear in Valencia in January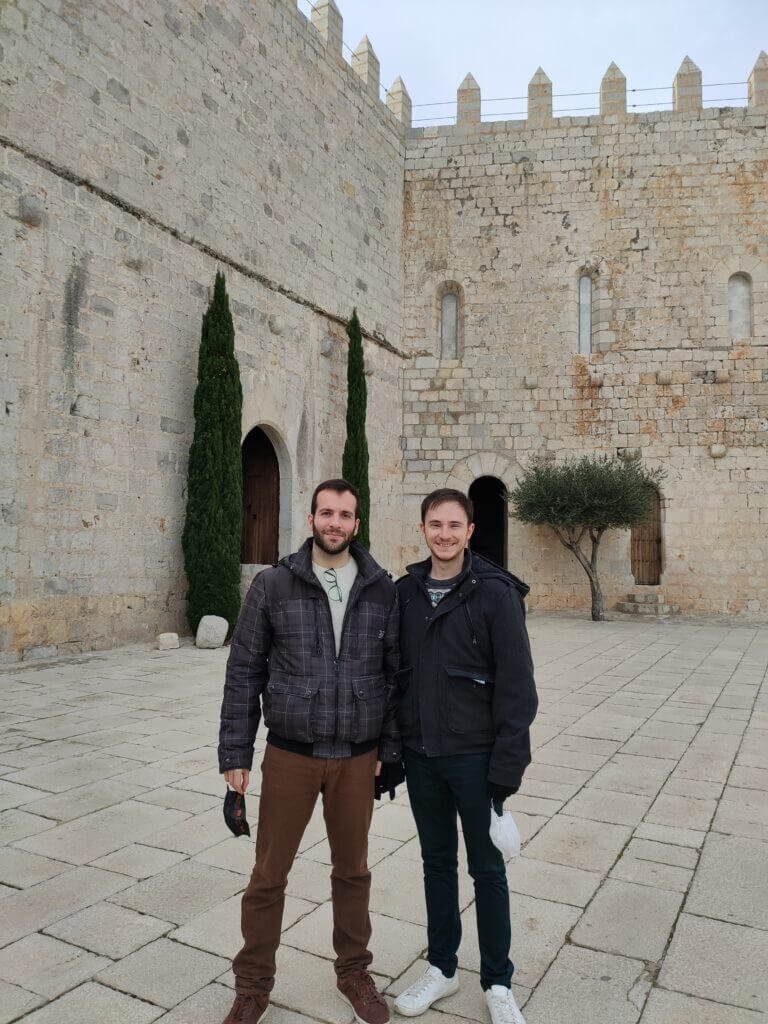 Want to know how to spot a tourist in Valencia in January? Just look for someone who isn't wearing a winter coat.
Since it can get up into the 60s °F (the high teens for °C) – it's common to see tourists not wearing a coat.
But Valencians aren't built for the cold weather. So you'll see most locals decked out in their winter wear. And considering it can be relatively humid, it's not a bad idea to wear some extra layers.
So here's my suggestion – bring a thick winter coat.
You can skip the thermal leggings and you might be fine without any gloves, but it's better to be prepared and have a winter coat. Especially if you plan on enjoying your time outside, don't be afraid to pack a little heavier.
Here's what to wear in Valencia in January:
Thick winter coat
Comfy sweater
Warm pants
A scarf
Shoes with good insulation
You might get away with just a thick sweater during the day, but you'll absolutely need the coat when the sun goes down. And I suggest packing a pair of boots, especially in case you run into a rainy day.
What to do in Valencia in January
Something you'll learn quickly – locals aren't afraid of the Valencia weather. January might be the coldest month, but that doesn't stop anybody from heading outside and enjoying the city.
January has a couple traditional holidays, plus events and festivals that change every year. So even though you're coming for 3 days in the off-season, don't be surprised to find locals braving the cold and enjoying their dinner outside. 
So here are the must-see events and best things to do in Valencia in January. 
Celebrate Els Reis Mags
On January 6th, Valencia celebrates one of the biggest holidays in Spain. Els Reis Mags (The Three Wise Men) start off the year by bringing parades, candy, and lots of presents.
Els Reis Mags (the Day of Epiphany / Three Kings Day) is generally more important than Christmas here. While people also celebrate the Christmas holidays, Jan 6th tends to be a more culturally significant day.
There will be a huge Cavalcada (parade) that goes from the Passeig de l'Albereda up to the Plaça de l'Ajuntament. You'll see lots of costumes and music, as well as Melchior, Caspar, and Balthazar throwing out candy.
So even if you aren't able to see the Christmas lights in December, January in Valencia is a great month to keep that holiday spirit going.
Note: The holiday has lots of names. You'll see it called Els Reis Mags, Els Reis d'Orient, Reis, or Reixos in Valencian. In Spanish, it's typically called Los Reyes Magos or Reyes.
Enjoy The New Year
Want to celebrate the New Year somewhere where you won't be freezing to the bone? Come party through Cap d'Any in Valencia.
Valencians (and the rest of Spain) count down the New Year by eating 12 grapes. And at 1 grape every 5 seconds – it's actually more challenging than it sounds! So embrace a new way to celebrate and enjoy the fireworks. And believe me, the city known for Les Falles knows how to do fireworks.
Then head to El Carme or Russafa for the best places to party.
Festivals
Since many people are on vacation up until January 7th, you'll find lots of different festivals and events.
Like I said, people aren't going to be stopped by the Valencia weather. January often hosts concerts, fairs, and smaller festivals.
While these festivals aren't official and sometimes get changed up, there's a good chance you'll be able to get some seasonal fun. And if you come in the first week of January, Valencia still has its Christmas markets up.
So check out the local events and don't let the weather in Valencia in January hold you back!
Travel with fewer tourists
Naturally, one of the best reasons to travel in January – fewer tourists.
Valencia is a completely different city in the off-season. It's more relaxed, there are fewer crowds, and you get a much more authentic experience.
So if you come to Valencia in January, I highly recommend taking advantage of the lack of tourists.
Try out some restaurants that often get fully booked
Enjoy almost no lines to museums and attractions
Check out which attractions have lower entry fees
Get the perfect selfies without any crowds
From heading to the top of the Serrans Towers without pushing through people to getting a crowdless photo of the Ciutat de les Arts i les Ciències – enjoy your time. Because Valencia in January and the city in August are like night and day!
Dine in a heated terrace
Something you have to know about Valencians – they love their terrasseta. Spending time outdoors with friends and enjoying the Mediterranean sun is a quintessential part of life here.
And that stays true even if they have to deal with colder Valencia weather. January temperatures go down to 7.1 °C / 44.8 °F at night, but that doesn't stop people from having dinner on the outside patio.
Luckily, most restaurants have outdoor heaters to help you bare the cold weather. To be fair, it might not be the most ecological choice, but some restaurants have almost no indoor seating to begin with.
Because if you're in the sunny Mediterranean, who wants to eat indoors? So if you're coming to Valencia in January – blend in with the locals by embracing the outdoors.
Shop during Rebaixes
If you're a shopaholic (or just a Zara lover), then coming to Valencia in January might be a great option for you.
In Spain, just about every store will have a winter sale season in January, starting on the 7th.
Rebaixes (in Valencian, Rebajas in Spanish) is the name for the sale seasons. This means you'll usually get really great prices. And not just with Big Name brands, remember local and eco-friendly stores will have discounts too!
So if you didn't listen to my advice earlier – this is the perfect opportunity to snag a winter coat. Or if you purposefully came to the city with an empty suitcase, then you're in luck.
Besides, if you're shopping – who cares about the Valencia weather? January might be chilly, but you can always go down El Carrer de Colom and head into some stores to warm up.
Travel tips for Valencia in January
Not afraid of the cold Valencia weather? January is a great time to come then. To make the most of your trip during the Valencia winter, here are a few tips you should keep note of:
Bring a winter coat
I mentioned it before, but – really. The temperatures don't drop down strikingly low, but if you're traveling to the city, you'll be outside all day. And it's better to be prepared and have a thick coat when you need it.
Check opening hours
The opening hours for stores, museums, and restaurants are going to be completely different in the winter. Valencia has some smaller restaurants that may go on vacation during January. But there are also some museums that offer free visits during the winter months.
So make sure you pay attention to the winter schedule when visiting Valencia.
Use the public transport
If you're afraid of the cold – then take advantage of the public transport options. This will help you get out of the cold Valencia winter weather and let you enjoy some heated public transport. Both the metro and the buses are really easy to use, so I highly recommend taking advantage of them.
Is Valencia worth visiting in January?
Yes – it's definitely worth visiting Valencia in January. The temperatures aren't too cold, and there are lots of things you can do while enjoying those little bursts of the winter sun. 
The first week still has the Christmas Markets up, and the rest of the month you can visit famous landmarks like the Llotja Silk Exchange, the Mercat Central (El Mercado Central), and the Science Museum.
So if you're looking for a more mild winter getaway, then Valencia is a great option. And considering the flights and hotels are much cheaper, it's a great time of the year to visit.
FAQs
Is Valencia sunny in January?
Valencia has 171 hours of sunshine, it's the least sunny time of the year for the city – but one of the sunniest in Europe. In comparison, Valencia has much more hours of sunlight than other European destinations in the winter.
Is Valencia warm in January?
With average highs of 16.4 °C / 61.5 °F, Valencia is relatively warm in January. The Mediterranean climate makes it a warmer option compared to other major cities in Spain like Madrid.
What should I wear in Valencia in January?
A winter coat is recommended in Valencia in January, especially at night. A scarf and boots are also helpful if you're particularly susceptible to colder weather. Thermal leggings aren't necessary.
When is the best time to visit Valencia, Spain?
The best time to visit Valencia is from May to early October. January is a nice time to avoid the crowds if you're fine with the colder weather. March is a great month to visit for Les Falles (Las Fallas) festival.
What is there to do in Valencia in January?
You can visit the city center, the museums, and the City of Arts and Sciences. You can also see the Christmas lights in the old town the first week of the month. January is prime shopping time as it is the winter sales season.