Valencia in August means hot days, summer fun, and lots of tourists. While it's great for the beach, visiting the city can be difficult with this sweat-inducing Valencia weather. August also has fewer festivals, but there are still plenty of reasons to visit the city. So read through to make the most of your August Valencia holiday!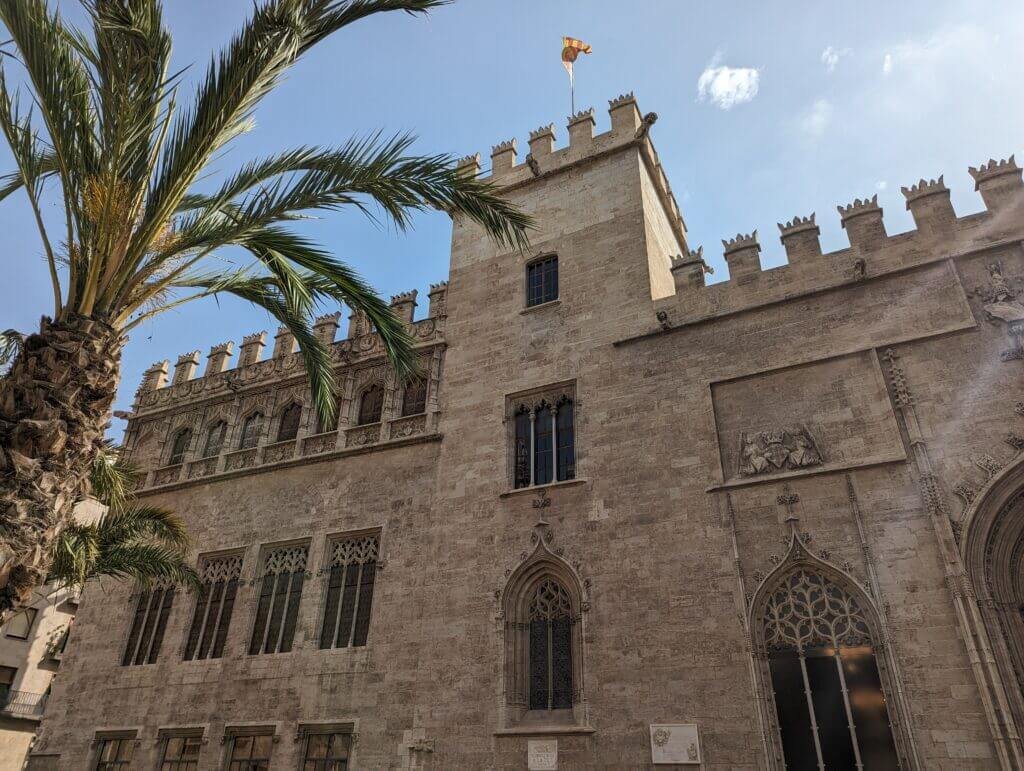 Is August a Good Time to Visit Valencia?
Honestly – yes and no. Naturally, August brings tons of tourists to the city. Since everyone wants in on those summer vacations, Valencia in August becomes a top spot for travelers.
But with a sizzling sun and fewer things to do, August might not be the best month to come visit. Let's go over some quick pros and cons.
Pros
Great beach weather
Local festivals in surrounding towns
Plenty of big concerts (if you're looking for a party scene)
Cons
The heat can be intense without a heat wave
Bigger crowds and more expensive pricing
If you're coming for a beach holiday – then Valencia is a great option. But if you're coming to enjoy the city center and do some cultural tourism, then prepare to be sweaty.
Let's look deeper into the weather in Valencia in August and you can decide for yourself what you think.
Valencia Weather: August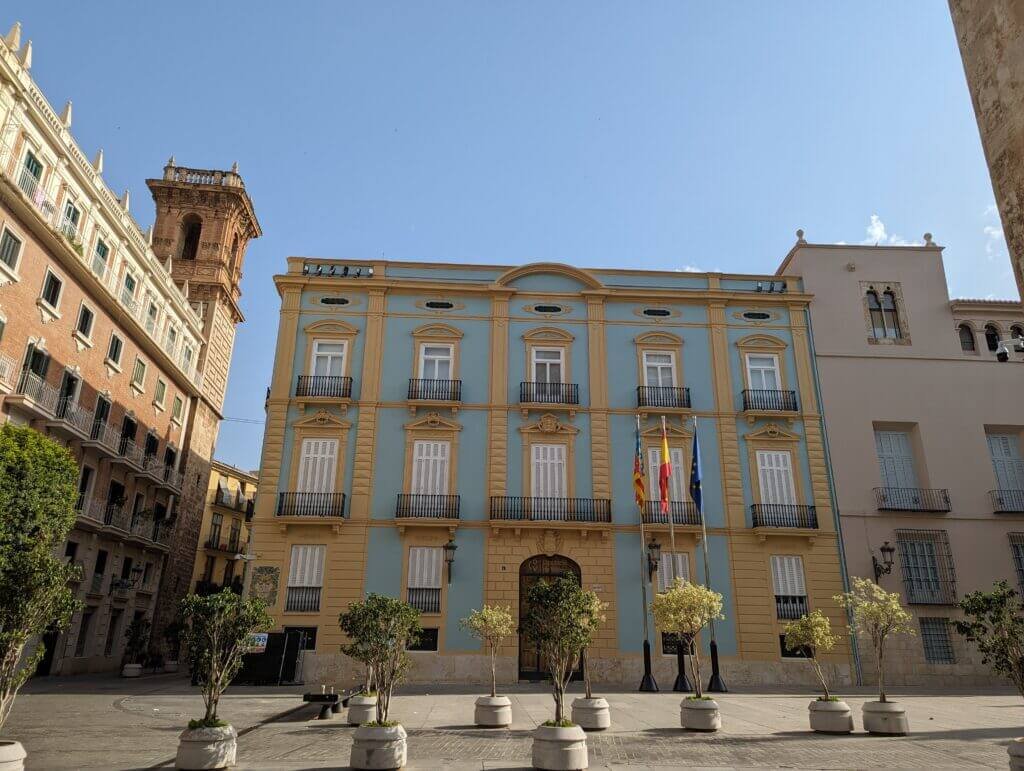 August in Valencia welcomes travelers with a sun-drenched embrace, offering a true Mediterranean summer experience.
And by that, I mean – it's hot.
To be fair, Valencia tends to be milder when compared to other cities in Spain. Both Madrid and Seville are known to be much hotter in the summer. So in comparison, August is nicer in Valencia than in many places, especially if you're looking to head to the beach.
Here are some more details about the August Valencia weather.
Temperature
Something to remember – the Iberian Peninsula is a stone's throw away from the north of Africa. Which means summer gets quite hot.
While this does make Valencia a popular destination for those who relish the sun's warmth, it also means that any winter lovers are going to be suffering. Here are the key temperature details:
Average high temperature: 33.1°C (91.6°F)
Average low temperature: 20.0°C (68°F)
Record high: 44.7°C (112.5°F)
In other words – you should expect 30+ °C (90+ °F) on a good day. Then during a heat wave, it can go up to inhumane temperatures where you really shouldn't be outside from around 1 pm – 5 pm. Remember to drink plenty of water and enjoy the city during cooler times of the day, and you should be fine. Just make sure to book a hotel with air conditioning!
Rain
One of the best reasons to visit Valencia in August is the bright and sunny weather. On average, Valencia experiences around 2 days of rain during this month, with a total precipitation of approximately 19mm (0.7 inches).
And for the most part, those rain days tend to show up at the very end of the month. It used to be very common to have end-of-August storms, but those are becoming less frequent in recent years.
So I think it's safe to leave the rain jacket at home, and pack light instead.
What to Wear in Valencia in August
Speaking of packing light, let's talk about what you need to bring on your trip to Valencia in August.
The key here is to bring comfortable clothing that helps you handle the summer heat. Here's what I suggest bringing:
Cotton or linen clothing: Pack lightweight, loose-fitting clothes to stay cool during the day.
Swimwear: This one is a must!
Sun protection: Bring sunscreen, sunglasses, a hat, and a reusable water bottle to prevent heat stroke.
Comfortable shoes: Wear breathable walking shoes in the city, as well as a pair of sandals for the beach.
Extras: Remember you'll be sweating a lot, so bring extra clothes as needed.
Tip: Don't forget to bring some sports shoes as well if you're planning on doing any hiking trips or going for an early morning run in the Túria Park.
What to Do in Valencia in August
In August, Valencia is in vacation mode. This means the city itself doesn't have a lot of crazy events going on, but many of the surrounding towns do!
So in general, if you're coming to Valencia in August, enjoy the city! Then if you have extra time, here are some fun things to do in (or near) Valencia.
La Tomatina
Source: Unsplash
Located about 35 minutes by car from Valencia, every 30th of August the city of Buñol celebrates their world-famous tomato battle. La Tomatina is a chaotic and exhilarating event where thousands of participants paint the streets red in a massive food fight.
This exciting festival is still on my bucket list, as there is a limit to how many people can attend. Currently, there is a 22,000-person limit, and you need to purchase tickets in advance.
So if you're itching to take part in the world's most famous food fight, here's what you'll need:
Head to the City of Arts and Sciences
One of the best things to do in Valencia in August is to enjoy the Ciutat de les Arts i les Ciències.
Now of course – this is a must any time of the year. But in August, there are a couple big perks:
You get access to free summer concerts
The aquarium is a lovely respite from the heat
So if you're short on time, or you're especially worried about the heat – head over to the aquarium during the day and enjoy the a/c (The polar exhibitions are especially wonderful).
Here's where you can get your tickets:
Requena Harvest Festival
Obsessed with all things wine? Head to one of the oldest festivals in Spain – La Fiesta de la Vendimia de Requena.
The small town of Requena launches an enormous celebration to celebrate the grape harvest. With traditional outfits, parades, fireworks, and grape stomping, the town is ripe with culture and excitement (haha, ripe – get it?!)
So if you want to check out this grape harvest and wine festival, Requena is the place to be.
Dates vary, but the festival usually takes place typically towards the last week of August.
Pro tip: Unless you rent a car, taking the train is the easiest way to get there. If you plan well, you can easily make it a day trip as the train is only about an hour away.
Festa de les Alfàbegues
Witness the vibrant and aromatic Festa de les Alfàbegues (The Basil Festival) in Bétera.
Every 15th of August, the town begins a truly unique festival featuring the biggest basil plants you'll ever see.
Both men and women dress up in folkloric clothing, representing Les Obreres i Els Majorals – the celebrated women and men that are in charge of organizing the festival.
And of course, no Valencian holiday is complete without plenty of fireworks!
It's one of many cultural festivities that take place throughout Valencia in August. So let's talk about that a bit more:
Festes del poble
Here's a quick culture lesson for all of my fellow Americans.
Not just in Valencia, but throughout many places in Europe – individual towns will have their own celebratory holiday. Sometimes they are religious, sometimes they're pagan, and sometimes they are a mix of the two.
In Valencia, the majority of these holidays are in August. While each of them have their own name (like Festes de les Alfàbegues), people refer to them in general as Festes del Poble (The Town's festival).
They usually last several days, some of them even lasting up to 15 days!
While all of them involve plenty of eating and drinking with friends and family, each of them have unique traditions that celebrate the rich cultural history of the different towns throughout the Valencian Country.
So if you decide to visit any small towns during your trip to Valencia in August – don't be surprised to see the entire town out partying!
Tips for Traveling to Valencia in August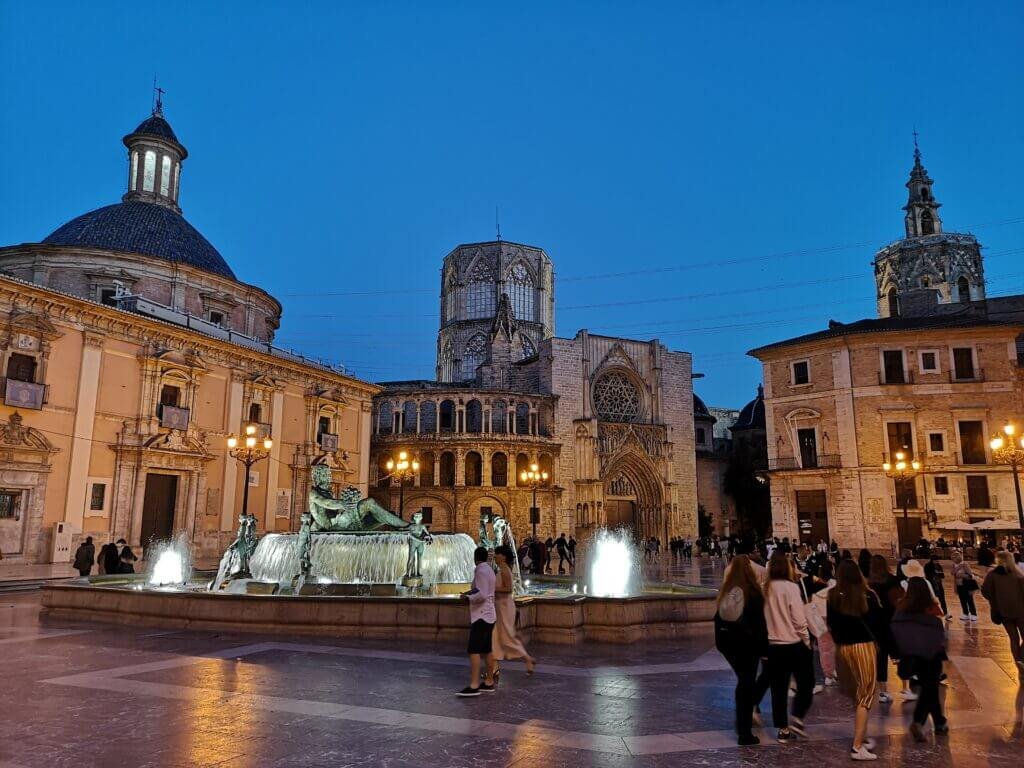 Now that we've gone over some of the best things to do, let's talk about my top tips for traveling to Valencia in August:
Be Prepared for Tourists: August is a peak tourist season in Valencia, so expect larger crowds and more expensive lodging. So don't procrastinate on booking an accommodation early!
I highly suggest booking your flight at least 6 months in advance to get the best deals (I always use Skyscanner).
Stay Hydrated: With high temperatures, staying hydrated is crucial. Carry a reusable water bottle and drink plenty of fluids throughout the day to prevent dehydration.
Businesses May Close: Some small local shops will close during August, as most people take the month off. Big name stores like supermarkets or retailers will stay open, but don't be surprised if little shops are closed.
As a side note – most restaurants will probably stay open to take advantage of tourist season.
Head Out for Day Trips: If you're spending plenty of time in the city and you want to get more out of nature, don't be afraid to plan a day trip! I recently took a trip to Montanejos to take a dip in the river and I highly recommend it!
Is Valencia Worth Visiting in August?
I think Valencia is worth visiting in August, but it's not my first choice in terms of time of the year. The summer heat and touristy crowds might make it uncomfortable for some people.
But if you're in for a summer adventure, Valencia in August offers a unique and vibrant atmosphere that's blends culture, beachfront relaxation, and festive experiences. It's peak tourist season for a reason, after all.
So bring plenty of sunscreen, drink lots of water, and enjoy the spirit and captivating traditions that make it a worthwhile destination (even during this scorching month).
FAQs
How Hot Is Valencia in August?
Valencia in August experiences high temperatures, with average daytime highs of 33.1°C (91.6°F), plus even occasional heat waves that are even hotter. It's essential to stay sun-safe and hydrated.
Is Valencia Crowded in August?
Yes, August is a peak tourist season in Valencia, so the city can be crowded, particularly at major attractions and festivals. Planning ahead and booking accommodations in advance is a good idea.
Is August a Good Time to Visit Valencia?
While the intense heat can be challenging for some, August is a good time to visit Valencia for those who enjoy warm weather, outdoor activities, and cultural festivals.
Need help planning your trip to Valencia?
Here are the tools I use for the cheapest (and most reliable) vacation planning:
🏠Booking – Affordable hotels and apartments
🏠Hostel World – Safe and budget-friendly hostels
✈️Skyscanner – My favorite tool for cheap flights
🚗Discover Cars – Best place for car rentals
🚄Trainline – The easiest way to book local trains in advance
📶Airalo – eSim cards for easy internet access while traveling
🦺Safety Wing – The #1 travel medical insurance
💸Airhelp – Cancelled flight compensation (it's free!)
💱Wise – Easiest low-fee way to transfer currency
Affiliate disclosure: This post may contain affiliate links. These are links to services I personally recommend using for your trip to Valencia. At no extra cost to you, I may earn a small commission from these brands if you choose to make a purchase. Your support helps me pay my bills and eat more bunyols!