Are you planning a trip to Valencia in September? This coastal city has a lot to offer during this time of the year. In this guide, we'll explore whether September is a good time to visit Valencia, what the weather is like, what to wear, things to do, travel tips, and more. Let's dive in and make the most of your September trip to Valencia.
Is September a good time to visit Valencia?
Well, yes and no. September is another one of those months that could be a hit or miss. The Valencia weather in September is much cooler, but these cold fronts also start to bring some rain.
And even though September isn't technically the busy season, there are still plenty of tourists coming to explore the city in cooler weather.
Here are some pros and cons:
Pros
Cooler weather, with a daily average of 27.9°C (82.2°F)
Lively atmosphere
Still warm enough to swim
Cons
Potential for thunderstorms
Still plenty of tourists
So with that said, let's dig into the details of what you should expect when visiting Valencia in September. I'll give you some travel tips, tell you what to pack, and show you all the things you should do this month!
Valencia Weather: September
To be fair, September is one of my favorite months in the city. The end of summer brings a cool respite (finally). And personally – I love summer thunderstorms. But of course, they're not exactly convenient for tourists. So let's dive a bit deeper and find out what your chances of getting rained on are.
Temperature
Valencia in September offers warm and comfortable weather.
The average high temperature hovers around 27.9°C (82.2°F), while the average low temperature drops to a mild 21.9°C (71.4°F) at night.
So while it's definitely not the cool fall weather you'd expect in northern areas, it's a great temperature to explore the outdoors. However, it's important to remember that September is a transition month from Summer to Fall. In other words, it's possible to experience a heat wave, with occasional highs reaching up to 38°C (100°F). And it's also possible to have a cold front come in, with the temperature sticking around 21°C (70°F).
This means that generally – September is a nice month to visit. But you could get unlucky.
Rain
Like in general for the Valencia weather, September is mostly dry. But it's also a month that just starts to welcome in the "rainy" season.
On average, there are about 4 rainy days, bringing a total of 51mm (2 inches) of precipitation.
So let's put that into perspective.
I'm from the Southeastern US (hello, hurricane season). So for me – September is NOT what I would consider to be exceptionally rainy.
But for Valencians who see more than 300 days of sunshine every year, these occasional rainstorms are the end of the world.
In some ways, it's all a matter of perspective (and luck). But you're still much more likely to get pleasantly warm days than a full-on rainstorm.
What to wear in Valencia in September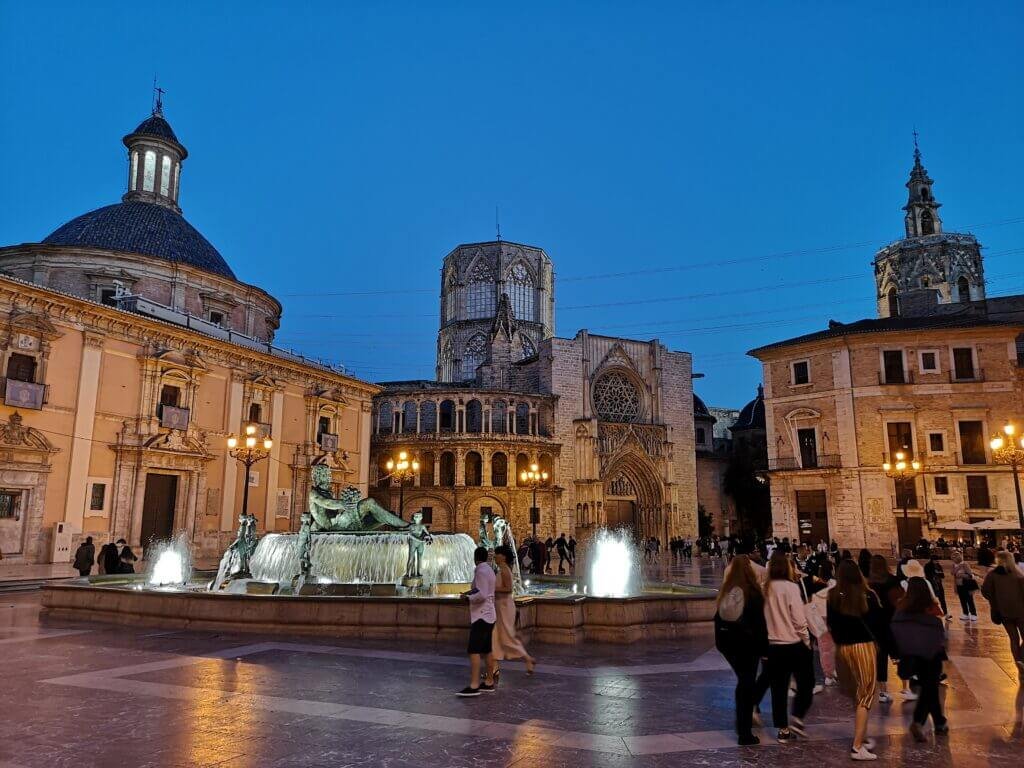 Now that we talked about the weather in Valencia in September, let's go over what you need to pack. Consider the pleasantly warm daytime temperatures and the possibility of some rain.
Here's a packing list to help you stay comfortable:
Light and breathable clothing for the daytime
A light jacket for cooler evenings
Comfortable walking shoes for exploring the city
A compact umbrella or rain jacket
Swimwear if you plan to head to the beach
Sportswear for day trips and excursions
What to do in Valencia in September
There are tons of things to do in Valencia in September! The (relatively) cooler daytime temperatures make it easy for you to explore the city. And if you get rained on, there are plenty of museums and indoor activities to do as well.
But let's go over the specific activities and events you can't miss in September!
World Paella Day
Source: World Paella Day
Valencia is the birthplace of paella (no, I will not be accepting comments at this time). And thanks to its rise to global fame, September 20th is celebrated as World Paella Day.
Around this time, you'll get to see tons of festivals celebrating the day. Chefs come from around the world, back to the terreta (homeland), competing for the illustrious title of having the world's best paella.
The event usually takes place at the Plaça de l'Ajuntament from 10 am to 3 pm (as of 2023). And yes – you can participate (aka, eat). They usually serve portions at a very low price, so this is your perfect chance to try out an authentic dish.
So come visit Valencia in September to celebrate the Valencian way – with food.
International Mime Festival
One of the most interesting cultural events takes place in the town of Sueca, just 30 minutes outside of Valencia.
The international Mime Festival is a huge event that features outdoor performances during an entire week. And no – it's not just the classic beret-wearing mime making faces. Think of it more as outdoor theater performances (just without any dialogue).
I went this year and it absolutely blew my mind!
If you're spending 5 days or more in the city, I definitely recommend checking it out. It's easily accessible by train. Plus, Sueca is a quaint town with a lot of history, so you'll enjoy your trip out there.
Enjoy the Outdoors
Finally, Valencia in September is another great time to enjoy the outdoors. Besides the occasional rain, it's the perfect weather to go for a bike ride, go hiking, or even just stroll through the Túria Gardens.
Here are some of my suggestions for outdoor activities:
Tips for traveling to Valencia in September
Visiting Valencia in September comes with its own special considerations. Although this is a relatively stress-free month, here are a few tips and tricks to make the most of your trip to the city.
Prepare for the Weather
Transition months can be difficult to pack for! So make sure to bring a light jacket and an umbrella – as well as light clothes and swim shorts.
It's better to be prepared than to miss out!
Stay Hydrated
Even though the temperature isn't nearly as hot as in August or July, the Mediterranean sun is still no joke. Make sure you stay hydrated and wear sunscreen!
Enjoy the Beginning of Fall
In Valencia, people often joke that the fall time doesn't really exist here. We go straight from summer to winter, and in many ways that's true.
Typically, the nice cool weather only lasts for a few weeks at the end of September and beginning of October, so make sure you enjoy the lovely weather while it lasts!
Expect some tourists
While it's not technically the busy season anymore, there are still lots of tourists in September. Many Europeans will choose to take their vacations in September so they can travel in cooler weather. So you might still see some higher rates for hotels and flights.
In other words – make sure you book your hotel and flights early. I usually recommend Booking for hotels and Skyscanner for flights. In my experience, I always find the best deals there!
Also see: All my best tips for visiting Valencia.
Is Valencia worth visiting in September?
Yes, September is a nice time to visit Valencia. It offers mostly favorable weather, and a few cultural activities to liven up your trip.
September is usually one of my personal favorite months to travel throughout Europe, and Valencia is another great destination for tourists. Just make sure to plan for some unexpected weather, and you're good to go!
FAQs
How hot is Valencia in September?
Valencia in September experiences average high temperatures around 27.9°C (82.2°F). While it's certainly warm, it's not nearly as hot as in the peak of summer. 
Is Valencia crowded in September?
September is still relatively crowded in September. July and August likely see more international tourists, but many people still visit this Mediterranean city in September, as well. 
Is September a good time to visit Valencia?
Yes, September is a great time to visit Valencia. It offers pleasant weather, exciting events, and a more tranquil atmosphere compared to the busy summer season.
Can you swim in Valencia in September?
You can certainly swim in Valencia in September. The sea is still warm and inviting, and the beaches are less crowded than in the peak summer months. 
Need help planning your trip to Valencia?
Here are the tools I use for the cheapest (and most reliable) vacation planning:
🏠Booking – Affordable hotels and apartments
🏠Hostel World – Safe and budget-friendly hostels
✈️Skyscanner – My favorite tool for cheap flights
🚗Discover Cars – Best place for car rentals
🚄Trainline – The easiest way to book local trains in advance
📶Airalo – eSim cards for easy internet access while traveling
🦺Safety Wing – The #1 travel medical insurance
💸Airhelp – Cancelled flight compensation (it's free!)
💱Wise – Easiest low-fee way to transfer currency
Affiliate disclosure: This post may contain affiliate links. These are links to services I personally recommend using for your trip to Valencia. At no extra cost to you, I may earn a small commission from these brands if you choose to make a purchase. Your support helps me pay my bills and eat more bunyols!