Don't plan your vacation before reading through these must-know Valencia tips! From where to stay to how to avoid looking like a guiri – these are the Valencia travel tips you can't miss.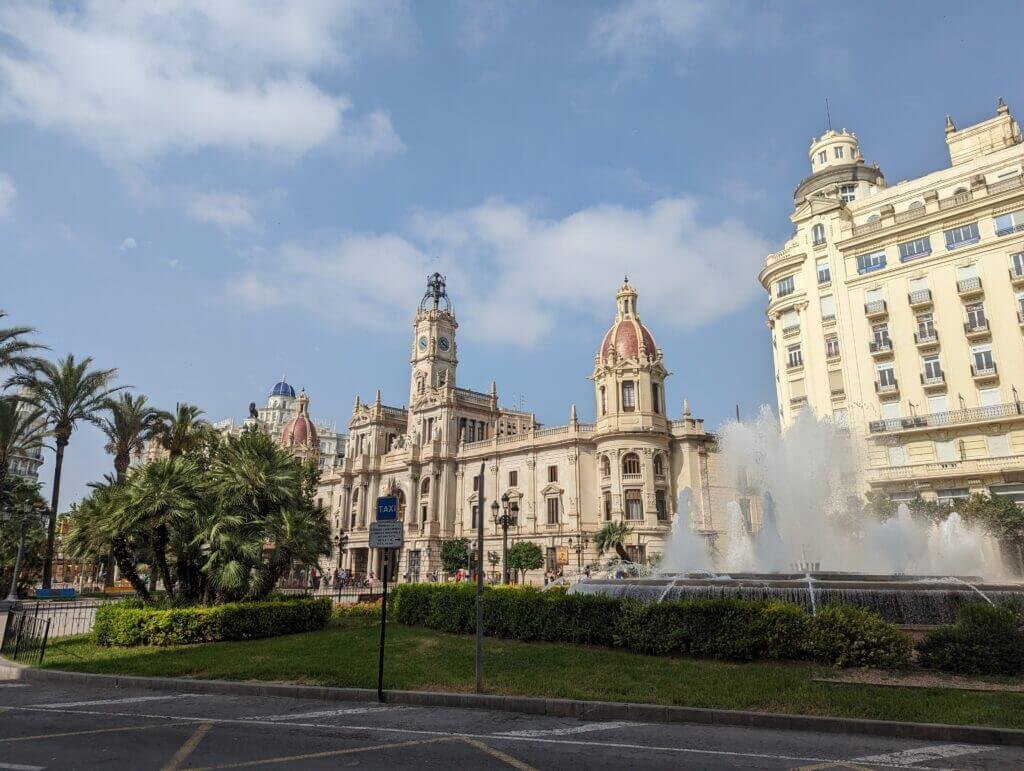 Planning on making Valencia, Spain your next travel destination? Then let's go over all the must-know travel tips for Valencia that make it worth visiting.
Use the table of contents to jump to a specific section or scroll through to read it all!
Valencia Travel Planning Tips
First things first – if you're coming to Valencia, tips on how to actually plan out the where, when, and how are the most important.
So here's what you need to know to plan a 5-star holiday (without 5-star prices).
1. Where to Stay
First, you'll need to know where to stay. So let me give you one of the MOST important Valencia travel tips: do not get a hotel near the City of Arts and Sciences. 
And don't be fooled when those Airbnb/Booking sites tell you that it's a "centric location with views to the City of Arts and Sciences". If you have great views to the CAC – you're NOT in the center.
I emphasize this so much because it's a boring and inconvenient area for lodging. And it's not usually much cheaper, either. The CAC is about 45 minutes walking or 35-40 minutes via public transport to the city center. So that's fine to visit for the day – but not a trip you'd want to make over and over again.
So absolutely go spend one morning visiting the area, but it's more convenient to stick to other neighborhoods for lodging.
Here are a few suggestions for where to stay in Valencia:
La Ciutat Vella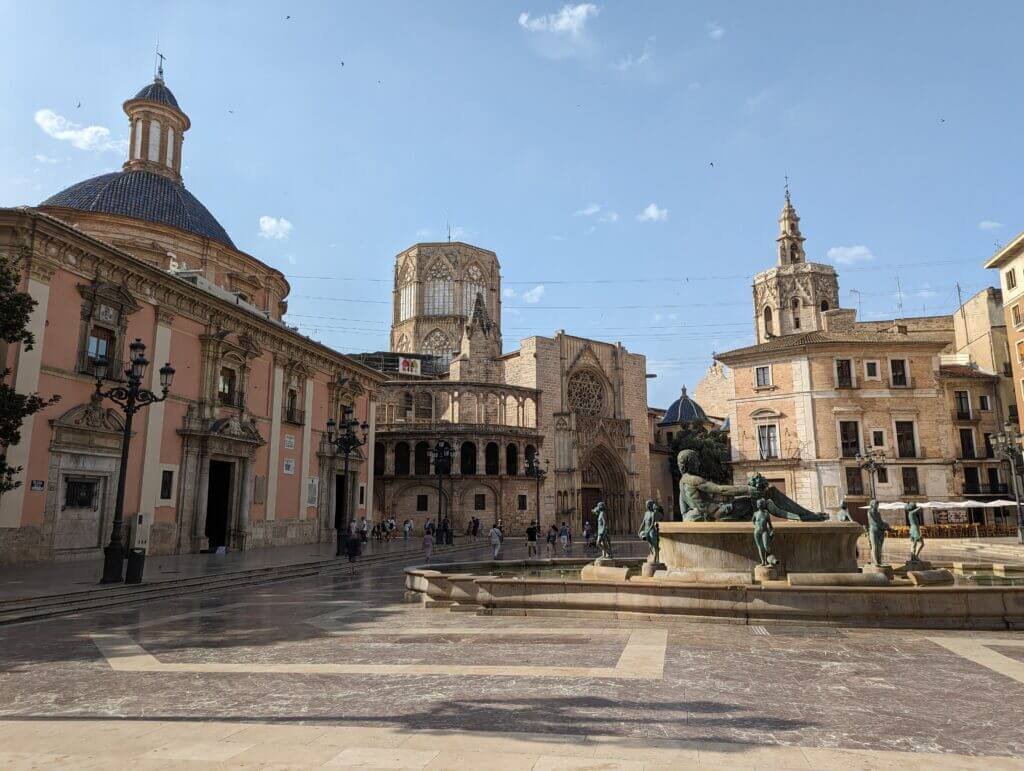 The historic center is a fairly large district with tons of lodging options. This is probably the most convenient location for tourists. You'll have everything you need within reach and you can find a range of hotel pricing.
Whether you're looking for hostels, Airbnbs, or luxury hotels – this is my top recommended area to make the most out of your trip.
Russafa
What used to be its own town has transformed into one of the coolest parts of the city. Russafa is a great place to stay if you want to be close to the nightlife.
This area is full of new bars and modern experiences. With gorgeous facades and a lively ambiance, it's the perfect spot for people looking for some excitement.
Extramurs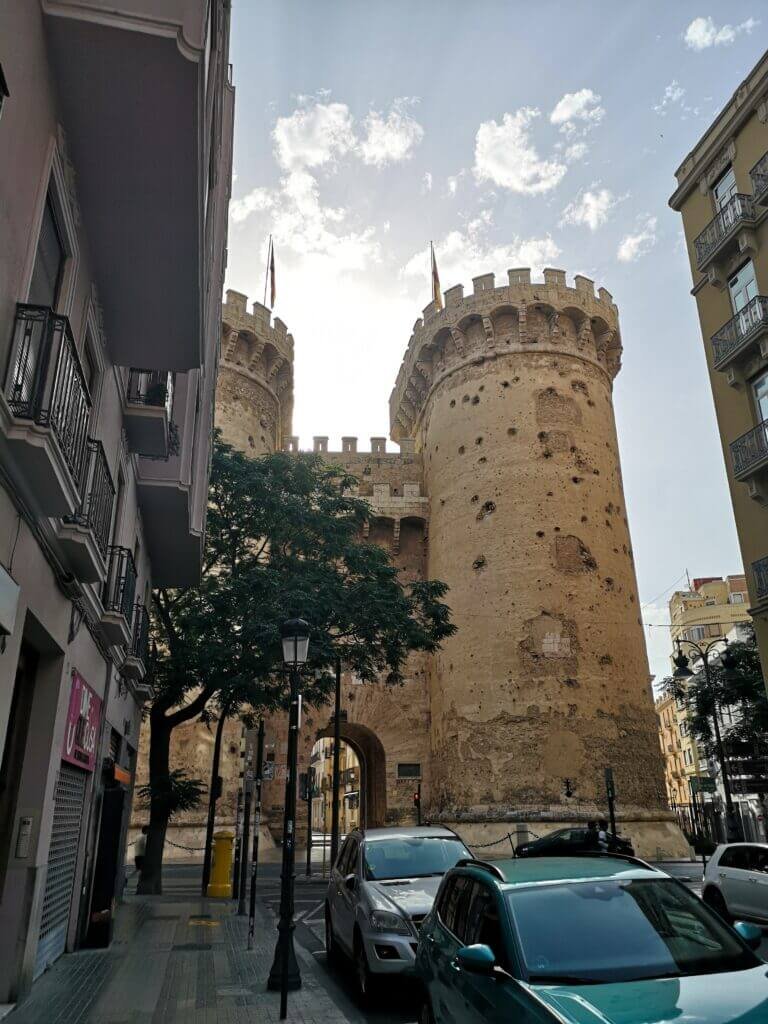 Since both Russafa and the historic center are busier areas with a bustling nightlife, you might want to find a place that's more relaxed.
If you're looking for a quieter place to sleep that's still accessible – go to Extramurs. This area is a 5-minute walk from the city center, but it's a calmer area that isn't 100% dedicated to tourism.
It's also located right next to the Àngel Guimerà metro station which is one of the largest and has a direct connection to the airport.
El Cabanyal
For most tourists, I don't usually recommend staying at the beach. It's not very conveniently connected to the rest of the city.
However, if you are set on spending every single day of your vacation at the beach – then I'd go for the Cabanyal area. It'll give you those beach-town vibes with its classic architectural style. Plus, most parts of the area are only a few minutes' walk from the beach.
There aren't many hotels directly on the coastline, except for luxury hotels like Las Arenas. But if you're here for rest, relaxation, and a 5-star spa treatment – that's the place to go.
2. When to Visit
Obviously the next piece of advice you'll need – when to visit Valencia. Tips on this one can vary, as it really depends on what you're looking for.
Let me break up the year into parts and you can decide which one works best for you:
March
If you want to come to Valencia in March, then you have to come at least from the 15th to the 19th. This is for Les Falles (in Valencian, Las Fallas in Spanish) – the city's biggest festival. This is a UNESCO-recognized celebration that brings in over a million tourists each year.
Valencia is a completely different city in March – it's almost unrecognizable compared to the rest of the year. But if you want to see a celebration unlike any other, this is the time to come.
The weather averages between 50F/10C to 66F/19C in March. The rain is really a hit or miss – with an average of 6 days of rain that month, it doesn't usually mess up the festivities.
April – June
This is one of the best times of the year to visit Valencia. The city has warm (but not too hot) temperatures and there are several celebrations throughout these months.
The water might still be too cold for swimming, but the weather is great for other types of tourism.
May tends to be the rainiest month of the year – with 8 days of rain. But luckily, it doesn't tend to pour, just drizzle. So if you're planning on coming in May, it might be a good idea to bring a small umbrella.
July and August
July and August are peak tourist season (outside of Les Falles).
It'll be sunny practically every day and the weather will be hot. The average temperature is around 90F/33C during the daytime. But during heatwaves and in the middle of the day, you can absolutely see temperatures up to 105F/40C.
If you're coming in July and August, make sure you're prepared for the heat. Pack light clothes, sunscreen, and stay out of the sun from 12pm – 4pm. In July, it's still light out until almost 10pm, so you'll have plenty of time to enjoy the outdoors without having a sunburn ruin your holiday.
September – October
This is one of my favorite times to travel in Southern Europe. September through November gives warm (but not hot) days and cooler evenings.
There's only one big holiday in Valencia during this time (El Nou d'Octubre). But the weather and lighter crowds make it the perfect time to enjoy the city like a local.
But to be fair, this is when you'll get the most volume of rain. It doesn't rain as frequently in this time when compared to May. But when it rains, it pours.
November – February
The winter months in Valencia are moderate compared to other places in Europe.
It almost never gets below freezing, so you won't have to worry about snow ruining your vacation.
Besides Christmas and the Epiphany (Jan 6th), there aren't too many holidays during this time either. Outside of Christmas, this helps make this travel period the most budget-friendly. So if you don't mind packing heavier clothes – this is the perfect travel time.
3. How to get to Valencia from the airport
Naturally, the most important part of the trip – how to actually get to Valencia.
If you're planning on traveling by plane, you'll most likely fly into Valencia-Manises Airport (VLC).
The airport is right outside the city and is very well connected. From there, you can get to the city center via taxi or metro. Here's how you can take each of them:
Taxi
I'd suggest taking a taxi if you're in a group of 3+ people OR your hotel is at the beach area or Russafa. Those areas are more difficult to get to via metro (when you're carrying luggage).
Since the airport is relatively small, it's quite easy to find a taxi right outside the Arrivals area. All the taxis are regulated by the city government and have the same, standard fees. The cars should also clearly have a bright neon Taxi sign with a green light if they're available.
You can expect to spend at least 20€ to get from the airport to the Valencia city center via taxi. From the airport, the rates start at around 5€, plus around 1€ per kilometer. There is also a 12€ minimum fee.
The taxi can be a comfortable and safe option for travelers. But of course, they're going to be more expensive. Depending on the time of day, they might also be slower than the metro. It usually only takes around 20-25 minutes if there isn't any traffic, but at rush hour this can easily go up to an hour.
Metro
The metro is my general recommendation for travelers since it is well-connected, easy to use, and relatively inexpensive.
To take the Valencia metro from the airport, you'll simply follow the signs from the Arrivals terminal. The signs will either say "Metro" or will have the logo of a circle with an "m" inside it.
Once you make your way downstairs, you'll need to purchase a ticket at the machine or the ticket desk.
To get from the Valencia airport to the city center by metro, it will cost €4.80 per person, plus €1 for the metro card. You'll want to choose the "Simple" ticket (Senzill in Valencian and Sencillo in Spanish).
For the zone, you'll choose either "AB+" OR "Airport". They've changed the interface a couple of times within the last few years, so keep an eye out for either of those.
Then you just scan your card and jump on the metro. Both lines 3 and 5 will take you to Àngel Guimerà, Xàtiva, and Colón. These are the three most important stations for tourists.
4. How to Get Around
Let's move on to some Valencia travel tips to help you navigate the city.
You should know that the city isn't enormous and that the city center is easy to walk around in. So if you're planning on staying in the center, you probably won't need to worry about public transport too much.
But if you want to head out past the city center – or you're just tired of walking, there are plenty of public transport options for you.
The Metro
Public Buses
Taxis
Cabify (similar to Uber)
The Metro
I find that The Metro is the easiest way to get around. It's affordable, reliable, and can get you to most major parts of the city. There is also a direct connection to the airport terminal. So it's definitely my favorite way to get around Valencia.
A ticket to the airport will cost €4.80 (plus €1 if you don't have the refillable card). But if you're using it to get around the city (like to the beach or Russafa) – then you can get the Suma 10 ticket. This costs €8 and is worth 10 single trips.
You'll have to validate your card before getting on and after getting off at the turnstile to get in/out.
Pro Valencia Tip: You can use the same refillable card for up to 15 people. So if one person buys the Suma 10, everyone else in the group can scan it to get in. This makes it an affordable option for 2-4 people.
The Bus
Here's what I'll say about the Valencia bus system.
It's cheap
There is air conditioning
It's mostly reliable
It's super slow
Most of the time, it takes longer to get somewhere via bus than it does by walking. The only exception is towards the City of Arts and Sciences.
But it is cheap and easy to use. And the air conditioning is a lovely touch during the summer months.
To grab a bus, each ticket is €1.50. You can either pay (in cash!) to the driver, or you can download the app and pre-purchase tickets that you show the driver as you get on. You can also get a package of 10 trips for €8.50.
With the app, just remember that after purchasing the tickets – you have to click on "activate".
Taxis
Just like I mentioned above, Taxis are safe and efficient in Valencia. While they're not super expensive, I find that it's not usually necessary to get a taxi unless you're in a hurry.
But if you need a taxi, there are taxi stands in the Plaça de l'Ajuntament and you can flag them down them easily on the main avenues. There's also an app you can use, but personally I've never tried it.
You can pay in cash or with a card at the end of your trip. Inside the taxi, you'll also see the prices posted directly on the windows.
Just note that not all taxi drivers will speak English. So make sure you have the exact address prepared or you practiced your language skills beforehand.
Cabify
This is a great alternative to getting around in Valencia, especially if you want to plan your trip in advance.
Cabify tends to be a good option if you prefer the comfort of having a private car. It will likely be the most expensive option on the list, but it's comfortable and easy to use.
5. Valencia Language Tips
There are some language-related things you need to know before planning your trip to Valencia.
The most important one: not everyone is going to speak English.
Typically, people who work in hotels will know basic English, so that's not a problem. But not every waiter is going to speak English perfectly. So it's important to know some basic phrases in the local language.
Which brings me to an important question – what language do they speak in Valencia?
The official language in Valencia is Catalan. Here, it's commonly referred to as Valencian (but it is the same language as Catalan).
But Catalan/Valencian is NOT the same language as Spanish.
For an easy comparison – Catalan is as different from Spanish as Spanish is from Italian.
In any case – everyone here does understand Spanish, as it's the co-official language. But you'll earn some brownie points by impressing the locals with some basic phrases in Valencian.
6. What to Book in Advance
If you're booking your trip to Valencia in advance, there are definitely some things you should book in advance.
The most important ones would be:
Lodging
Your flight
High-speed and long-distance trains
Car rentals (if needed)
Travel insurance (if needed)
Pro tip: Typically 6 months in advance will give you the best rates.
But other things like entrance tickets to the cathedral or the Oceanogràfic don't need to be purchased so far in advance. If you want to skip the line and get in quicker to the aquarium, you can just buy your ticket the day before.
And the same goes for public transport options. Normal train tickets (i.e. not high-speed) can be the day of. The price won't change for buying it earlier, so it's just a matter of convenience.
7. Best Places to Book Your Trip
If you're not an avid traveler, then you might not know where to even start looking. For the most part, you can use the same tools that you use to book trips to anywhere else in Europe.
These are the tools I personally use and recommend:
Skyscanner – great for looking for cheap flight deals.
Booking – my favorite site for finding hotels.
Airbnb – not always my first choice, but you can find the cheapest lodging here.
VRBO – great for houses and lodging outside the city.
Omio – an easy tool to find high-speed train tickets anywhere in Europe.
Tips on What to Do in Valencia
Once you have all the major parts planned, it's time to figure out how you'll be spending your time in the Cap i Casal.
So here are my top Valencia travel tips to make the most out of your vacation.
1. Top 5 Things to Do in Valencia
While there are so many amazing things to do in Valencia, not everyone is going to have a ton of time.
So if you only have a weekend – these are the top 5 things you can't miss in Valencia.
Wander The Old Town
La Ciutat Vella is one of the most impressive things to see in Valencia. The historic center is filled with unique architecture, maze-like streets, and plenty of hidden gems.
And since the city itself isn't enormous, you can easily wander through the streets and explore to your heart's content. So don't rush your way to see the major monuments. Take your time to marvel at the city and enjoy its details.
Visit La Ciutat de les Arts i les Ciències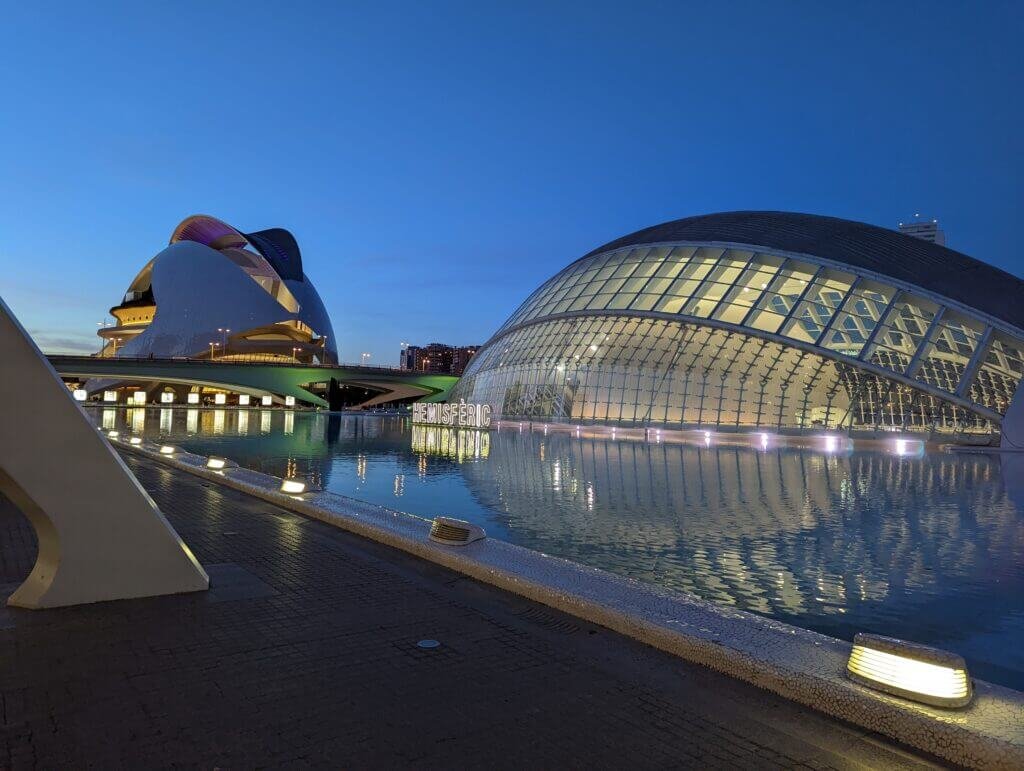 Designed by the famous architect Santiago Calatrava, the City of Arts and Sciences has become one of the symbols of Valencia.
The futurist buildings display the city's deep connection to the sea and the arts. With an opera house, an enormous science museum, and Europe's largest aquarium – you can easily spend several hours exploring the area.
Even if you don't want to go in the museums, you absolutely have to come to the area and enjoy these impressive landmarks.
Go in La Llotja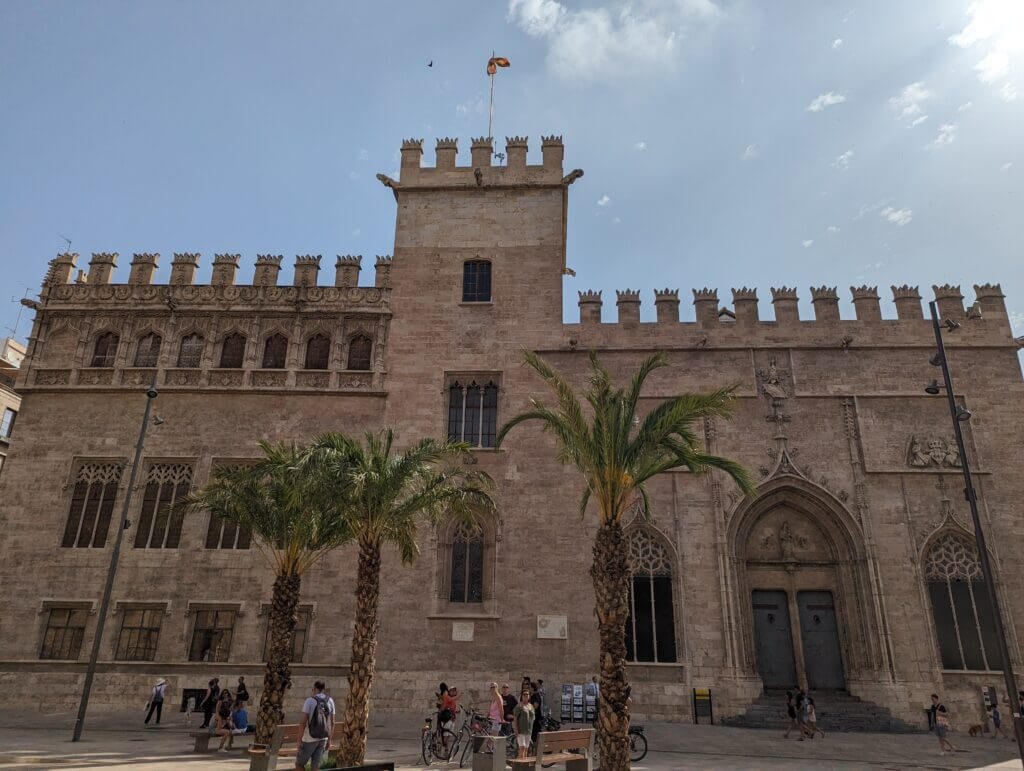 La Llotja de la Seda is the silk trade market and is the symbol of the Valencian Golden Age. Built in the 15th century, it is an impressive market place with twisting columns and golden ceilings.
La Llotja is the official name in Valencian, but you'll also see it referred to as La Lonja in Spanish. It became a UNESCO World Heritage Site in 1996 and it's one of my favorite spots in the city.
See the Holy Grail at la Seu de València
Head inside the cathedral to find the one and only holy grail (probably). The Valencia Cathedral (La Seu de València) is said to be one of the most likely locations for the holy chalice. Once you enter the main entrance, head to the right past a large archway. Inside, you'll find the chapel with the holy grail in plain sight.
The Cathedral is absolutely worth visiting – and not just for this religious relic. The architecture, the history, and the Incorrupt Arm of Saint Vicent the Martyr make this one of the best things to see in Valencia.
Tips for seeing the holy grail – make sure to plan your visit. You can't get in during mass, so check the opening times for this one!
Relax/Exercise in the Túria Gardens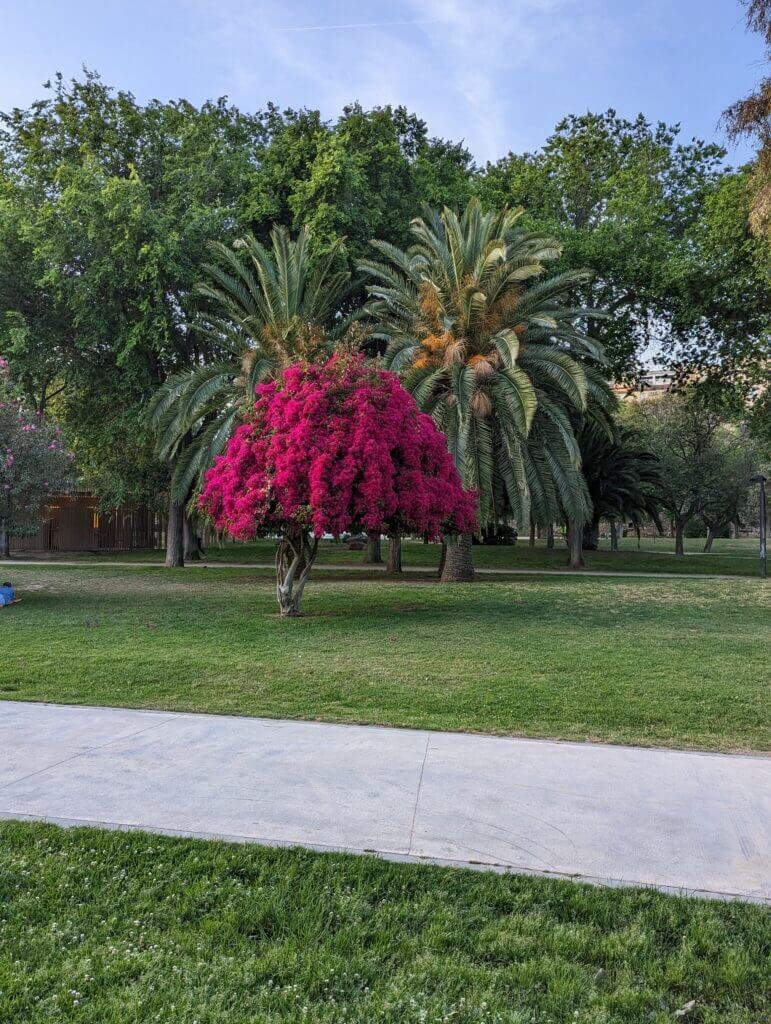 The last of my top 5 things to do in Valencia – take a stroll through the Túria Gardens. The Jardí del Túria is an enormous green space that sprawls throughout the entire city.
It used to be the old riverbed, but after a massive flood, the city decided to divert the river. Now the space is a huge park with soccer fields, playgrounds, botanical gardens, and plenty of spots to enjoy a picnic.
The gardens are also perfect for a morning jog as there is a dedicated jogging lane throughout the almost 10km-long area. You can also take advantage of the bike lines on either side to get an express view of all the different sections.
2. Day Trips
If you have some extra time while you're in Valencia, I absolutely recommend taking some day trips to see some nearby towns.
You can see the most important parts of the city of Valencia in around 3-4 days, so planning a day trip is a great option if you have the time.
Here are some of the best towns to visit near Valencia:
Sagunt
Xàtiva
Chulilla
Les coves de Sant Josep (Vall d'Uixó)
Peníscola
3. Tours
One of the best ways to get to know any city is by jumping on a tour.
Walking Tours are my personal favorite since you get an insider's look at the most famous monuments. Plus you get a sneak peek at the tiniest details you never would have noticed on your own.
So whether you go for a free tour or want to join a tapas route – don't be afraid to join a group and enjoy some professional sightseeing.
Valencia Tips: Budgeting
Valencia travel tips for budgeting is one of the biggest things everyone wants to know! Lucky for you – Valencia is an overall inexpensive city.
I wouldn't say it's an exceptionally cheap city. But it is much more affordable than cities like Madrid or other European capitals.
So here are my top Valencia travel tips to help stretch each euro:
1. Sundays are free
The majority of museums are actually free to visit on Sundays.
So if you've been waiting to climb up the Serrans Towers to take a selfie overlooking the city – this is the day to do it for free.
There are a ton of museums this applies to. But just remember that it doesn't apply to everything in the city. The Cathedral and the museums at La Ciutat de les Arts i les Ciències are not free on Sundays.
But it's still a great way to save a few euros on your trip! Places like l'Almoina, l'IVAM, and l'Etnològic are all free on Sundays in Valencia.
2. Skip tourist spots
This might seem obvious, but a simple Valencia travel tip – avoid the tourist restaurants. Typically the food is going to be more expensive and lower quality.
Now there are always going to be exceptions. And if you've tried a "touristy" restaurant and liked it – then that's great! But in general, I would avoid eating at restaurants that:
Are located on the main city squares (the city hall and the cathedral)
Have people outside advertising
Offer paella at night
Open for dinner before 7 pm
Advertise their Agua de Valencia
Most of those restaurants are going to be purely for tourists. So my recommendation – explore the side roads or check out places in Russafa. You'll find lots of hidden gems that Valencians actually go to.
3. Bike rentals
If you prefer being active and don't want to bother with public transport – bike rentals can actually be a more affordable option.
Especially if you plan to go to the beach or the City of Arts and Sciences frequently, this is a great way to do it.
Most places let you rent bikes either by the hour or per day. It's usually cheaper to do it per day. So to save the most money, plan to go to the places farthest away in the same day. This way, you'll get there quickly on your bike and you'll save money.
And to see the city center – you don't really need a bike.
4. Valencia Tourist Card
The Valencia Tourist Card is actually a really affordable option for travelers. You can choose either a 24/48/72 hour card that gives you unlimited access to public transport and discounts at most museums.
There are a few different options for tourists. You can choose to include the aquarium and other attractions or just go for the public transport.
There is also a 7-day card that gives you free access to the Cathedral. So you should definitely explore through the different choices. I usually don't purchase tourist card when I'm traveling (since they're usually not cheaper…).
But Valencia's travel card actually does turn out to be a great way to save money.
5. Cash or card?
My last Valencia travel tip for budgeting – you probably don't need to bother with cash.
Practically everywhere will accept your card. And in most cases, you'll get a better exchange rate by just paying with your card than with cash.
ATMs and exchange shops typically offer a really poor rate. If you absolutely need to have some euros before coming – go to your bank before leaving.
However – many small shops will have a €5/€10 minimum. So if you think you might purchase some small souvenirs, a little bit of cash on hand is helpful.
But if you're going to a larger store (like Consum, Mercadona, El Corte Inglés) – there won't be any minimums.
Valencian Food Tips
If you're like me, then the most essential travel tips are related to food. Because when I travel – I'm there for gastronomic tourism.
And Valencia is known for its diverse cuisine and fresh food. Thanks to it being a coastal city AND an agricultural one – well, let's just say you should bring some stretchy pants just in case.
So here are some of my Valencia tips for the best food experience:
1. Get Paella at the beach
Naturally, everyone has heard of paella (pronounced pah-eh-ya). But there are a lot of misconceptions out there that have Valencians outraged.
So when it comes to paella, here are a few things you should know:
You'll find great paella restaurants at the beach
Paella is a Valencian dish, NOT a Spanish dish
Real paella has no chorizo, no onion, and no wine
Traditional Valencian paella has a few set ingredients:

Chicken
Rabbit
Flat green beans
White beans (garrofó)
Paprika and Saffron

You can also find seafood paella with mussels and shrimp
It's named after the pan it's cooked in
Paella is only eaten for lunch, not dinner
There is a lot of things to know about paella. Valencians are very proud of this now world-renowned dish.
So head over to the beach or El Palmar to get an authentic paella. Then, make sure you warn your friends back home to never put chorizo in rice and dare to call it paella!
2. Try other local dishes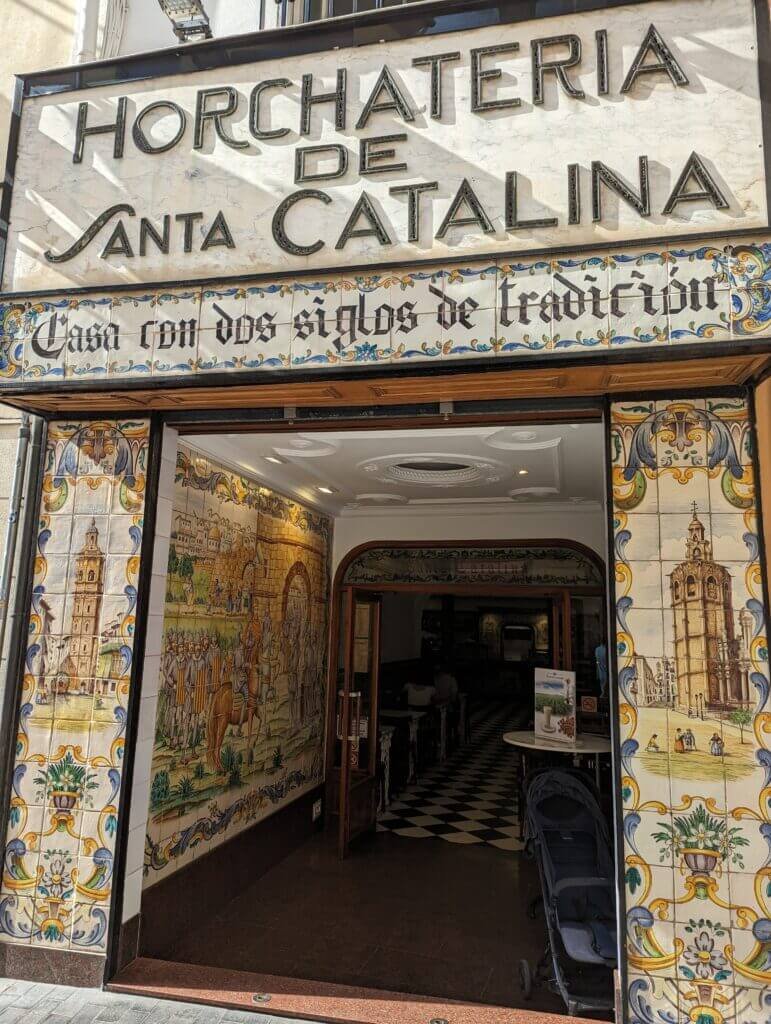 Although paella is the most famous Valencian dish – it certainly isn't the only one worth trying.
Here are a few of my favorite Valencian dishes you should try:
Coques
Arròs al forn
Fideuà
Orxata with Fartons
Bunyols
If I'm being completely honest, I actually prefer arròs al forn to paella. So if you head out to any restaurants with traditional Valencian cuisine, make sure to try these!
An important Valencia travel tip: Agua de València might have been invented here, but it's primarily a drink for tourists. I've lived in the capital since 2018 and I've never seen a Valencian actually order this.
Don't get me wrong – it is tasty. So order it and enjoy your vacation if you want. But if you want a more authentic drinking experience, order un vermutet.
3. Get an esmorzaret
One of my favorite aspects of Valencian food culture is the esmorzaret.
It is a hearty mid-morning meal that usually consists of a small beer, a light appetizer, and a sandwich bigger than your forearm.
There are lots of different variations, but it's common to have the sandwich on fresh baguette-style bread, stuffed with different meats (botifarra, carn de caball, llomello, llonganissa en faves, etc), and some extra ingredients.
So head to a traditional bar around 11 am and embrace this Valencian classic.
My personal favorite is un entrepà de truita de creïlles amb allioli (a sandwich with potato omelet and aioli).
4. Don't expect to tip
This is one of the biggest Valencia tips – especially for American travelers.
You do not need to tip in Valencia (Spain in general, for that matter). Restaurant workers are typically paid a full-time salary, so tipping isn't necessary.
If you had exceptional service, feel free to leave €1. It's a nice way to say thank you, but it's not meant to be a substitute for their normal wages.
Tipping culture is almost non-existent in Spain. Although some American chains (like Starbucks) might try to coerce you into tipping, no Valencian would ever leave a 15/20% tip.
5. Meal times
When in Valencia, eat as the Valencians do.
Meal times here are pretty drastically different when compared other English-speaking parts of the world.
Typically, here's what the meal times are:
7am-9am – Desdejuni (Desayuno in Spanish)
10:45-12:30 – Esmorzar (Almuerzo in Spanish)
2-3:30 – Dinar (Comida in Spanish)
5-7 – Berenar (Merienda in Spanish)
8:30-10:30 – Sopar (Cena in Spanish)
The biggest meal of the day is definitely el dinar – lunch. After this meal, people typically rest for a few hours. And since it's the hottest time of the day, it's the perfect time for a nap to regain energy and explore the city later.
Valencians are pretty strict when it comes to these timeframes. Typically, if a restaurant is open for dinner at 5 or 6 pm, then it's a tourist trap.
Safety Tips for Valencia
In general, I'd advise travelers to take the same precautions in Valencia as they would in any European city.
But in case this is your first time traveling, or you just want to be extra careful – here are some Valencia travel tips to stay safe.
1. Very safe city
Overall, Valencia (and Spain as a whole) is a very safe place to travel to. While Barcelona is known for having a problem with pickpockets, it's not a big issue in Valencia.
Most streets are well-lit the entire night. Violent crime rates are incredibly low and mostly restricted to low-income neighborhoods on the outskirts of the city.
Personally, I've never had a problem – even walking home alone late into the night.
But to be careful, here are a few travel tips to protect yourself in Valencia:
Keep your phone in your front pocket (not the back)
Make sure your bags are closed (if possible)
Hold your bag in front of your body when in large crowds
Don't flash your money
Ignore strangers that come up to talk to you
In general, Valencia is a very safe city. But, there are people with bad intentions anywhere in the world. So just take reasonable precautions and be aware of your surroundings.
2. Don't accept the rosemary
Something to be aware of – never accept rosemary, flowers, or bracelets from people handing them out. This is a common scam in many places in Europe.
Usually, they'll offer to give you rosemary "for free", but then demand an outrageous payment in exchange for not cursing you. And if you don't pay (even if you try to hand it back), they might start screaming.
It's not really a dangerous situation. But it is an uncomfortable one that can easily be avoided. And if you are a superstitious person – then you probably don't want to get cursed by them, anyway.
So don't make eye contact and pay attention to not accidentally accept anything.
3. Don't leave your phone on the table
Another common mistake tourists make – leaving their phone on the table.
If you're eating outside at a restaurant in a busy area, make sure to keep your phone put away. And if you bring a jacket, don't leave your phone inside its pocket if you're not wearing it. It's super easy for a pickpocket to just walk by and grab your phone without you noticing.
This is a small travel tip that a lot of tourists will overlook. Again, Valencia is a very safe city and most likely – nothing is going to happen. But it's just important to be wary of your surroundings.
Extra Valencia Travel Tips
Finishing up, let's go over just a few extra travel tips for Valencia. These are some miscellaneous pieces of advice that aren't game-changing. But they're still important to keep in mind if you want to avoid looking like an obvious tourist:
1. Stores close mid-day
Many stores will close from around 2:30 to 5 or 6 pm. This allows workers to go home, eat their lunch, and rest.
So if you're planning on doing some shopping while you're in Valencia, keep this in mind. Larger companies (like Mercadona, Zara, etc) probably won't close, but mid-sized and small local shops will.
My advice: embrace la siesta culture. Eat a big lunch, rest for a while, then head back out when you have the energy.
If you're coming in July or August, this is the hottest part of the day. And since there is daylight until almost 10 pm – you'll be fine resting for a bit.
2. Athleisure wear isn't generally acceptable
This is important for all my American friends out there.
Athleisure is not appropriate in Spain. Unless you're planning on doing some exercise or going for a long walk – I'd recommend putting some more thought into your outfit.
Now I'm not saying you need to be a fashion trend-setter or go completely formal. A t-shirt and shorts or a summer dress is perfectly acceptable during the day. Then during the night, people tend to wear something slightly more elegant when going out for dinner.
Leggings or sweatpants or a backwards hat won't get you in trouble, per se. But you might not be allowed in churches.
And you'll just stand out like a sore thumb.
3. Refills & extra sauces aren't a thing
Another important travel tip: refills aren't free in Spain.
So every time you order a Coke or a water – you'll be charged the price listed.
You can order tap water for free in Valencia. It's perfectly safe, but I don't believe it tastes very good. And it's generally recommended for travelers to order bottled water, just in case.
And for the most part, restaurants aren't going to have a large range of sauces. At most, they might have ketchup or mayo. But don't expect buffalo sauce or ranch dressing.
4. Not everyone speaks English
A basic travel tip for anywhere you go – don't expect everyone to speak English.
Spain has 5 official languages (Spanish, Catalan, Galician, Basque, and Aranese). So while many younger people speak fairly good English, you should take some time to learn some basic Catalan and Spanish phrases if you're coming to Valencia.
It's a great way to connect more with the culture, make a good impression, and broaden your horizons.
Go explore Valencia
Tips, tricks, or anything else you need to come explore the city?
If you have any questions about what to do in Valencia – just reach out! I'm always happy to help a fellow traveler fall in love with the city!
And don't forget to browse through the rest of my articles for even more Valencia travel tips and guides.
FAQs
How many days do you need to see Valencia?
2-4 days is enough time to see the most important parts of the city. If you spend more than 4 days, I usually recommend taking a day trip to see towns nearby Valencia.
What is the #1 travel tip for Valencia?
The #1 travel tip for Valencia is to enjoy paella for lunch at a traditional restaurant. Avoid eating it for dinner from tourist-trap restaurants in the city center.
What language do people speak in Valencia, Spain?
In Valencia, people can speak Catalan (locally referred to as Valencian) and Spanish. Catalan is the official language and is used on all public signage.