Is Valencia worth visiting? Why visit Valencia, Spain? There's a million reasons why! Let's talk about why you should (or maybe shouldn't) come to the sunny Mediterranean city.
Let's get right down to it – is Valencia worth visiting? The short answer: Yes, absolutely!
The longer answer: Still yes, probably. But depending on how you like to travel, how long you have in Spain, and when you're planning on visiting – it might not be at the top of your priority list.
So let's talk about everything you need to know before visiting Valencia, Spain. We'll go over the pros, the cons, and some considerations for different travel styles.
Is Valencia Worth Visiting – The Pros
As the 3rd largest city in Spain, there are a ton of reasons to visit Valencia. I mean, 2.2 million tourists come each year to the city – and that's no accident.
Here are some of the biggest pros to visiting Valencia:
1. The Culture
Anyone who is planning a trip to Europe has probably already considered this. But immersing yourself in the Valencian culture is bound to make for an unforgettable trip (or even a long-term stay).
One of the best things about Spain is that different places can feel like an entirely different world. From the architecture and landscapes to the language and food – you can definitely tell that Spain was born by mixing all these different cultures together.
In other words – just because you've seen Madrid or Seville– that doesn't mean you've seen it all. Valencia and its people are a whole different world of its own.
So at least in my opinion, Valencia is worth visiting for its culture and everything that comes with it – a unique gastronomy, the Valencian language, world-renowned UNESCO celebrations, and a relaxing pace of life.
2. Gastronomy
The birthplace of paella, the garden of Europe – Valencia has a rich agricultural and culinary history that means one thing for travelers:
You'll be in a foodie paradise. While there are hundreds of tasty dishes to try, here are my top suggestions for food to try in Valencia:
The most emblematic Valencian rice dish. Hint: Go to the beach or l'Albufera for the best paella in Valencia.
A chilled drink that's perfect in the summer. Made from tiger nuts – it tastes similar to a sweetened almond milk. Go to Daniel's and try the granizado (slushie) version.
In Valencia, a coca can refer to many things. From a sweet poundcake with walnuts to a savory flatbread. Head to any traditional bakery and try a coca de tomate.
Literally "shredded" in Valencian – esgarraet is a quintessential appetizer with smoked eggplant, red pepper, garlic, and olive oil served with bread.
Another classic coastal dish, fideuà is pasta cooked in a rich seafood broth with shrimp, cuttlefish, and shellfish.
My personal favorite Valencian rice dish – baked rice. Valencia has more than a hundred traditional rice dishes, so make sure to try more than just paella!
The traditional snack during Les Falles. Similar to churros, but round and made with pumpkin. Try them from Santa Catalina's if you're not visiting for Falles.
This relatively modern drink has become a tourist favorite. Similar to a mimosa, but with an extra kick. Note: it might be famous (and tasty), but it's absolutely made for tourists. So go ahead and enjoy it – but don't expect to see any Valencians ordering it.
3. Les Falles (Las Fallas)
If you're planning a trip in March – you have to see Les Falles festival. It's a UNESCO-recognized holiday that goes from the 15th until the 19th and it completely transforms the city.
Every street gets filled with sky-high pieces of artwork (called Falles). Deafening firecrackers go off every day at 2pm (called the mascletà). A parade of people wear their traditional outfits and bring flowers to the cathedral's square, creating an enormous tapestry of flowers (called the ofrena).
And all of this culminates on the night of the 19th when ALL of the Fallas are set on fire, except for 1 small piece (the ninot) of the winning artwork.
The entire festival is unlike anything else in the world and should absolutely be on everyone's bucket list.
So is Valencia worth visiting? I'd say Les Falles makes the city a must-visit.
4. The Architecture
Valencia was the World Design Capital in 2022, and with good reason. The city is dotted with Gothic, Romanesque, Baroque, Modernist, Art Nouveau, and even some Futurist landmarks.
The unique blend of styles gives the city a noticeably different vibe from anywhere else in Spain. Walk through the historic center to see everything from a 13th century Templar church to the modernist Estació de Nord and all its mosaics.
5. La Ciutat de les Arts i les Ciències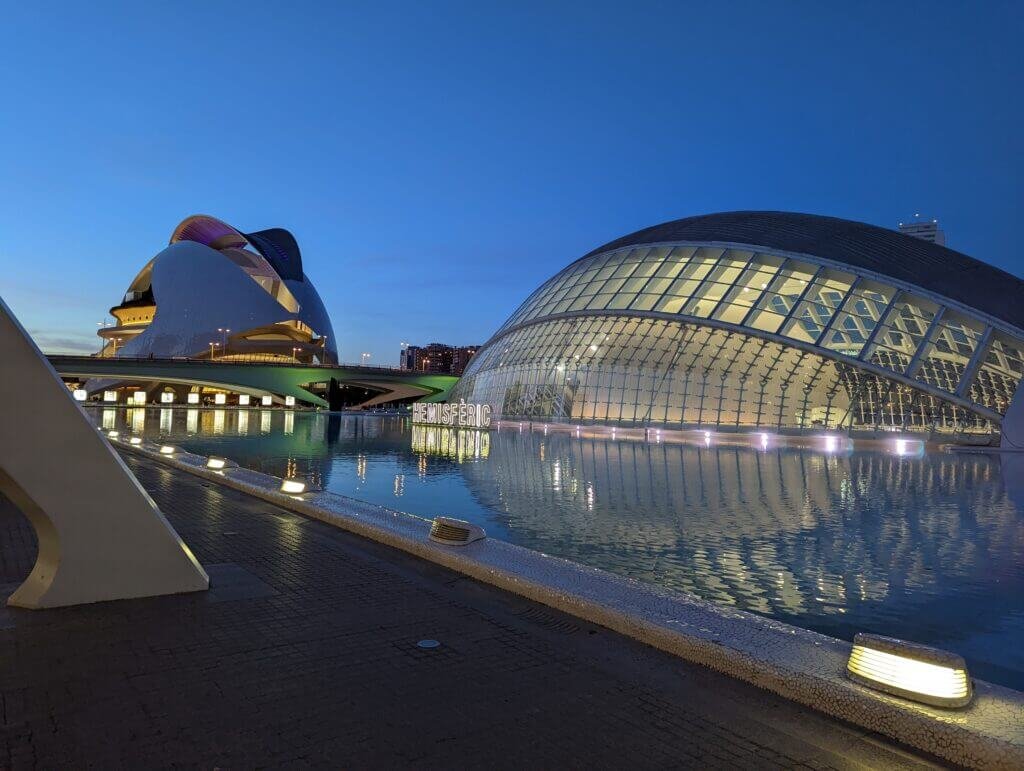 You can't talk about Valencia's architecture without giving special mention to the City of Arts and Sciences (CAC).
The futuristic area is full of glistening pools, white mosaic tiles, and a one-of-a-kind landscape. Even if you're not a fan of museums, operas, and aquariums – you still have to take a stroll through the area and take in the views.
Here are the main sites at CAC that make Valencia worth visiting:
L'Oceanogràfic – Europe's largest aquarium
L'Hemisfèric – An IMAX theater
Palau de les Arts Reina Sofia – The Valencia opera
Museu de les Ciències Príncipe Felipe – The large multi-story science museum
L'Àgora – A large venue for conferences and events
6. The Museums
Now the City of Arts and Sciences might hold some of the most impressive museums in the city – they're definitely not the only ones worth visiting.
If you're a fan of diving deep into the museums during your trips (either for the culture or just the A/C), then you'll want to check these out:
Museu de Belles Arts de València
A must-visit for art lovers. It features over 2000 works, including works by El Greco, Velázquez, Goya, and Pinturicchio.
Located near the City of Arts and Sciences. This is a great introduction to learning the history of Les Falles and seeing all of the saved Ninots of the last century.
An archeological site right behind the Basilica, you'll be able to see Roman ruins and learn more about the evolution of Valencia.
While the outside of the palace is an absolute must-see for anyone, the inside holds Spain's national ceramic museum.
Centre del Carme Cultura Contemporànea
The CCCC is a fantastic cultural center with constantly changing art exhibitions. Check out the site for updates, but it's definitely worth visiting if only to see the architecture of this 13th-century convent.
This is the first museum in Spain dedicated to Modern Art. Another great option for art lovers.
7. The Beach
Let's be honest – if you're coming to a coastal Mediterranean city, you want to see the beach.
Valencia is worth visiting for its expansive beach, kilometers-long boardwalk, and all the activities and festivals near the port. The beach area of the city is a mix of modern marvels, natural beauty, and Valencian classic architecture.
The beach in Valencia is perfect for working on your tan, enjoying music festivals, and trying some authentic cuisine. Here are the different beaches you can get to easily from the city:
Also known as Las Arenas, this is the easiest beach to get to by Metro. It's the beginning of the boardwalk and is located right next to the port.
Heading north, Malva-rosa is the next beach. This is where the beach opens up more and you'll see plenty of volleyball nets and even more restaurants and bars.
Continuing north, this section technically belongs to the town of Alboraia, but is still easily accessible and sometimes less crowded. You can get here by metro, bus, or by just walking up the boardwalk.
This beach is actually south of Valencia and is much less crowded. You can get here via a dedicated bike line or by driving. El Saler and Pinedo are the best places to get paella if you're willing to head right outside the city.
The same as El Saler, it's located to the south of the city and easily accessed by bike. This area tends to have fewer tourists and more natural beaches.
8. The Location
Another reason why visiting Valencia is a great idea – the location. Just 2 hours away from Madrid or 3 hours from Barcelona by train, it makes for a convenient stop on your itinerary.
While Madrid is undoubtedly the best-connected city, Valencia's transport network makes it easy to visit other major cities and unique destinations nearby. You can take a 30-minute train for a day trip to the medieval town of Xàtiva or to the beach town of Cullera.
Valencia's airport is also incredibly easy to access and provides direct flights to other major cities in Spain and in Europe.
9. The Size
Okay, this is 100% subjective – but I've always thought that Valencia is the perfect size.
The city is large enough that you'll never be bored, but also small enough that you can essentially get anywhere you need to go within 30 minutes or less. The public transport is simple and easy to use, but not too low-volume that it becomes unreliable.
This makes visiting the city a breeze as you can easily see all the major landmarks within around 2-4 days depending on your pace. But it's also not TOO small if you want to spend an entire weekend.
10. Family Friendly
Valencia is one of the best destinations for visiting with children. The pedestrian-only streets, ample green spaces, and variety of attractions will keep your kids entertained the entire trip.
Here are some of the best places in Valencia to visit with kids:
Bioparc – a nature reserve and Zoo
L'Oceanogràfic – Europe's largest aquarium
El Gulliver – a large Gulliver's Travels-themed park in the riverbed
L'Albufera – a nature reserve with boat rides
11. The Climate
With 300 days of sunlight, very mild winters, and warm (but not extreme) summers – Valencia is worth visiting for the weather.
It's the perfect place to enjoy your time outdoors under the bright blue sky. Which is exactly why you'll ALWAYS see bars, restaurants, and cafeterias filled with people sitting outside on the patio area.
Valencia's weather makes it one of the best places to visit – and an even better place to live (at least, I sure think so!)
12. Inexpensive
While it may not have shockingly-low prices, Valencia is a very inexpensive travel destination.
You can find excellent lodging for around €100 a night. Average restaurants will cost around €12/person for lunch or €18/person for dinner (if you're avoiding tourist traps). And most museums only cost a few euros per person, although the City of Arts and Sciences will cost you more.
Naturally, if you're planning on budget traveling to Valencia – you can certainly find cheaper alternatives, as well. But even if you're not too concerned about penny-pinching, Valencia remains a much more affordable destination compared to Madrid or Barcelona.
13. The Nightlife
If nightlife is one of your top travel priorities – then Valencia will definitely check off those boxes.
Whether you're looking for bars and clubs or something unique, the city has something for everyone.
While the nightlife might not as massive as in cities like Berlin, you definitely won't have trouble finding some entertainment after hours.
14. The River Turia
The Turia Gardens takes the old riverbed and turns it into a kilometers-long park that divides the city in half. It stretches from the northwestern outskirts of the city and goes all the way through, ending at the City of Arts and Sciences.
This family-friendly park is great for running, biking, playing group sports, or just having a picnic.
It's highly recommended to take a walk or bike ride through the park to see this enormous green space.
15. Safe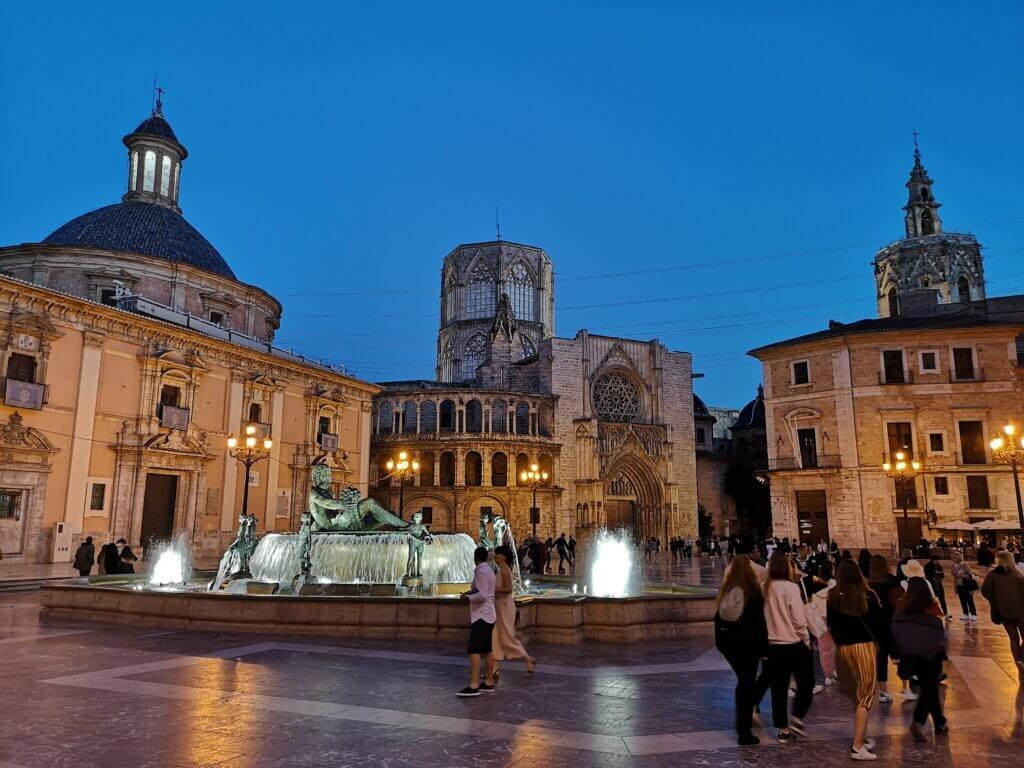 Valencia continually rates as one of the safest cities to travel to. With its well-lit streets and low crime rates, travelers generally feel a sense of safety – even when walking at night.
This makes Valencia a great spot for couples, LGBTQIA+ travelers, and solo female travelers.
It is still a city, so the usual safety precautions should be taken. But travelers don't have to worry about pickpockets nearly as much as in places like Barcelona.
16. Quality of life
Is Valencia worth visiting? Well, if you ask me – Valencia is worth staying for a long time. It's one of the top European destinations for digital nomads and remote workers thanks to the perfect climate and great quality of life.
Valencians value their work-life balance, which makes living in the city a great option. Many shops that don't cater to tourists will close during August. Lots of stores will also close from around 3-6pm to rest. And you'll find that most people don't tend to have that "get out of my way!" sense of urgency that you'll find in big cities like NYC or Madrid.
So even if you're not planning to stay long term, after a trip to Valencia – you'll definitely want to.
Is Valencia worth Visiting? The Cons:
Now I might be a bit biased when it comes to the city. But realistically – not everyone has the same goals and mindset when they're traveling.
So I'll try to be objective and point out some cons to the city. This way you can decide for yourself if Valencia is worth visiting.
The beach is just okay
Compared to other spots in the Mediterranean, I've found the beach in Valencia to be not the most impressive.
If your idea of a fantastic beach is an endless sandy shore with relatively calm water and lots of nearby shops and restaurants – then perfect.
But if you're looking for crystalline, perfectly calm water with a one-of-a-kind landscape – then Valencia's beach might disappoint you.
There are plenty of other places nearby that have much nicer beaches:
Platja del Albir (Alacant)
Platja Tamarit (Alacant)
Platja del Portet (Teulada-Moraira)
Platja Nort (Peníscola)
Cala Vadella (Ibiza)
Cala de Sa Salobra (Mallorca)
Cala Aiguablava (Begur, Girona)
So if you really want to go to some of the most impressive beaches in Spain – you might have to rent a car or take a trip to the Balearic Islands.
It's also far away
The other problem with the beach in Valencia is that it is relatively far away. As someone who lives in the city center – I find myself often skipping the beach since it takes around 30/40 minutes to get there, depending on the metro times.
If 30 minutes doesn't sound like a lot to you, or if you'll be going everywhere on your bike – then this might not be a problem for you. The beach area used to be a separate town entirely – so it's not super close to the main tourist destinations in the city.
That's why I usually advise against getting a hotel near the beach, since you may find it ends up limiting you.
But as I said – these may not be cons for you personally. The beach is still beautiful and if you just want to spend a couple hours walking and going for a quick dip – this might not be an issue for you.
Just keep these things in mind as you're choosing your holiday plans.
It's super hot in August
Why did the world decide that the hottest months of the year are the best time for vacations? I'll never understand.
So keep in mind that Valencia is exceptionally hot in August, with average daytime temperatures of 95F / 35C. At night it'll cool down some, but you'll still be sweating.
It's also important to note that the first week of August is often known for bringing a heatwave, with temperatures easily reaching above 104F / 40C.
If you're traveling in August, I highly recommend doing your sightseeing early in the morning, and avoiding the sun from 1pm to 5pm. These are the hottest parts of the day and heat exhaustion/sunburns can easily ruin your trip.
Also – double-check that your accommodations have air conditioning. While this is almost never a problem with hotels, it is more common to see Airbnbs without one.
Les Falles can be overwhelming
While Les Falles is undoubtedly one of the most unique and thrilling celebrations you'll ever see – it's easy to get overwhelmed with the crowds.
Valencia typically has less than 800,000 people. But for the week of Falles, an extra million tourists will visit. Which means the city becomes VERY congested, especially considering everyone is outside celebrating the entire time.
(And I do mean the entire time. You can expect crowds of partiers even early in the morning).
So while I highly recommend visiting for Les Falles if you have the opportunity – it's important to come mentally prepared for large crowds and a lot of chaos.
Valencia becomes an entirely different city during the festival. The rest of the year, crowds aren't really a problem. But from March 15-19, keep this in mind.
It's not a huge city
Finally – Valencia is a medium-sized city. This means most people will have PLENTY to see and do during their stay.
But it also means that you don't typically need more than 3 days to see the most important parts of the city. You also might not find some international amenities you're used to seeing back home. For example – there are only 2 Starbucks in the city and 1 Dunkin Donuts (if that's something that is a life-or-death situation for you).
The good part of that is that it makes Valencia a bit more "authentic" in my eyes when compared to a city like Madrid. The city isn't completely dedicated to and ruled by tourists – so you'll still find people who may not speak English, for example.
So is Valencia worth visiting? For 3 days, yes. Although, if you're looking for a travel destination to spend 2 full weeks in, I wouldn't recommend Valencia unless you plan on renting a car and doing plenty of day trips.
Types of Travelers
So those were the most important pros and cons of visiting Valencia. But to help you make a decision, let's break this down into (some) types of travelers. If you know exactly what you're looking for in a vacation – this will help you decide.
Foodies
For foodies – yes, Valencia is worth visiting.
With a rich gastronomy, several Michelin-star restaurants, and tons of affordable options – you won't go hungry in the city. But if you want the best experience, then try to adapt to the Valencian eating schedule.
(Because only tourist traps are serving dinner at 6pm…)
Shoppers
For shoppers – this is a yes and no.
If you love boutique shops, local stores, and a sprinkling of bigger names like Zara – then yes, it's worth coming to Valencia.
But if you're looking for the high-end, luxury fashion brands like Gucci and Louis Vuitton, then no – it's not the best choice for you.
Architecture Lovers
If you're obsessed with architecture, then yes – Valencia is worth the trip.
The historic center has everything Roman ruins, an Arabic bathhouse, palaces everywhere, plenty of Gothic and Baroque landmarks, and lots of Valencian Art Nouveau marvels.
Heading the Marina or the City of Arts and Sciences will give you one-of-a-kind structures to stare at all day long.
Families
Valencia is a very family-friendly city – outside of Falles. If you're traveling any other time of the year, then it's a great place to bring the whole family to visit.
But during Falles, I would avoid bringing younger children due to the heavy crowds and loud noises. Teenagers would enjoy the festival, but small children might find it overwhelming.
Solo Travelers
Yes – Valencia is a great destination for solo travelers.
There are lots of things to do that you can enjoy by yourself. Plus there are accommodations for every budget and also a fairly large international community if you're looking to make friends while you're visiting.
Big Partiers
This depends on your party style.
Looking for chill bars, enjoying drinks outside, or even heading over to a couple of small-to-mid-sized clubs? Then yes, Valencia is the right place for you. Most bars will be open until around 1am, and all the clubs will stay open until around 6am. El Carme and Russafa are the best areas for nightlife then.
Looking for enormous, A-list clubs or large rave-style venues? Then no, Valencia isn't the best choice for you. You'll want to head over to either Barcelona or Ibiza in that case.
Nature Lovers
Valencia has a ton of green spaces within the city and plenty of natural marvels a short drive away.
I would say that if you love hiking and getting out into nature – Valencia is a great destination if you rent a car.
Since the city is completely flat, there isn't very many viewpoints to see the mountainous areas. And the public transport isn't reliable enough to get you out into the depths of nature. But if you're okay with renting a car, then there are plenty of spots within 1 hour from the city where you can take in the fresh air.
Digital Nomads
Yes, Valencia is one of the best destinations for digital nomads.
With a large international community, an easy-going pace of life, and a relatively low cost of living – it's a great choice for remote workers.
Culture Lovers
Want to make sure you're getting an authentic experience and are broadening your horizons? Then yes, you should definitely come to Valencia.
While there are still some tourist traps in the center – it's very easy to get an authentic taste of the city. You'll still see plenty of locals living out their normal life. It's easy to meet new people and get to know some locals. And if you are an avid museum fan – then Valencia is a great choice for you.
Beachgoers
Want to spend all day, every day at the beach?
Then no, Valencia probably isn't the best choice for you. The beach is pretty and VERY big – but frankly, there are nicer ones nearby.
If you only plan on spending one morning at the beach – then perfect, Valencia is a great option. But if you're really looking for that island getaway, then I wouldn't recommend it.
So, is Valencia worth visiting?
Yes, Valencia is absolutely worth the visit!
It's the perfect travel destination if you only have around 3 days or it makes a great addition to any larger itinerary. The historic center, the modern City of Arts and Sciences, the green spaces, and a lively beach area all make the city a perfect place to travel to.
But hey – maybe I'm biased. I planned to visit for one month, and 6 years later I'm still living here.
FAQs
When is the best time to visit Valencia?
Early June is typically the best time to visit Valencia, as it's warm but not too hot yet. You can also see the exciting Sant Joan festival. 

March is a perfect month to see Les Falles. 

October and November usually have the best weather of the year, with cool temperatures and less rain. April and May can be good options as well, but it's the most likely time to get rained on. 

July and August are peak tourist season with high temperatures (95F +). 

How many days do you need in Valencia?
2-4 days is recommended to see Valencia. With 2 days, you can see the most important parts of the city if you're in a rush. 

3 days is a great happy medium to see everything at a more relaxed pace. But more than 4 days isn't recommended unless you plan on renting a car and heading to other areas.

Why visit Valencia?
Here's my top reasons why you should visit Valencia:

The culture
The food
The historic center
The City of Arts and Sciences
The affordability 
The weather
The size
The location
Is Valencia safe?
Valencia is a very safe city. Spain typically ranks as one of the safest countries in Europe, making Valencia a safe spot – even for solo female travelers.
Is Valencia worth seeing?
Absolutely! Valencia is worth seeing for the unique architectural styles, green spaces, and the City of Arts and Sciences.
Is Valencia a walkable city?
Valencia is a pedestrian-friendly city. Especially in the city center, pedestrians have priority. Within the center, you can get anywhere within 20 minutes. 

The City of Arts and Sciences and the beach are both farther away, but there are many public transport options that make it easy to get there.

Is Valencia expensive?
Valencia is a relatively affordable city. Compared to most European cities, Valencia is on the cheaper side.
What is there to see in Valencia?
These are some of the most important things to see in Valencia:

La Plaça de la Mare de Déu
La Plaça de l'Ajuntament
La Ciutat de les Arts i les Ciències
Russafa Neighborhood
El Carme Neighborhood
Torres dels Serrans
The Valencia Cathedral 
El Mercat Central
La Llotja
San Nicolás Church
The Beach & Port Area 
El Jardí del Túria
L'Oceanogràfic Aquarium
El Bioparc Zoo
Is it better to visit Valencia or Barcelona or Madrid?
This really depends on your personal taste. Madrid and Barcelona are both much bigger cities with completely different architectural styles. 

Valencia is a medium-sized city that is less touristy and has a more authentic vibe. If you're looking for an enormous Big City feel and a huge nightlife – then Barcelona or Madrid are better options. But if you want a more relaxed vacation and still get plenty of history, culture, and entertainment – Valencia is the better option.