Three days in Valencia is the perfect amount to get a taste of the city, its history, and its gastronomy. Follow this Valencia 3-day itinerary to immerse yourself in a fun and jam-packed adventure.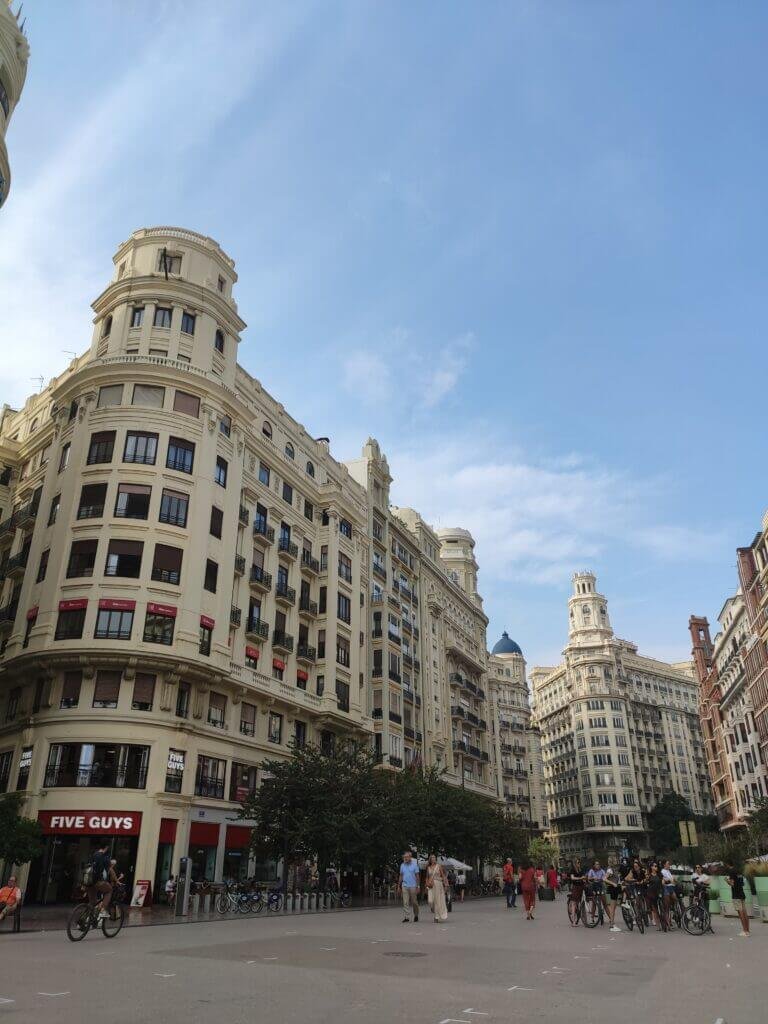 3 days in Valencia is just enough
Valencia is the 3rd largest city in Spain, just after Madrid and Barcelona. So it's by no means a small city. Which means if you only have 1 day in the city, you'll have to make some sacrifices and you won't be able to see everything. 
But if you're able to see Valencia in 3 days, you'll have just enough time to get to know the city – and still have an excuse to come back for more. 
So follow this Valencia 3-day itinerary to see the most important landmarks and sights. And don't forget to check out the end of the guide for alternative things to do. Let's get started!
Valencia 3-day Itinerary: Day 1
Let's start off your adventure in one of my favorite areas of the city – the historic center.
With a history stretching back to the Romans (and earlier!), there are tons of ancient buildings, roads, and monuments to see.
So put on some comfy walking shoes and get ready to take yourself back in time. Here are the best things to see on the first part of your 3 days in Valencia:
La Plaça de l'Ajuntament
Start your 3-day Valencia itinerary off at the City Hall Square. La Plaça de l'Ajuntament is a huge public space with historic, neoclassical buildings.
The City Hall and the Correos (post office) buildings are the two most impressive features here.
This is also the perfect spot to begin your adventure since you're starting right in the heart of the city. Visit the city hall to see the palace-like interior with its historical artifacts. You can also head up the stairs and take a picture from the balcony, overlooking the square.
Note: The City Hall is open M-F from 8-3.
El Mercat Central
Once you finish exploring the Plaça de l'Ajuntament, you'll want to head over to the central market.
This is one of the most important works of the Valencia Art Nouveau and is the largest closed market in Europe.
Head inside and relish the bright colors and rich smells of the local produce. Take a bite out of some farm-to-table fruits or order some artisanal empanadillas.
The Mercat Central (unofficially the Mercado Central in Spanish) is only open in the morning, so we'll make sure to get some yummy treats right in the morning. If you want a heartier snack, you can grab some tapas or a sandwich at Bar Central – the famous tapas bar opened by Michelin-star-winning Ricard Camarena.
La Llotja de la Seda
At the Central Market Square, you'll find one of the symbols of the Valencian Golden Age – La Llotja de la Seda (sometimes referred to as La Lonja in Spanish).
This 15th century masterpiece is the perfect way to get an inside look at the prosperous old Kingdom of Valencia. For 2 euros, you can visit the interior to see the enormous twisting columns and the vaulted ceiling adorned with gold and satirical decorations.
This medieval Silk Exchange is a quick visit and should only take you around 20 minutes to see everything. The jaw-dropping decorations and 500-year-old history makes it one of my favorite spots to visit on this Valencia 3-day itinerary.
After you enjoy your visit to this UNESCO World Heritage Site, you can walk down some of the winding back streets to head towards La Plaça de la Reina – The Queen's Square.
La Seu
It doesn't matter how many days you spend in Valencia – you can't skip La Seu.
The Valencian Cathedral is one of the most impressive landmarks in the city. With a rich history, a bell tower with an outstanding view (El Micalet), and even the Holy Grail hidden within – this is one spot you won't want to miss.
La Catedral de València has a historic museum included in the entrance price, making this an easy way to get a grasp of the city's evolution. Once you get in, head to the right and past the arch to see a small chapel with the Holy Grail. Afterwards, you'll want to walk through and see the anthropologic/archeological museum inside.
After checking out the museum section of the cathedral, take some time to admire the skyscraper ceilings and the Uncorrupted Arm of Saint Vincent the Martyr hidden back behind the altar.
And of course, once you've spent enough time admiring the inside, you'll want to climb up El Micalet. With 206 stairs, it's definitely a bit of a climb. But the view from the top of El Micalet is one of the best things you'll do during your 3 days in Valencia. You get a birds-eye view of the entirety of the historic center.
Plus, those 206 stairs will help build up an appetite for the next part of our adventure!
Lunch
By this time, you should be around lunch time. Typically, Valencians tend to eat a heartier lunch around 2-3 pm.
And since you're in the center, there will be plenty of spots for you to relax and get some food. If you're looking for something authentic, the Bodegó de la Sarieta is a great spot to try some tasty classic recipes.
So here's another pro tip for you: if a restaurant has someone outside encouraging you to go in, it's probably a tourist trap.
L'Almoina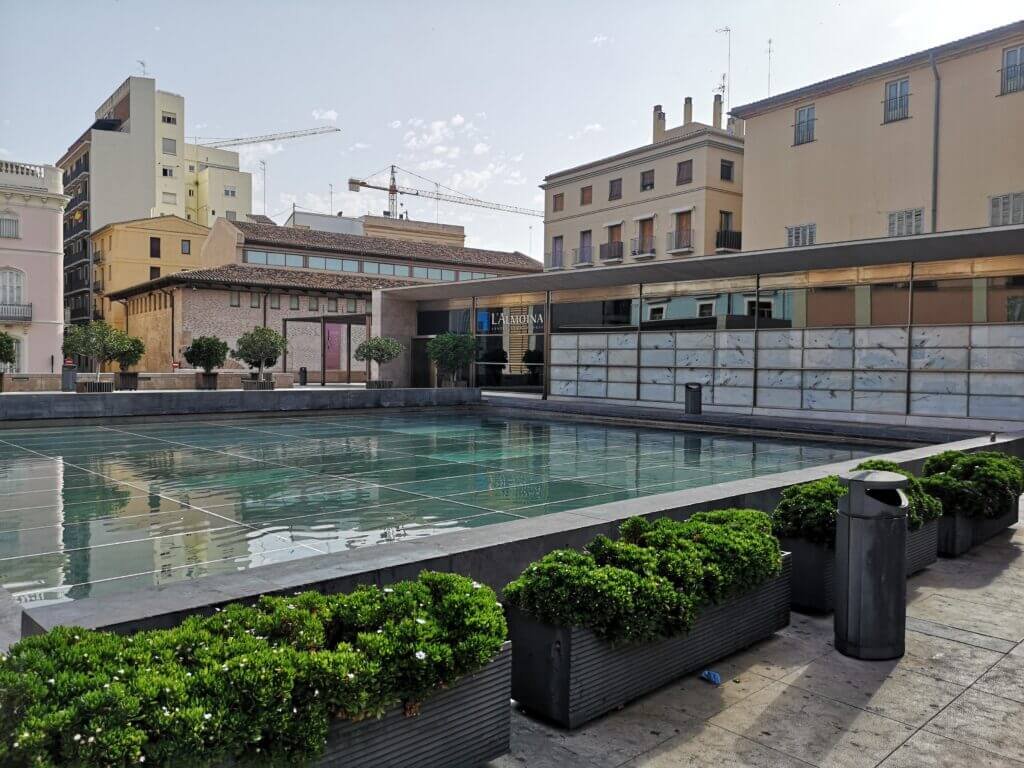 After lunch, I usually recommend checking out a museum. The hottest time of the day is around this time, so it's helpful to head indoors and avoid the sun.
L'Almoina Archeological Museum is right behind La Seu, which makes it an easy destination if you're following this Valencia 3-day itinerary. The entrance fee is only a couple euros per person and it gives you a brief descent into the last two thousand years of history.
You'll see the original Roman road that divided the city, along with plenty of art and cultural relics from the different civilizations that ruled Valencia over time.
So it's an interesting dive into the rich history of Valencia. Which means the air conditioning is far from the only reason to visit!
Estació del Nord
After relaxing in the archeological museum, it's time to head over to a more modern area of the city.
Either walk down Carrer de Sant Vicent or follow Google Maps through some backroads to end up at the Estació de Nord. While you won't be boarding any trains, this Modernist landmark has a hidden gem inside.
Head over to the main entrance on the right and then immediately walk into a room with a glass entrance to the right.
This exhibition hall is worth seeing for the trencadís (Valencian mosaic) tiles. The giant mural highlights typical scenes honoring the agricultural soul of Valencia. The city has deep ties to farming, growing rice, oranges, tiger nuts, tomatoes, and lots of other veggies for the rest of Europe.
This is just a quick detour during our 3 days in Valencia. But it's an impressive piece of artwork to admire and reflect upon the importance of l'Horta (the farmland).
Carrer de Colom
For any shopaholics – this is going to be a noteworthy spot for your 3 days in Valencia. Carrer de Colom connects down to the Estació del Nord and holds all the major shopping brands.
From Zara, Lush, and Massimo Dutti to brands like Apple, this street has everything you'll need.
Carrer de Colom is the primary shopping street, but all of the perpendicular streets are filled with small boutique shops and lesser–known brands. So if you're big into shopping, make sure to spend some time exploring this part of the city.
Mercat de Colom
Towards the end of the shopping district, you'll find the Mercat de Colom (also unofficially known as Mercado de Colón in Spanish). This open-air market is another great example of Modernist Valencian architecture.
If you're here around 6 or 7, then stop at the Daniel's inside and try some orxata and fartons. They're a classic Valencian berenar (a 5 pm snack) and are super refreshing in the summer.
And if you spent a lot of time getting your shopping done, then there are also some restaurants in the lower levels for you to check out.
In either case, the Mercat de Colom is a great way to spend the evening during your 3 days in Valencia.
Dinner
After so much walking, you'll want to spend some time relaxing your feet and grabbing some dinner.
In Valencia, most people eat dinner around 9 pm. Which means that if you see a restaurant open for dinner at 5 – it's absolutely a tourist trap.
So unwind, get some food, and get some rest so you have the energy to take on the next phase of your 3-day Valencia itinerary.
Day 2
On the second part of your 3 days in Valencia, we'll be heading down to the most modern area of the city.
So make sure you have some good shoes on, but let's make a quick stop at the edge of the medieval city.
Torres dels Serrans
The first place to see on Day 2 of our itinerary is the Torres dels Serrans. The old outer gate of the city is the last piece remaining of the medieval city wall.
Naturally, Valencia has grown quite a bit since those medieval walls were put up, but the Serrans Tower remains.
You can climb up the towers to get a feel for just how massive this defensive wall must have been.
Once you get up to the top – then you get an impressive view of the historic center, the Turia Gardens, and even the City of Arts and Sciences.
So don't forget to spend some time admiring the views during your 3 days in Valencia. Because now we're heading from the edge of the medieval city and going towards the futuristic side of Valencia.
La Ciutat de les Arts i les Ciències
Right in front of the Torres de Serrans, you can take the Bus Line 95 to explore an area unlike anything you've seen so far.
La Ciutat de les Arts i les Ciències (CAC) is a futuristic complex that was inaugurated in 2005. Paying homage to the maritime traditions of the city, all of the major landmarks have sea themes.
These architectural wonders were designed by Santiago Calatrava and feature millions of trencadís tiles. Even if you don't head inside any of the buildings, it's worth exploring the outside and getting lost in this unique and emblematic area.
Here are the main buildings at the City of Arts and Sciences:
El Palau de la Música Reina Sofia (The opera house)
L'Hemisfèric (An IMAX theater)
El Museu de les Ciències Príncipe Felipe (The science museum)
L'Umbracle (A large garden area with a nightclub)
L'Oceanogràfic (Europe's largest aquarium)
Check out whichever of the buildings are most interesting to you. But even if you're not into things like the interactive science museum, l'Oceanogràfic is absolutely worth being the next stop on our Valencia 3-day itinerary.
L'Oceanogràfic
The Oceanogràfic aquarium is absolutely one of the best things to see in Valencia. With everything from dolphin shows to an enormous butterfly garden, it's a great way to connect with nature and the surrounding marine life.
If you're coming in the summer, this is another great spot to visit since there are lots of shaded areas and air conditioning inside. Seriously – the Mediterranean sun is no joke.
So heading into l'Oceanogràfic is a great way to learn more about the Mediterranean biodiversity – and catch a little break from those summer temperatures.
Lunch
The aquarium takes around 3 hours to fully visit, so by the time you finish – you'll definitely be hungry.
There are plenty of bars and lunch spots nearby. Plus, if you want something quick and easy – the aquarium also sells sandwiches and snacks. Though of course, they'll be more expensive than at nearby restaurants.
My suggestion for this 3-day Valencia itinerary – use this lunch period to save a bit of money. To be fair, the culinary selection in this area isn't so great. Instead, I suggest grabbing something quick or bringing a sandwich to have a picnic at the City of Arts and Sciences.
But don't worry, with 3 days in Valencia – you'll have plenty of opportunities to enjoy the gastronomic scene. We'll save out for a great dinner on Day 2.
Museu Faller
This is one of my favorite spots in Valencia, even though it's not often talked about.
The Museu Faller shows you the history of Les Falles. During this celebration, hundreds of building-size pieces of art are created to fill the streets. Then, the public votes to see what their favorite artwork is.
Then on the night of the 19th of March, all of them are burnt to the ground. All of them, except for one small piece called the ninot indultat.
In the Museu Faller, you'll see all the ninots indultats from the last 100 years. And since Les Falles usually features satirical and socially-critical artworks, this is a great way to get an inside look at Valencian society over the last century.
Head inside the museum to learn more about this UNESCO World Heritage Festivity.
Jardí del Túria
Once you've had enough time in the museums, head back outside and into the Turia Gardens. This kilometers-long park is the old riverbed that was converted into an enormous green space.
The Turia Gardens are called the lungs of Valencia for good reason. This giant park has tons of different plants, parks, and fields.
Since the City of Arts and Sciences is located at the end of the Gardens, you can walk back up through it for a while to get to our next destination.
Breathe in the fresh air and enjoy this natural gem. If you're the athletic type, you can also spend some of the mornings of your 3 days in Valencia going jogging or biking here.
Russafa
After enjoying some time walking through the gardens, head back up into the city to Russafa. Previously a separate town, Russafa is now one of the trendiest neighborhoods in Valencia.
This section of the city still holds on to a small-town charm with its brightly colored buildings. Throw in all of the modern bars, restaurants, and entertainment – and you have a hip area to explore.
Spend some time wandering through the area and exploring its roads. Then whenever you've had enough walking, we'll take advantage of the food scene to grab some dinner.
Dinner
Russafa is full of some of the best restaurants in Valencia. If you're spending 3 days in Valencia, you'll have to stop here for dinner.
And naturally – you have a huge international selection to choose from as well.
So here are some of my top suggestions for restaurants in Russafa:
Zalamero
Voltereta
La Casa Viva
La Salita
El Rodamon
Canalla Bistro
Maui
Mare Meua
Of course this isn't an exhaustive list, but this is a wide variety of different restaurant types. So whether you're looking for a Michelin-star night out or something more casual, this list will help you out.
Day 3
You've seen the historic center and the futuristic City of Arts and Sciences. Now it's time to finish off your 3 days in Valencia by checking out some of its natural beauty.
So grab a towel and your sunscreen, because we're ending our Valencia 3-day itinerary on a sunny note.
El Cabanyal
If we're dedicating the entire morning to exploring the Valencia beach, you should take a quick 30-minute detour.
El Cabanyal is the port neighborhood that used to be its own city. With small, bright-colored houses – this is a gorgeous area to check out in the morning.
It's near the beach, so just spend a bit of time walking around and exploring the traditional architecture before laying out in the sun. And if you have an appetite – this is one of the best places to get a classic esmorzaret.
La Malva-rosa
La Malva-rosa is the main beach for Valencia. With enormous sandy beaches that spread for miles and a busy boardwalk, it's the perfect place to cool off and enjoy the Mediterranean sun.
Whether you plan to dive right into the water or stop at a chiringuito (tiki bar) to unwind, the 3rd day on this itinerary is all about relaxing.
You could also continue walking down towards La Patacona, another section of the beach. The beach itself is relatively similar, but if you enjoy walking down the boardwalk – it's a great way to spend the morning.
Paella
The beach at Valencia is one of the best places to get paella.
And since paella is exclusively a lunch option – this is your best opportunity to try an authentic dish.
I recommend going to La Pepica. It's one of the best restaurants for this Valencian classic in the city.
Pro tip: If you're having paella somewhere else and it has chorizo or is served at night – you got scammed.
La Marina
After resting up for a while, there are a few landmarks in the area to check out. La Marina is the huge port area that often hosts festivals and other events. It's right next to La Malva-rosa, so it's easily accessible.
If you're coming to the beach by bike, it's super easy to head through the entire area. Take in the sights, enjoy the salt air, and relax.
Veles e Vents
This modern structure was built in 2007 and is also known as The America's Cup Building.
While it was originally created to host a sports event, it now has a few restaurants and hosts other business events.
I personally wouldn't bother going in, but since you're already in the area – it's definitely worth visiting the exterior.
L'Albufera
After spending the morning at the beach and getting your fill of a traditional Valencian paella, the last thing to do is visit l'Albufera.
This natural park is a freshwater lake right next to the salty Mediterranean Sea.
The lake has been a fundamental part of Valencian history, culture, and gastronomy. Situated right outside the city, it's the perfect place to see the sunset and enjoy the natural landscapes.
You can also book a boat tour and learn more about the historical and ecological significance of the area. What better way to end your 3 days in Valencia?
Alternative things to do in Valencia in 3 days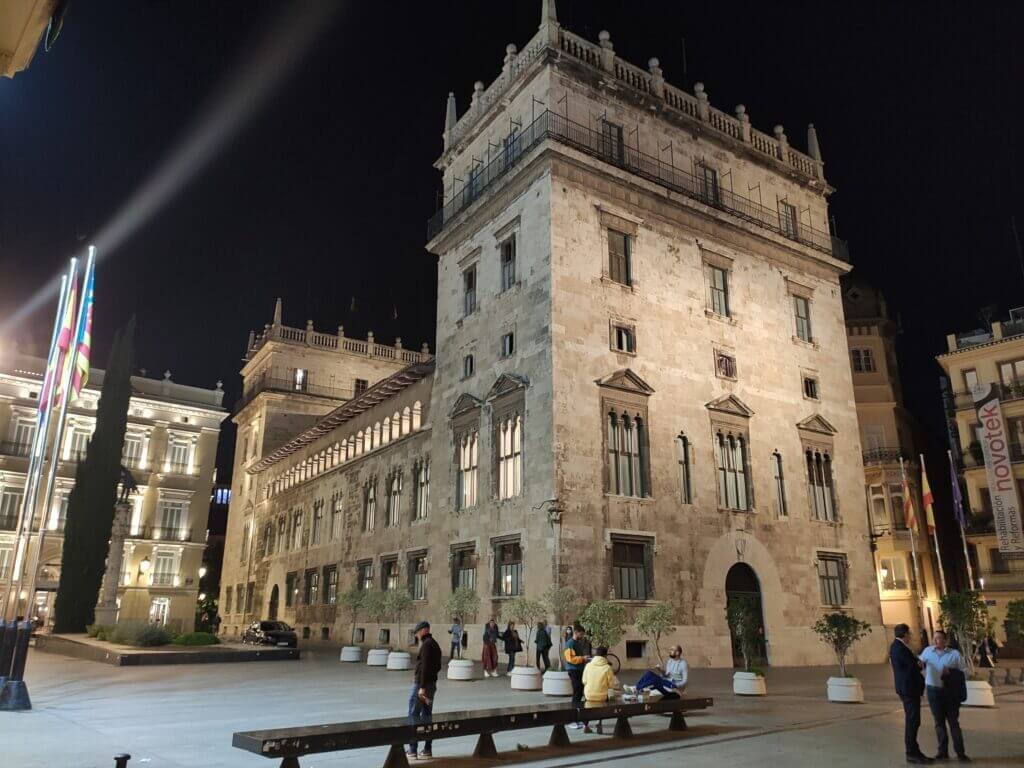 Of course, there isn't one perfect itinerary for everyone in the world. Whether you're museum-obsessed or you prefer getting lost deep in a local tour – there are lots of ways to plan the perfect holiday.
So in case anything on this itinerary doesn't work for you, here are some alternative activities for your 3 days in Valencia:
Museu de Belles Arts
An art museum with works from Velázquez, Goya, and El Greco.
Bioparc
The Valencia Zoo, a perfect spot to visit with kids.
Carrer de la Pau
A gorgeous street filled with Baroque buildings and tiny shops.
Les places
There are tons of great squares (places) to go visit. Here are a few extra ones:
Plaça de l'Arquebisbe
Plaça Redona
Plaça del Patriarca
Plaça de Manises
Plaça de la Mare de Déu dels Desemparats
Paella cooking classes
Get your hands dirty and learn from the pros how to cook your own paella.
Walking Tours
Dive deep into the history and culture with a walking tour!
Mestalla
Big soccer fan? Head over to check out the Mestalla Stadium.
El Palau de Dosaigües
A breathtaking palace on the exterior with a ceramics museum inside.
Is three days in Valencia enough?
Yes, 3 days in Valencia is definitely enough. You'll be able to see the most important landmarks at a pleasant pace.
You won't be able to see absolutely everything, or see many of the museums. But if you're looking for a quick introduction to the city, you can absolutely see Valencia in 3 days. 
Begin your Valencia 3-day itinerary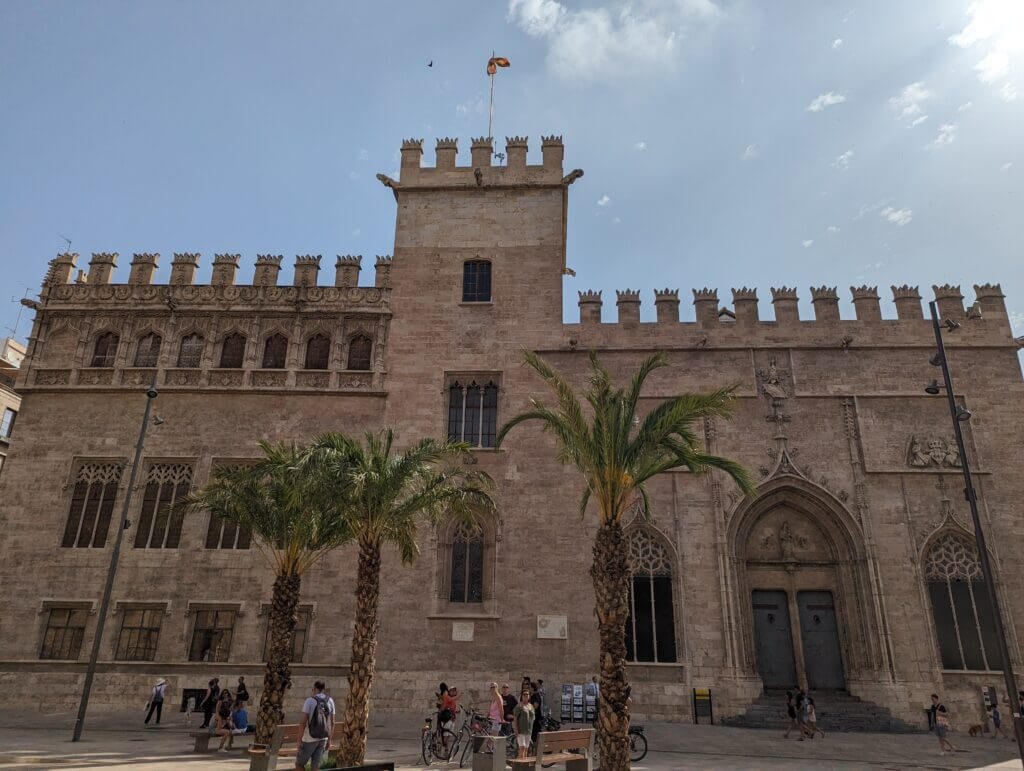 Valencia is a stunning city with a mix of history, modern architecture, and natural wonders. Follow this plan to fall in love with the city like I did. With 3 days in Valencia, you'll have enough time to get just a taste for the culture and a craving to come back.
Check out my guide for travel tips if you want to make the most out of your trip.
FAQs
What are the best things to see in Valencia in 3 days?
Here's what you need to see in Valencia in 3 days:
La Plaça de l'Ajuntament
El Mercat Central
La Llotja de la Seda
La Seu de València
L'Almoina
Estació del Nord
Carrer de Colom
Mercat de Colom
Torres dels Serrans
La Ciutat de les Arts
L'Oceanogràfic
Museu Faller
Jardí del Túria
Russafa
El Cabanyal
La Malva-rosa
La Marina
Veles e Vents
Paella
L'Albufera
How many days do I need to see Valencia?
With 3 days in Valencia, you'll have enough time to see the most important areas of the city.