With rich cultural traditions and a gastronomy rooted in local produce, it's hard to choose the best restaurants in Valencia. Spain is a haven for foodies, boasting a vibrant culinary scene. But the Valencian culinary scenes stands out for everything from traditional paella joints to avant-garde Michelin-starred establishments, there are plenty of amazing places to eat. Valencia is full of hidden gems, so this comprehensive guide will lead you to the best restaurants in the city.
The Best Restaurants in Valencia, Spain
With so many places to eat – and so many tourist traps waiting to get you – it can be hard to choose the right restaurant for you.
So my goal is to help you try the best Valencian food, no matter what you're in the mood for. From paella to tapas to a sweet treat, I'll show you the best restaurants in Valencia.
And, of course – this is a guide from someone who's actually been living here since 2018. So it's not just the same 5 spots you see on every article. These are top recommendations that people who actually live here will visit.
Now let's dive into the top 29 best restaurants in Valencia, Spain. 
Paella Restaurants
You can't come to Valencia without getting your hands on some traditional Paella.
My recommendation – don't be afraid to venture a bit further away from the city center for the best paella.
Quick pro tip: Paella is only eaten for lunch. If you see a restaurant serving it for dinner, then you're probably in a tourist trap.
La Pepica
A Valencian institution, La Pepica has been one of the best paella restaurants since the 19th century.
It has welcomed renowned figures like Ernest Hemingway and has certainly made a name for itself over the years.
The classic paella, prepared with locally-sourced ingredients, continues to be a staple for both locals and tourists. Plus the beachfront location makes it an ideal spot for anyone looking to melt into their dreams of a Mediterranean paradise.
The most traditional dish is the Paella Valenciana. But they also have some more daring takes if you want to be a bit of a vanguard.
Undoubtedly one of the best restaurants in Valencia – this paella spot is technically just outside the main part of the city.
I recommend heading out on a bike ride to see El Palmar beach, then grabbing an unforgettable lunch at Bon Aire.
It captures the essence of Valencia's maritime charm.
With a reputation for their seafood paella (they've won a ton of awards!) and their outdoor terrace, it's one of the best things to do while you're in the city.
Enjoy the sound of waves, the aroma of rosemary and saffron, and that perfectly cooked rice on a bright sunny day. That's what vacation feels like.
Neighborhood: Malva-rosa
Price: €€€
Location: C/ d'Isabel de Villena, 155, 46011
Another classic spot towards the beach, Casa Carmela has been serving paella since 1922.
They're directly overlooking the beach and still cook all their paelles with a wood fire. Combine that with their local seafood and produce, and you can't get any more traditional than this.
(Well, unless of course you had a Valencian grandpa to make it for you on a Sunday…)
Pro tip: Make a reservation on their website early, because they get booked up fast.
Tapas Restaurants
Let me give you a quick, heartbreaking warning.
Valencia isn't actually known for having a deep tapa culture. Many places in Spain, such as Madrid and Andalusia have typical tapas restaurants everywhere.
But historically, they haven't been a big part of Valencia's culinary scene. So there are fewer traditional tapas, and more contemporary ones.
Regardless, there are still plenty of great tapas restaurants in Valencia. Plus, they are some of the most famous spots in the city.
Founded in 1836, Casa Montaña is a historic bodega turned tapas haven.
The century-old décor, combined with an extensive wine list and an array of tapas, creates an atmosphere of timeless elegance.
To get here, you'll be exploring the quaint Cabanyal neighborhood. Then on the inside, you have the option of sitting in the front, amongst the rustic wine barrels, or you can sneak past to the back to see the traditional, home-style décor.
I've only been here once, and in my opinion, it is a bit pricey for tapas. However, they were absolutely delicious and the classic atmosphere makes it worth it. I suggest coming here on a day you'd like some light tapas and wine for lunch.
Central Bar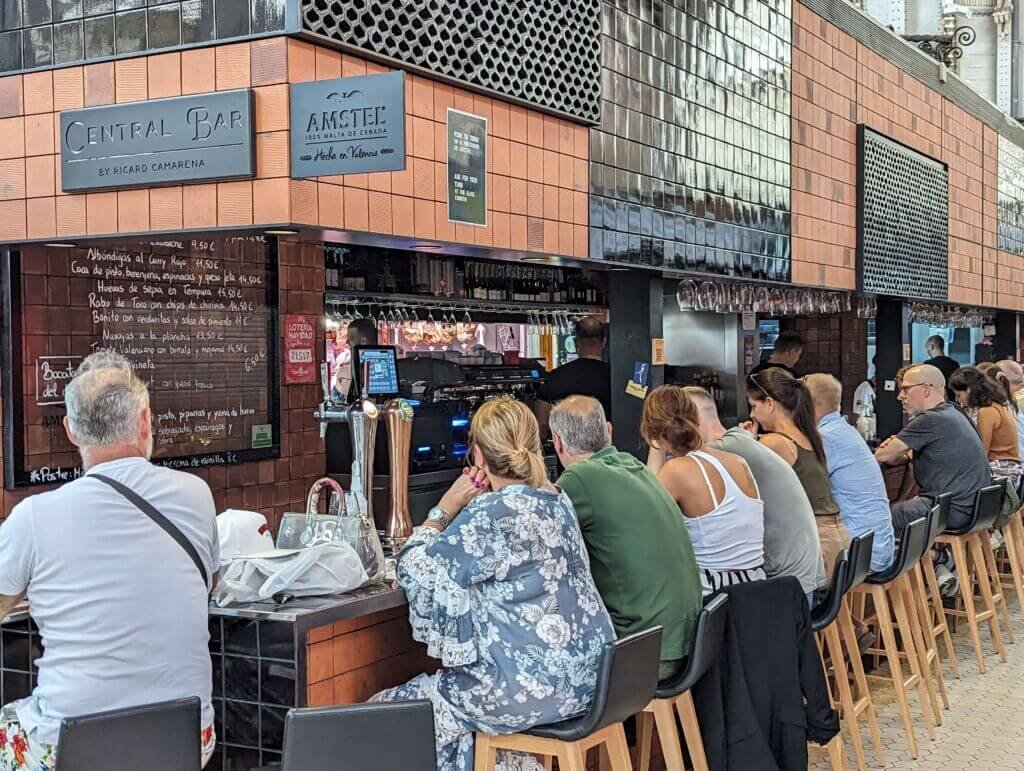 Website: https://m.centralbar.es/
Neighborhood: El Mercat
Price: €€
Location: Mercado Central de Valencia, Pl. de la Ciutat de Bruges, s/n, 46002
Hidden in the buzzing Mercat Central, Central Bar is a gastronomic gem you have to try out.
Within this vibrant market setting, the Michelin-starred chef Ricard Camarena creates a perfect setting for innovative tapes and esmorzarets.
The menu changes frequently, but always offers a low-price entry to enjoy the cuisine from a Michelin-star chef.
Just note: there is often a wait here. So if you're heading into the Mercat Central, make sure to run over right away.
Canalla Bistro
Naturally, Ricard Camarena is a household name in Valencia. Thanks to being a Michelin-star chef from the small town Barx, near Gandia, he's famous for hosting some of the best restaurants in Valencia.
Canalla Bistro is a great place to get tapas for dinner. Right in the heart of Russafa, the changing menu offers contemporary dishes from around the way. It's a way to give traditional tapas a global twist, and is definitely one of the most interesting places to eat in the city.
This fancy eatery will definitely be more expensive than some of your other options, but if you're looking for a romantic dinner – this is a great spot.
And if you have any allergies – just call ahead. I went with a group of around 25 people, and the restaurant was super friendly and accommodating (which doesn't always happen in Spain…).
Neighborhood: Benimaclet
Price: €
Location: C. del Reverend Rafael Tramoyeres, 35, 46020
If you want a local's favorite – head over to El Carabasser. Located in the buzzing Benimaclet neighborhood, it's the perfect way to get a feel for an contemporary Valencian experience.
With a variety of small plates – many of them vegetarian – you get great portion sizes for a reasonable price.
This is one of my favorite restaurants in Benimaclet (or Beni, as you'll hear people endearingly call it). The lively neighborhood is mostly for students and younger people, and it's less monumental. But if you're looking for authenticity – this is the place to go.
Michelin-Star Restaurants
Looking for a luxurious dining experience? Then you're in luck, because Valencia is filled with Michelin-star restaurants.
Now to be completely honest – I haven't been to all of them. Because, you know – that's just not in my budget. But I'm going to point out some spots that friends have recommended to me.
So if you do check out some of these masterful restaurants in Valencia, make sure to send me a message and tell me your thoughts!
El Poblet
Helmed by chef Quique Dacosta, El Poblet has earned two Michelin stars for its avant-garde approach to traditional Mediterranean cuisine.
It's one of the most famous restaurants in Valencia, and with good reason. The name poblet means "little town". And their tasting menus showcase traditional dishes from different towns throughout the state of Spain, each using their local ingredients.
As of 2023, their menu tasting (wine included) costs 175€ per person. Which, for a 2-star Michelin restaurant, isn't unreasonable.
So if you're looking for the best of the best restaurants in Valencia, head over to El Poblet.
Xanglot
Xanglot is a restaurant that I've been wanting to try for a while. I often pass by here on my nightly walks and it always looks amazing!
A Michelin-starred gem in the heart of Valencia, Xanglot offers an intimate dining experience. Chef Sandra Jorge culinary artistry shines through in each dish, merging traditional techniques with a modern flair.
Their seasonal menus cost 85€ per person, with all the ingredients coming directly from the Mercat Central.
Forastera
Neighborhood: El Pilar
Price: €€€
Location: C/ del Pintor Domingo, 40, 46001
This is one of the smallest and hidden restaurants in the city. With local ingredients and important beers and wines, it's a fantastic, unpretentious restaurant for anyone interested in dabbling in Michelin-star experiences.
With a 50€ menu per person, it's definitely an approachable option for people looking for an exciting experience in the city.
Traditional Valencian Food
Zalamero
Neighborhood: Russafa
Price: €€
Location: C/ de Sevilla, 20, 46006
Zalamero, situated in the heart of Russafa, pays homage to traditional Valencian gastronomy – with a twist.
The entire menu focuses on the classic coques, a baked dough with both sweet or savory toppings and an elegant touch.
It's the perfect spot for a light, tapa-esque dinner. With both classic and contemporary flavors, this is undoubtedly one of the best restaurants in Valencia, especially for those interested in authentic classics.
La Riuà
La Riuà (The River Flood, in English) is located in the heart of the Old Town. Dedicated to presenting the best of local flavors, it's one of the best restaurants in the city center.
Valencia offers a rich gastronomic scene – from umami-rich rice dishes and the classic fideuà to summertime favorites like the torró ice cream.
If you want to make sure you're getting an introduction into true Valencian cuisine, this is the place to go.
Tip: Don't forget to make a reservation on their website
Esmorzaret
Let's move on to another one of the most essential parts of Valencian cuisine – l'esmorzaret.
This is traditionally a mid-morning snack that is very hearty. Typically you'll enjoy a hearty sandwich, pickled snacks, a beverage (beer), and a coffee to get you through until lunch.
It's become synonymous with Valencian food, so you have to make sure to try it out while you're in Valencia. While most hidden bars will offer an esmorzar, here are a couple that stand out:
La Pascuala
La Pascuala has been well-known as one of the best esmorzaret restaurants in Valencia for years.
The main reason – tasty entrepans longer than your torso. So if you've got a big appetite and you're ready to dive into a culinary vacation, this is the spot to go.
Located towards the beach, it's a great way to enjoy your morning and spend time experiencing a bit of Valencian culture.
It's one of the best restaurants in El Cabanyal, but there is a caveat:
Make sure to go on a weekday. On the weekend, the prices go up unreasonably (in my opinion). A quality esmorzaret should be filling, delicious, and inexpensive.
Nuevo Oslo
Neighborhood: Arrancapins
Price: €
Location: Carrer del Doctor Sanchis Sivera, 7, 46008
Nuevo Oslo is a relaxed, easy-going bar in a less-touristy neighborhood.
They serve casual esmorzarets for a reasonable price. Enormous entrepans, smaller snacks, and tasty cremaets (a typical alcoholic coffee drink).
It's one of the best restaurants in Valencia, recently winning the Cacau d'Or – a local award for top-tier esmorzaret restaurants.
So if you're ready for a more authentic, casual experience – head over to Nuevo Oslo.
Budget Restaurants
Sometimes you want to experience the best restaurants – without all the flair. Valencia has a great food scene, and a surprisingly affordable one, as well.
So if you're a budget traveler looking for some tasty treats, here are some suggestions:
Kebabs
This first one isn't a specific restaurant, but rather a range. If you want a quick, filling meal for less than 8€ — check out any neighborhood "Kebab".
From shawarma and falafels to even pizza – they're the perfect spot for a greasy, delicious meal. They're not exactly traditional Valencian cuisine, but they've become a nighttime tradition for that post-partying meal.
If you're in the City Center, I like to go to the Kebab on the Plaça de Tossal. You get a full meal for 5€ – so you really can't beat these prices!
La Sureña
Website: https://lasurena.es/es/
Neighborhood: Sant Francesc
Price: €
Location: C/ del Convent de Sta. Clara, 10, 46002
La Sureña is a popular chain in Spain, known for its affordability. It's a great place to go with friends when you're looking for some quick tapas and drinks.
The menu features food from throughout Spain, including patatas bravas and berenjena con miel (honeyed eggplant). You can get a few tapas and drinks for less than 10€ a person, so it's a great way to get a casual taste of Spanish food.
That being said – La Sureña isn't known for its impeccable quality. The food is good, but not blow-your-mind amazing. But if you want typical Spanish food for a great price – this is a great spot.
Alternative: 100 Montaditos is another option that offers 1€ sandwiches on Wednesdays and Sundays. Similar quality, but with montaditos instead of tapas.
El Dorita
Website: https://carta.menu/restaurants/valencia-1/el-dorita-valencia
Neighborhood: El Carme
Price: €
Location: C/ de St. Donís, nº1, bajo izq, 46003
Hidden in the heart of El Carme is a budget-friendly restaurant that I love to frequent. While it's not a famous spot, it's one of my favorites.
With tapes, entrepans, and main courses, this is a great place to check out some Valencian cuisine in a lively atmosphere. You'll see this plaza constantly full of people, with lots of locals coming to eat or just grab a drink with friends.
I highly recommend the croquetes de boletus (fried mushroom croquettes), and the pimientos de padrón if you've never had them.
Note: The location is fantastic. The prices are great. The food is good. The service is … not their strong suit. You'll have to be a bit patient (or insistent) with the servers. But if you're not in a rush, then this won't be a problem. 
The Nature
Neighborhood: La Roqueta
Price: €
Location: Plaça de Vannes, 7, 46007 València
Another one of the best restaurants for budget travelers in Valencia – The Nature. It's a vegetarian buffet restaurant with an emphasis on Asian-fusion cuisine.
The food is tasty and unlimited for a very reasonable price. So if you're on a strict budget, but you still have a big appetite – this is a perfect spot to check out.
I haven't been here, yet! It's been on my to-do list for years and I've gotten so many recommendations from friends. So as soon as I finally make it over here – I'll add more details!
Vegetarian Restaurants
Want to enjoy your gastro-tourism as a vegetarian or vegan? Don't worry, Valencia has a growing list of veggie-friendly restaurants.
There are tons of places, but here are some of my favorite vegetarian restaurants in Valencia.
Copenhagen
Neighborhood: Russafa
Price: €€
Location: Carrer del Literat Azorín, 8, 46006
Copenhagen, is one of the trendiest restaurants in Valencia. Spain is known for its innovative gastronomy, and this tiny Scandanavian-inspired restaurant doesn't disappoint.
The restaurant is fully vegetarian with many vegan options. It's also reasonably priced, with a hearty Menú del Dia for only 11,90€ Monday-Friday.
This is one of the perfect places to go with a mixed group of people. Because even though everything is vegetarian, there's enough options to satisfy even the pickiest of your friends.
Copenhagen is the first of many successful restaurants by the same group of chefs. Thanks to their creative dishes and fresh ingredients, they're now known to be one of the best restaurants in Valencia.
Khambu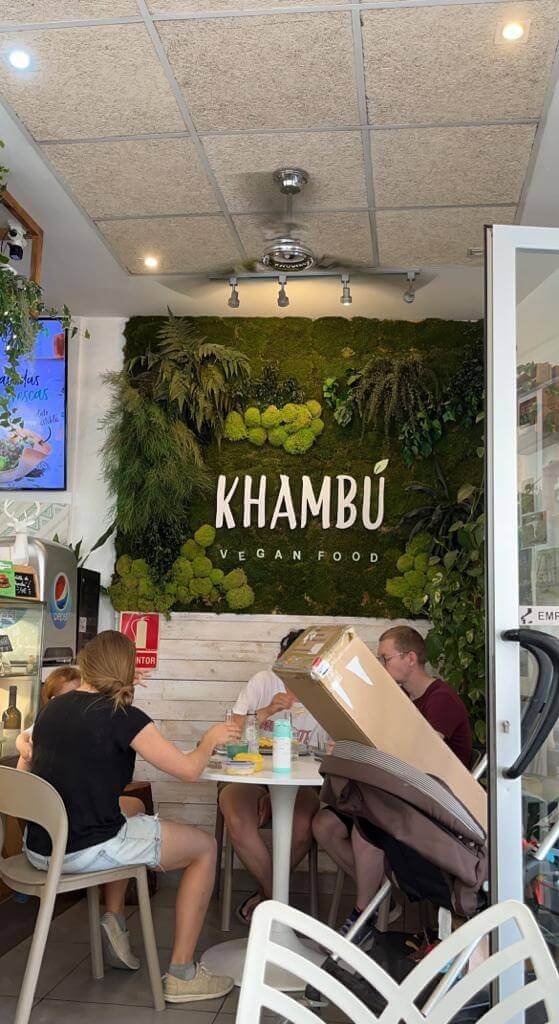 Website: https://khambu.com/
Neighborhood: El Carme
Price: €
Location: C/ de Quart, 41b, 46001 València
This is one of my favorite spots for a quick meal in Valencia. Khambu is a 100% vegan "burger" restaurant.
With tons of starters, different options for burgers (both in flavors and textures), and tasty desserts – it's a great spot for an affordable meal for any vegans or vegetarians.
And luckily, it's also located in the heart of the city center, making it a perfect location for travelers. My personal favorite is the Indiana Burger. Everytime I go, I tell myself I'll try something new – but I just can't resist it!
A Huevo
This is a great restaurant to check out if you're exploring the Túria Gardens or coming back from the City of Arts and Sciences.
It's also the perfect spot if you have allergies or gluten-intolerances.
Because while the restaurant isn't strictly vegetarian (or vegan), they are one of the most flexible and considerate restaurants in Valencia. The food is delicious, there are plenty of options, and the staff is super friendly.
I recently went there with my partner (vegetarian) and his cousin (gluten-free and allergic to fructose). And the restaurant went above and beyond to make sure there were no issues, including offering to cook everything on separate cookware!
International & Local Favorites
Are you already familiar with Valencian cuisine? Or are you staying in the city for a while and want to try adventurous new flavors?
Here are some of my recommendations for the best international flavors and restaurants that the locals actually go to.
La Voltereta
Neighborhood: El Pla del Remei
Price: €€
Location: Gran Via del Marqués del Túria, 59, 46005
If you want that influencer, Insta-worthy restaurant experience – check out La Voltereta. There are several hidden throughout the city, each with their own thematic decorations.
The one closest to the city center has a Bali-style restaurant. Since 2021, this restaurant has been all the craze – with people reserving months in advance. Because the food is great, the prices are reasonable, and all the decorations are gorgeous!
There's two other Voltereta restaurants in Valencia (as of 2023), and all of them are worth checking out. So if you want a unique experience in the city, make sure to check out this restaurant.
And don't worry – you can probably get a reservation in the same week now!
Xiao Gei Zi
Website: n/a
Neighborhood: La Roqueta
Price: €
Location: C/ de Pelai, 25, 46007
This Chinese restaurant has actually been my go-to spot for years. Of course, there are many places to choose from in Valencia's China Town, but this is my favorite one for its authenticity.
The portion sizes are huge. The food is amazing. The prices are super cheap. And the family that runs it is so sweet.
What more could you possibly want?
Now it is a traditional hole-in-the-wall restaurant, so don't expect anything super special when it comes to the atmosphere or decoration. But the food is spectacular.
Located in the Valencian China Town, behind the Estació del Nord, it's absolutely one of my favorite restaurants in Valencia.
Kukla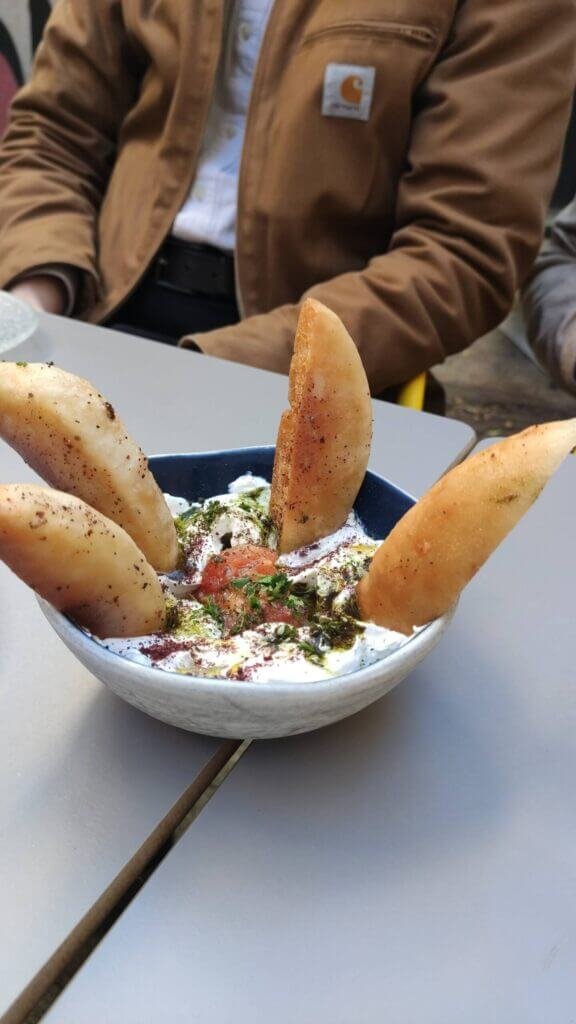 In one of the best spots in the city, near the Torres dels Serrans, you'll find the quaint Kukla restaurant.
Get Middle Eastern dishes made from local ingredients. This hidden gem is affordable, has plenty of vegetarian and vegan options, and is a breath of fresh air for people looking for something different!
It is a little tricky to find the restaurant, so don't be afraid to explore the narrow streets off the beaten path.
Dessert Places and Bakeries
After you've filled yourself up with all the tasty cuisine from the best restaurants in Valencia, it's time to satiate that sweet tooth.
Here are some of my favorite spots for sweets in the city.
Daniel's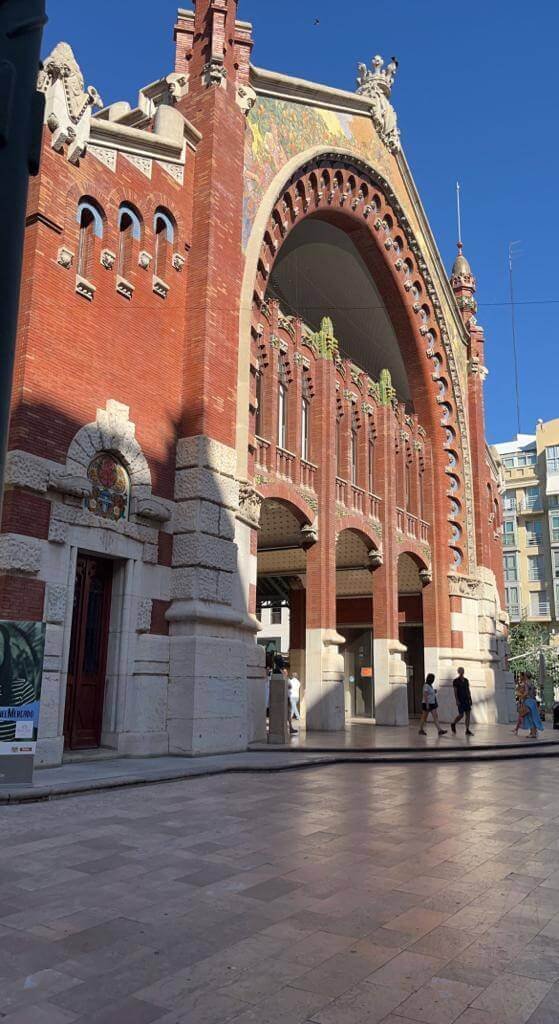 Daniel's is a Valencian classic. This orxateria is a berenar-favorite for locals (an evening sweet snack).
The classic choice is the fartons and orxata, a sweet bread with a drink made from tiger nuts. Think of it as a sweetened almond milk, but with a very distinct flavor.
But when my parents visited me, their favorite was actually the Orxaronja – a slushie that mixes fresh orange juice and orxata. It's a creative and refreshing drink that's as delicious as it is innovative!
There are several Daniel's spread throughout the city. I recommend checking out the one in the Mercat de Colom as it's a pretty location and an easy way to fit it into your itinerary. But the original and most traditional location is in Alboraia, right next to the metro station.
Manolo's Bakery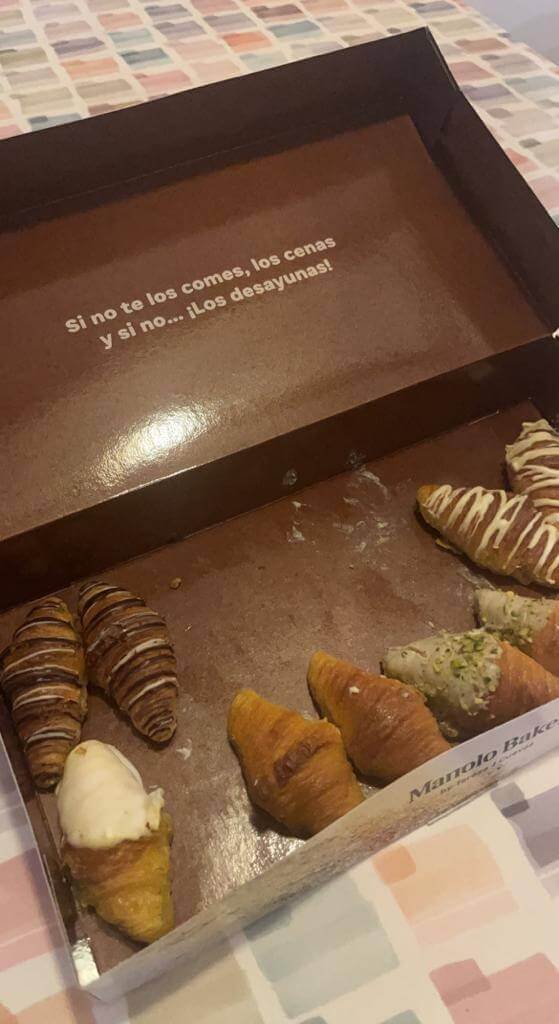 This is one of the newest bakeries in Valencia, but has quickly become one of my favorites. Manolo's Bakery (also referred to as Manolitos) is famous for its absolutely amazing croissants.
Or at least, they're similar to a croissant, but with their own twist (French people, don't @ me).
If you're looking for one of the best bakeries in Valencia, this is definitely the place to go. It's not a traditional spot, but it is amazing.
It's also located on Carrer de la Pau, so it's easy to find and only about 2 minutes away from the Valencia cathedral.
Cocktail Bars
If you're looking to grab a quick drink in the city – you can go to just about any bar you find. If you don't really care about what you're drinking, then I recommend choosing based off the location and views.
At the end of the day, most bars will have the same beers and wines.
But if you're looking for some specialized cocktails, good beer, or a bar with an interesting twist, then let me give you some recommendations.
Café de las Horas
Café de las Horas is a historical gem in the city.
This is one of the best bars in Valencia thanks to its Baroque decorations, creative cocktails, and completely unique coffee drinks.
And when I say Baroque – I mean like it literally feels like you're walking into some Victorian ballroom.
This makes it one of the most unique restaurants in Valencia to get a drink. So whether you want a cocktail or an interesting coffee beverage, this is the place to go.
You'll find it right behind the Palau de la Generalitat, so the location is unbeatable as well!
Hocus Pocus
Want a really magical bar experience? Head over to Hocus Pocus, hidden in a side-street in the Old Town.
Because this isn't just a place for a cocktail – it's a full potions class. You get an immersive experience as they teach you how to brew up a magical concoction.
You can make alcoholic and non-alcoholic potions, so it's an experience for everyone.
Heads up: You need to make a reservation in advance.
Hawaika
Can't go without a tiki-style bar? Head over to Hawaika.
Located just outside the tourist areas, this bar has been a local favorite for years. With tropical cocktails and a laid-back design, this is one of the best cocktail bars in Valencia.
So if you're looking for a relaxed evening with tasty cocktails and fruit smoothies, make sure to check out Hawaika. It's only a few minutes' walk from the Àngel Guimerà metro station.
Food to Try
So you're heading to Valencia and you want to try the best restaurants. Valencia offers you a rich culinary scene with tons of different dishes to try.
Because at the end of the day – Spanish cuisine isn't the same as Valencian food. Spain is a multicultural state, and each culture has its own cuisine.
So to make sure you're getting as authentic of an experience as possible, here are some dishes I recommend trying for an introduction to Valencian gastronomy:
Paella: Valencia's signature dish, paella, is a saffron-infused rice dish often prepared traditionally made with rabbit and chicken.
Orxata i Fartons: A refreshing drink made from tiger nuts, orxata is best enjoyed with fartons, a sweet pastry.
Esgarraet: A simple yet flavorful tapa of roasted red peppers, salted cod, and garlic.
Coca: Can be savory or sweet, this dough-based classic is ubiquitous and varied.
Fideuà: Similar to paella but made with short noodles instead of rice, fideuà is a seafood lover's delight.
All i Oli: "Garlic and Oil". That aioli you love is a Valencian classic with a strong and spicy taste.
All i Pebre: A traditional fisherman's stew, all i pebre features eel, potatoes, and garlic in a rich broth.
Cassalla: An herby liquor meant to be enjoyed after a meal. This one is for the brave.
Arròs al Forn: Baked rice with vegetables and meat, arròs al forn is a comforting classic.
Bunyols: Deep-fried pumpkin pastries often enjoyed during March festivals, bunyols are best enjoyed with hot chocolate.
Torró: A nougat made from almonds and honey, torró is a festive treat, especially during Christmas.
Mistela: A sweet wine often enjoyed as a digestif, mistela is a quintessential Valencian drink.
Pastissets de Moniato: Sweet potato pastries, a popular snack from traditional bakeries.
Figatells: Fried meatballs made from liver, figatells offer a savory and rich flavor.
Final Advice: Avoid Tourist Traps
While you're walking through the city and trying to discover the best restaurants in Valencia, be careful to avoid the tourist traps.
These types of places are found in any major city, but here's my recommendations on how to identify red flags in Valencia.
Don't Eat Paella for Dinner
Ask anyone from Valencia and they'll tell you firmly – Paella is for lunch.
Restaurants that have paella dinner specials or proudly display this dish in the evening is a pretty big red flag that locals aren't going there.
Avoid Signs in English
Naturally, Valencia is a big tourist destination, so it's becoming more and more common to find signs in English.
But in general, if all (or most) of their signage is in English, you can probably assume that it's a spot for tourists.
If you can, look for restaurants that have their name or menus in Valencian. Because if the menus are only in English or Spanish – then it also might be a tourist trap.
No Promoters
Steer clear of restaurants with promoters enticing you to enter.
Seriously, if they need to push you in – it's because locals know that it's not worth going in there in the first place.
Most Valencian restaurants don't even have hosts – you'll just have to walk up and get a waiter's attention. That's the sign of an authentic restaurant.
Price Point
While Valencia does have some high-end establishments, don't expect to pay exorbitant prices for your meals.
A cheap meal costs between 8-12€ per person
An average meal should cost 15-20€ per person
An expensive meal costs between 22-26€ per person
And anything more expensive than that – well, either it's a tourist trap or they have something SUPER special.
Pro tip: Remember tipping isn't common or expected in Valencia. Leave 1€ or some spare change if you really liked the service, but otherwise the servers are already paid a living wage.
Enjoy the best restaurants in Valencia
Spain is full of amazing culinary traditions, with different cultures famous for their own flavors. Valencia is known for local produce and world-class rice dishes.
Make sure to use this guide to find the best restaurants in Valencia. I'll keep updating it as I discover more hidden gems. So if you find a place you really loved, let me know! I'll make sure to share it with other travelers.
Whether you're looking for budget-friendly restaurants or a Michelin-star experience, Valencia has something for everyone.
Bon profit!
FAQs
What Food is Valencia Most Famous For?
Valencia is famous for its iconic dish, paella. A saffron-infused rice dish traditionally prepared with rabbit and chicken, paella captures the essence of Valencian cuisine. Other local specialties include orxata, a refreshing drink made from tiger nuts, and esgarraet, a simple yet flavorful dish of roasted red peppers, salted cod, and garlic.
Where to Eat in Valencia Like a Local?
To eat like a local in Valencia, don't be afraid to explore smaller streets away from the main tourist spots. Look for places with menus primarily in Valencian, a sign of authenticity. Read the rest of this guide for the best restaurants in Valencia. 
Where to Eat in Valencia Old Town?
Valencia's Old Town, with its historic charm, offers a variety of dining options. Head to La Ruià for classic Valencian food, Khambu for a vegetarian meal, or Central Bar for a quick bite in the market. 
What Time Do Restaurants Close in Valencia?
In Valencia, dining hours may vary, but generally, lunch is served from 1:30 pm to 4:00 pm, and dinner starts around 8:00 pm, lasting until 11:00 pm or later. Some establishments may close in the afternoon and reopen for dinner. It's advisable to check specific restaurant hours, especially if you don't stick to Valencian meal times.
What Are the Best Restaurants in Valencia Spain?
Valencia boasts a diverse culinary scene with options for every palate. Some of the best restaurants include Bon Aire and Casa Carmela for paella, Casa Montaña and Canalla Bistro for tapas, and El Poblet, Xanglot, and Forastera for Michelin-starred experiences. For traditional Valencian food, Zalamero and La Riuà are excellent choices, while Copenhagen, Khambu, and Kukla offer great vegetarian and vegan options. 
Need help planning your trip to Valencia?
Here are the tools I use for the cheapest (and most reliable) vacation planning:
🏠Booking – Affordable hotels and apartments
🏠Hostel World – Safe and budget-friendly hostels
✈️Skyscanner – My favorite tool for cheap flights
🚗Discover Cars – Best place for car rentals
🚄Trainline – The easiest way to book local trains in advance
📶Airalo – eSim cards for easy internet access while traveling
🦺Safety Wing – The #1 travel medical insurance
💸Airhelp – Cancelled flight compensation (it's free!)
💱Wise – Easiest low-fee way to transfer currency
Affiliate disclosure: This post may contain affiliate links. These are links to services I personally recommend using for your trip to Valencia. At no extra cost to you, I may earn a small commission from these brands if you choose to make a purchase. Your support helps me pay my bills and eat more bunyols!