If you're exploring the idea of renting a car for your next adventure, you'll want to dive deep into this Discover Cars review. We'll talk about exactly what it is, why Discover Cars is safe to use, and how it's one of the easiest options for booking a rental car in Europe (and specifically, Valencia Spain).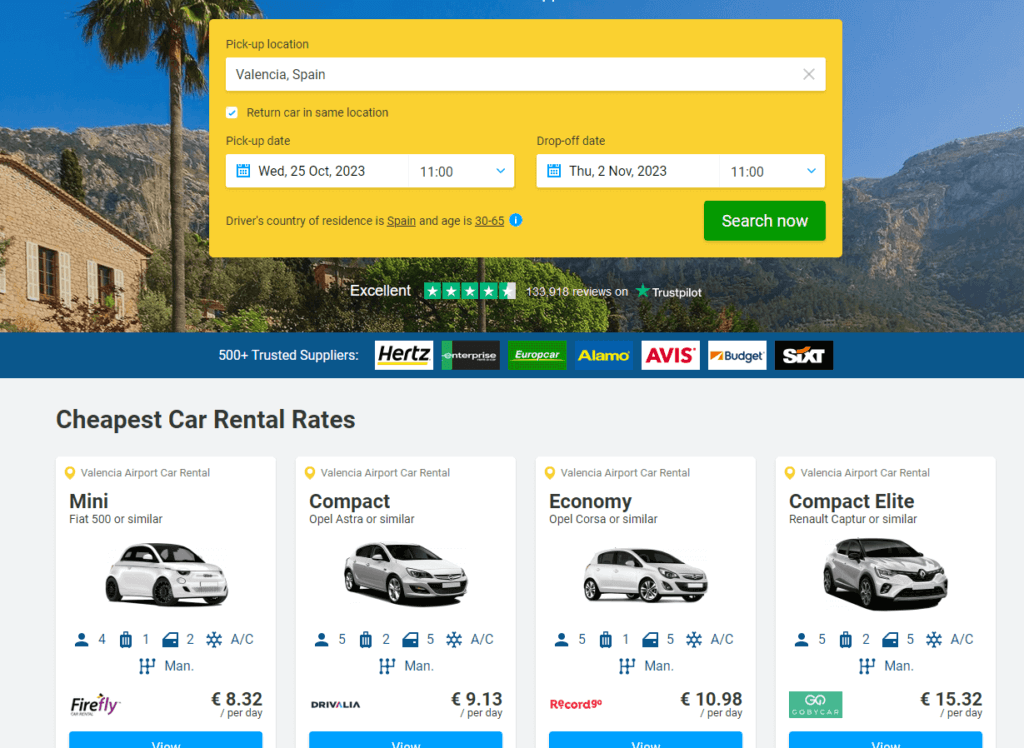 What is Discover Cars?
Discover Cars is a car rental comparison platform that makes it easy to find and book rental cars – for affordable rates.
You can think of it like aggregator sites like Booking.com or Skyscanner, in that they are a third party that finds the most competitive prices for you.
But since they also offer insurance, booking services, and their own policies, it makes it easy to handle the entire booking process from home (and in English, online).
Since I spend my time helping travelers visit Valencia, Spain – I usually recommend DiscoverCars.com as they're one of my favorite online booking sites when coming to Europe.
So if you're planning a trip to Valencia (or anywhere else in Europe), let's talk more about how easy it is to rent a car with Discover Cars.
Is Discover Cars Legit?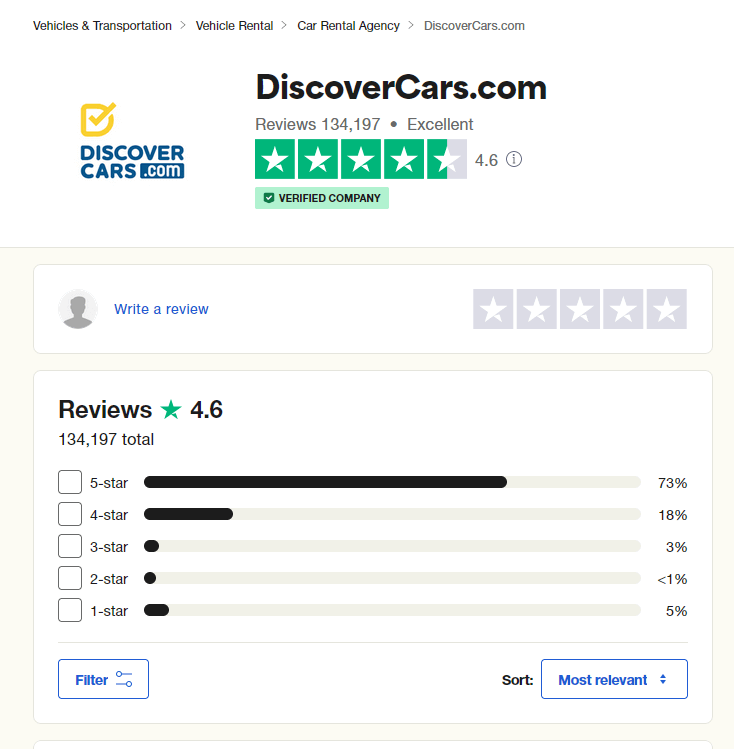 Before we get started – Discover Cars IS a completely legitimate, safe, and trustworthy booking platform.
They are based in Europe and were founded in 2013, with 10,000 locations in 145 countries worldwide.
Plus, Discover Cars reviews have a 4.6 star rating on Trustpilot with more than 100,000 responses. So you can definitely say they're a trustworthy and legitimate platform. 
Through Discover Cars, you can book with brands like Hertz, Budget, and EuropCar. You can even get their deals through other booking sites like Kayak and Skyscanner.
So yes – it is safe to book through DiscoverCars.com
Note: Remember that Discover Cars is not a car rental company, but rather a booking engine. For example, Booking.com, Expedia, and, Skyscanner are all booking engines.
How to Book a Rental Car on Discover Cars
For this Discover Cars review, let's look a little more closely at how you can use their site to book great deals on car rentals.
Their platform is simple, straightforward, and makes it really easy to understand how to book.
So here is how to book a rental car with DiscoverCars.com:
Choose Your Dates
Just like any other search engine – you start with the when and where.
Type in the dates you'll need the car for, as well as where you'll need the car. In this case, we're going for Valencia, Spain.
Make sure to select your country of residence and age range, as well, as that will affect the rates you see.
You can uncheck "return car in same location" if you want to drop it off in a different city, although this will likely increase the price.
Pro tip: Some countries require an International Driver's license. For example, in Spain you'll need one if you aren't from the EU or the UK.
Compare Cars
The next step is simple – browse through all your options! Here you have a few options to consider:
Gas mileage
How much you'll be driving
How many people will be with you
Manual or automatic (most in Europe are manual, so double-check!)
Price point
Smaller, more compact cars will likely be cheaper and better on gas. But they're less comfortable for long distances.
In general, I've found the average price to be around 100€ for a full week.
Choose Coverage Options on Discover Cars
Once you've found the car you like, make sure to read through all of the policies and then move on to the insurance options.
You can choose to get full coverage on your vehicle through Discover Cars or not.
As a general rule – I highly recommend going for full coverage.
In my opinion, if I'm ready to spend 100€ to go on a European roadtrip, then I'm definitely ready to spend a little extra, just in case. I'd rather spend those 30-50€ extra to avoid ANY chance of having to spend thousands of dollars later on.
From car accidents out of your control to getting scratches or hitting a pole in those super tiny medieval streets…I definitely think it's worth it.
But, I'm also the kind of person that always gets travel medical insurance when going abroad.
So call me paranoid, but I'd rather be safe than sorry.
Side note: You can always check with your credit card company or your own insurance to see if they offer any better deals. It's not usually the case, but it's worth a shot!
Select any Extras
After you've decided on your car and your coverage, you can choose any Extras you may need.
Some common extras in your Discover Car rentals could be:
Extra drivers
Baby seats or booster seats
Tablets
Cross-border travel
And that's it! I highly recommend choosing these in advance, if you can. Otherwise, you might not have the option still when you go to pick it up.
Enter Your Information
Complete the booking process by entering your personal details and payment information.
Optionally, you can include your flight number, etc. This will help in case your flight gets delayed – they'll know that being late wasn't your fault!
Pay for Your Rental
Finally, just finish booking your rental car.
This process is simple. Some cars require full payment up front, while others have partial payment options.
This mostly depends on your car, for some reason.
After you get your confirmation email, remember to keep it in a safe space.
Pro tip: While you're not required to have a printout – it could be handy in case you don't have internet right away after landing from an international flight.
Pick Up Your Rental from Discover Cars
Now go pick up your rental and enjoy your trip!
When returning the car, I recommend filling up the gas before handing it over. Typically, you'll get a better rate AND you'll avoid those pesky "refill" fees.
Pros and Cons: A Discover Cars Review
So now that we know how to use the platform, let's get into some more specifics in this Discover Cars review.
Because while I think that Discovercars.com is the best website to book your rental car in Europe – no site is perfect.
So let's look at the pros and cons of Discover Cars.
Pros
Easy Booking: In just a couple clicks, you have your vehicle reserved for your vacation.
Extensive Selection: Discover Cars collaborates with major car rental companies, so you get a range of vehicles.
Transparent Pricing: The platform offers clear and transparent pricing, with the only "surprise" being the optional insurance coverage.
Free Cancellation: For most vehicles, you can cancel for free up to 48 hours before your trip. So if you have to cancel, it's no problem!
Low Rates: When you want the cheapest car rental, this is the place to go.
In my opinion, Discover Cars offers a lot of pros when it comes to booking a rental car in Europe (in my case, Valencia).
The process is simple. The prices are reasonable. And the customer service is easy to speak with (in English)!
But of course, there is no website that is perfect, and Discover Cars has some negative reviews online, too. So let's talk about some of the cons of DiscoverCars.com
Cons
Third Party: Similar to Booking, it's a third-party site. So if any problems come up, resolving it can be frustrating.
Short Term Rental: If you're only booking for 3 days or less, it can be expensive (proportionally).
No Extensions: My biggest pain is that they aren't flexible with times. You can't extend your rental time once you're on the road.
Glitchy App: Don't bother with the App, as many people report problems here. I recommend the website for the most reliable service.
I want to make sure this Discover Cars review is thorough. So I need to point out – I've also seen some concerning bad reviews online.
However, the majority of the reviews are related to customers not reading their policy before booking.
So please – read everything fully before whipping out your credit card.
Remember, every country has different rules when it comes to their car rentals. Staying informed, reading the conditions, and even messaging their customer service with any questions is the best way to avoid any potential bad experiences.
How much it costs to rent a car through Discover Cars
The cost of renting a car through Discover Cars depends on various factors such as the type of car, duration, and location. Prices are competitive, and the platform often provides exclusive discounts.
In my testing for this Discover Cars review, I've found that in Valencia, Spain – prices averaged between 20-40€ a day.
Booking for longer lowered the daily cost, as well as booking smaller cars. Likewise, booking in the off-season lowered the price comparatively.
But even still – I've found the most expensive price at 50€ a day for peak season for a 2-day rate.
So in general, I'd say that Discover Car rentals are more affordable than other options.
Why is Discover Cars so cheap?
Discover Cars works with hundreds of different rental companies globally, so they're able to negotiate for the best prices.
Just like flight aggregators, they're able to search different options to make the booking process easier and more affordable.
Since they have deals with the car rental brands, you'll often find cheaper rates with them.
But since it's completely free to use their search engine, you can always do some price comparisons with brands like RentalCars or the direct rental car brand.
Tips to Find The Best Car Rental on Discover Cars
So now that you're ready to book, let's talk about how you can find a great car rental deal with DiscoverCars.com.
Book in Advance
Just like flights and hotels, earlier booking will save you some cash.
Secure better rates by booking your rental car well in advance of your travel dates.
The best part about DiscoverCars is that you can cancel for free up to 48 hours before pick-up for almost all of their cars.
Which means you can save a lot of money by booking early, rather than at the last minute.
Check out the reviews
Discover Cars is an aggregator site, which means they partner with car rental companies.
The good news is that each individual car has its own reviews. So make sure to read them thoroughly so you can an understanding of:
How clean the car is
How comfortable it is to drive
How friendly the supplier staff is
How reputable the supplier is
Just like you would on Booking.com, you want to read the reviews to make sure it's the right choice for you!
Pay attention to pick-up location
There is NOTHING worse than getting to the airport after a long flight, then walking down to the rental agency and realizing … the pick-up location is in the city center…
Don't forget to look at the pick-up location.
It will save you an enormous headache.
In my experience, pick-up locations that AREN'T at the airport tend to be cheaper. Of course, it's not always the most convenient option. But if you don't need a car for your entire trip, this is a great way to save some money.
Check out the mileage policy

Every car rental agency is going to have their own policies for fuel and mileage.
Read these in advance so you don't get any hidden fees.
In Spain, the rule of thumb is usually to fill up the tank before returning the car. If you don't, some companies will charge for an expensive gas rate AND a refilling fee.
And for mileage – remember that if you decide to drive to a different country (like Portugal, France, Andorra), then you need to pay a border crossing fee.
Make sure to pay attention to these policies to avoid any surprise fees later on.
Read the deposit policy
Be aware of the deposit policy and ensure it aligns with your budget. Almost every company will put a hold on your credit card, just in case.
Check the Rental Conditions section for details on each car. This isn't a hidden fee, as you'll get the security deposit back. But you need to be aware of the deposit beforehand!
Look for coupons
After you book your first rental with DiscoverCars.com, they often send coupons for your next option! So if you have a long vacation planned or you want to head somewhere else in the future, keep an eye on your inbox!
Discover Cars Full Coverage Insurance
Discover Cars provides various insurance options, including full coverage.
As I mentioned, I usually recommend paying for a Full Coverage Insurance.
This protects you from any damage that might happen. It also protects you in case any rental agency decides to be picky with that deposit.
Here's what the Discover Cars Rental Insurance covers:
Up to $3,000 of damages
Windshield chips, scratches, flat tires
Towing/Taxi expenses
Lost keys
Administrative fees
Reimbursement within 48 hours
Theft
And in my opinion, the best part is that the full coverage insurance is only around 5€ a day.
So for the price of a tapa – you get rid of any potential stress that could ruin your vacation (and your wallet).
Discover Cars Reviews
In my Discover Cars review, the first thing I did was, well, look at other reviews!
Before I book or buy with anyone, I always check out TrustPilot and Google Reviews.
On TrustPilot, Discover Cars alternates between a 4.4 and a 4.6 star review.
All of their excellent ratings come from their:
Simple booking method
Great insurance policy
Affordable rates
And from what I can tell – all of their bad reviews come from people not reading the policy!
Which, I totally understand. No one wants a surprise fee. And these complaints are legitimate, as that's never a good experience.
So that's why it's so important to read everything fully. Policies, fine-print, reviews, everything!
The good news is that Discover Cars' policies are fairly easy to understand, so you don't have to worry about underhanded fine-print. With hundreds of thousands of positive Discover Cars reviews, I can safely say it's a legitimate company.
Tips for a Great Experience With Renting a Car
So if you have your finger hovering over the "Book Now" button, let's talk about a few last-minute tips for the best car rental experience.
Because the price of a rental car isn't the only concern. We also want to make sure you have a smooth, enjoyable, and problem-free vacation!
Here are my top tips for a great experience renting with Discover Cars:
Pay attention to the policy
I've said it before, and I'll say it again. Read all your policies! They're different in every country, so spend 10 minutes to read everything.
Triple-check your dates
Ensure that your rental dates align with your travel itinerary! This is an easy place to slip up!
Refill before dropping it off
Most rental companies in Valencia will want you to refill it first.
Look at the pick-up location
Choose a location that's convenient. Most services have rental options at the airport, but if you're not driving off on day 1 – then there are options in the city, as well.
Check your driver's license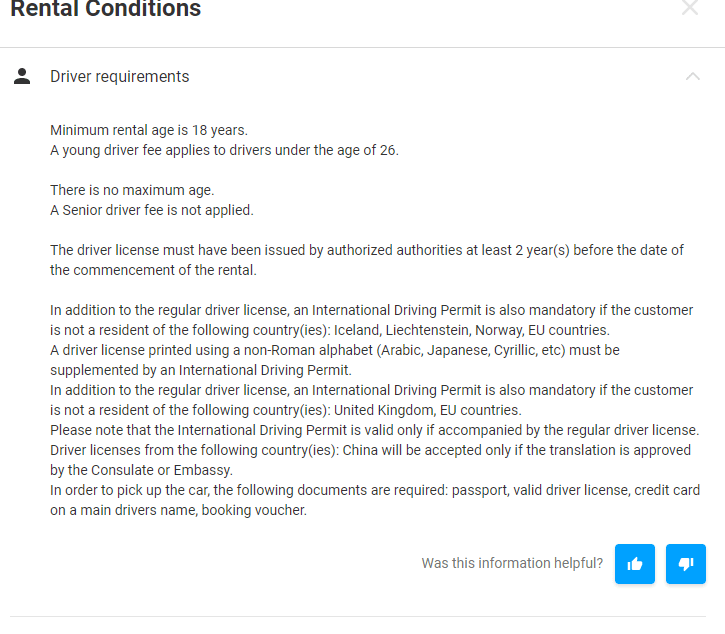 Some countries require an international driver's license. For example, US Citizens need to acquire an international driver's permit to drive in Spain.
Alternatives to Discover Cars
As you can tell by this Discover Cars review, they're one of my favorite options for a car hire.
But traveler's should always be on the lookout for more affordable deals! So here are some other options to compare rental deals:
Final Verdict: Discover Cars Review
I absolutely approve of using Discover Cars to rent a car in Valencia. Spain has lots of places to visit, and the freedom of a rental car can make life a lot easier if you want to visit other towns.
If you are coming to Valencia and ONLY need to stay in the city – you probably don't need a car.
But if you want to visit other areas, Discover Cars makes it easy and affordable.
The company is reliable, user-friendly, and makes their policies simple and straightforward.
So if you're itching for your next trip:
Go ahead and compare rental car prices now 
Bon viatge!
FAQs
Is it safe to book with Discover Cars?
Yes, Discover Cars is a safe platform. They have hundreds of thousands of positive reviews, safe payment processing, and a very responsive customer service team. 
Is Discover Cars legit?
Absolutely. Discover Cars is a legitimate and reputable European platform. They've been active since 2013 and work in over 145 countries worldwide. 
Is Discover Cars affordable?
Discover Cars tends to offer prices from $20-40 a day, with full coverage insurance rates at less than $10 per day. Since they are an aggregator site, you'll see some of the best rates here!
What types of vehicles can you get with Discover Cars?
You can get basically any type of vehicle with Discover Cars. In Europe, you'll see more smaller cars available, though. 
What do I need to bring to pick up the rental car?
Discover Cars will send you a list. But in my experience, I needed:
– Valid driver's license
– A second form of ID
– Credit card
– DiscoverCars booking confirmation voucher
Does Discover Cars work in the US?
Absolutely! It works just about everywhere in the US, Canada, Australia, and Europe. 
Is Discover Cars worth it?
If you're planning on visiting small towns or want the freedom to drive around on vacation, the Discover Cars is definitely worth it! It's affordable, simple, and makes moving around so much easier!
Need help planning your trip to Valencia?
Here are the tools I use for the cheapest (and most reliable) vacation planning:
🏠Booking – Affordable hotels and apartments
🏠Hostel World – Safe and budget-friendly hostels
✈️Skyscanner – My favorite tool for cheap flights
🚗Discover Cars – Best place for car rentals
🚄Trainline – The easiest way to book local trains in advance
📶Airalo – eSim cards for easy internet access while traveling
🦺Safety Wing – The #1 travel medical insurance
💸Airhelp – Cancelled flight compensation (it's free!)
💱Wise – Easiest low-fee way to transfer currency
Affiliate disclosure: This post may contain affiliate links. These are links to services I personally recommend using for your trip to Valencia. At no extra cost to you, I may earn a small commission from these brands if you choose to make a purchase. Your support helps me pay my bills and eat more bunyols!