Check out this full Skyscanner review and why I recommend using it every time you need to find affordable flights. We'll dig into the pros and cons of Skyscanner, how to effectively use it, and all my top recommendations to find the best flight deals.
What is Skyscanner?
Skyscanner is a travel search engine that makes it easier to find great deals on flights, hotels, and car rentals. While it's not a direct booking site – it's an incredibly useful tool to begin looking into travel options.
Especially when you're traveling internationally, Skyscanner can be a lifesaver. More than 100 million people use Skyscanner every month – so you can definitely say that it's a trustworthy site every traveler needs to know about.
I tend to find the best travel deals on Skyscanner. Plus, considering it's so easy to use and has a bunch of features that helps you save money – this is one website that I always use to find flights.
So let's talk about what Skyscanner is, and why I think it's one of the best websites to find cheap flights.
I Always Choose Skyscanner
I'm someone that travels a lot. I've been to almost every continent, moved around all my life, and now I've been living abroad since 2018.
Now that I live in Valencia (Spain), and the pandemic is (kinda) under control – it's been my goal to travel as much as possible.
So after all my travel adventures, I know a thing or two about finding the best flight deals. That's where Skyscanner comes into play.
I've been a loyal user for years, and in this Skyscanner review, I'll tell you why it's my go-to tool for finding affordable flights.
It's easy to use
If you have flexible dates, you can save a lot
It's great for exploring travel options
Customer service is super friendly
Now let's dig a little deeper and check out exactly how Skyscanner works.
How Does Skyscanner Work?
Skyscanner has a really user-friendly interface that makes it easy to discover the best flight options.
Just like every other tool – you type in your dates, your destination, and voilà.
But the difference is – Skyscanner has a ton of other features that help you find better (and cheaper) flights. So even though you don't directly book through Skyscanner, it's the perfect spot to start your hunt for flights.
Let's talk about how I use Skyscanner:
Step 1 – Choose your destination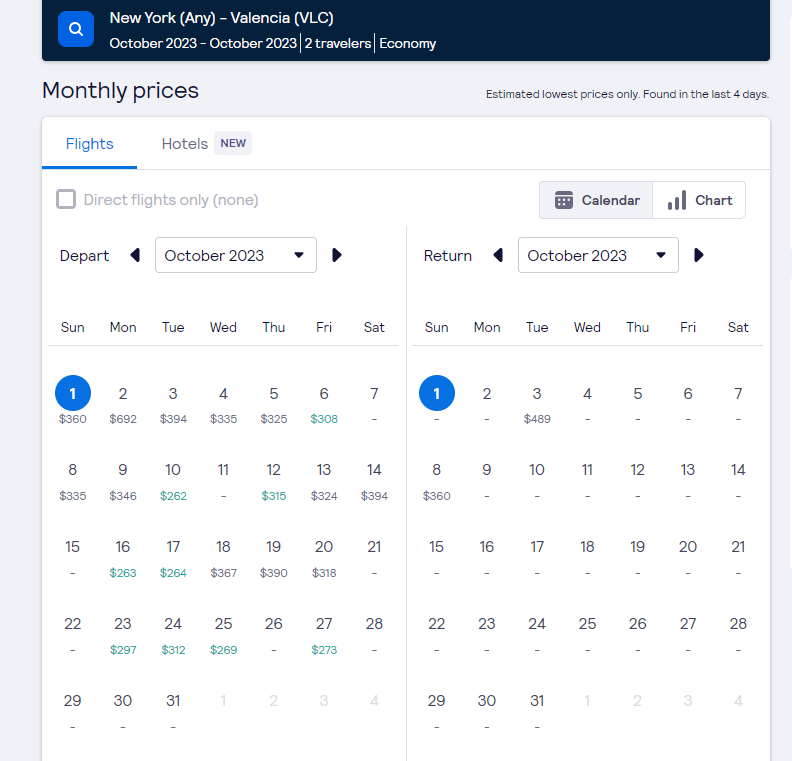 Source: Skyscanner.net
I often need to travel back and forth from the US and Valencia. So for example, let's say you want to go from New York City to Valencia. You enter in those cities, and then you can either choose specific dates or just choose a month. This is my favorite way to use Skyscanner.
By using the monthly view, you can see the average prices for every single day. Which means you can instantly see how much money you'll save by moving your vacation days around.
(and seriously, you could be saving hundreds of dollars this way)
Pro tip: You'll probably notice that a lot of the cheaper dates or on Tuesdays or Thursdays. So if you can fly on those days, I highly recommend it!
Step 2 – Filter
Once you settle on specific dates, then you can filter out the results however you like.
You don't always need to filter these out, as Skyscanner automatically shows some of the best options immediately. But if you have specific requirements, you can do that.
For example, you can filter by:
Number of stops (layovers)
Specific departure times
Airlines
Airports
Carbon emissions
Price
If I ever have to fly to New York, I usually choose the filter option. Mostly because I do everything in my power to avoid the LaGuardia Airport…
But the filter option is great if you have a specific budget, or if you prioritize shorter layovers, etc.
Then you just go through the options and choose the ticket you like the best!
Step 3 – Book your flight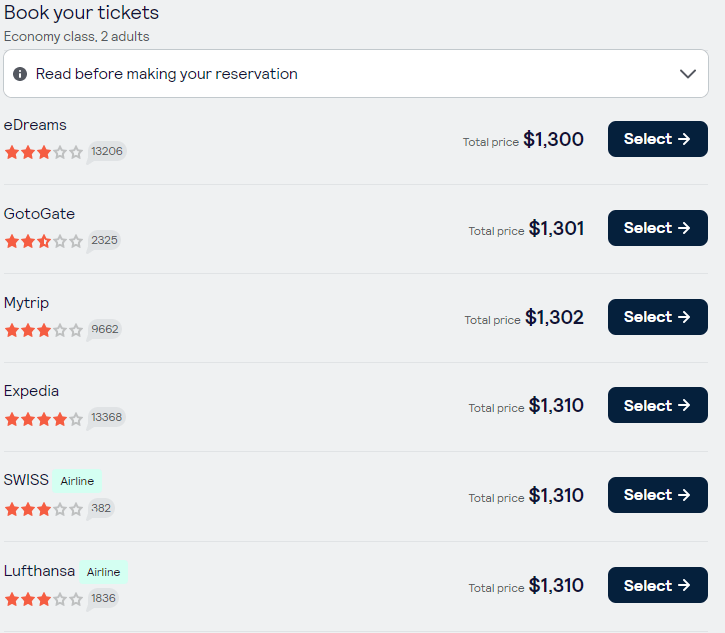 Source: Skyscanner.net
Okay, this sounds self-explanatory, but I do like to mention this step.
That's because you don't book directly on Skyscanner. Instead, Skyscanner will show you the best websites to book flights on based on your ticket choice.
So you choose a flight, then Skyscanner gives you a few options of where to book with your credit card.
If you can – I highly recommend booking on the actual airline's site. Even if it's a couple dollars more expensive, it might be worth the simplicity.
Because down the line, if you end up having any issues with cancelled flights, etc – this makes your life SO much easier. The other third-party sites end up causing an extra layer of confusion.
For the same reason, I also recommend getting Travel Medical Insurance for international flights. SafetyWing is my favorite option since it covers everything you need as a traveler – from cancelled flights and lost baggage to twisted ankles or emergency medication.
And then that's it! Skyscanner quickly found the best flights, and you're ready to pack! But this is a comprehensive Skyscanner review, so let's look a little more closely at what I like (and dislike) about it.
Pros and Cons of Skyscanner
Here are some of the pros and cons I've encountered while using Skyscanner:
Pros:
Comprehensive Search: Skyscanner scans basically every airline, travel agency, and flight tool out there, so it's a one-and-done kind of deal.
Everywhere Feature: This is my favorite feature. Don't know where you want to go? Skyscanner gives you suggestions based on the cheapest flights.
Multi-City Trips: Planning a multi-stop journey? Skyscanner simplifies the process, helping you find the most efficient routes.
Savings Generator Tool: This is perfect if your travel dates are flexible.
Price Alerts: Set up price alerts, and Skyscanner will notify you when fares for your chosen route drop.
Last Minute Flight Deals: If you are a spontaneous traveler or an emergency pops up – this is a great way to avoid paying thousands.
Customer Service: They have a really friendly customer service team, so if you do encounter any issues – they'll point you in the right direction.
Cons:
Third Party Booking: Skyscanner is a flight aggregator – not a booking site. So you need to make sure that you trust the site you choose to book on.
Ghost Fares: Occasionally Skyscanner will show an out-of-date flight, so you get an unpleasant surprise when you try to book.
Doesn't Include Every Airline: Not all airlines in the world will show up, which means you sometimes can find better deals on other aggregators.
Whenever I'm traveling, the pros definitely outweigh the cons. Because even if I get lucky and find a cheaper flight on a different site – Skyscanner is always my starting point.
Because when it comes to researching travel options – Skyscanner is absolutely my favorite company.
Skyscanner Features
Let's get into some more details on this Skyscanner review. The site has a ton of features that set it apart from the competition. And this is exactly why I always use it as my starting point to book flights.
Here are my favorite tools that you can use on Skyscanner.
Everywhere Feature
Source: Skyscanner.net
Okay naturally, my entire website is about getting you the best experience on a trip to Valencia.
But since I'm always using Skyscanner to find flights from Valencia – it works the other way around, too! Plus, if you're coming all the way to Europe, you'll find some other amazing destinations you'll want to check out!
The "Everywhere" option simply gives you all the best destinations based on the dates and departure spot of your choice. This way, if you're not sure where you want to go just yet – it'll tell you the most affordable destination to jet off to.
So if I have specific vacation days – I'll use this travel search site to figure out what my best options are for those dates.
Multi-City Trips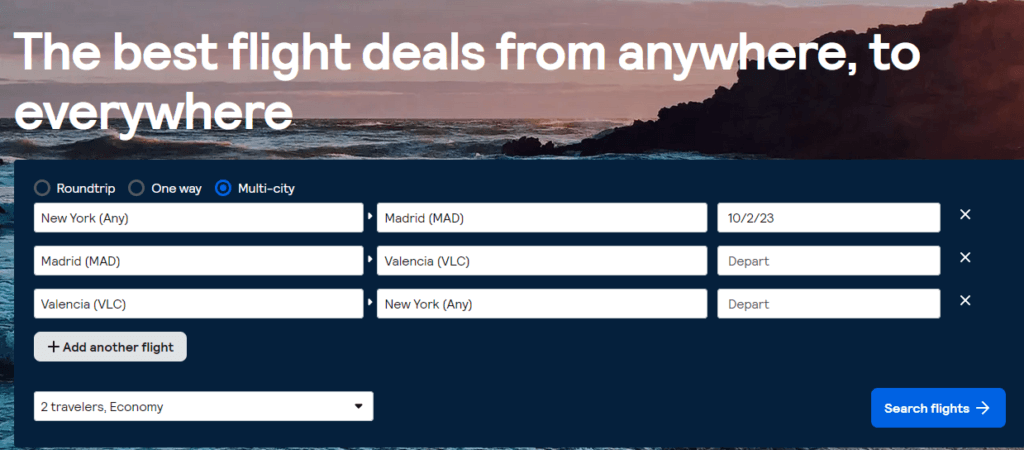 Source: Skyscanner.net
For complex itineraries involving multiple destinations, Skyscanner's multi-city trip planner is a game-changer.
The tool really makes it easy to find the best deals – for all your stops.
So if you're going to be living out your dream and spending your summer traveling through Europe, this is a great tool to get started.
This is also how I got a better deal on my flights to Greece for my honeymoon. Because, for my specific dates, it ended up being more convenient to go to Madrid – Athens, then Athens – Valencia.
So the multi-city tool got me better flight times AND saved me 100 euros.
Pro Tip: If you end up booking a multi-city vacation – don't skimp on the travel insurance. Because one missed/delayed flight is going to cause a serious headache trying to get a refund. I highly suggest checking out SafetyWing as a fantastic travel medical insurance option.
Savings Generator Tool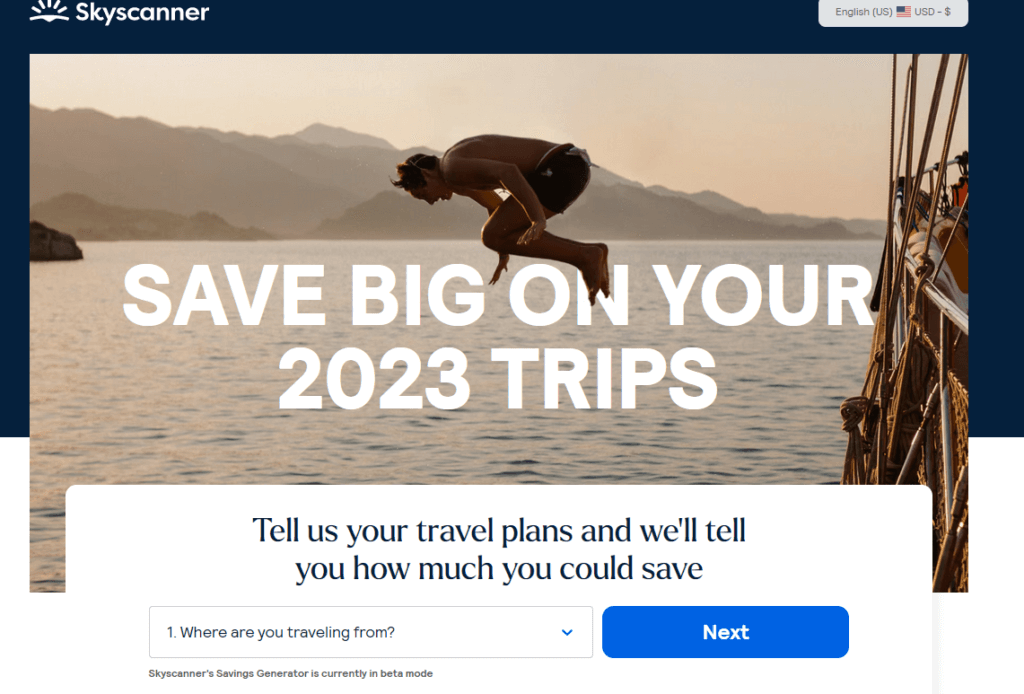 Source: Skyscanner.net
Traveling on a budget? The Savings Generator tool helps you identify the cheapest months to travel to your chosen destination, allowing you to plan your trips cost-effectively. So if you know you want to come to Spain at some point – this lets you see when the best time to visit is.
To be fair, this isn't a tool I use too often. At the moment, it's a bit limited as it doesn't have every city available. And sometimes, I want to go to some lesser-known destinations (because the small towns are worth visiting, too!)
But if you KNOW you want to visit a specific city, but you're really flexible with the dates, this can be a great option.
Price Alerts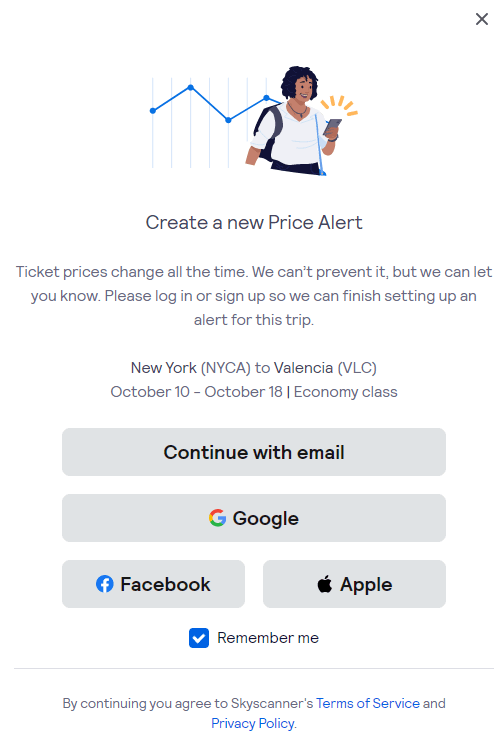 Source: Skyscanner.net
Another tool that can be really helpful on Skyscanner is the Price Alert.
The best way to use this is by choosing a specific flight one year before you want to actually travel.
And sure – that takes a lot of planning. But since flights are usually cheapest around 6 months before departure, this can be a great tool to make sure it doesn't slip your mind.
The downside – sometimes the "Price Alert" tells you that the price actually goes up. Which of course, is not exactly the news you were hoping for …
But sometimes it also gives you those last-minute deals. So you just have to be lucky sometimes!
And speaking of …
Last Minute Flight Deals
If you're a spontaneous adventurer (i.e. the type of traveler I wish I was but I'm totally not), then Skyscanner's Last Minute Flight Deals section might be your new favorite section.
This is especially great when they send you deals on a Thursday night, then you can whip off on a getaway for the weekend.
So if you're not afraid of a little adventure, Skyscanner will send you the best deals your impulsive little heart could dream of.
Skyscanner vs Other Travel Booking Websites
To make sure this Skyscanner review is as comprehensive as possible, let's take a look at how it compares to some other popular travel booking websites.
Because let's be honest – there are a million places to book your flight:
And the list goes on.
But let's go through a couple of the most popular travel companies, and I'll share my personal experience with you.
Skyscanner vs Kayak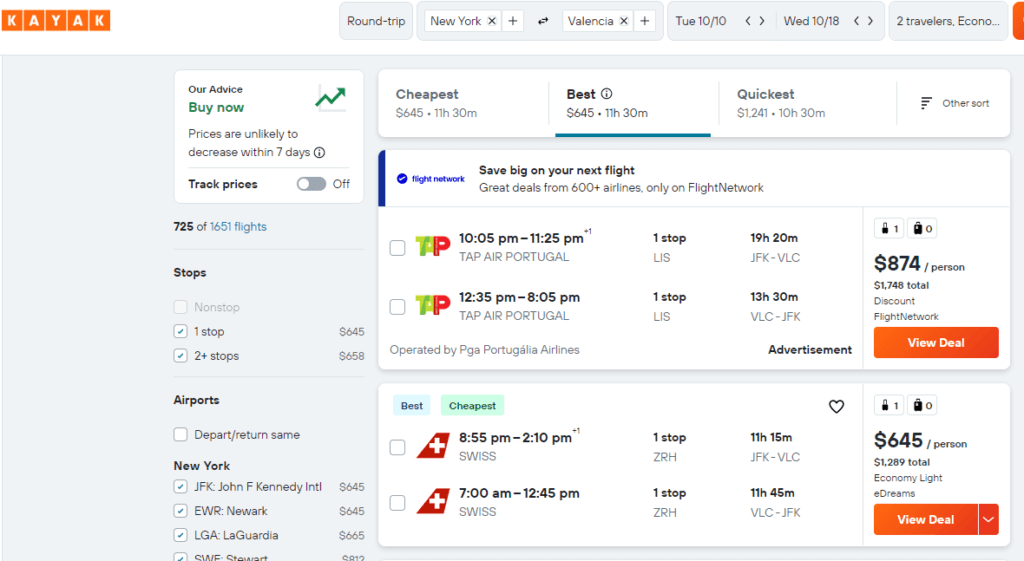 Source: Kayak
For me, Kayak can be a bit of a hit-or-miss. Since you can book directly on Kayak, you can occasionally get a better deal than on Skyscanner.
But for the most part – Skyscanner ends up being more affordable and easier to search for options.
That's because Kayak does not have an Everywhere or Monthly feature. This makes it a lot more difficult if you're flexible with your destination.
They also are constantly trying to upsell you, which just gets annoying in my opinion.
The good thing about Kayak, however, is that it does have an easy-to-use Price Trend graph. So that can be nice to get a quick idea of which month tends to be the cheapest. You can also filter your research by Take Off times, which can be a nice bonus if you can only leave at specific times.
Summary: I like Skyscanner better overall, but Kayak is worth looking into.
Skyscanner vs Expedia
Source: Expedia
Expedia is one of the world's most popular flight aggregators for a reason. The interface is easy to use, and they do tend to give you the same prices as Skyscanner.
What I like about Expedia is that the actual website is really easy to use and find the information I want (like baggage allowed, etc.).
But when it comes to finding the cheapest dates – Skyscanner tends to be more effective. Expedia doesn't give you as much flexibility when it comes to looking at other options. So this means that Skyscanner is a lot easier to use when you're researching your holiday options.
To be honest – I end up looking for dates on Skyscanner, then I often book using Expedia (after get directed from Skyscanner!)
Summary: Expedia is a great booking option, but Skyscanner is easier to research
Skyscanner vs Google Flights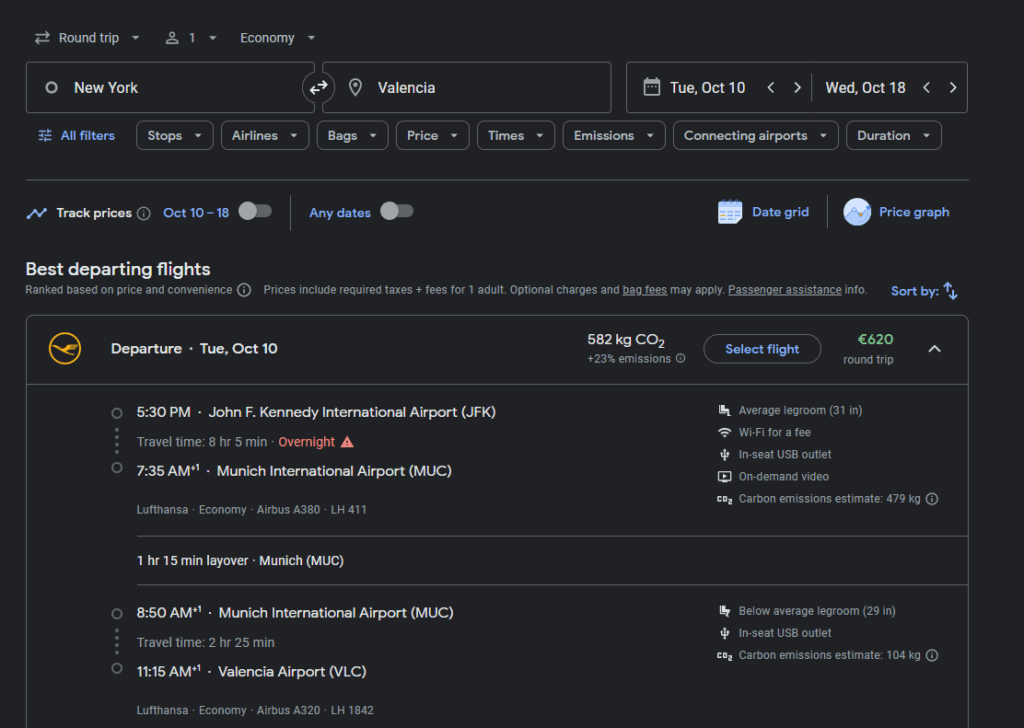 Source: Google Flights
In recent years, Google Flights has gotten a lot better. They've been especially good at incorporating an effective price tracker and predicting price changes.
And their price change policies are actually better than most booking sites, as they (allegedly) offer money-back if your flight price goes down after booking.
But I say allegedly because this has never actually happened to me or anyone I know …
Now, the biggest downside for me – the flights are usually worse.
And I say worse because they often give you options that literally are not feasible. Like in this photo, where a 1-hour layover in Munich is just setting yourself up to miss your connecting flight.
So there are some good things about Google Flights. But if you're not an avid traveler – be careful! If you choose Google Flights, I definitely recommend getting travel medical insurance.
Summary: Can be more affordable, but not all the flights are feasible.
Skyscanner vs WayAway
Source: WayAway
WayAway is a really interesting flight aggregator if you're someone that's going to be traveling a lot.
I like to recommend WayAway for one big reason: the cashback program.
Because in many ways, Skyscanner and WayAway work similarly. They both help you find cheap tickets. The difference is that WayAway is app-only (i.e. it doesn't work on your browser, you have to download the app).
Which for me – isn't always the most convenient.
Unless you're planning on traveling all the time. Because they have the WayAway Plus program. For $50/year, you get:
So for me – this can be a great way to save when you're planning at least 2 trips a year (because that 5% cashback on flights adds up QUICK). 
In other words – people with wanderlust syndrome should definitely check out WayAway Plus. If you sign up with this link – you'll also save 10% off (we all love a good coupon!)
Summary: For one-off trips, Skyscanner is better. But for frequent travelers, WayAway's Plus program saves you money in the long run.
Hotels and Rental Cars
So naturally, if you're planning your trips, there's one big purchase you have to make besides your flight.
The hotel.
And Skyscanner can also search for hotels and rental cars while you're at it. So if you're looking for a one-stop-shop approach, this can be really convenient.
To be honest – I tend to stick to Booking.com and RentalCars on my trips. Just because I tend to find the best deals there. But if you're looking for a quick and easy solution, Skyscanner can help you out here, too.
What I do like about the hotel option is the map function. You get to see all the different accommodations quickly on a map, which is great to make sure you're actually in the city center.
So my suggestion: try it out and use it as a starting point for your trip planning! Then head over to Booking.com and see which one gives you the cheaper option!
The Final Verdict
I'm trying to be as honest as possible in this Skyscanner review. So here's my final thoughts:

It's convenient for researching options for your trips
It often gives you the cheapest flight deals
The hotel and rental car options are nice, but not great
Most other flight aggregators give similar prices (but they're harder to use)
WayAway is cheaper for frequent traveling
So that's why Skyscanner is usually my preferred choice for a travel search site. At a minimum – it's where I start looking into flights every time.
Especially on years when I'm only flying every once in a while. But on years when I have a busy travel schedule (which I wish was every year…), then WayAway ends up being slightly more affordable. 
Regardless – the next time you're planning your trip to the Mediterranean paradise that is Valencia – make sure to use Skyscanner to find your flight
And if you need any help or support along the way – just send me a message. Seriously, I'm always checking my inbox and I love to help!
Bon viatge!
FAQs
Is Skyscanner a Reliable Website?
Absolutely. Skyscanner has a strong reputation in the travel industry for delivering accurate and reliable flight information.
Is it a Good Idea to Book Through Skyscanner?
Yes, it's a great idea. Skyscanner simplifies the search process, helping you find the best flight deals quickly. Just remember – you don't book directly through Skyscanner, you'll be directed to a 3rd party site, so make sure you trust them. 
What Are the Weaknesses of Skyscanner?
Skyscanner primarily serves as a search and comparison tool, with bookings made through third-party websites. This means you'll need to ensure you're comfortable with the booking platform you select.
Is Skyscanner Cheaper?
Skyscanner is a valuable tool for finding affordable flight options. I tend to find the best deals on Skyscanner. But don't be afraid to check Expedia or WayAway for options, too! 
Is Skyscanner Legit?
Yes – it's a completely reliable and trustworthy site with great reviews. This travel search site gives you some of the best options to choose where to book your flights. 
Need help planning your trip to Valencia?
Here are the tools I use for the cheapest (and most reliable) vacation planning:
🏠Booking – Affordable hotels and apartments
🏠Hostel World – Safe and budget-friendly hostels
✈️Skyscanner – My favorite tool for cheap flights
🚗Discover Cars – Best place for car rentals
🚄Trainline – The easiest way to book local trains in advance
📶Airalo – eSim cards for easy internet access while traveling
🦺Safety Wing – The #1 travel medical insurance
💸Airhelp – Cancelled flight compensation (it's free!)
💱Wise – Easiest low-fee way to transfer currency
Affiliate disclosure: This post may contain affiliate links. These are links to services I personally recommend using for your trip to Valencia. At no extra cost to you, I may earn a small commission from these brands if you choose to make a purchase. Your support helps me pay my bills and eat more bunyols!