The weather in Valencia in April brings sunshine, cool temperatures, and a desire to explore the outdoors. Now that winter's over and the flowers are starting to bloom, it's the perfect time to enjoy the Valencia weather. April promises exciting maritime traditions, pleasant temperatures, and just a few days of rain. So read through this guide to help you pack and your bags and enjoy everything there is to see in Valencia in April!
Is April a Good Time to Visit Valencia?
April is a great time to visit Valencia. With fewer tourists and pleasant weather, it's the perfect month for anyone interested in exploring every nook and cranny of the city.
Comfortable spring days and slightly chilly nights make for one of my favorite times to enjoy the Valencia weather. April also brings in the Setmana Santa Marinera – an intricate Easter tradition that really tends to shock Americans (keep reading for more on that)!
So if you're thinking of planning your next to trip to Valencia in April, let's look at some pros and cons:
Pros:
Comfortable average daily temperatures, 23.4°C (74.1°F)
Lots of blooming flowers
The Easter traditions in El Cabanyal
Fewer crowds
Cons:
An average of 37mm / 1.5″ of rain spread over approximately 5 days.
Some attractions closed during Easter
Still too cold to swim
Now let's dive deeper into the weather in Valencia in April and talk about everything there is to do (and pack)!
Valencia Weather: April
April in Valencia heralds the arrival of spring in all its splendor. With longer, warmer days – it's one of the best times to visit the city.
This makes it an attractive time for tourists that want to enjoy the outdoors, but who can't handle that August sun.
Let's get into the details for the weather in Valencia in April:
Temperature
During the day, the average highs get up to 23.4°C (74.1°F). April gives us those first days of bright and warm sunshine that make you reconsider putting on jeans.
But at night and early in the morning, you'll still have low average temperatures of 9.8°C (49.6°F). This means that even though we're getting that lovely warm Valencia weather, April still requires you to bring a jacket.
My favorite April activity is to go for a bike ride early in the morning, then enjoy a hearty Valencian esmorzaret. It's the perfect way to immerse yourself in Valencian culture and to welcome in the warmer weather. It's a comfortable transition period that is perfect for outdoor excursions.
And while the Valencia beaches are too cold for swimming, you can still enjoy some pleasant walks on the boardwalk.
Rain
April showers occasionally grace Valencia, adding a touch of refreshment to the blooming landscapes.
The weather data from AEMET shows an average of 37mm / 1.5″ of precipitation distributed over approximately 5 days, so it's a good idea to bring a compact umbrella or a light rain jacket.
Luckily, the average wind speeds start to die down in April, so the rainy days aren't too hard to handle. If you're coming to Valencia in April, just check the weather ahead of time and plan to visit some of the indoor attractions on any unlucky rainy days.
So now that we know what the weather in Valencia in April will be like, let's talk about what you need to pack.
What to Wear in Valencia in April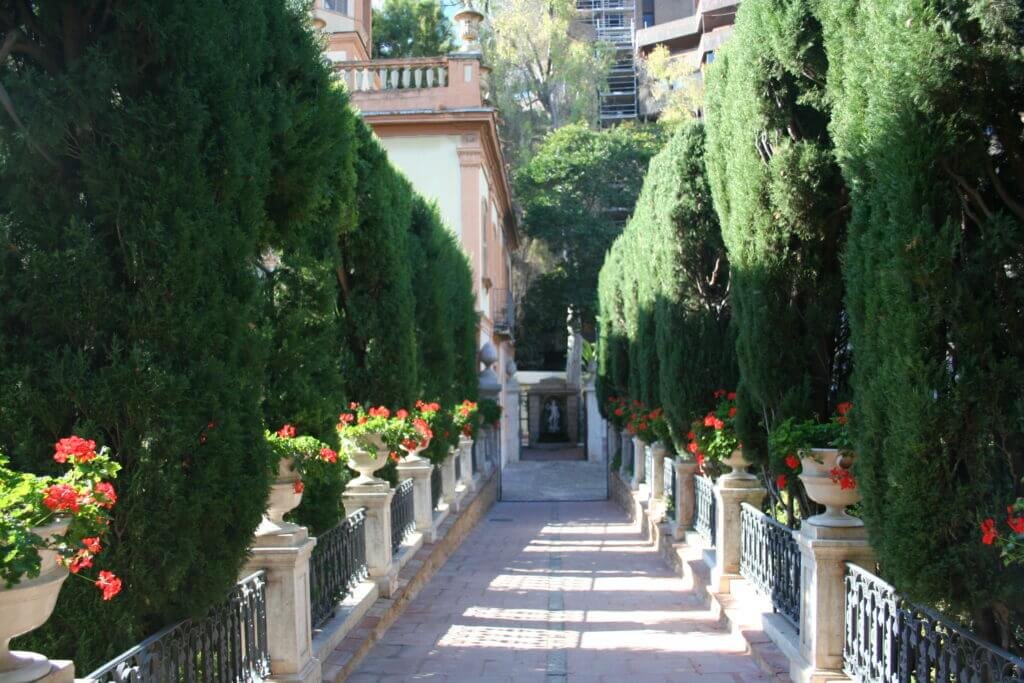 Valencia's April weather encourages you to bring some clothes both for the daytime and the nighttime. During the warmest parts of the day, you'll likely be fine with just a t-shirt and jeans. But at night, you'll still want a warm jacket.
So here's what I recommend packing for your April Valencia trip:
Light jacket or a cardigan for the daytime
Heavier jacket for the nighttime
Comfortable sneakers for walking
A foldable umbrella, just in case
1 pair of shorts or a dress for the occasional heat wave
As you can see, even though the springtime brings gorgeous Valencia weather, April is still a transition period. This means that you'll want to come prepared in case you don't get perfect weather conditions.
What to Do in Valencia in April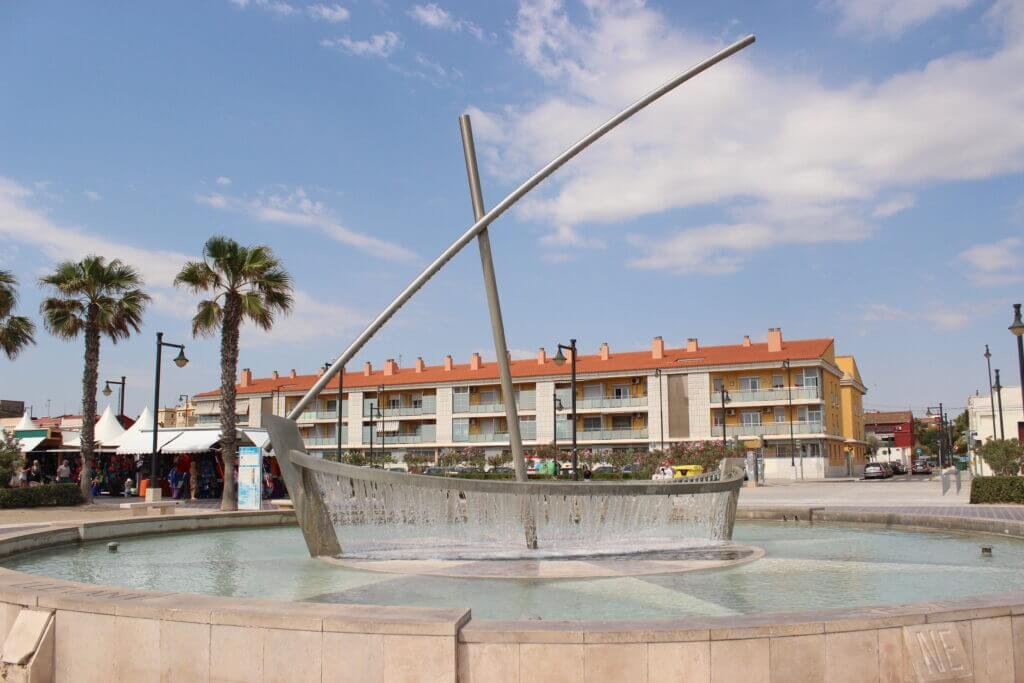 Valencia in April is an exciting time as the Easter holidays pop up. The city's squares are often filled with traditional dances, special events, and parades. From book fairs to religious ceremonies, Valencia's atmosphere continues to get livelier as the days get warmer.
So while Valencia is worth visiting any time of the year, here are some things that make Valencia in April special:
La Setmana Santa Marinera
While the entirety of Valencia (Spain in general, for that matter) celebrates the Holy Week, the coastal neighborhoods have some of the most unique traditions.
Head down to El Cabanyal during La Setmana Santa Marinera to check out all its celebrations. The neighborhood has 15 days of Easter celebrations and events.
But during La Setmana Santa, there is a different procession for every day of the week. Here are some of the most important:
Maundy Thursday – La Nit de les Capelles (a silent candlelit procession)
Good Friday – El Sant Enterro (a march to the beach, paying homage to those that died in the Mediterranean Sea)
Holy Saturday – La Resurreció (Silence until midnight, followed by fireworks and water thrown from balconies to purify the streets)
Easter Sunday – La Desfilada de Resurreció (Colorful and cheerful parades filled with flowers)
It's one of the most interesting holidays to see in Valencia in April. With solemn processions in front of the sea, it's absolutely something you should check out.
Note: Each year the times are slightly different, so make sure to check out the events schedule to not miss anything!
By the Way, Americans – Don't Get Scared
One very important fact to keep in mind about the Easter holidays – the traditional outfit might be alarming at first.
The people who participate in the parades and ceremonies wear veiled clothing as part of their penitence.
Veiled clothing that involves large, pointy, hooded cloaks that bring to mind a certain terrorist organization.
So if you don't know anything about the Holy Week in Spain, this is obviously going to be shocking. But don't worry – it's a tradition that predates the KKK by several hundred years.
The hats are called cucurulles in Catalan or capirotes in Spanish. The veiling is meant to symbolize humility for the penitents by drawing attention away from the individual.
But the design was appropriated in the 20th century, copying the style worn by the accused during the Spanish Inquisition and changing them to be all white. And naturally, this leaves a lot of Americans stunned during Easter in Spain.
So long story short – don't worry, it's not what you think it is.
Bike Rides
I mentioned it before, but one of my favorite things to do in Valencia in April is to go on a bike ride.
The sun brings a welcoming warmth and the parks are blooming with flowers.
Since the Jardins del Túria has a dedicated bike line, this makes it easy for you to enjoy this vast green space.
You have a few options for bike rides:
Head up towards the Parc de Capçalera towards the north end of the city
Head east towards the Ciutat de les Arts i les Ciències
Continue south towards El Pinedo
You'll have a simple & safe bike line that takes you to any of those areas, so it's beginner friendly. If you're coming here for 3 or more days, I recommend spending a morning going on a bike ride. It's also a quicker way to see some of the major landmarks that line the river.
Stroll Through the Parks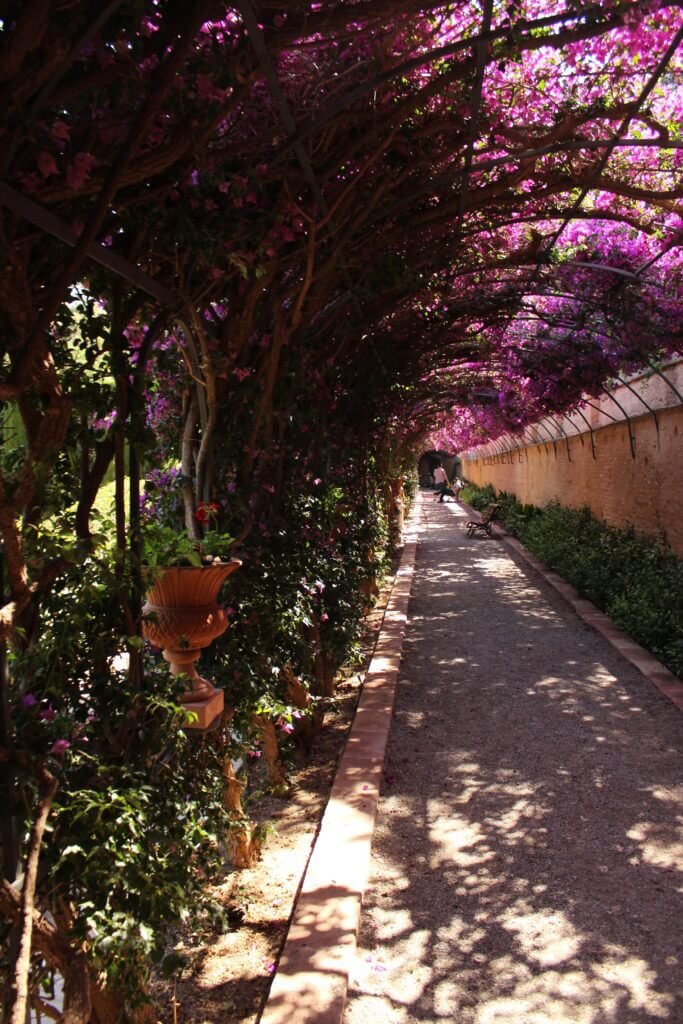 If you're not a fan of bike rides, I still recommend spending some extra time to view Valencia's parks.
The Valencia weather in April is bringing longer days and more flowers, so it's a great time to see the city begin to bloom.
Here are some of the best gardens to check out:
Jardins del Túria
Parc de Capçalera
Jardí Botànic
Jardins del Reial (Vivers)
Jardí de Montfort
Explore the City
Naturally, one of the best parts of April in Valencia is the ability to walk through the city in comfortable weather. With daily averages of 16 °C / 61 °F, the Mediterranean climate gives us some lovely days to enjoy the city.
You won't be sweating like you would in August. And you won't be freezing like you would in February. This makes it the perfect time to explore the city's labyrinthian streets to your heart's content.
So make sure you check out all the best things to do in Valencia and take advantage of the beautiful springtime Valencia weather.
Tips for Traveling to Valencia in April
Although you don't have to worry too much about the Valencia weather, April still brings a few considerations to keep in mind.
So here are my top tips for traveling to Valencia in April:
Bring a Rain Jacket: While April brings mild temperatures, occasional showers may surprise you. Some years are drier than others, but a windbreaker jacket and a compact umbrella might come in handy.
Stores Closed for Easter: Lots of museums and businesses will be closed during some Easter holidays. Supermarkets might be closed, too! So plan accordingly.
Extra Bank Holidays: In addition to Easter, Sant Vicent is another holiday on the second Monday after Easter Sunday, so businesses will be closed.
Bring Allergy Medicine: If you're allergic to pollen (like me 🙃), don't forget your allergy medicine!
Don't Worry About the Outfits: The traditional Easter dresses can be alarming for Americans, so make sure to read above why you shouldn't be concerned.
Is Valencia Worth Visiting in April?
Absolutely! Valencia in April brings great weather and unique traditions. You'll be coming before the start of peak tourist season, so you'll also get smaller crowds.
So if you want to avoid the crowds and the intense heat of the summer Valencia weather, April is a great time to visit.
Enjoy the Valencia temperature in April, take part in colorful festivities, and experience an exciting adventure.
FAQs
Is April a Good Time to Visit Valencia?
Absolutely! April is a good time to visit Valencia. Spain in April brings milder temperatures and smaller crowds. 
Can You Go to the Beach in Valencia in April?
The water temperature is around 15°C (59°F), so it's probably too cold for a full-fledged beach day. However, you can still enjoy beachside walks and the serene coastal ambiance.
What Is Valencia Like in April?
Valencia in April is a blend of spring flowers and Easter celebrations. You'll get to enjoy all the vibrant colors with warmer days and chillier nights. 
Check These Out
Dive into this eSIM Europe Review to find the best eSIM app for Spain. With Airalo, you'll never have to worry about getting trapped in that medieval labyrinth of a…