Get ready for a visit to Valencia in March – the most exciting month of the year! Celebrate the arrival of spring the way Valencians intended: with fire, music, and churros. Prepare yourself for constant festivities – regardless of the Valencia weather. March brings those first warm days and the occasional drizzle, but that won't stop anyone from transforming the city into a lively, explosive, and fiery adventure.
Is March a Good Time to Visit Valencia?
Yes! March is one of the best times to visit Valencia.
March welcomes the end of winter and awakens you to a city brimming with life and festivities. The Valencia weather in March is cool, but not freezing. The warm daytime sun will have you taking off your winter coat and embracing the arrival of spring.
With better temperatures and the coming of Valencia's most important festival, March is one of the best – and most interesting – times to visit the city.
Here's some things to consider:
Pros:
Mild and comfortable weather, with average highs around 24.3°C (75.7°F).
19 days of the UNESCO World Heritage Festivity
The city is filled with orange blossoms
Cons:
Average of 35mm or 1.4″ of rainfall – but sometimes unpredictable
Les Falles can be overwhelming
Lodging can be more expensive
Now let's dive deep and look into everything you need to know about Valencia in March: Weather, things to do, and what to pack. 
Valencia Weather: March
The weather in Valencia in March tends to bring those first warmer days. With average daily highs of 24.3°C (75.7°F), you'll finally get that Mediterranean sun on your skin.
But with cooler nights and the occasional rain, it can be a hit or miss when it comes to the Valencia weather. March has been unpredictable the last few years, but in general it brings a pleasant break from the colder winter.
Temperature:
The weather in Valencia in March can be described in a two steps:
Wearing your coat at night, and carrying it around on your arm during the day. 
With average highs of 24.3°C (75.7°F) during the day, you can relish the warmth of the sun on your skin. The cooler nights bring minimum temperatures of 7.0°C (44.6°F) mean you'll likely need to bring a thick jacket or coat. But that almost-spring-winter sun means you'll be stripping down to a t-shirt around 2 pm.
So if you're visiting Valencia in March, just come prepared. This transition period causes some strange average temperatures that require you to bring sunscreen and a scarf.  
Rain:
According to the official weather service, Valencia only averages about 4 rainy days per month in March. And with just 35mm (1.4"), it's more of a drizzle than anything.
But like I said, the weather in Valencia in March can be a bit unpredictable. The last few years brought heavier rain to Les Falles festival.
So you should expect it to rain at least once during Les Falles, which means it won't hurt to bring an umbrella. 
What to Wear in Valencia in March
Valencia's March weather forces you to put on some layers at night, then rip them off under the midday sun. So here's what I recommend bringing for this spring transition period:
A light jacket or sweater
A heavier jacket or coat, just in case
Comfortable walking shoes
A foldable umbrella or waterproof jacket
When you're visiting Valencia in March, you just have to go with the flow. The city becomes chaotic – and the weather reflects that. So make sure to come prepared mentally and literally.
Pro Tip: If you plan on partying, bring shoes or a sweater that's easy to clean. With lots of people drinking in the streets, it's easy to get your clothes dirty.
What to Do in Valencia in March
What isn't there to do in March? Valencia comes to life and shows a completely new side of itself to welcome in the springtime.
Besides all the spectacular things to do in the city, March brings you the city's biggest and most important festival – Les Falles.
So let's look deeper at what there is to do in Valencia in March:
Les Falles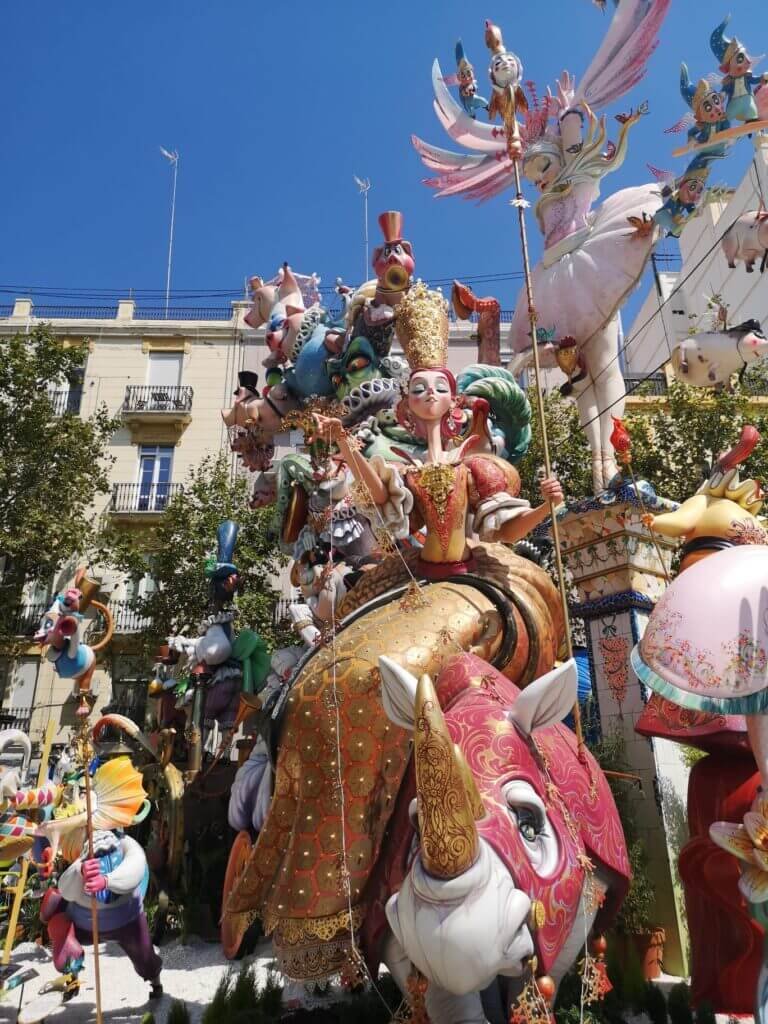 This UNESCO World Heritage Festivity is the city's iconic holiday.
While the pinnacle of the festival takes place from March 15th to March 19th, the city truly begins its transformation on the last Sunday of February.
Fire, satire, art, and passion are what make this holiday unique. The city gets filled with intricate, building-sized artworks making fun of life and culture. Neighbors take over the streets to play music, connect, and make paella and other delicacies.
And the festival comes to a climatic end by launching fireworks and burning all the art to the ground, leaving space for a fresh start to the next year's cycle.
Les Falles is a complex, astounding, and unique festival that needs to be experienced to truly understand it. So if you have the opportunity to come to Valencia in March – take it.
Note: The native name for the holiday is in Valencian/Catalan – Les Falles. The name in Spanish is Las Fallas. But since this is strictly a Valencian holiday, I use the Valencian name in my guides instead of calling it Las Fallas Festival.
La Mascletà
Feel the rhythm of Valencia's heart with La Mascletà, a daily pyrotechnic display that resonates across the city.
Head to the Plaça de l'Ajuntament (The Town Hall Square) by 2 pm. Brace yourself for crowds and expect to need some extra time to push your way in. You'll hear two warning explosions 10 and 5 minutes before it begins.
La Mascletà is kind of like standing right in front of the speakers at a concert. Because the visual side of them aren't as important, but rather the rhythm and beat that pounds through the city.
Each Mascletà is a bit different, so I recommend checking them out as many times as you can while you're in Valencia in March. Weather permitting, the Mascletà on the 19th tends to be the most impressive one.
Bunyols i Xurros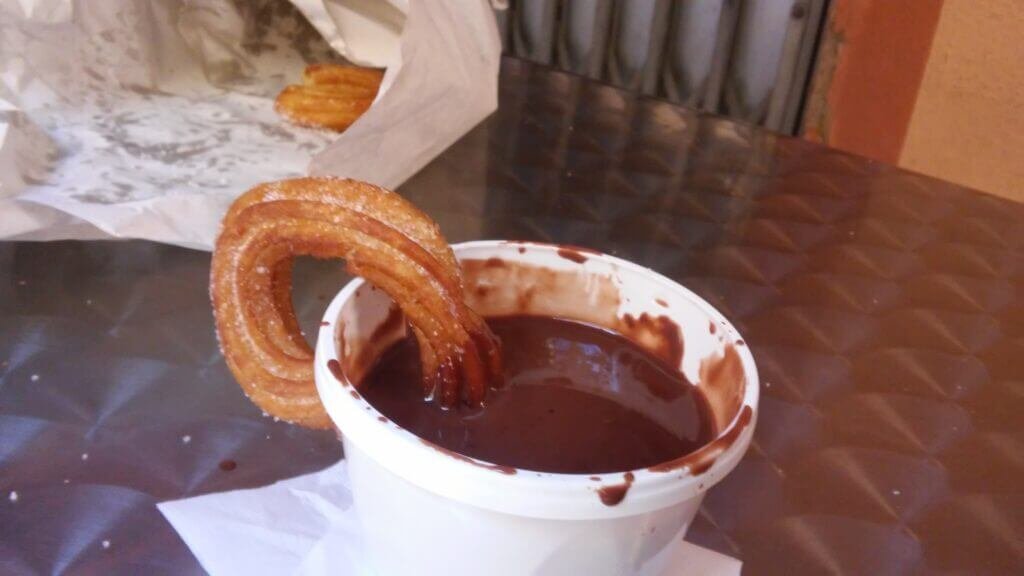 Indulge in some traditional Valencian flavors by grabbing some Bunyols and Xurros with chocolate. These sweet, fried treats are found in stands all over the city. And unlike in other places in Spain, Valencians only eat xurros during Les Falles.
Xurros here are different from the ones found in the Americas, since they're just made with flour, water, and sugar. Bunyols are similar, but have a rounded shape and are made with pumpkin.
Pro Tip: If you find a stand that sells bunyols de figa (bunyols stuffed with figs) – go there. It's a traditional variant that tells you that they're probably using authentic recipes!
L'Ofrena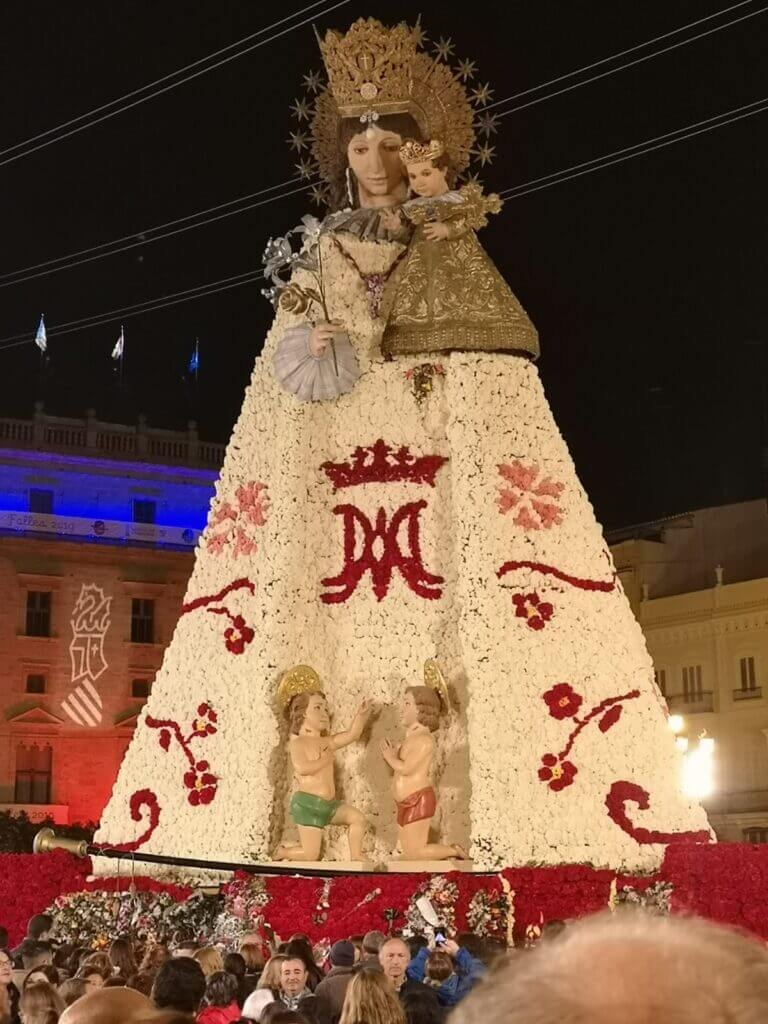 L'Ofrena (occasionally referred to as La Ofrenda in Spanish) means The Offering. You'll see thousands of men and women dressed in traditional fallera dresses, marching from their neighborhood (or town!) to the Plaça de la Mare de Déu dels Desemparats, offering flowers to the Virgin Mary.
Perfectly timed and coordinated, the flowers are carefully placed on a 15m-tall wooden statue of the Virgin. After 2 days of marching, the Virgin's cape is transformed into an intricate design made entirely of flowers.
The whole square turns into a fragrant garden, so make sure you stop by to see it. Between the orange blossoms and the Ofrena, Valencia in March becomes a city that just smells amazing.
La Nit del Foc
La Nit del Foc means The Night of Fire. On this night, the city launches a grandiose firework display that lasts for around 20 minutes.
There's also the Cavalcada del Foc (The Parade of Fire) that takes place earlier on the same night, going up Carrer de Colom. People dress up in costumes and show off their pyrotechnic skills.
It's a fiery, breathtaking night that you have to check out. It takes place on the 18th, but make sure to check out each year's schedule for the exact times.
Revetles
During the weekends and every night from the 15th to the 19th, many of the city's squares transform into revetles – outdoor clubs.
So if you're looking for an exciting nightlife in Valencia in March – head over to the revetles. They're free to join, so it makes for an affordable way to party away during Falles.
If you get unlucky and you have a revetla outside your hotel, you have two options:
Bring good earplugs or
Join the party
La Cremà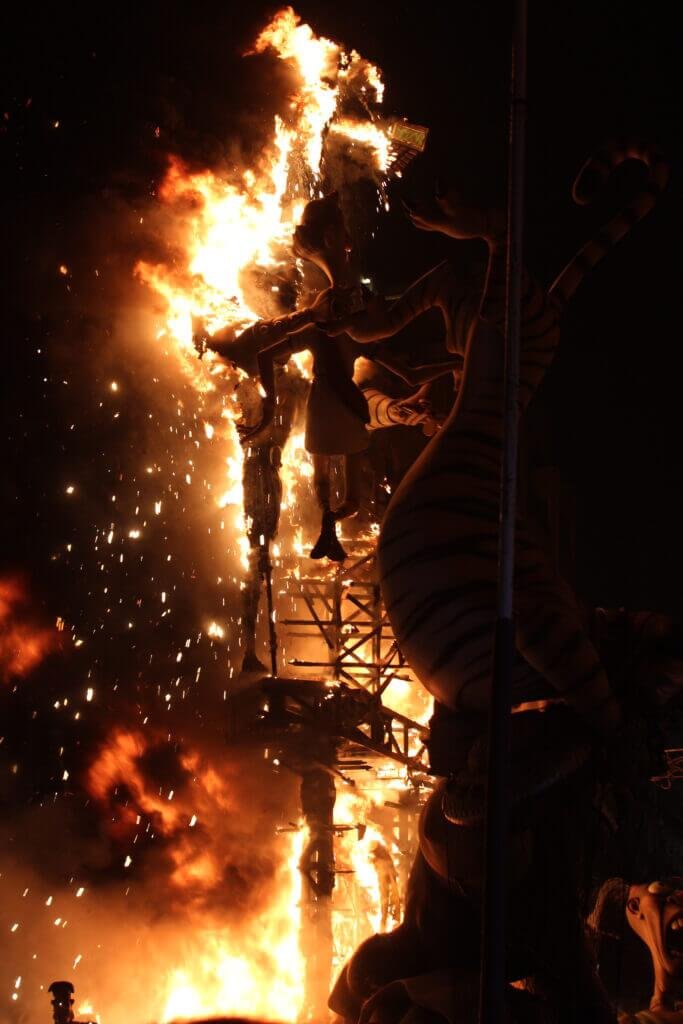 On the night of the 19th (going into the 20th), Les Falles comes to a dramatic and emotional end.
After working on these artful masterpieces for an entire year – all of them are burnt to the ground. La Cremà (The Burning) represents the end of one cycle and the beginning of a new one.
So as you walk around the city, make sure to take note of your favorite Falla. Then on the night of the 19th, go watch its artists set it ablaze. If you're visiting Valencia in March, this is undoubtedly one of the most exciting events to see.
Note: Don't worry about the fires. After more than a century of practice, Valencia's fire department is very well-prepared.
Tips for Traveling to Valencia in March
Weather permitting, March in Valencia brings its own unique excitement – and things to consider. So go with the flow and come prepared for an unforgettable time.
Here are my suggestions and considerations to make your March Valencia travels iconic.
Valencia in March is a Different City: Embrace the transformation as Valencia evolves into a vibrant tapestry of festivals, art, and celebrations. March is an exciting month completely unlike any other time of the year.
Many Restaurants Close After Les Falles: After nearly 19 days of handling partygoers, some restaurants will close for a few days to rest.
Unpredictable Rain: You're likely to see rain at least one day during your trip to Valencia in March. Weather conditions can be unpredictable sometimes, so be prepared.
Bring Earplugs: Valencia is loud in March – bring earplugs.
The Water Is Too Cold for Swimming: With the water temperatures only getting up to 13°C (55°F), you might want to re-think going swimming.
The City Population Doubles: More than a million people visit Valencia for Falles each year. This means dense crowds and more expensive hotels.
Like I said, March in Valencia is completely different. I always recommend visiting the city in March AND at some other point in the year to get a better feel for it. And if you do, make sure you read more tips for visiting the city. 
Is Valencia Worth Visiting in March?
Absolutely! Valencia in March is a captivating and unique experience unlike anything else. The March Valencia weather is pleasant and you get to take part in a UNESCO World Heritage Festivity.
Celebrate the city's culture, history, and art. And come prepared to embrace to enjoy the changing Valencia weather. March brings the first days of spring with chilly nights and fiery festivities.
Come experience Les Falles first-hand and take part in something unforgettable.
FAQs
Is Valencia Worth Visiting in March?
Yes! With pleasant weather and Les Falles festival, Valencia is definitely worth visiting in March.
Is Valencia Warm in March?
Yes, during the day. With average highs of 24.3°C (75.7°F) during the day, it's a great time to head outdoors. However, the nights get chilly so don't forget to bring a jacket.
Can You Swim in Valencia in March?
No. Although you'll be tempted to dive into the Mediterranean, the sea temperature of 13°C (55°F) makes swimming a chilly endeavor in March.
What's the Best Time to Visit Valencia Spain?
May to October is generally the best time to visit Valencia. With the best weather and lots of activities, it's a great time to explore the city. Valencia in March is another fantastic option to explore Les Falles – a festivity that transforms the city into something completely different.