May in Valencia brings the first days of summer. Warmer days, cultural celebrations, and blooming flowers give the city a cheerful and exciting atmosphere. But the comfortable temperatures bring along the risks of rain in the Valencia weather. May is one of the best months to visit – regardless of the occasional drizzles. Let's dive in to see why!
Is May a Good Time to Visit Valencia?
Absolutely! May is one of the best months to visit Valencia. All the flowers are in bloom, the weather in Valencia in May is summer-ready, and you're coming right before tourist season.
May in Valencia also hosts one of its most important festivities – the patron saint celebration.
So let's look at some of the pros and cons of visiting Valencia in May:
Pros
Pleasant and warm daytime temperatures: 25.8°C (78.4°F)
Flowers all around the city
Important religious festivities
Fewer tourists
Cons
8 days of (usually) light rain
Sea temperatures too low to swim
Let's take a deep dive into all the details of Valencia in May: Weather, things to do, and what to pack.
Valencia Weather: May
May in Valencia brings a mixed bag of weather. You're getting warmer average daily temperatures – but you also risk getting rained on. Mostly it depends on the year.
Sometimes May is bright and sunny and is absolutely the best month to be in Valencia. And some years you get an entire week of rain. Then some years bring a heat wave! It really just depends on your luck that year.
So yeah, sorry to everyone who came to visit Valencia in May for my wedding. I promised them sunny Mediterranean weather and it rained every single day. But hey – at least the rain stopped for the wedding!
Jokes aside, the springtime in Valencia is a bit unpredictable. But let's look at the May weather in Valencia more in-depth:
Temperature
The actual temperature data in Valencia in May gives us some great news:
Average highs of 25.8 °C (78.4 °F)
Average lows of 11 °C (51.8 °F)
This means the daytime is nice and warm, and you only need a jacket if you'll be out late into the night. And with only 17% cloud cover, typically the days are nice and sunny.
The only downside is that the water temperature is still at 17 °C ( 63 °F). So the sea is still a bit too chilly to swim.
Rain
Like I mentioned, Valencia does get some rain in May.
But realistically – it's not usually enough rain to ruin your trip. With 8 days of precipitation, but only 34mm / 1.3″ of rain, it's typically manageable. Plus, the rain tends to be spread out and you only get some light drizzles.
Again, unless you're as lucky as my wedding guests…
What to Wear in Valencia in May
Luckily, you don't need to worry too much about packing for Valencia in May. With some simple travel options and a light rain jacket, you should have everything you need to enjoy the city.
So here's a quick list of things to pack to visit Valencia in May:
Light and breathable clothing for the day
Comfortable shoes
Sunglasses and sunscreen
A light jacket for chillier evenings
A rain jacket or compact umbrella just in case
Since we're getting close to summer in Valencia, you don't really need to worry about heavy jackets anymore. So with a good rain jacket and comfortable shoes – you'll be ready to take on the city!
What to Do in Valencia in May
There are so many things to do here. With this perfect Valencia weather, May is a great time to get to know the city. From going on bike rides to taking a stroll through the Jardins del Túria, it's the perfect time to get outside and explore away.
So here are some of my favorite May-specific activities and events for you to enjoy:
Les Creus de Maig
The May Crosses are one of Valencia's religious traditions that take place around the 3rd of May.
Many squares are filled with crosses decorated with flowers, a medieval tradition celebrating the cross.
While this might not be the most exuberant festival, it's a charming celebration that gives the city an extra lively, floral vibe.
Take a walk through the city's historic center to enjoy these flowery decorations.
La Feria Andaluza
For the last 30 years, the city has been hosting a mini version of the Feria de Abril in Seville in the Turia Gardens.
It's definitely not a Valencian tradition. Especially considering that the Andalusian and Valencian cultures are a lot more distinct than an average tourist might think.
So if you're looking for an authentic Valencia experience – this one ain't it. But if you're interested in learning more about Andalusian culture (and don't have time to head south), this is an unexpected addition to May might give you some insight.
Note: Dates vary every year. In 2023: April 28th to May 7th.
Celebrate the Patron Saint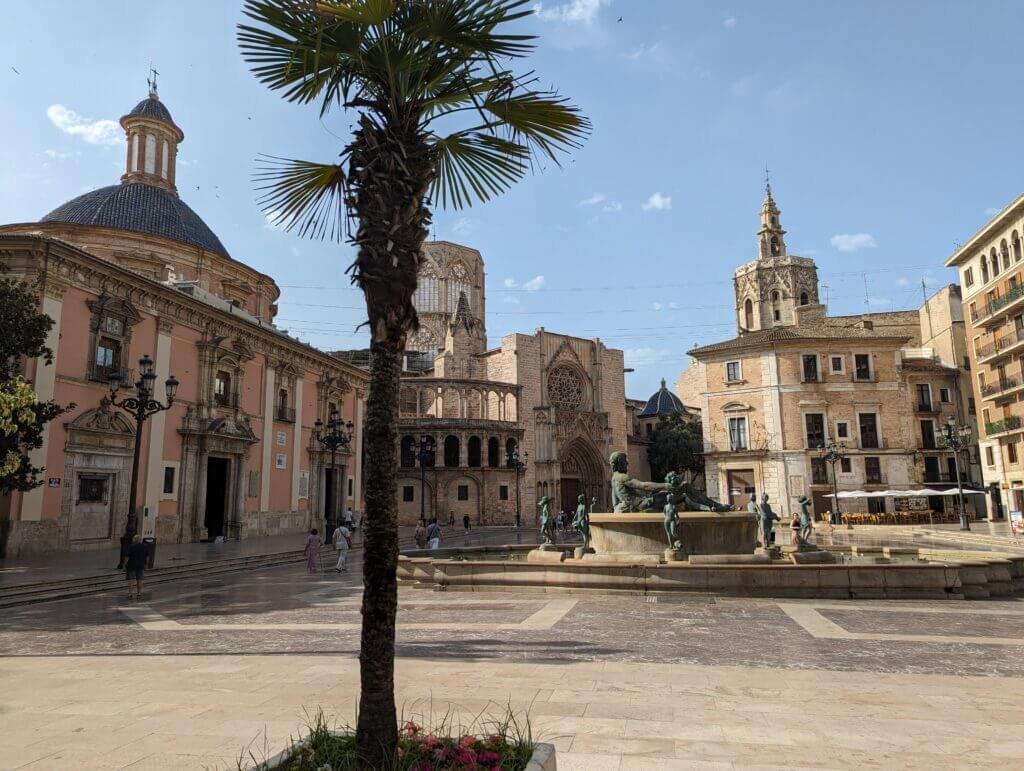 This is the biggest holiday in May in Valencia. La Festivitat de la Mare de Déu dels Desemparats (Our Lady of the Forsaken Festivity) celebrates one of Valencia's patron saints.
On the second Sunday of the month, the enormous effigy of the Virgin Mary is taken out of the basilica for a variety of events. Lovingly called Geperudeta (Little Hunchback) for her downward gaze, all of the festivities center around this religious devotion.
Here's a list of events and things to check out:
Midnight concert in the Plaça de la Mare de Déu dels Desemparats
Flower Tapestry covering the entire basilica
Fireworks in the river
Nit d'Albaes – Traditional dances and music
La Missa d'Infants – A mass with a famous children's choir
El Trasllat – The Patron Saint's effigy is paraded around the square in a huge celebration
La Mascletà – A uniquely Valencian fireworks event
La Processó – The effigy is paraded through the city, while devotees throw flowers at her
While of course this is a religious holiday, I encourage everyone to check out this Valencia May holiday. It's bright, exciting, and is rich in Valencian culture. You don't need to be Catholic to appreciate the intricate (and enormous!) floral tapestry or the traditional dances.
Fira del Llibre
This one is for all of the book lovers out there. La Fira del Llibre starts at the end of April and continues on through the first week of May.
It's an old tradition and one of my favorites. Hundreds of book vendors come out into the city's parks or main avenues.
You can find a huge array of books for reasonable prices – and in just about any language! So if you're looking for souvenirs for your trip to Valencia in May, this is a great place to buy them!
Tips for Traveling to Valencia in May
Let's make sure you're well prepared to enjoy the Valencia weather. May in Valencia offers plenty of exciting experiences and some of those first summer-esque days.
So here are some of my Valencia tips to enjoy your trip:
Bring Sunscreen: Trust me, that Mediterranean sun is no joke.
Check the Weather Before Coming: Like I said, the weather can be unpredictable. Make sure you see what the weather in Valencia (Spain, not Venezuela!) looks like before coming to pack the right way.
Enjoy the Pre-Tourist Season: Enjoy the tranquility and authenticity of pre-tourist season. You'll still see tourists, but it's so much nicer than in July or August.
Note: Check out all my tips and tricks for making the most out of your trip to Valencia.
Is Valencia Worth Visiting in May?
I absolutely think Valencia in May is worth visiting. You get an authentic experience of the city with its warm days and lively atmosphere.
Come see the city in prime spring weather. Even if it does rain on your trip, it's (usually) a light drizzle that won't ruin it!
And as always, if you have any questions – just send me a message!
Any questions?
Send me a message with any travel questions and I'll do my best!
Bon viatge!
FAQs
Is May a Good Time to Visit Valencia?
Absolutely! May in Valencia brings warm weather, fewer tourists, and a bright & floral festivity. Although you might get some light rain, it's still one of the best months to visit Valencia. 
Can You Swim in Valencia in May?
The sea temperature of around 17°C (63°F) is probably too cold for most people. If you're at the beach, you might manage a quick dip to cool off, but you'll likely be running out of the water. 
How Many Days in Valencia Is Enough?
I usually suggest a 3 day itinerary to get to know Valencia. If you're coming in May, that gives you enough time to visit the most important parts of the city. 
May in Valencia brings the first days of summer. Warmer days, cultural celebrations, and blooming flowers give the city a cheerful and exciting atmosphere. But the comfortable temperatures bring along…