The weather in Valencia in July is synonymous with complete summer splendor. Enjoy the blend of warmth, festivities, and relaxation by the Mediterranean Sea. With cloudless days and comfortable summer nights, it's the best time to enjoy the Valencia weather. July gives you the chance to take part in lively events and leisurely beach days. Read through this article to prepare yourself for the weather, pack appropriately, and discover all the best things to do in Valencia in July.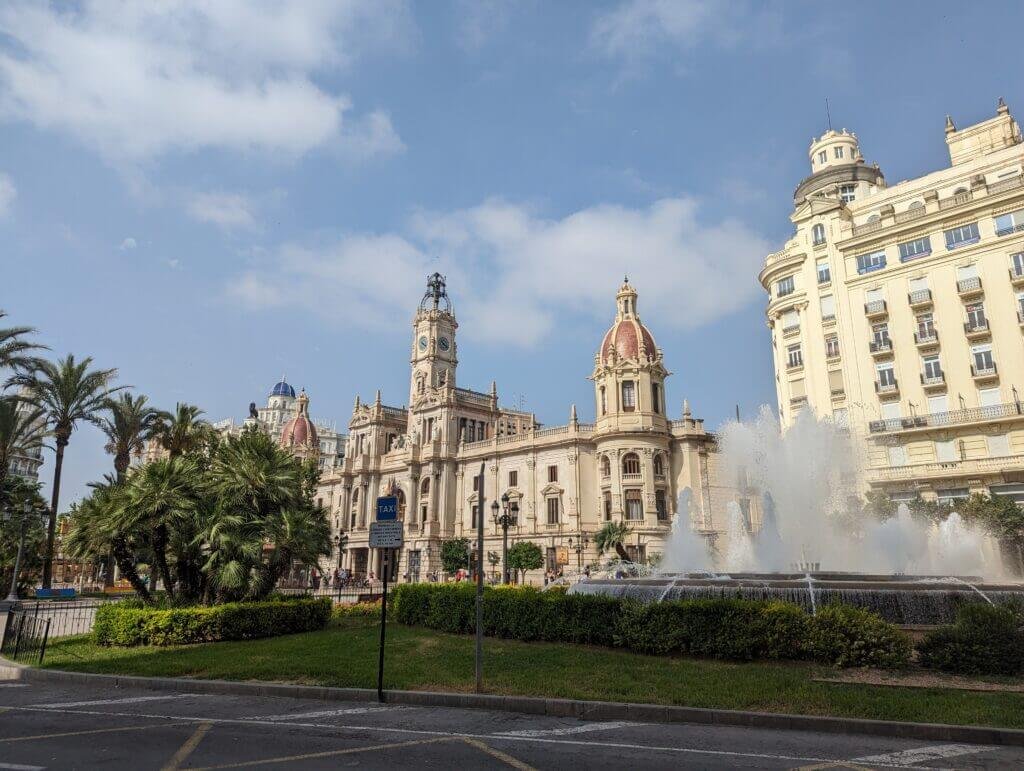 Is July a Good Time to Visit Valencia?
Absolutely! With all the things to do in the city, July gives us hot, but pleasant weather to embrace the city. Warm days, exciting festivals, and the absence of rain gives travelers the perfect weather to discover Valencia. So let's go over the pros and cons of coming to Valencia in July:
Pros
Average daily temperatures of 29.7°C (85.5°F)
15 hours of sunshine
Almost no rain
Cons
Possible heat waves
Bigger crowds and longer lines
More expensive lodging
Visiting Valencia in the summer means you'll get some enjoyable Mediterranean weather – especially if you're a beach lover. But you won't be the only one coming to enjoy the Valencia weather. July is peak tourist season, so be prepared! Let's dig deeper into the weather in Valencia in July first, then we'll talk about what to pack, can't-miss events, and top tips for travelers. 
Valencia Weather: July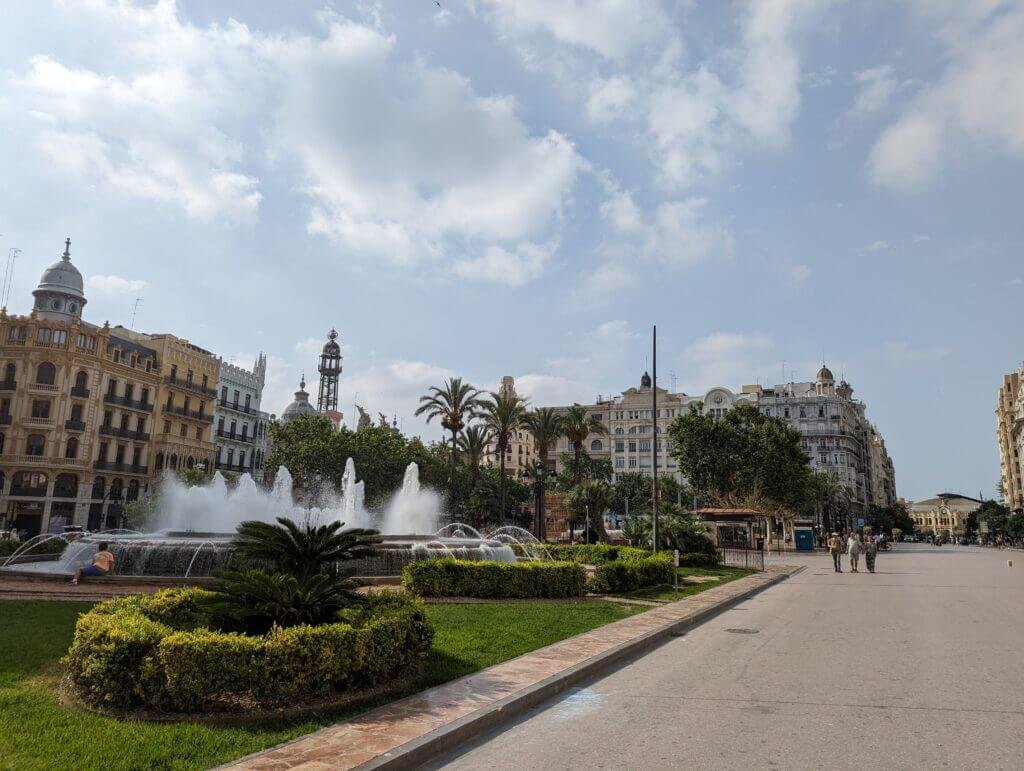 Valencia in July offers great experiences for those ready to soak up the summer sun. Bask in the sunshine and enjoy outdoor adventures in the Mediterranean. With average high temperatures of 29.7°C (85.5°F) during the day, you can embrace the warm and sunny days.  
Let's look at the weather in more detail:
Temperature
Valencia in July is the ideal month if you're coming to enjoy the sun.
Average daily temperature of 29.7°C (85.5°F)
Cool nights with an average 21.5°C (70.7°F)
During the day you can explore the city and lay out on the beach. Then at night, you can fall in love with dining outdoors on a terrasseta and relax with some drinks. 
But be careful with the sun. July sometimes brings in heatwaves that will easily push temperatures up 10+ degrees.
And regardless of a heatwaves, Valencia in July can feel exceptionally hot if you're not used to the Mediterranean climate.
My pro tip: Stay out of the sun from 1pm – 4pm. Stay hydrated. And if you have time to spare, consider adopting siesta culture and relax inside while you're waiting for the temperatures to cool down.
Rain
Lucky for beach-goers – July in Valencia is basically a cloudless month. On average, Valencia only gets 1 day of rain in July, and only an average of 9mm (0.4 inches) of precipitation.
In other words, you can skip the umbrella. The only umbrella you need is for shade at the beach! And don't forget to bring plenty of sunscreen and a bottle to refill with water.
What to Wear in Valencia in July
Dressing for Valencia in July is all about staying as cool as possible during your summer escapades. Linen and light cotton clothes are a must – because no one wants to take a selfie with their sweat stains showing.
Here's what I suggest packing for Valencia in July:
Lightweight, breathable clothing
Swimsuits
Sunscreen, sunglasses, and a hat
Comfy shoes for walking
Sandals/flip-flops for the beach
Refillable water bottle
Super important – if you're visiting any churches, you should be wearing clothes-toed shoes and have your shoulders covered. You cannot enter the Valencia cathedral in your beach clothes.
In fact, I recommend only wearing beach clothes on your way to the beach. When you're exploring the city, I'd suggest wearing regular clothes as it's what most Valencians would see as appropriate.
And remember – don't be that guy that walks around with their shirt off or completely opened button-ups in the city center 🙄.   
What to Do in Valencia in July
Thanks to that warm Valencia weather, July is all about outdoor festivities. From concerts to fairs, the city ignites with fun and vibrant activities to enjoy all month long.
So besides the normal things you should be seeing in Valencia, here are some July-exclusive things to do:
La Fira de Juliol
Taking place in the Jardí del Túria, you can go see La Fira de Juliol. Called the Feria de Julio in Spanish and the July Fair in English, this is a month-long celebration filled with concerts, theater performances, fireworks, and more.
So whether you're coming to the city as a couple or you're bringing along your kids, the Fira de Juliol is an exciting collection of spectacle to see.
It's a fun and unique way to spend your evening. So even if you're not a big fair-goer, I still recommend checking out other elements of the celebration, like the firework displays and the iconic Batalla de Flors:
La Batalla de Flors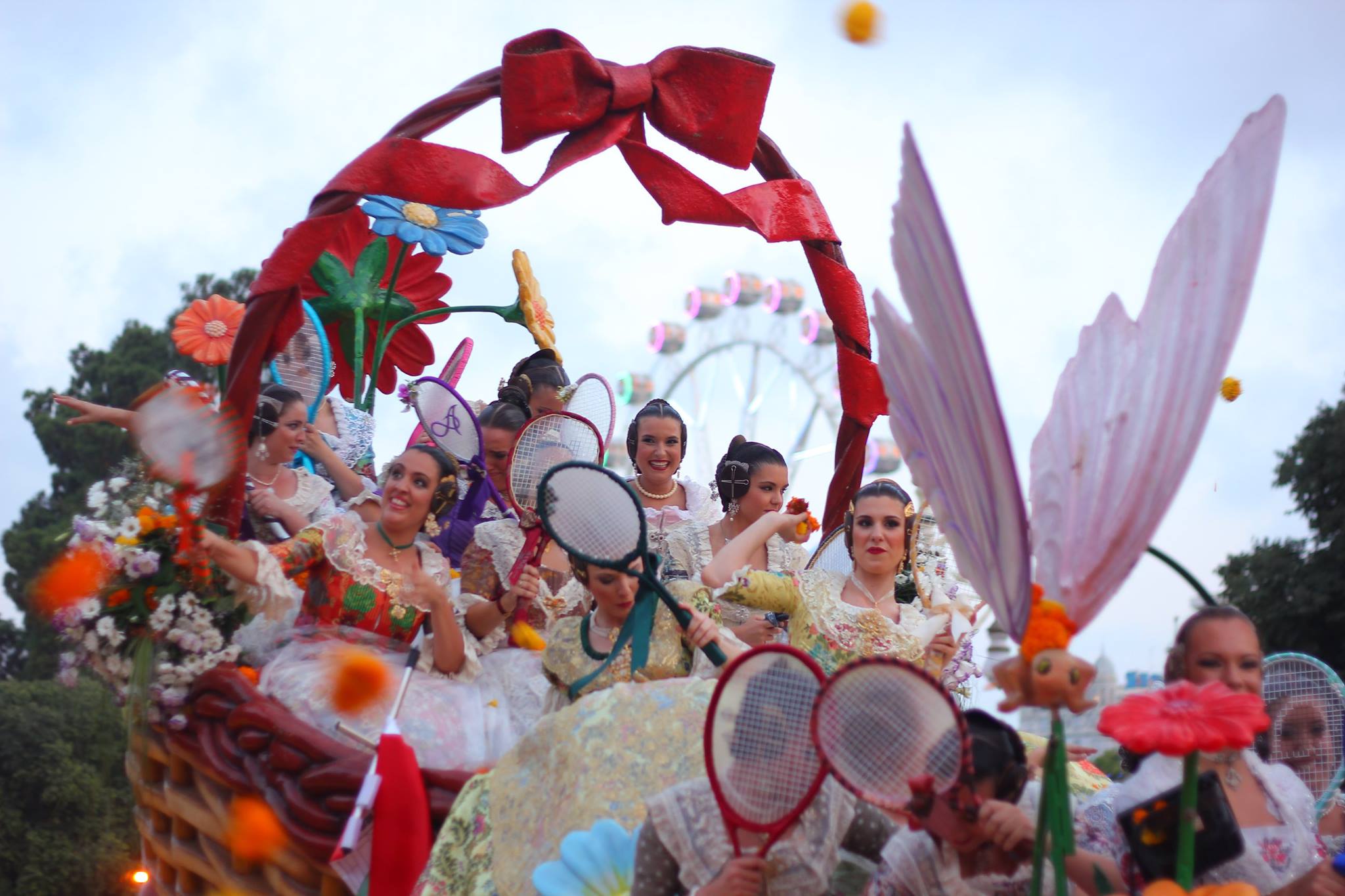 What makes the Fira de Juliol in Valencia unique is one of the last festivities to take place – La Batalla de Flors. 
This flower battle has dozens of neighborhood associations (Falles) marching down El Passeig de l'Albereda in a parade of floats. These floats use intricate flower designs for decoration.
And as the parade marches on, spectators throw flowers at the floats, flooding the streets with aroma and color.
It's a gorgeous sight to see, so if you're in Valencia towards the end of July, you definitely need to check it out.
Concerts de Vivers
Want to embrace the nightlife while you're in the city? Grab tickets for one of the concerts in the Jardins del Real, also known as Vivers.
Typically from Thursday-Sunday, you'll have new concerts lined up every night. With plenty of food trucks and big crowds, it's a great way to spend a lively evening and listen to some music from local and Spanish bands.
Enjoy the Sun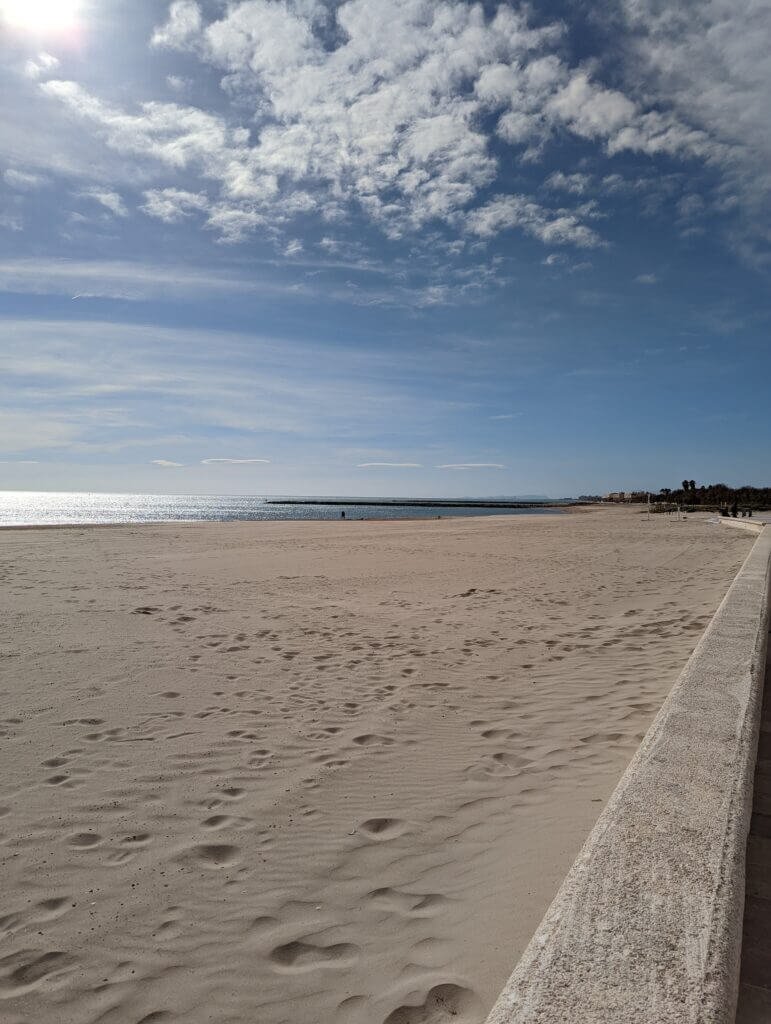 Naturally, if you're coming to Valencia in July – you're going to be taking advantage of that dopamine-inducing sunshine. 
July is one of the best times to explore the outdoors and get a taste of the summer fun. Whether you're heading to the Malva-rosa beach or you're looking for something more adventurous, this is a great time. Just remember – drink lots of water, wear a hat to protect your head, and put on plenty of sunscreen.
And if you want someone else to organize the fun for you, here are some great tours and adventures you can snag:
Tips for Traveling to Valencia in July
As you get ready for your journey to Valencia in July, here are a few of my top tips to make the most of your trip.
Be Prepared for Tourists: Valencia is a growing tourist destination, so expect longer lines at museums and more crowded spaces. I recommend booking your hotel in advance and grabbing the Valencia Tourist Card so you don't miss out on anything.
Get Lodging with A/C: If you go with Airbnb or a hostel, many places might not have air conditioning. So make sure you use pages like Booking that are more likely to have a/c. Otherwise, you'll be in for a sweaty night.
Stay Hydrated: I can't stress this enough! Dehydration and heat strokes are one of the biggest dangers for tourists, so drink plenty of water. (And no, Agua de Valencia doesn't count!)
Consider Travel Insurance: If you're coming from outside of Europe, I usually recommend paying a few extra dollars for the peace of mind. Safety Wing's Travel Medical Insurance is really affordable and covers just about everything you can imagine!
Try an Orxata or Granissat: They're both sweet and refreshing drinks that just hit different in the summer!
Tapwater is safe: You can absolutely drink from the tap or from public water fountains. So you don't need to buy plastic bottles!  
Check out even more tips and tricks for visiting the city!
Is Valencia Worth Visiting in July?
I definitely think so! July is one of the best summer months to visit Valencia. The weather in Valencia in July is warm, sunny, and perfect for beach days and outdoor exploration.
But just remember you're coming during tourist season. Longer lines, slightly higher prices, and new tourist traps start showing up. Although the same goes for just about anywhere in Europe during July.
So come to Valencia in July to experience the culture, soak up the sun, and get a taste of this Mediterranean paradise.
FAQs
How Hot Is Valencia in July?
Valencia in July offers warm, sunny weather. Expect average temperatures of 29.7°C (85.5°F) during the day. During heatwaves, it easily gets up to 35°C (95°F). So it's advisable to stay out of the sun during the hottest times of the day.  
Can You Swim in Valencia in July?
Definitely. The water temperatures in the Mediterranean Sea are warm enough for swimming. The beaches at Valencia have very light waves and plenty of space, making for a comfortable beach day. 
How Many Days in Valencia Is Enough?
3 days in Valencia is enough for a quick visit to the city. But if you have 5 days in Valencia, you'll be able to dive a little more in-depth and explore other areas outside the city as well. 
Looking for help planning your trip to Valencia?
Here are the tools I use for the cheapest (and most reliable) vacation planning:
🏠Booking – Affordable hotels and apartments
🏠Hostel World – Safe and budget-friendly hostels
✈️Skyscanner – My favorite tool for cheap flights
🚗Discover Cars – Best place for car rentals
🚄Trainline – The easiest way to book local trains in advance
📶Airalo – eSim cards for easy internet access while traveling
🦺Safety Wing – The #1 travel medical insurance
💸Airhelp – Cancelled flight compensation (it's free!)
💱Wise – Easiest low-fee way to transfer currency