Let's talk about how to use Booking.com – my favorite site for getting great hotel deals. This guide will walk you through the process of using Booking.com, and the best tips on getting cheap deals on accommodations.
What is Booking.com?
Booking.com is a popular online travel agency that offers a range of lodging options. From luxury 5-star resorts to a single room from a local homeowner, Booking has always been my go-to choice when planning a trip.
They have plenty of options, a simplified interface, and clear rates (aka no surprise fees).
So whether you're planning a trip to Valencia or anywhere else in the world, let's talk about the best ways to use booking.com to find great deals.
How to Use Booking.com
If you've never used the site before – it's one of the easiest tools for making a reservation. You can do everything online or through the app, and there are tons of filter options to make sure you're checking off everything on your list.
So here's exactly what I do whenever I'm looking for great deals on Booking.com:
Select Dates and Destination
Naturally, the first step is to choose our dates and our destination.
If you're like me – you usually have specific dates you need a hotel for. Especially if you're already booked your flights.
So simply choose your city and dates, plus the number of people staying – then hit search!
Browse Options
The first thing you'll notice is a lengthy list of hotels. The very first options you see are actually sponsored/promoted hotels.
In other words – these are the hotels that paid to show up on the top of Booking.
That doesn't necessarily mean they are bad options, but they might not actually be the best option. Depending on your budget and needs, we might be able to find a better deal.
The recommendation system will also take into account other hotels you've previously seen, so you may see the same hotel popping up again between sessions.
Of course if you're just casually browsing for hotel prices, then you can scroll through here to get an idea.
Pro tip: If you're just browsing, I recommend using the incognito window!
Filter
The next thing you should do is to filter your search results.
You can filter by:
Accommodation type
Location
Price
Rating
And plenty of other parameters, too.
Whenever I travel, those continental breakfasts are a MUST for me. So I always filter for options that provide breakfast, too. What can I say, I'm a sucker for "free" food.
Another one I always search for is the location. Especially if you're unfamiliar with the area, it's important to make sure you don't accidentally book something in the middle of nowhere in a nearby town.
Then make sure to filter based on your priorities. It makes the entire process so much quicker.
Make a Final Selection
Barceló is just a few minutes from downtown Valencia and has one of the best rooftop bars in the city!
After you found a hotel that looks great – go ahead and choose the specific room.
So here you'll choose whether you want a smaller room, a suite, etc. Each room should have a detailed list of what's included. And my tip here:
If you click on the picture from the room button – you'll only see the pictures that are relevant. This way you don't accidentally book the Single room, thinking you're going to be getting that Executive Suite's giant couch and kitchenette.
You'll also notice that pretty much every place will have an option for better cancellation policies, but the overall price goes up. Although occasionally, you will see a free cancellation policy.
Generally, I prefer to avoid the cancellation policy. If I'm ready to book – there's not a good reason for me to cancel.
And especially if I decide to get travel insurance – that will actually cover the cost of the hotel, anyway. So there's no reason to pay for this twice.
But of course, make this choice depending on your own situation and needs.
Make the Reservation
Once you've found that perfect vacation spot, go ahead and make the reservation.
Booking will usually give you a couple options. I generally use my credit card to make things simple for myself.
Something important to note: Reservation policies can vary. Some hotels require a down payment, some require everything upfront, and some don't require anything at all!
So make sure you pay attention to that so you don't run into any trouble.
Send a quick message
Here's my pro tip. After you finalize your reservation – send a quick message to the hotel through Booking.
I usually do this just to make extra sure that my reservation went through. Since Booking.com is a third-party site, it's possible that the hotel gets double-booked or runs into some trouble.
So by sending them a quick message (and maybe taking the opportunity to ask any questions you might have), you'll be able to rest easy.
Personally – I've never had any issues. But I'm a bit cautious and prefer to double-check before I end up in a foreign country with nowhere to sleep!
Booking.com Tips: How to Get the Best Deals
As you can use, it's actually really easy to use Booking.com. It's fairly user-friendly, especially once you've used it a couple times.
But the real reason I use Booking.com: to get the best prices.
Compared to Airbnb and Expedia, I almost always find better prices here. And that's because I use a few tips and tricks to get the best deals.
So let me share a couple with you:
Get the Genius Status
Booking.com is one of the few sites that actually has a rewards program. It's called the Genius Program.
Just like specific hotel chains will give you points and discounts, Booking.com does the same thing.
Except Booking works with literally every major hotel chain at the same time. So you can rack up points quicker and it's more convenient usually.
Joining the loyalty program is completely free. Then all you need to do is continually book your trips and you'll automatically level up.
In my opinion – the "levels" are just a bit of a marketing tactic, as there isn't any requirements other than making more reservations.
But at Level 1, you'll save 10% on most of the hotels, then you'll save 15% at Level 2, and 20% at Level 3.
Likewise, if you choose to do a car rental through Booking.com, you can get a reduced rate on that as well. Although to be fair, I usually use recommend Discover Cars for that.
I really love this program because of the free breakfast and occasional room upgrades starting at level 2. So considering it's free to join – the Booking Genius program is worth it.
Use the Map
This is such an underrated way to get better deals on Booking.com.
Typically, the closer to the very center of the city, the more expensive.
However, a lot of places relatively near the center can be much more affordable, even though you only need to walk 5 extra minutes.
So use the map feature to get a visual look at the city and see how far you'd be willing to walk for a better deal.
When I'm traveling, I usually check up to 10 minutes away by foot. Anything more than that tends to be a little bit too far to be convenient.
Pay attention to dates
This is one of the biggest factors when it comes to the prices. Always look at the dates you're visiting to see if that can impact the rates.
For example – the weekend will always be more expensive. But if you're traveling internationally, there might be holidays you don't know about!
So if you're flexible, check out Booking's calendar search function to find better deals. Because while this might not be possible for everybody, it's a great way to find cheap hotels.
Book early
I always recommend booking at least 6 months in advance whenever possible. It's the best way to find the best hotel deals.
And the good thing about Booking is that many hotels will offer free cancellation up to just a week or so before the reservation. Which means that you can certainly grab a hotel far in advance – then cancel if need be.
In my experience, I end up saving around 30% by booking 6 months in advance, compared to just 1 month before.
Plus – you'll be left with a lot fewer options if you procrastinate on finding a hotel! So the earlier, the better!
Ignore "Only one room left!"
This has got to be one of my biggest complaints about Booking.com (and frankly, just about any travel agency site).
These fake, eye-catching headlines are meant to rush you into purchasing ASAP.
And I get it – Booking is a business and they want to push more sales. But it just feels like a false sense of urgency that kind of gives me the ick.
So just ignore it. I don't have any internal information, but from my own testing – I'm fairly confident that they are fake.
Book directly if possible
One of my favorite tricks is to use Booking as a travel search engine – then to make the reservation directly with the hotel.
Sometimes you'll find a better deal that way!
But… there are some pros and cons.
Pros
You can find cheaper prices (sometimes)
The reservation is made directly
Cons
Language barriers can be an issue
You won't accumulate points on the Genius program
Some smaller hotel websites can feel sketchy
Really, it depends on you! I recommend always taking a quick glance to see if you can find a better deal (and if it's worth it). But for me – I still stick with Booking about 70% of the time.  
Booking.com Tips: How to Get the Best Experience
To finish off this Booking.com guide – let's go over my top tips for the best travel experience.
Because, of course – getting the best deals on hotels is one of our primary goals.
But most of the time, the price tag isn't the only factor.
So here are my Booking.com tips to make sure your entire trip goes without a hitch.
Check the reviews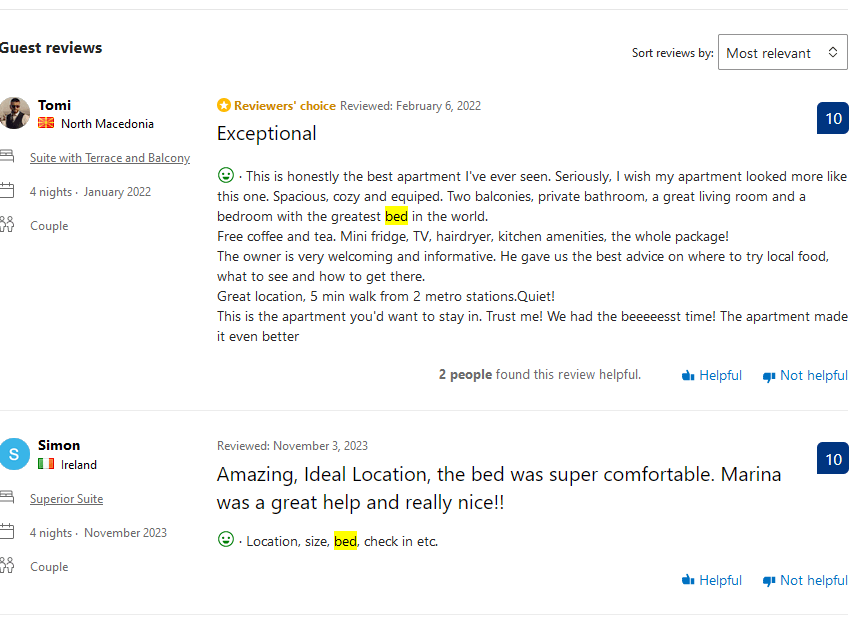 This goes without saying, but ALWAYS read the reviews. Both the positive and the negative.
Because let's say the hotel has an 8.8 review score – that could be good or bad depending on what the reviews are about.
If all the bad reviews complain about how uncomfortable the beds were… that might not be a good choice for you.
But if all the negative reviews complain about the bad Wi-Fi, then maybe it's not such a big deal.
So in either case, reading through those reviews will give you some valuable insights to make the right decision.
Pro tip: You can search for keywords in the reviews, like "breakfast", "bed bugs", etc.
Understand local currencies
Most of the time, the prices on Booking.com will appear in the local currency. Which means it's SO important for you to understand the exchange rate.
I suggest having an exchange rate calculator on Google opened up so you have an idea of what you're looking at.
Remember the tourist tax
Many destinations throughout Europe will charge a tourist tax. This is usually just a few euros, so it won't make or break your travel budget.
But it's important to know as Booking doesn't always include it automatically (though sometimes they does, in which case it'll show up on the receipt).
Regardless, I suggest making sure you have just a bit of spare change. You don't want to have to get charged for a bad exchange rate with your card. Or worse – forget to pay it altogether!
So just keep that in mind. In Valencia, it ranges between 0.50€ and 2€ per day, depending on the season.
Know your priorities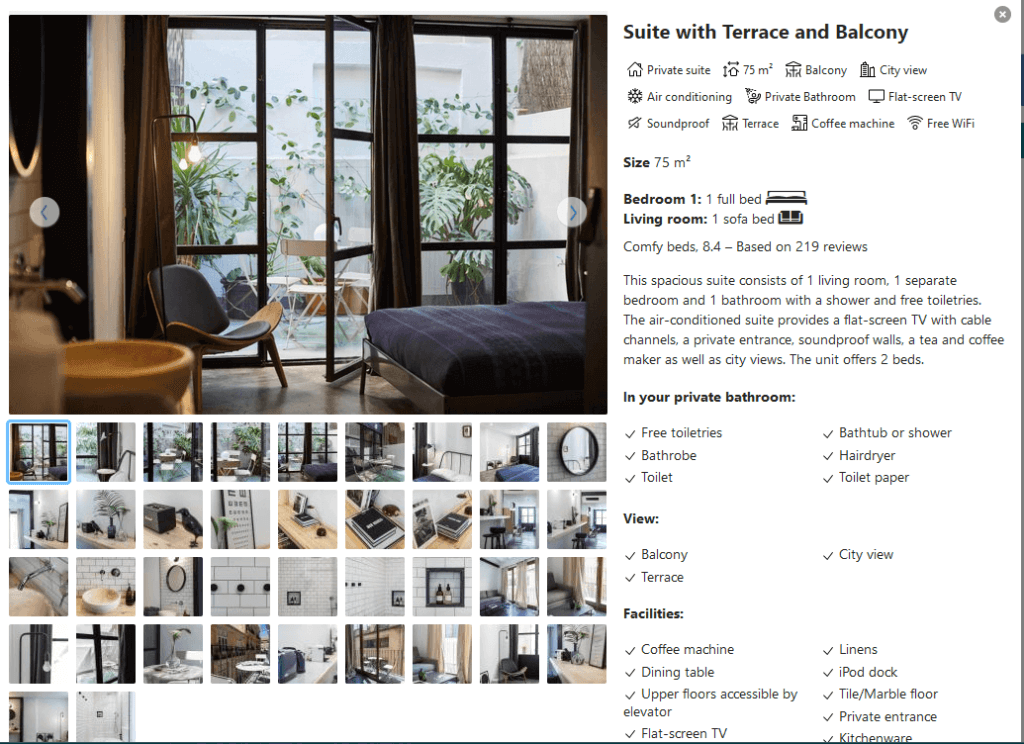 This is probably my most important piece of advice when using Booking.
Just know what you can – and can't sacrifice. Whether that's breakfast, bedroom size, location, etc. The recommendation systems on third-party travel sites like Booking will show you what they consider their best options are. But it's important for you to personalize based on your needs!
It's good to have an idea of what your priorities are when looking for a hotel. Especially if you're booking last minute, it's better to have a clear idea of what your preferences are.
Pay attention to the policies
From cancellation policies to checkout times – read everything carefully!
Booking.com does a good job at giving you a bullet list of all the most important pieces of information after making the reservation. But still, it's important to read through it all when planning things out.
And if you ever have any question – you can use the messaging section on the platform to reach out to the accommodation.
Look at the map!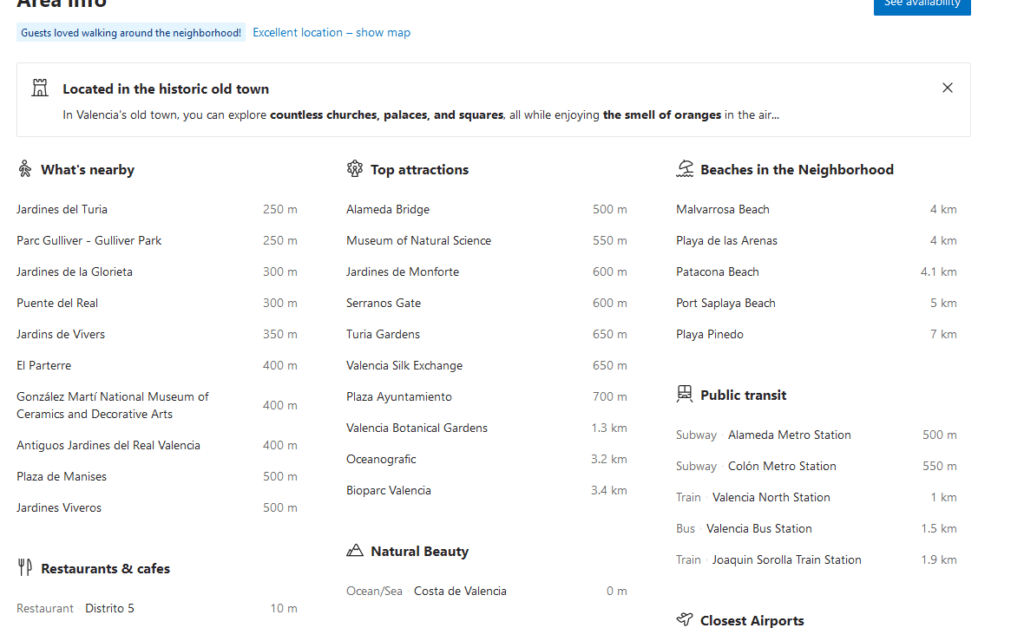 I highly recommend looking at both Google Maps and the Booking.com map at the same time. This gives you a better idea of where your lodging will be located.
Is it close to the metro? Does the hotel say "centric" even though it's 25 minutes away from what you actually want to see? Does it look like it'll be noisy?
Use a side-by-side comparison to take a look at everything! It makes it easier to understand where the city center is and you can hover over your hotel on the map to get a better idea.
Get the best deals on Booking.com
Especially if you're coming to Valencia, I highly recommend using Booking for great deals on accommodations.
They're easy to use, the customer service is great, and they're generally more trustworthy than Airbnbs.
Head over to find the best hotel deals and enjoy your vacation!
If you have any questions about visiting Valencia, don't forget to reach out!
Bon viatge
FAQs
Is Booking.com safe to use?
Yes, Booking.com is a reputable and secure platform used by millions of travelers worldwide.
How does Booking.com work?
Booking.com is a third-party site that collaborates with different lodging accommodations to simplify your search. You can book with your credit card directly through them with a safe and secure payment platform. 
How does Booking.com make money?
Booking.com typically earns a commission from property owners for each booking made through the platform.
Are there only hotels on Booking.com?
No, Booking.com offers a diverse range of accommodations, including hotels, hostels, apartments, and more. You can also get car rentals as well.
Need help planning your trip to Valencia?
Here are the tools I use for the cheapest (and most reliable) vacation planning:
🏠Booking – Affordable hotels and apartments
🏠Hostel World – Safe and budget-friendly hostels
✈️Skyscanner – My favorite tool for cheap flights
🚗Discover Cars – Best place for car rentals
🚄Trainline – The easiest way to book local trains in advance
📶Airalo – eSim cards for easy internet access while traveling
🦺Safety Wing – The #1 travel medical insurance
💸Airhelp – Cancelled flight compensation (it's free!)
💱Wise – Easiest low-fee way to transfer currency
Affiliate disclosure: This post may contain affiliate links. These are links to services I personally recommend using for your trip to Valencia. At no extra cost to you, I may earn a small commission from these brands if you choose to make a purchase. Your support helps me pay my bills and eat more bunyols!