Head to Valencia in December for a Mediterranean winter getaway. Pleasant, snow-free weather and tons of cultural events make Valencia in winter an exciting vacation. In this guide, we'll delve into the weather, what to wear, what to do, and everything else you need to know for your December trip to Valencia.
Is December a good time to visit Valencia?
Yes! Valencia in December shows off its more intimate side. If you prefer milder temperatures and smaller crowds, this might just be the perfect time for your visit.
Top it all off with an enchanting atmosphere with festive decorations adorning the streets, and it makes for a perfect Christmas getaway. Although, if you're looking for that snowy winter wonderland – it might not be the right option for you.
Let's dig into the pros and cons. 
Pros
Relatively warm, with highs of 17°C (62.6°F)
Plenty of decorations and Christmas markets
Fewer international crowds
More hours of sun comparatively
Cons
Chance of rain
Holiday pricing for accommodations
Overall – it depends what you're looking for.
Want to go skiing? Valencia's not the choice for you. 
Want to able to sit outside comfortably during the day? Then you'll love Valencia in December. 
Let's dig into some more details for the weather, and you can decide whether this Mediterranean city is the right choice for your winter holiday.
Valencia Weather: December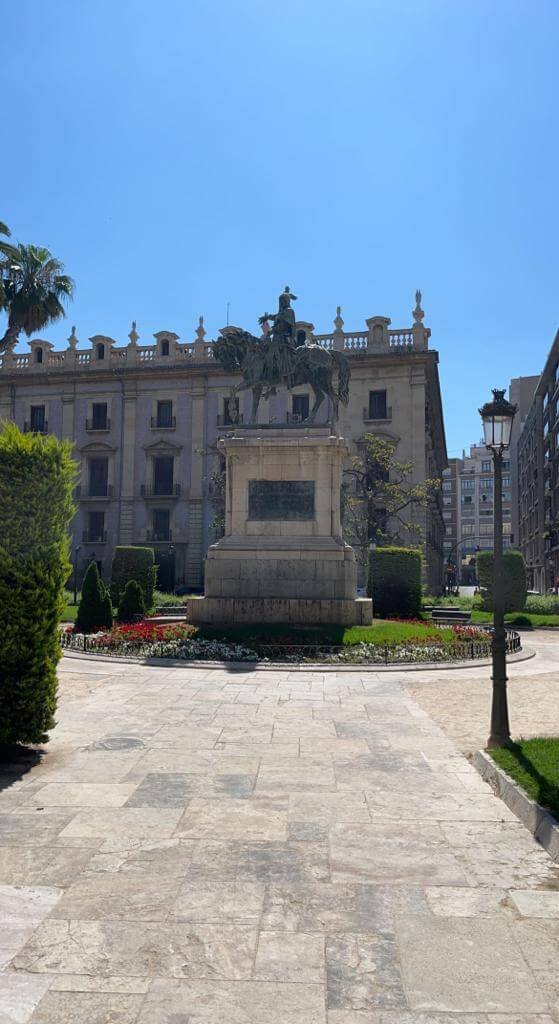 Valencia is known for its relatively mild temperature all year round – and that continues in winter. In December, Valencia has pleasant daytime averages and cold (but not freezing) nights.
You also won't see any snow, but it is possible to see a bit of rain.
If you're looking for a warm winter getaway, come enjoy the beautiful Valencia weather. December is a mild month that's much warmer than other European destinations.
Let's look a little deeper:
Temperature
In December, Valencia experiences average high temperatures of around 17°C (62.6°F). It's pleasantly cool during the daytime, ideal for exploring the city without the sweltering heat of the summer.
However, the nights can get quite chilly, with lows averaging around 8.1°C (46.6°F). Even though you won't see the snow, you'll definitely want to layer up in the evenings.
Valencia is also a relatively humid. This makes the city feel a bit colder than it actually is, especially towards the beach. So make sure to bring your winter coat.
Rain
Valencia in December sees an average of 5 days of rainfall. But with a total precipitation of about 48mm (1.89 inches), rainfall is relatively moderate.
In other words, you should bring an umbrella along, just in case. But it's unlikely that rain will ruin your holiday.
And if you were dreaming a white Christmas in Valencia – keep dreaming. The last time it snowed in the capital was in 1960. While you'll definitely see snow in other parts of the Valencian Country, the capital continues to resist.
The good news – it makes outside dining possible, even in the heart of December. In fact, you'll see lots of people eating outdoors at night, too! Many restaurants set out heaters so you can enjoy the holiday ambiance.
What to wear in Valencia in December
Packing for Valencia in winter is relatively simple. When it comes to the Valencia weather, December is a fairly straightforward month. Cool in the day, chilly at night – but never freezing. So here's what I suggest bringing for your trip:
Sweaters: Make sure to bring some comfy sweaters (jumpers for my UK friends), as during the daytime you may find that a heavy coat is too much.
Winter Coat: I highly suggest a thick coat for nighttime adventures.
Comfortable Shoes: Plan on walking a lot, so don't forget quality walking shoes.
Umbrella: To stay dry in case of rain.
Sunglasses: Even in December, Valencia will have lots of sunny days.
What to do in Valencia in December
A winter trip to Xàtiva
Valencia is a city full of events, celebrations, and plenty of cultural activities. Since December brings us some exciting winter adventures, there are plenty of can't-miss events and activities. Let's dive in to all the fun things to do in Valencia in December.
Need more? Head over to my full guide on everything you should do in the city. 
Mercat de Nadal
Kick off your holiday spirit by visiting the Mercats de Nadal (Christmas Markets). Located throughout the heart of the city, these festive markets boast an array of handmade gifts, decorations, and local treats.
The most popular markets are found:
Plaça del Mercat
Plaça de la Reina
Mercat de Colom
La Ciutat de les Arts i les Ciències
There will be artisanal gifts, as well as some typical Christmas treats. This is the perfect spot to get your souvenir/Christmas shopping done for your family back home!
Note: Dates may vary, but the markets usually open starting on December 3rd.
See Betlems
Betlems (Nativity Scenes) are a popular holiday tradition in Valencia. These elaborate nativity scenes can be found throughout the city in churches and some public buildings.
These betlems (Belenes in Spanish) are known for their intricacy and craftsmanship. While some are simple and humble, others are incredibly elaborate – featuring lights and moving parts. They are a spectacular piece of culture that you should definitely check out on your nightly walks.
Here are some of the most common places to see betlems:
Saló de Cristall in l'Ajuntament (City Hall Building)
Mercat de Colom
Plaça de la Reina
Inside the Nuevo Centro Mall
Sant Nicolau Church (Get your ticket to visit here)
There are also famous nativity scenes in other towns, like Roca in Meliana– a small town nearby.
But if you head to the main ones as you're walking through the city, that should be enough to help you appreciate the holiday spirit.
Eat Torró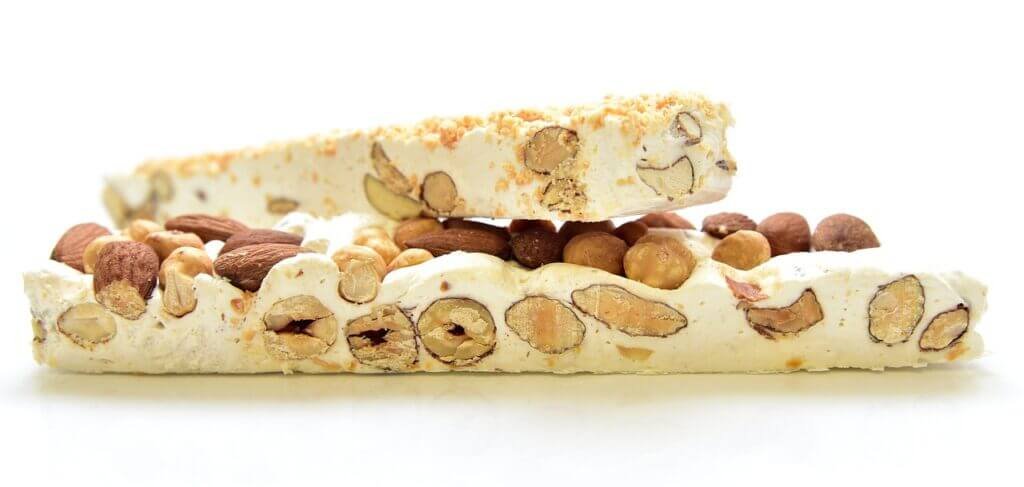 Source: Pixabay
Torró is the typical holiday treat that fills every grandma's pantry.
Typically made with almonds and honey, these nougat-like desserts are a holiday-must. They come in tons of varieties, and they're all worth trying!
Here are the most common types of torró (turrón in Spanish):
Torró d'Alacant – The classic hard-style nougat from Alacant
Torró de Xixona – A soft, creamy style from Xixona
Torró de Xocolate – A less traditional version with chocolate (hard or soft)
Torró de Massapà – Nougat made with marzipan
Torró de Gema – A creamy nougat made with egg yolk (my personal favorite!)
If you're walking around Valencia in December, you'll be able to find these practically anywhere. From supermarkets to artisanal markets – it's hard not to find these traditional sweets.
Note: The prices can vary a lot. The artisanal ones are definitely better (and more expensive). But you can buy them at a fair price at the supermarkets.
Cap d'any
Going to be in Valencia during the New Year? Celebrate New Year's Eve at the Plaça de l'Ajuntament. Called La Nit de Cap d'Any in Valencian, the night of the 31st is filled with excitement!
Enjoy the fireworks, and don't forget to join in on the tradition of eating 12 grapes as the clock counts down!
Afterwards, you can keep the party going by heading over to Russafa. You'll find an exciting New Year's party scene in that neighborhood, so make sure to start off the year the right way!
Eat Fresh Oranges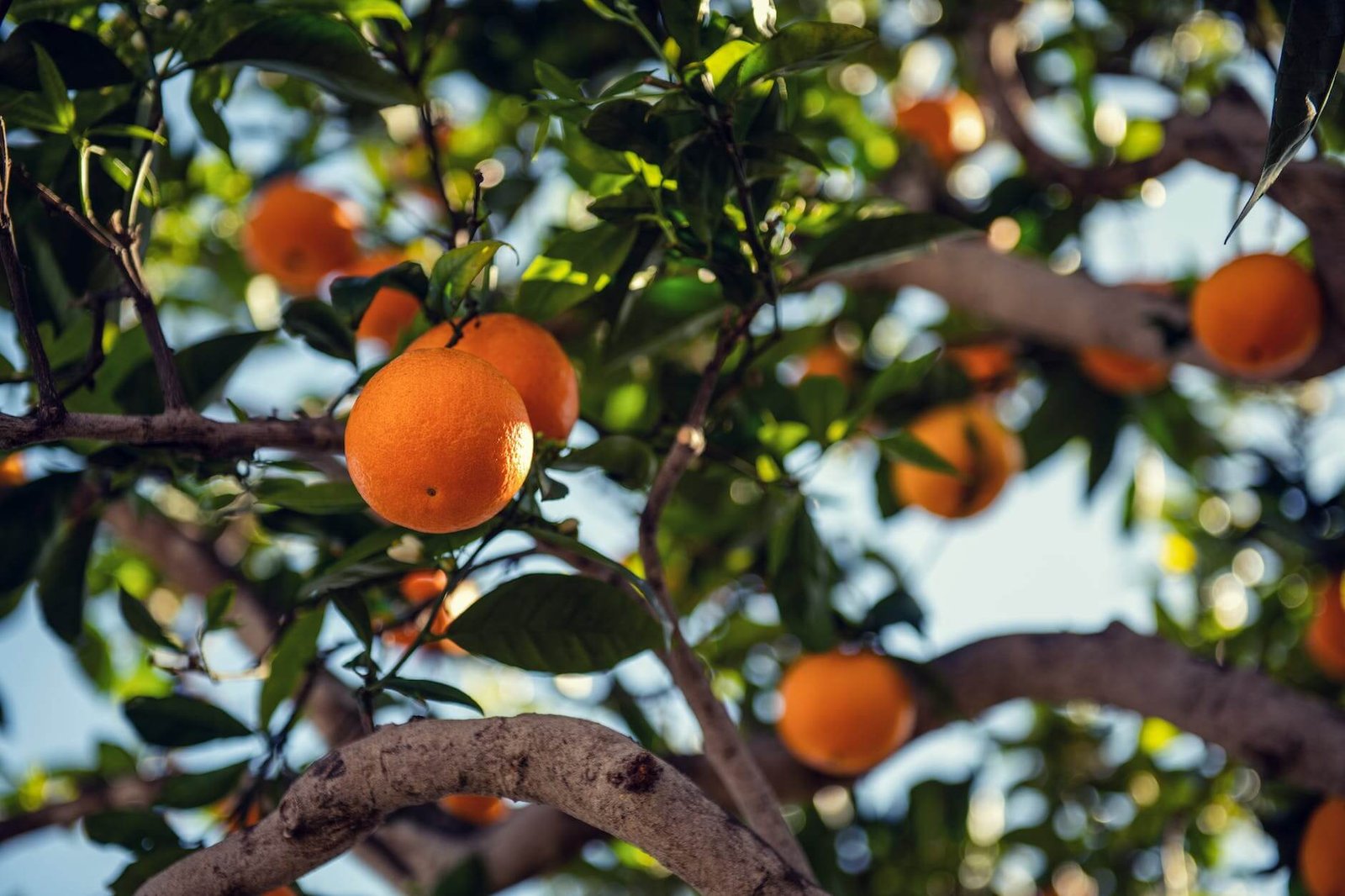 Photo by Tim Mossholder on Pexels.com
If you come to Valencia in winter, you absolutely can't leave without trying fresh oranges.
And I mean fresh, local oranges. And for that – you don't want to go into any supermarket.
Head to the Mercat Central or to the Mercat de Russafa to get some of these citrusy delights. In early December, you'll see more mandarins, but towards the end you'll start to see some of the first Valencian oranges.
Valencia is known for having some of the sweetest and most flavorful oranges – so don't miss out on your chance to have some fresh farm-to-table product.
Note: The city is also full of orange trees. Don't eat these! Those trees are meant to look pretty and provide shade, but this variety of oranges doesn't taste very good.
Other things to do in Valencia in Winter
Needs some help deciding what else to do while you're in Valencia during December?
Here are a few ideas of things to check out:
La Ciutat de les Arts i les Ciències: It has a special vibe to it in December!
Indoor Markets: Enjoy the Mercat Central (sometimes referred to as the Mercado Central in Spanish) and escape the cold by and sampling local delicacies.
Holiday Lights: Many of the streets in the Old Town put up special Christmas lights to check out!
Wine Tours: Warm yourself up with a wine and tapas tour!
Dine Outdoors: The daytime stays warm and at night, many restaurants put out space heaters.
Visit Peniscola: Visit castles and more of the Mediterranean coast with this day trip.
If you're able to see Valencia in January, don't forget to see the Three Kings celebrations. January 6th is just as important as Christmas (if not more)!
Tips for traveling to Valencia in December
Let's make the most out of your holiday trip to Valencia. Luckily, there are no major considerations, as Valencia is a relatively calm and mild destination in December. But to make sure you're fully prepared, here are a few of my top tips.
Also see: All of my travel recommendations for Valencia. 
Bring warmer clothing
As mentioned earlier, Valencia's evenings can get quite chilly in December. While during the day, you might get by with a sweater and light jacket, you'll definitely need a coat when the sun goes down.
At night, there is a chance of higher wind speeds. This means that bringing a scarf is probably a good idea, as well!
And if you plan on renting a bike, make sure to bring gloves!
Expect holiday prices
Even though December isn't peak tourist season, it is a popular travel time.
Expect higher prices around the week of Christmas and New Year's. Plus, the 6th and the 8th are holidays in Spain. This means prices on hotels will definitely go up around then, as well.
Here are my recommendations to help stick to your travel budget:
Book flights 6 months in advance (I recommend Skyscanner)
Book your hotels as early as possible – they will sell out fast
Use Booking.com for hotels
Use HostelWorld for affordable hostels
Consider travel medical insurance (COVID rates definitely go up in December)

Use SafetyWing for the best rates (it covers cancelled flights, too!)

Don't be afraid to grab quick lunches from the supermarket! It's definitely cheaper than eating out every day.
Get the Valencia Tourist Card if you're planning on visiting multiple attractions
Enjoy the food
Valencia's culinary scene shines year-round. But in December, Valencia has a special vibe that just makes you want to sit around at a table with friends and family all day long.
Don't miss the opportunity to savor local dishes like paella and warm up with a cup of hot chocolate from Valor while visiting Valencia. Plus torró, fresh oranges, and traditional Christmas foods!
Is Valencia worth visiting in December?
Absolutely! Valencia in December offers an enchanting scene for tourists to enjoy. From the holiday lights to the (relatively) warm weather, it makes for a perfect winter destination.
Explore the city, embrace the holiday season, and fill your belly up with delicious foods! 
Bon viatge!
Want to come during a different month?
Check out these other articles:
FAQs
Is December a good time to visit Valencia?
Yes, December can be an excellent time to visit Valencia. The weather is milder compared to other European cities and there are fewer crowds compared to summer. 
What is Valencia like in December?
Valencia in December is characterized by mild daytime temperatures, chilly evenings, and festive holiday decorations.
Does it snow in Valencia?
It almost never snows in the city of Valencia. Neighboring areas may see some snow, and the northern parts of the peninsula will definitely be marked by heavy snowfall. 
How cold is Valencia in December?
The average high temperature is around 17°C (62.6°F), while the average low temperature is approximately 8.1°C (46.6°F). This makes it relatively mild and pleasant enough to walk around. 
Need help planning your trip to Valencia?
Here are the tools I use for the cheapest (and most reliable) vacation planning:
🏠Booking – Affordable hotels and apartments
🏠Hostel World – Safe and budget-friendly hostels
✈️Skyscanner – My favorite tool for cheap flights
🚗Discover Cars – Best place for car rentals
🚄Trainline – The easiest way to book local trains in advance
📶Airalo – eSim cards for easy internet access while traveling
🦺Safety Wing – The #1 travel medical insurance
💸Airhelp – Cancelled flight compensation (it's free!)
💱Wise – Easiest low-fee way to transfer currency
Affiliate disclosure: This post may contain affiliate links. These are links to services I personally recommend using for your trip to Valencia. At no extra cost to you, I may earn a small commission from these brands if you choose to make a purchase. Your support helps me pay my bills and eat more bunyols!