Short on time? Here's the best way to spend one day in Valencia.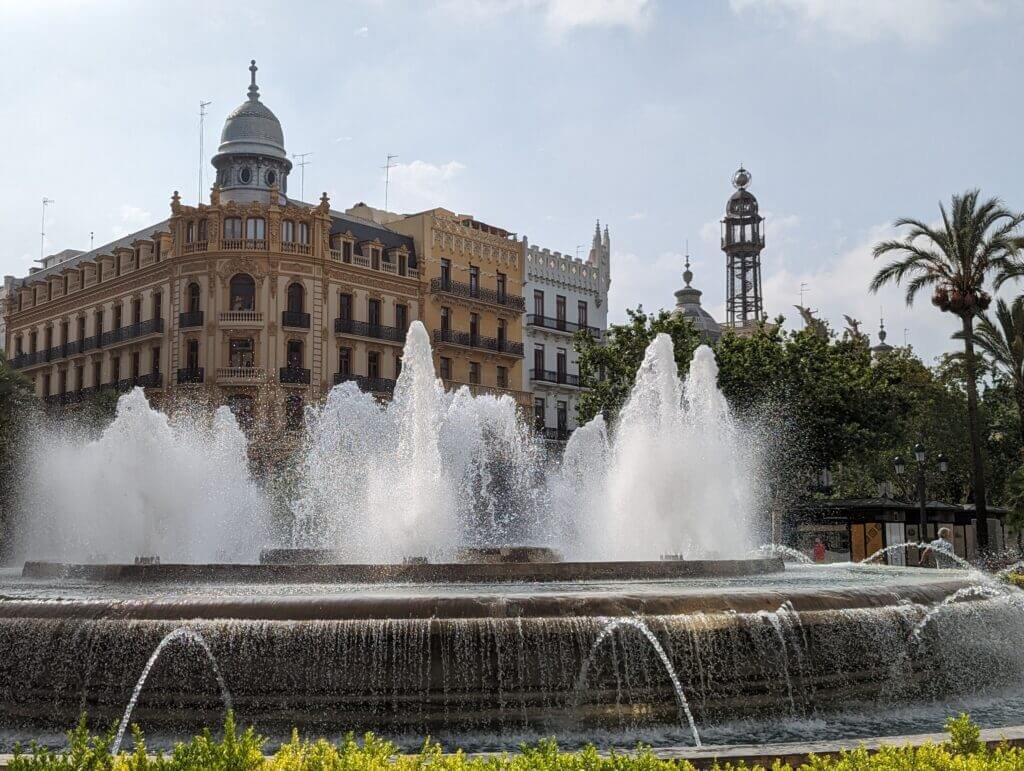 With tons of monuments scattered throughout the historic center, a beach that seems endless, and a mind-blowing futuristic area – it's hard to choose what to prioritize.
Valencia is a city full of history and tradition. Which is wonderful if you're spending plenty of time getting to know it well. But with all the things to do in Valencia, sometimes it feels like 24 hours isn't enough.
So let me make it easier for you. If you've only got one day in Valencia, I've prepared a detailed itinerary so you can scrape the surface and get a taste of the most impressive things the city has to offer.
The 1-day Valencia itinerary gives you a plan you can realistically do. Take this as advice from someone who lives here and uses this same itinerary when playing tour guide to my friends and family.
So read through the plan and don't forget to scroll all the way to the bottom for extra suggestions and substitutions for different travel styles. 
Valencia 1-Day Itinerary — The Morning
Let's start the day assuming you're in the city center. This 1-day Valencia itinerary is made for a full Saturday starting at 9:00 am.
So whether you're here for the weekend or you're arriving the same morning to speedrun the city, we'll start bright and early to get you as much time as possible. That means one thing – you need lots of energy to start the day.
Breakfast
Let's get you some food to get you through the morning. Most breakfast places will be offering lots of bread-based goodies and coffee to give you that early rush.
If you're not particularly interested in breakfast, you can stop at basically any neighborhood "bar" to grab some pa amb tomaca (toast with tomatoes) or croissants and a café con leche. Something like this shouldn't cost you more than 4€ per person. It's a simple, affordable way to start the day.
Note: Bars in Valencia (Spain in general, too) aren't the same as an American bar/pub. Many of them are more similar to a diner/cafeteria – so they'll serve food, too. So don't be alarmed if you see people at a "bar" in the early morning.
But if you want something a little heartier for breakfast, here are some options:
In the Plaça de la Reina, it's a 200-year-old bakery that serves bunyols, churros, hot chocolate, and tons of classic treats. The inside has the classic mosaics and tile decorations, so it's a great spot to try.
Valencia's most famous chocolate shop. This is one of the best places to go for churros and hot chocolate. While Valencians tend to eat this for el berenar (afternoon snack), it is a common breakfast in other places like Seville.
Forns
My last recommendation for breakfast is to grab something from a traditional Forn (bakery). This is the perfect way to try some traditional baked goods and enjoy them on the go. There are hundreds of delicious bakeries in Valencia, so just check out whichever forn is closest to you. But I would suggest avoiding the tourist-trap chains like Panaria.
Coffee
A quick note about coffee. It's not very common to see Valencians drinking coffee on the go.
Most Valencians drink espressos or café con leche sitting down. In fact, if you ask for "un café", you'll be handed a shot of espresso.
However, there's been a growing number of coffee shops popping up. Especially ones catering to tourists.
So if you can't live without your iced coffee on the go, here are the best coffee shops in the center:
The Coffee
Café de Camilo
Retrogusto
Federal
Uncafe
Plaça de l'Ajuntament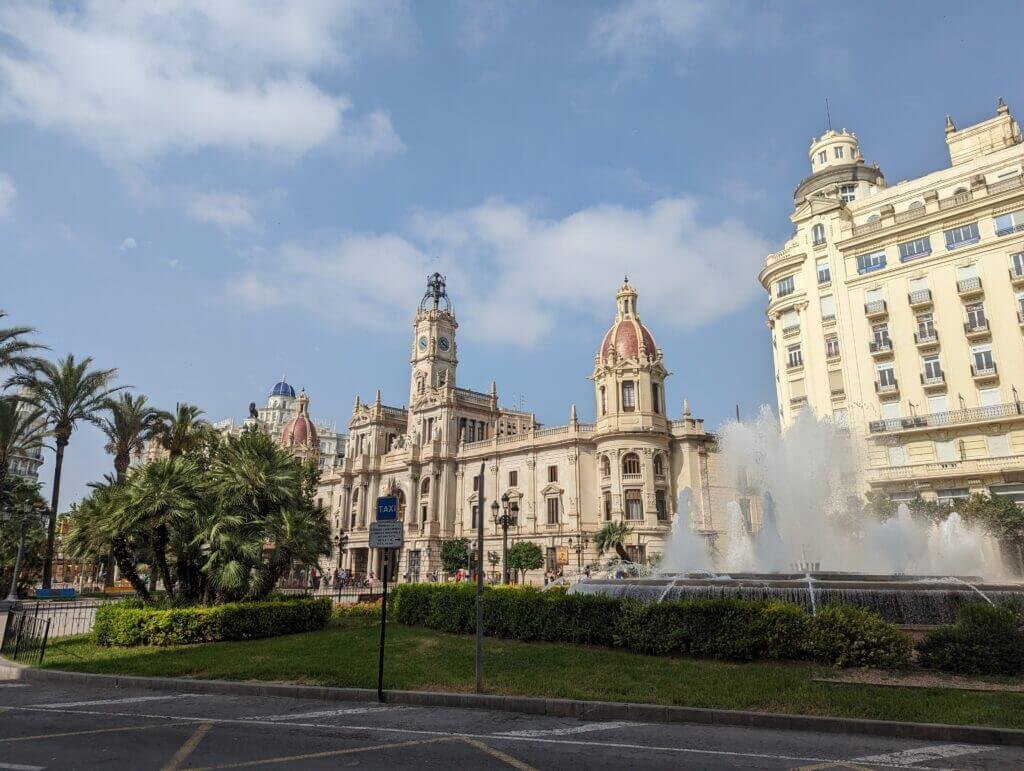 Now that we have some energy in our bodies, let's head over to our first destination – the Plaça de l'Ajuntament (The City Hall Square).
Referred to as La Plaza del Ayuntamiento in Spanish, it's completely pedestrian-friendly and is one of the most emblematic areas of the city. If you have extra time, you could always explore this area at night, too. But you should absolutely head over here to do some sightseeing.
Besides the City Hall, take a quick look at the old Correos building (the post office) and the Estació de Nord. Both of them are visible from the square and are buildings you can't miss.
If you're interested, you can actually go inside the City Hall (it opens at 8). It's an incredible palace to see and has historical artifacts dating back to 1238 during the reconquest of Valencia. You can also go out onto the balcony and take a selfie above the City Hall Square.
Mercat Central
After you enjoy your time at the City Hall, you'll want to head over to the Mercat Central (The Central Market of Valencia). This is one of the hallmarks of Valencian Modernist architecture and is the largest closed market in Europe.
When you head inside, make sure to pay attention to the details. With lots of tiles and Valencian motifs, the market is as stunning as it is functional. You'll find plenty of traditional stalls selling seasonal fruits, vegetables, and baked goods. Feel free to grab a snack to go to get some energy for the rest of the day.
This is also a great place to snag some souvenirs, like high-quality olive oil or mosaic-themed knick-knacks.
The plaça (square) that surrounds the market is lively and has several benches and trees, so you can relax and eat whatever snacks you buy outside.
La Llotja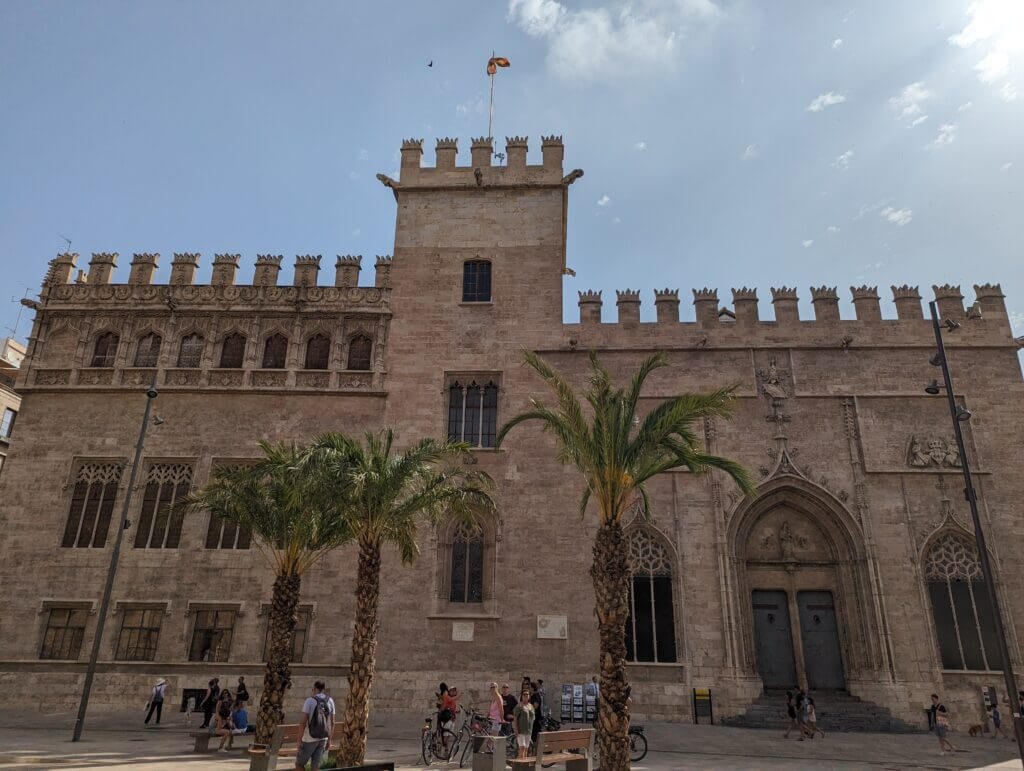 La Llotja de la Seda is one of my favorite spots in the city. It's a 15th-century silk exchange and the symbol of the Valencian Golden Age. The entrance ticket is only a few euros and it should only take around 20 minutes to explore it well.
Besides the impressive façade that towers over the Plaça del Mercat, the inside is also an architectural wonder worth seeing. Twisting columns, golden ceilings, and an Orangerie make it worth the visit.
The UNESCO World Heritage site is open from 10:00 am to 19:00. You may also see it referred to unofficially as La Lonja de la Seda in Spanish, while the official name is in Valencian. 
La Seu, El Micalet i les Plaçes
After seeing the Valencian Kingdom at its peak, it's time to continue exploring the medieval city. From the Llotja, head over to the Plaça de la Reina (the Queen's Square).
Here, you'll see La Seu de València – also known as the Valencian Cathedral. The large tower beside it is known as El Micalet (little Michael). Head inside to explore the Cathedral and its museum. Because no Valencia 1-day itinerary would be complete without a visit to La Seu.
Considering it's allegedly home to the Holy Grail – it's definitely worth the entrance fee. As soon as you head into the Cathedral, take a right, go past the arch and into a small chapel. On the back wall you'll see the Holy Grail proudly displayed.
And while I won't get into any historical/religious debates here – there are studies that suggest that this actually is one of the most likely locations for the Holy Grail. But I'll let you decide that for yourself.
El Micalet
Once you finish exploring La Seu, you can choose to climb up El Micalet.
At the top, you get an unbeatable view of the historic center. The only downside – there's no elevator. So you really will need to walk up (and down) plenty of winding steps to get there.
Personally, I think it's worth getting a little out of breath. But it's definitely not possible/accessible for everyone.
Les Plaçes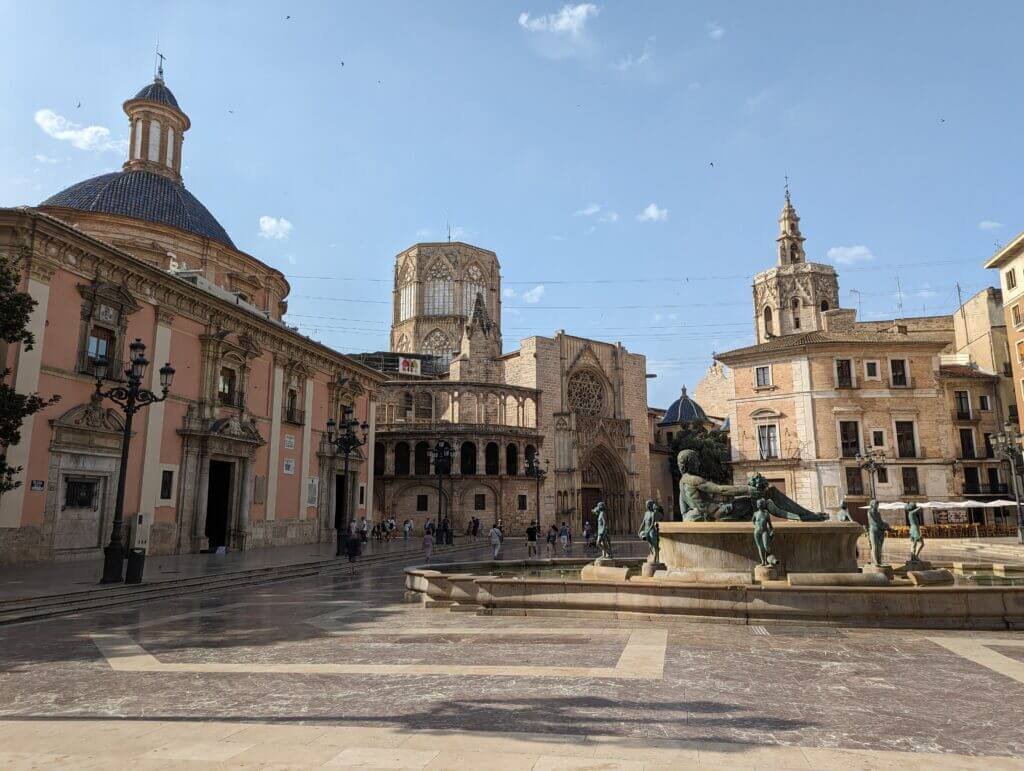 Whether or not you go up the Micalet, the next thing you'll want to do is check out the famous plazas surrounding it.
The large open space in front of the main entrance is the Plaça de la Reina. It was recently remodeled in 2022 and is completely pedestrian friendly.
Behind the cathedral and looking into the basilica, you'll see the Plaça de la Mare de Déu (The Virgin's Square). This has the famous fountain with a statue representing the Túria River and its estuaries. This square is my personal favorite and definitely worth a visit.
Depending on the time, here are some other squares nearby that you should see:
Plaça de l'Arquebisbe
Plaça Redona
Plaça del Patriarca
Plaça de Manises
Those ones might be less impressive than the first three, but they'll take you through other important areas of the city and are absolutely worth seeing as well.
Dinar
When you only have one day in Valencia, you're going to have to prioritize. So when it comes to enjoying classic Valencian cuisine, one thing comes to mind – Paella.
It's important to know that Paella is traditionally eaten for lunch (not dinner). And Valencians usually eat lunch anywhere between 1:30 and 3:30. Although it might be difficult, it's definitely worth adapting your schedule for the day.
Because most restaurants don't serve lunch outside that time. And those that do… might not be the best option.
So let's get you a Valencian dinar (lunch). And there is only one place in the city center that I personally recommend for paella: El Bodegó de la Sarieta. It's in a tiny street hidden away near the Plaça de la Reina. With a more authentic menu, reasonable prices, and traditional decorations – this is my #1 recommendation.
Note: I'm not saying this is the only place in the center with good paella. But it is the only place that me, my Valencian partner, or any of my Valencian friends would recommend. Most paella other places in this area end up being touristy.
1 Day in Valencia — The Afternoon
In this one-day itinerary for Valencia, I'm aiming to really pack the essentials into the city. And at the same time – I want to make sure this is realistic for people to do.
So once you enjoy a nice lunch and have some time to relax your feet, we'll head over to the next part of the city.
You'll want to take some public transport to bring you to the Falles Museum next to the City of Arts and Sciences. This is the part of the city where you'll be spending the afternoon in Valencia.
Falles Museum
I highly recommend starting at the Falles Museum for two main reasons.
It closes at 6:30 pm.
There's air conditioning.
And considering we're heading down to this area around 3 or 4 pm, it's better to start your tour in a cool, low-pace setting as you slowly get your energy back.
The Museu de les Falles is my favorite museum in Valencia. It collects all the ninots indultats from the Falles festival from the last century. Each year, hundreds of enormous artworks (Falles) are built in honor of St. Joseph.
And on the last day, ALL of them, except for one small piece that gets pardoned (the ninot indultat) are burnt to the ground.
So the Falles Museum is a wonderful place to get a chronological view of the feelings, artworks, and values of the city throughout the last century. Most Falles are satirical and poke fun at social concepts or major events. This makes it a great way to get a quick look at 100 years of history.
So if you can't visit Valencia in March, then this is still the best way to get an idea of this UNESCO festival.
Note: You might see the festival referred to as Fallas (with an A). That's the name of the holiday in Spanish. But since it's a Valencian holiday, I'll be sticking to the name in Valencian.
City of Arts and Sciences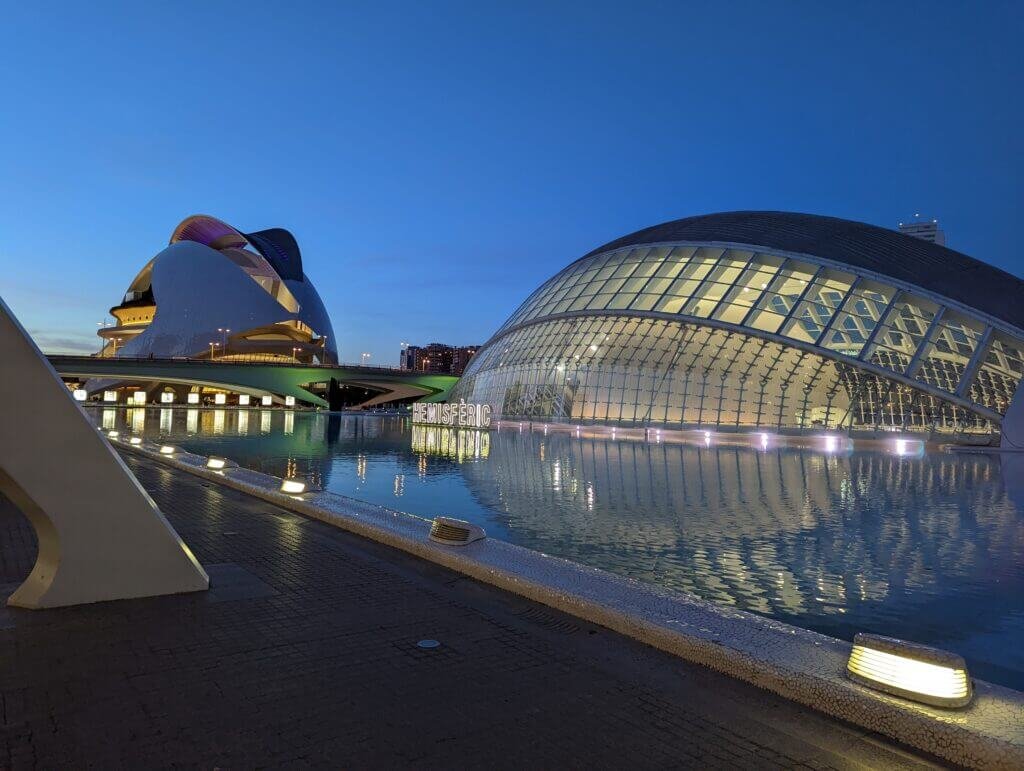 Once you were able to take in and learn more about Les Falles, it's time to go to another emblematic area of Valencia – La Ciutat de les Arts i les Ciències.
The City of Arts and Sciences (CAC) was inaugurated in 2005 by the famous architect Santiago Calatrava. It's an enormous, futuristic complex featuring both classic Valencian and maritime motifs.
The area is made up of:
El Palau de les Arts Reina Sofia (an opera house)
l'Hemisfèric (an IMAX theater)
Museu de les Ciències Príncipe Felipe (a science museum)
l'Àgora (an events venue)
l'Oceanogràfic (Europe's largest aquarium)
Even if you don't have time to go inside any of the buildings, it's still worth the time to go exploring the area. There are plenty of places to enjoy the views of these unique architectural wonders.
The buildings are made up of millions of hand-placed mosaic tiles called trencadís. Each of the structures are also separated by a large man-made lake. It's absolutely a site you can't miss out on.
Take some time to walk around, take some pictures, and enjoy the scenery.
Dinner & Drinks in Russafa
Once you've taken in the futuristic sites of the CAC, the last thing to do on our Valencia 1-Day Itinerary is take a trip over to Russafa.
This area used to be its own separate town, but now it's transformed into one of Valencia's hippest neighborhoods. You'll find tons of unique restaurants and bars to unwind after a day of tourism.
The neighborhood itself is also gorgeous. If you enjoy taking a stroll and admiring the façades, it's definitely the best way to end your 1 day in Valencia.
So take a light walk, enjoy the lively ambiance, and go treat yourself for all that appetite-inducing tourism you did.
Sopar
If you're ready to grab sopar (dinner), there are dozens of great spots in Russafa. Let me give you some recommendations for the best restaurants in Russafa.
All of these either have fantastic, traditional dishes OR are well-known for having a unique atmosphere.
Zalamero – A modern twist on traditional Valencian coques
Voltereta – Known for its impressive interiors and range of cuisines
La Casa Viva – Great vegetarian/vegan restaurant
La Salita – A Michelin-star restaurant inside an 18th-century palace
El Rodamón – Food from around the world with a large wine list
Canalla Bistro – Fusion restaurant by Michelin-Star Chef Ricard Camarena
Maui – An affordable restaurant with Mediterranean food
Mare Meua – A great tapas bar
Drinks
Once you've finished with your dinner, the best way to round off your 1-day trip to Valencia is with a round of drinks.

And Russafa is huge and there are probably a hundred places you could go to for drinks. So if you walk by somewhere you like – then try it out! But if you need some inspiration, here is my favorite list of spots in Russafa:
Birra de Brian
Ubik Café
Delorean Lounge
Olhöps
Ruzanuvol
Bukowski
Other Things to See in Valencia in One Day
Naturally, I planned this 1-day Valencia itinerary to be a general guide for anyone who wants to see the most fundamental parts of the city. And I also made sure that this is a realistic itinerary for one day.
But in just 24 hours, there are simply some things you won't be able to see. So of course there are some other great places that aren't going to be on the list.
That also means that there might be some places you'd prefer to see. For example, if you'd prefer to skip Russafa and just grab a kebab for dinner – you might prefer to see the Oceanogràfic in the afternoon.
Or maybe you zoomed through the Cathedral in the morning. So you could go see the Torres dels Serrans before lunch.
The point is – this is a general 1-day Valencia itinerary, but feel free to customize it to match your travel style. Just pay attention to where everything is so you don't lose too much time.
You can check out all the things there are to do in Valencia for more ideas. But here is a quick list of some other options that are worth considering:
1-Day Valencia Itinerary Alternatives
Mercat de Colom – An open market near the shopping district
La Marina – The beach area and a great spot for paella
Sant Nicolau – The "Valencian Sistine Chapel"
Palau de Dosaigües – A nobleman's Baroque palace
Oceanogràfic – Europe's largest aquarium
Torres dels Serrans – The medieval city gate
Turia Gardens – The old riverbed transformed into a public park
Come spend a day in Valencia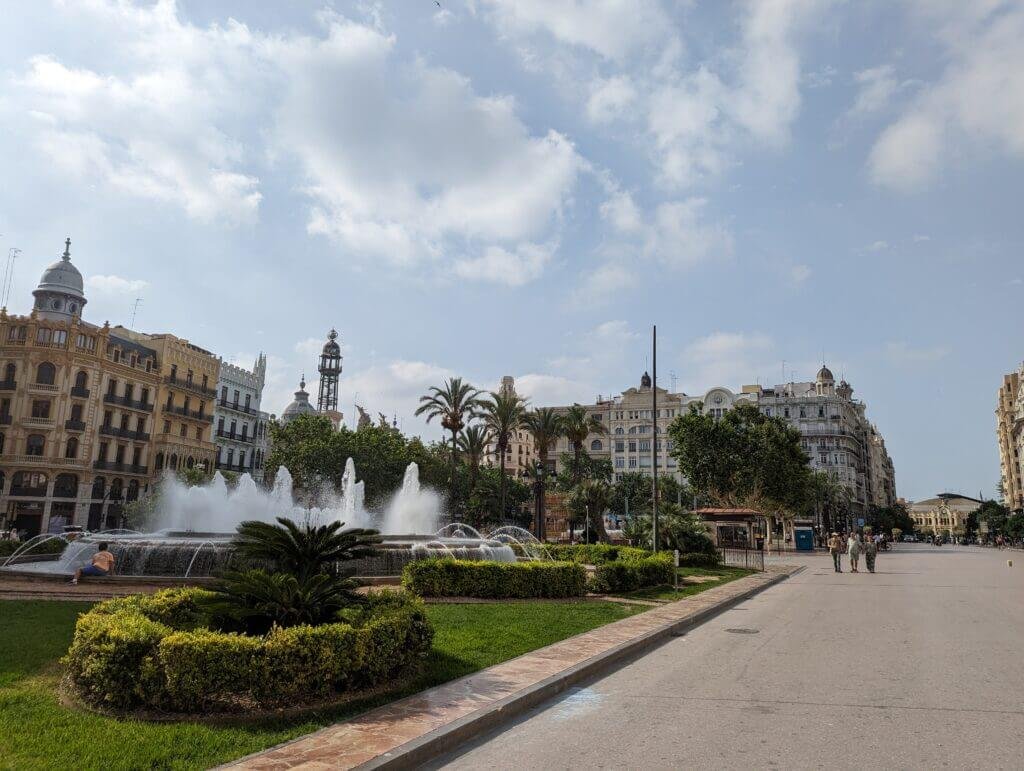 As someone who's been living in the city for more than 5 years, I'm still finding new things to do in the city. So while you won't see everything in one day, you can still get a great feel for it.
This 1-day Valencia itinerary is the one I constantly use to show my friends and family when they come to visit but we don't have much time. So I know it's reasonable to do (although you will be tired afterwards)!
So come enjoy your one day in Valencia. And make sure to check out my other guides to exploring the city, including my Valencia travel tips!
FAQs
What to see in Valencia in One Day?
If you only have one day in Valencia, you should see The Cathedral, The Central Market, the City Hall Square, the City of Arts and Sciences, and Russafa.
What isn't worth seeing in Valencia in one day?
I would skip the beach if you only have 1 day in Valencia. There are nicer beaches relatively nearby and it's better to spend time in the historic center or the City of Arts and Sciences.
Is 1 day in Valencia enough?
1 day in Valencia isn't enough to see everything, but you could get a quick view of the most important sites. 2 to 4 days is ideal, but 1 day is enough to get a taste of the city.