If you made it to this side of the Mediterranean, chances are you're now wondering — "Where can I have the best paella in Valencia?". A staple at every Valencian home and restaurant, as well as a must-try for any tourist, paella has made a name worldwide for good reason. Keep reading to find out about best places to savor this quintessential Valencian entrée in the Capital del Túria!
What is paella valenciana?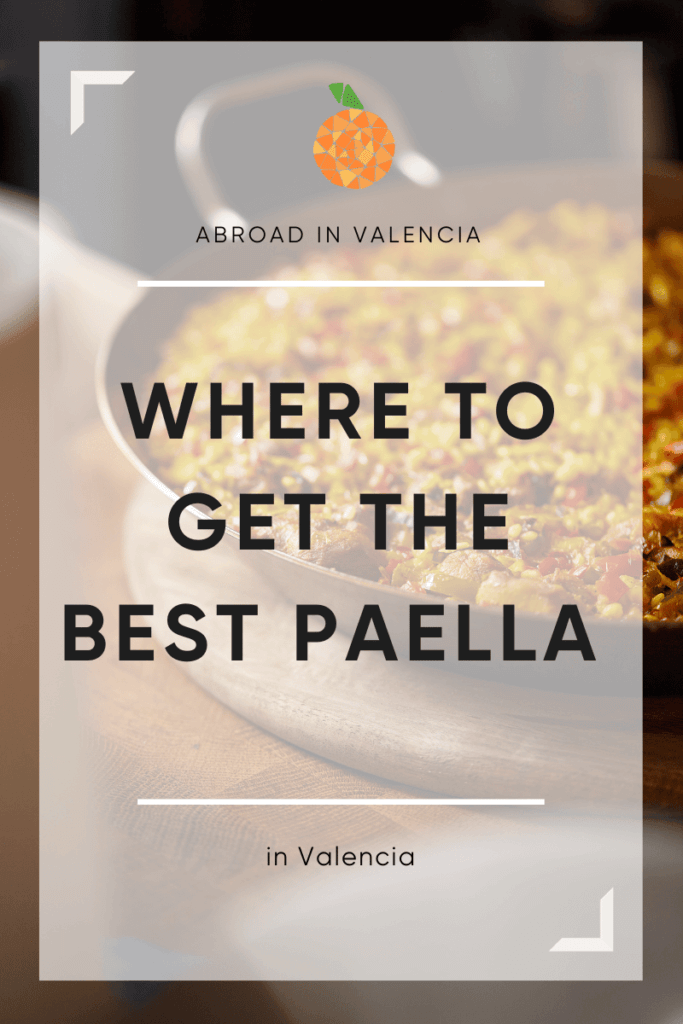 Valencians pride themselves on having a different rice dish for every day of the year — and this is no overstatement. With arròs de València being its own certificate of origin, the array of rice dishes that originate from this culture is as colossal as its rice production.
Paella being the undisputed international leader!
An authentic paella valenciana is made with at least rice, chicken, wild rabbit, ferradura (flat green beans), and garrofó (Lima beans), seasoned with some saffron, garlic, and crushed tomatoes.
Then, you cook it by adding water to the stir-fried ingredients (sofregit) on a paella pan until the resulting broth is absorbed by the rice. 
The dish takes its name from the homonymous word paella, which means frying pan in Valencian.
But for now, let's focus on where you can get the best paella in Valencia, how to spot a good paella restaurant, what types of paella you can't miss out on, and what other things you should take into account when ordering paella!
Tip: Always call ahead to make a reservation!
Where to get the best paella in Valencia
Bon Aire – Arròs & Tradició
Neighborhood: El Palmar
Price: €€
Address: Carrer de Cabdet, 41, 46012 València
To be honest, the best paella Valencia has to offer is always that of your iaio. But if you don't have a Valencian grandpa to cook this delicious dish for you during a Sunday family reunion, I suggest taking a quick car ride to the neighborhood of El Palmar. 
Paella valenciana is made with products native to L'Albufera, so naturally my top choice is a restaurant located right next to this freshwater lake.
It also helps that Bon Aire won the Best Paella in the World Award in 2018 — kind of a big deal.
So while experts don't always agree on which is the best paella restaurant Valencia has to offer, this one is hands-down a solid bet!
Besides paella, you can have several other traditional Valencian dishes such as all i pebre, titaina, espencat, esgarrat, or fideuà, as well as 24 other types of rice dishes — including a vegetarian paella option.
How to get here:
Rent a car: as L'Albufera is just a 30-minute car ride away from downtown Valencia
Take an EMT VLC bus: line 24 leaves from Porta de la Mar and takes about 40 minutes to reach El Palmar — Valencia's highly reliable public transport is a great option if you don't need to rent a car for your trip
Rent a bike: always a great opportunity for a bike around the lake and the beach (Attention: There isn't a bike lane for the last 20 minutes on CV-500 and it's a narrow road!)
La Pepica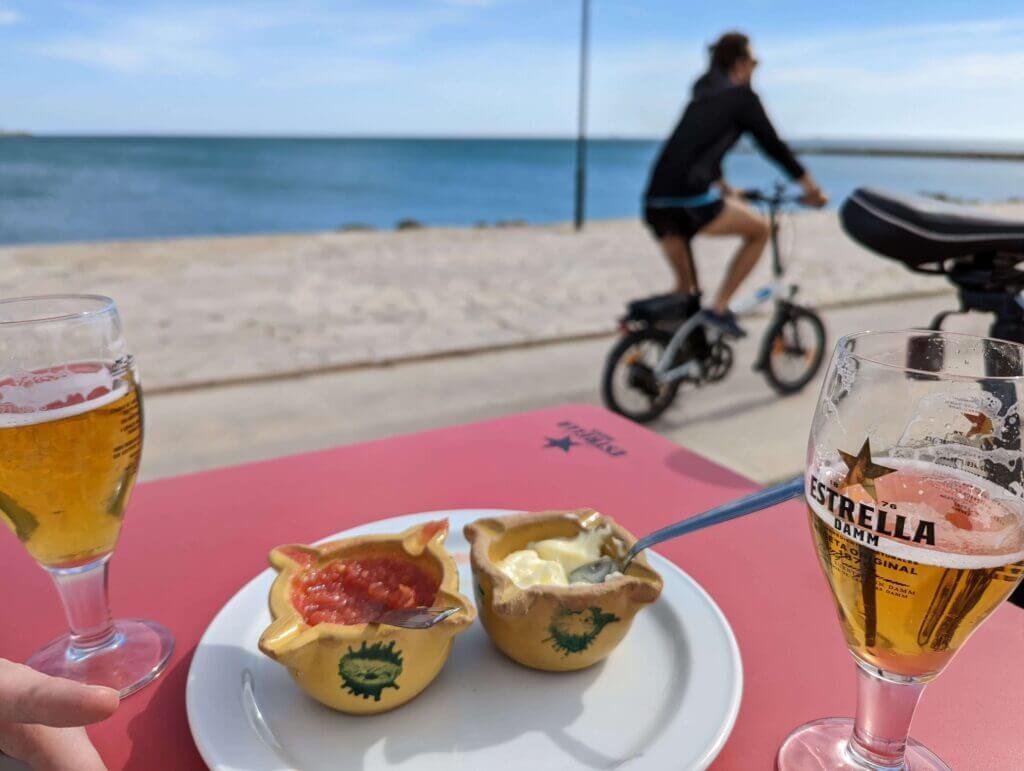 Neighborhood: El Cabanyal
Price: €€
Address: Passeig de Neptú, 6, 46011 València
Paella at this beach restaurant is a tradition that goes back over 120 years, so they're definitely doing something right.
If you're already familiar with Valencian paella, come try their specialty — seafood paella.
And if you're not big on seafood but would still like to enjoy a paella by the beach, they offer several other types of rice entrees and traditional Valencian dishes, including a vegetable paella option, too.
Whatever your case may be, paella tastes better by the sea!
Ca Xoret
Town: Meliana
Price: €€
Address: Carrer de Sant Isidre, 44, 46133 Meliana
Not technically in Valencia, but a hop, skip, and a jump away in the neighboring town of Meliana, easily accessible by the suburban train.
Yet another case where paella tastes better by the sea, only a couple streets over from Platja de Meliana.
Ca Xoret is a family-run place, well-known among locals, and a default option when their iaio can't cook for them.
Check out their menu to discover the most authentic Valencian cuisine. Decorated in a typical Valencian style, they also have a wine cellar where you can be advised about their different wines by their sommelier Mel.
Casa El Famós
Neighborhood: La Carrasca
Price: €€
Address: Camí de l'Església de Vera, 14, 46022 València
An authentic paella experience if there ever was one.
Casa El Famós offers nearly 20 different types of rice dish options, as well as many other types of traditional food. They also make their paella the traditional way — over a firewood flame, what else could you ask for?
Well it actually gets better.
Just like Ca Xoret, Casa El Famós is located in the middle of L'Horta. Enjoy a meal in the acres and acres of cultivated land that surround the city of Valencia. This historical landscape and cultural heritage has been the livelihood of Valencians for generations and continues to supply fresh produce to the world.
Pelayo Gastro Trinquet
Neighborhood: La Roqueta
Price: €€
Address: Carrer de Pelai, 6, 46007 València
Because you can find the best paella in Valencia by the sea or in the heart of L'Horta or L'Albufera, I highly recommend taking a little detour away from downtown to find those hidden paella gems.
But if you don't have the time to stray far from your path, Pelayo Gastro Trinquet is your place downtown!
A trinquet is a court for pilota valenciana, a traditional handball sport native to the Valencian Country. So, besides good paella in Valencia, you might also get to see a game of pilota live if you choose your day and time right!
Other options for paella by area
Depending on where you are, other popular paella restaurants include:
So if you're at one of these spots and just wanted to google where to eat paella at your specific location, any of these will make a great alternative.
How to spot good paella in Valencia
Paella is naturally offered by a considerable number of restaurants in Valencia. But not all of them might be the best paella restaurant Valencia can offer. 
So here are my recommendations to help you tell apart traditional paella places from tourist traps.
Order paella for lunch
Paella is for lunch and lunch only — between 1 pm and 3 pm. If you see a place offering it for dinner, run away. 
(Remember, when in Valencia – eat when the Valencians do!)
The only exception is during town festivals when people will get together to cook paella on the streets at night.
Stay away from chorizo, onions, or sausages
Valencians are very specific when it comes to what ingredients go in paella.
Some variations are acceptable. For example, you can add red peppers, snails, artichokes, or rosemary to it. But there is a direct ban on some ingredients that are big offenses.
So if you see chorizo, onions, or sausages in a paella, that's just about an abomination.
Look for websites in Valencian
Simple, but efficient.
If the restaurant's website is in Valencian, you know this is where locals go. If it's only in foreign languages, then it's probably less authentic and more expensive.
Check if the paella was made over firewood
Traditional paella is made over firewood, so if you find a place that does this, chances are it's good paella.
In Valencia, some places have started to use gas burners due to their convenience. So, while this is still acceptable, you can imagine the taste differs slightly.
Avoid barkers
If a restaurant has a person at the entrance trying to get you to come in, you can imagine people don't go in of their own free will.
So as a rule of thumb, it's best to avoid restaurants that have someone trying to coerce you inside (e.g. so many restaurants in El Carme).
Recognize the right amounts
Paella is all about finding the perfect balance.
It shouldn't be too oily, but it should contain enough olive oil so it tastes good.
It shouldn't be too tomato-y. But it does need just the right amount of crushed tomatoes to give it that distinct flavor.
It shouldn't be too orange if too much saffron — or coloring for less authentic versions — is added to it. But it also shouldn't look too pale.
Finally, a paella chef will cook the rice for no longer than 18-20 minutes. So it should be neither too hard nor too soggy, neither too dry nor too sticky.
Keep an eye out for the rice grain
The most common variety of paella rice is arròs bomba (Bomba rice). This is a short-grain variety cultivated around L'Albufera.
So add long-grain rice to the list of big offenses!
Dig into the socarrat
If you start eating your paella and see there's a crispier, browner layer at the bottom, there's no reason to panic — your food didn't get burnt.
That bottom crust is called socarrat ('scorched'). Locals will say it's the best part for both its texture and flavor. Of course, it's not supposed to look completely charred, just somewhat caramelized. 
But that's how you know you got the best paella in Valencia!
Types of paella to try
All the above recommendations in mind, there is not just one type of paella to try. 
As I mentioned earlier, the original paella valenciana has chicken, wild rabbit, ferradura, garrofó, etc., but there are other popular types of paella that are also definitely worth trying:
Paella marinera: seafood paella, highly popular in coastal areas and extremely tasty.
Paella de verdures: most restaurants will have a vegetarian paella made with seasonal vegetables and a veggie broth.
Paella mixta: paelles combining meat and seafood are not typical of the city or most other Valencian towns. That's why they're sometimes frowned upon by Valencians. But hey, if you like it, you like it.
Paella de bou: this paella has bull liver as its main ingredient, and it's typical of L'Horta.
Paella d'hivern: this one features winter ingredients such as artichokes and faves (fava beans).
Other dishes cooked in a paella pan
Besides those, there are other rice dishes that you cook in a paella pan. Although not technically considered paella, they're still delicious and definitely worth trying:
Arròs a banda: made with a fish broth and served with the fish a banda ('on the side').
Arròs del senyoret: a senyoret is a historical young landowner, a rich kid — because they make this seafood rice dish so that you don't need to exert yourself to eat it. The seafood has already been carefully peeled for you.
Arròs negre: with a base of fish broth and squid ink, what strikes most about this dish is its black color.
Fideuà: not even rice, but short pasta noodles cooked in a paella pan with a fish broth and seafood.
Arròs amb crosta: crosta meaning 'scab', an egg is added to the meaty rice while it's still cooking, giving it its unique hard layer over top.
Arròs al forn: while this one isn't cooked in a paella pan but baked in the oven in a clay dish, I had to include this rice dish in the list because it's a staple at every grandma's home and one of the tastiest rice dishes. It includes botifarra (blood sausage), llonganissa (minced pork sausage), pork ribs, bacon, plenty of garlic cloves, potatoes, tomatoes, and garbanzo beans — quite the meat feast.
Like I said, there's a different rice dish for every day of the year. So these are not the only types, but the most popular among locals in paella restaurants.
Feel free to come back as many times as you need to try an arròs caldós, an arròs amb bledes, an arròs amb fesols i naps, or a rossejat!
Important Things to Know about Ordering Paella in Valencia
Usually a 2-person minimum
Most restaurants will require a 2-person minimum to order one type of paella, since you need to add enough meat and veggies for at least 2 people to make a tasty broth to cook the rice in. This means that individual servings are a reason to suspect the paella wasn't made on the spot.
But if you're a solo traveler, you don't have to worry — you can just go to a tapas or takeaway bar since they'll have some freshly made paella ready for a larger number of people. You can just order una ració (one serving).
Takes around 30 minutes
Paella takes at least 30 minutes to make, as the rice has to cook for at least 18 minutes, and the rest of the ingredients have to be stir-fried before and boiled for at least another 10 minutes to make the best broth out of them.
So if you're in a rush, paella might not be the fastest thing to order, but if you want to get the full experience, you can always order one or two starters to work up an appetite!
Other places for good paella in Valencia
This unique experience does not only allow you to eat paella at a traditional Valencian barraca, but you can also enjoy a guided tour around it!
Barraques are typical, historical produce farmer's houses, and this one's owner, Toni, will show you how people used to live in them and how they would make a living by working the fields around them.
Alqueria El Brosquil
A 5-minute drive away from Valencia towards L'Albufera, this place offers about 20 different varieties of rice dishes in the traditional environment of an alqueria, a historical form of estate around the Valencian farmlands. Quite the Valencian experience!
Need a car to get there? Here's my favorite way to rent a car in Valencia.
El Racó de Meliana
This restaurant is also in the neighboring town of Meliana, but easily accessible by Metro. They won 5 different prizes for their paella, their all i pebre, their pumpkin desserts, and more!
Food Tours
Want to learn how to make it yourself?
Check out these paella cooking classes for an exceptionally fun way to experience Valencian cuisine.
Both experiences take place in the heart of the Russafa neighborhood and include starters, a paella entree, a salad, and dessert.
Paella is waiting for you
All in all, if you're coming to Valencia, you must absolutely try paella!
And while I can't stress enough that the best paella in Valencia is always that of your Valencian iaio, all of the places above make mouthwatering alternatives until you befriend one.
So if you happen to be in a different neighborhood when you get that Valencia paella craving, my list of tips on how to spot good paella in Valencia will help you choose the best restaurant near you!
If you have any questions, don't hesitate to reach out! Or if you have any other suggestions as to what the best paella restaurant Valencia has should be, I'll be more than happy to read them!
FAQs
Where do the locals eat paella in Valencia?
For the best paella restaurant, Valencia locals will go to L'Albufera or the beach, as well as into the heart of l'Horta. Bon Aire in El Palmar, La Pepica in El Cabanyal, Ca Xoret in Meliana, or Casa el Famós in La Carrasca are some of the most popular locations among Valencians.
Where to eat the best paella in Valencia?
The best paella in Valencia is always made by your Valencian iaio ('grandpa') on Sunday family reunions. But if you're just visiting from somewhere else, my recommendation is to go to Bon Aire in El Palmar, La Pepica in El Cabanyal, Ca Xoret in Meliana, or Casa el Famós in La Carrasca for the most authentic Valencian experience.
What city in Spain is most famous for paella?
Valencia. Paella originates in the Valencian Kingdom, so naturally its capital — Valencia — is most famous for it, although all other Valencian towns and cities also take great pride in it and have their own local variations. Valencians also tend to agree that if you've had paella outside of the Valencian territory, you probably haven't had real paella.
How much does paella cost?
Just like many typical dishes around the world, paella was born as a humble people's meal, so it should never be too expensive. You can find it for as cheap as €4/serving at some takeaway places, or normally ranging between €10 and €15/serving at restaurants. Some paellas including very select ingredients such as foie or lobster may cost up to €20 or €25/serving. Some restaurants will include paella in their menú del dia, which typically ranges between €12 and €22 and includes a starter, an entree, and dessert or coffee, sometimes also a drink.
Is paella a Spanish or a Valencian dish?
Paella is a Valencian dish, so if you've had anything resembling paella outside of the Valencian territory, Valencians will likely agree that probably wasn't real paella, even if it was in Spain.
Need help planning your trip to Valencia?
Here are the tools I use for the cheapest (and most reliable) vacation planning:
🏠Booking – Affordable hotels and apartments
🏠Hostel World – Safe and budget-friendly hostels
✈️Skyscanner – My favorite tool for cheap flights
🚗Discover Cars – Best place for car rentals
🚄Trainline – The easiest way to book local trains in advance
📶Airalo – eSim cards for easy internet access while traveling
🦺Safety Wing – The #1 travel medical insurance
💸Airhelp – Cancelled flight compensation (it's free!)
💱Wise – Easiest low-fee way to transfer currency
Affiliate disclosure: This post may contain affiliate links. These are links to services I personally recommend using for your trip to Valencia. At no extra cost to you, I may earn a small commission from these brands if you choose to make a purchase. Your support helps me pay my bills and eat more bunyols!