Embark on a luxury dining experience with this list of the best Michelin-Star restaurants in Valencia. Let's showcase the restaurants that stand out for their quality, innovation, and experiential approach. If you're looking for the best of the best – here are the restaurants you need to know about.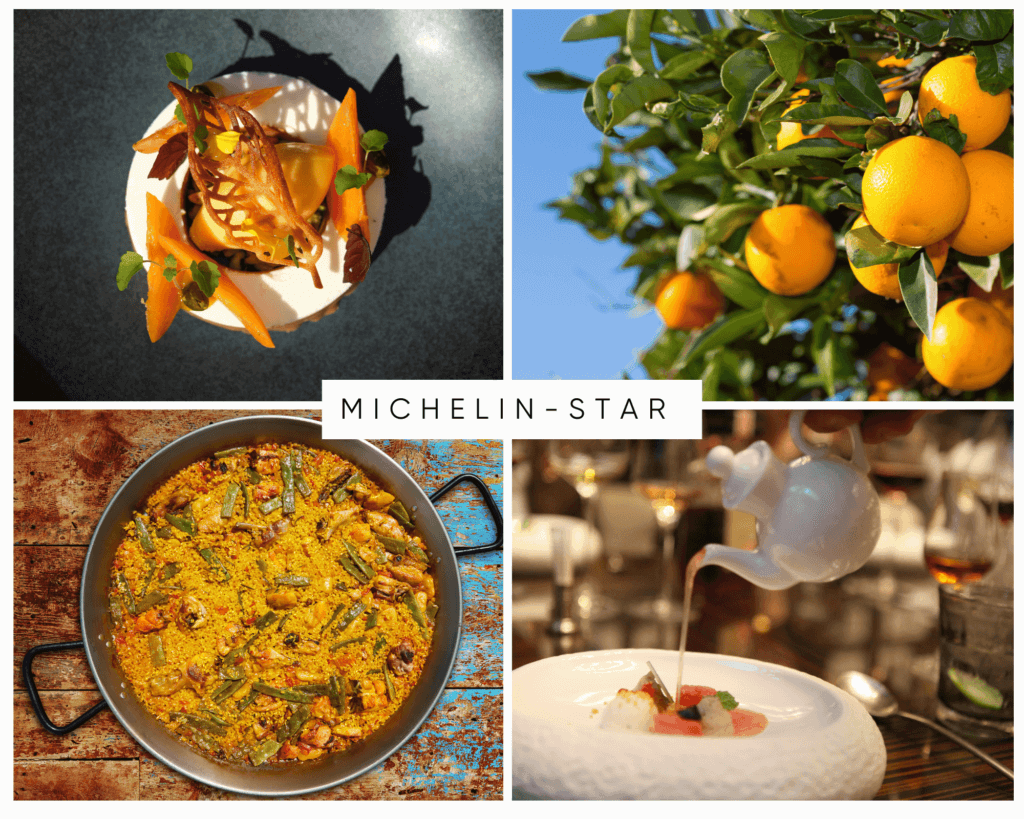 Restaurants with Michelin-Stars in Valencia
If you were looking through all of the best dining spots in Valencia and thought – "No, I don't want a cheap meal, I want an experience". 
Then this is the guide for you. 
From top-tier 3-Star restaurants to up-and-coming names, we're going to be going through the Valencian chefs that are changing the face of modern cuisine. With 22 Michelin-Star restaurants in the Valencian Country, I'll narrow it down just a bit to give you my top recommendations. 
So let's start looking at the top luxury restaurants in Valencia.
Note: Want to see other kinds of restaurants? Check out my guide to Valencian restaurants. 
3-Michelin-Star Restaurants in Valencia
Let's start strong with the highest recognition possible in the gastronomic world: 3 Michelin Stars. It's the most difficult status to achieve and maintain, paying homage to the restaurant's consistent quality, experience, and innovation.
In the entirety of the Valencian Country – there's only one restaurant that hits the mark. So let's take a look. 
Quique Dacosta
Website: Quique Dacosta
Town: Dénia, Alacant
Price: $$$
Location: C/ Rascassa, 1, 03700 Dénia, Alacant, Spain
As the culinary maestro behind the restaurant, Chef Quique Dacosta transforms dining into an art form.
This restaurant, located in the beach town of Dénia, boasts three Michelin stars, a testament to its avant-garde cuisine and creative presentation.
Naturally, Quique Dacosta is one of the biggest names in the culinary world (for a reason). They were ranked in the Top 50 European Restaurants in 2022.
With a rotating seasonal menu, they style their multi-course dining experience as "Por amor al arte" (Selflessly). They describe their style as culinary visionaries, with the entirety of their menu being the culmination of their creativity, innovation, and love for art.
So if you want the highest ranked, most awarded restaurant by both The Michelin Guide and the Repsol Guide – head over to Quique Dacosta (and enjoy the beach in Dénia while you're at it).
Tasting Menu Prices: €295 per person, plus €150-200 for wine
2-Michelin-Star Restaurants in Valencia
Let's move on to the next rank in the Michelin Guide. With 2 stars, these restaurants fall under the category of "Excellent cooking, worth the detour".
So these spots might have one less star – but that doesn't mean you'll be anywhere close to disappointed. With excellent food, global renown, and a flair for innovation – you can be sure that these restaurants will make your trip to Valencia unforgettable.
Here are the best 2-Star Michelin Restaurants in Valencia:
El Poblet
Website: El Poblet
Neighborhood: Sant Francesc
Price: $$
Location: C/ de Correus, 8, 46002
El Poblet, under the guidance of Chef Luis Valls, is a culinary gem in the heart of Valencia.
With two Michelin stars, this restaurant seamlessly combines traditional flavors with contemporary techniques, resulting in a unique way to get a taste of Valencia.
They offer 3 tasting menus with varying prices:
La Ciutat Vella (The Old Town) – €175
Territori (Territory) – €145
Selected Menu – €98
La Ciutat Vella is the most comprehensive choice, offering a full tour of Valencia's Mediterranean Cuisine. You'll get a taste of everything from oysters with cassalla (a popular liquor in Valencia) to a twist on paella.
Then the selected menu gives some smaller options with some lighter fare and an entree – perfect for anyone who wants to start dabbling in Michelin-star cuisine.
Pro tip: Make a reservation far in advance if you want to get a seat at this exclusive restaurant.
Ricard Camarena
Website: Ricard Camarena
Neighborhood: Marxalenes
Price: $$
Location: Av. de Burjassot, 54, 46009
Chef Ricard Camarena elevates dining to an art form at his eponymous restaurant. With two Michelin stars, Ricard Camarena brings you elevated and innovative dishes.
Camarena is essentially a household name here in Valencia, with the chef helping put Valencian cuisine on the map for high-end gastronomy. With 5 restaurants under his belt, his name-sake is definitely one of the most famous.
At least in the eyes of the almighty Michelin Guide…
It's a well-established favorite with plenty of awards (2 Michelin-Stars, 1 Michelin Green Star, 3 Repsol Suns, and on Greenyard's Top Vegetable Restaurants in the World).
They offer 3 tasting menu options, each focusing on local ingredients with a "cosmopolitan twist".
Recorrido Ricard Camarena – €210
Oxalis Path – €165
Synthesis – €165
Note: This is one of the only Michelin-Star Restaurants in Valencia with a vegetarian menu (The Oxalis Path). 
1-Michelin-Star Restaurants in Valencia
While there are fewer options for the 2 and 3-star restaurants, you have plenty of choices for these fantastic 1-star restaurants.
1 Michelin Star is given for the excellent food, top-notch service, and high level of innovation. Which means that all of these Valencia Michelin Star restaurants stand out for their quality.
So let's dive into my hand-picked batch of the top 1-star Michelin restaurants in Valencia.
Xanglot
Website: Xanglot
Neighborhood: La Seu
Price: $$
Location: C/ de les Avellanes, 9, 46003
Xanglot, with its one Michelin star, is a celebration of local ingredients and innovative techniques.
Chef Sandra Jorge crafts dishes that reflect the essence of Valencia, creating a dining experience that is both memorable and Michelin-worthy.
This is another up-and-coming spot that's won a lot of awards in recent years. From the Bib Gourmand in 2023 to the best Tasting Menu in 2020, you can be sure that you're getting an incredible experience during your time in the city.
All of their dishes are inspired by local produce, meats, and fish, but with a unique preparation and presentation.
They offer a Degusta Menu for €56 with one course, and then a Sentits Menu for €85 and two courses.
So if you're looking for a luxury experience with some mid-level prices, Xanglot is my top recommendation for 1 Michelin Star restaurants in Valencia.
Forastera
Website: Forastera
Neighborhood: El Mercat
Price: $$$
Location: C/ del Pintor Domingo, 40, 46001
Nestled in the heart of Valencia, Forastera is a culinary jewel with one Michelin star. Chef Txiscu Nuévalos invites diners into a quaint, personalized experience using ingredients straight from the Mercat Central.
With a seasonal menu, they take the best of the month's produce to create creative tasting menus unlike any other.
The dishes feature simple, elegant, and light options that bring out the best local flavors. Working exclusively with small farmers and producers, this is as close to a true farm-to-table experience as you can get in the city.
They offer a smaller tasting menu for €38, a 6-course menu for €50, as well as à la carte options during the week.
Their reasonable prices earned them a Bib Gourmand, making this a clear winner for anyone looking for something less haughty and more casual.
Lienzo
Website: Lienzo
Neighborhood: La Xerea
Price: $$$
Location: Plaça de Tetuan, 18, 46003
Lienzo, is another one of the most famous Michelin Star restaurants in Valencia. The high-concept Mediterranean cuisine is the perfect image of what to expect from a restaurant of this caliber.
Using local ingredients, they create innovative dishes that show you all the flavors throughout the Valencian Country. From a simple snack of local honey and cheese to an elaborate sweet potato gnocchi with black lemon foam – Lienzo takes you on a journey to explore a whole new side of Valencian flavors.
They offer 3 menu options that change seasonally:
Trazos (€60) – A 6-course Menú del Dia available for lunch
Pinceladas (€90) – A 10-course tasting menu
Lienzo (€110) – A 14-course tasting menu
Note: The trazos and pinceladas menus have vegetarian options if you request at least 24 hours in advance. 
Fierro
Website: Fierro
Neighborhood: Russafa
Price: $$$
Location: C/ del Doctor Serrano, 4, 46006
Fierro earned its Michelin Star thanks to the innovations by chefs Carito Lourenço and Germán Carrizo.
Their menu changes each year, offering fusion cuisine by using Valencian ingredients and Argentinian traditions.
It's an intimate space with only 4 tables. So if you're looking for that homey, personalized experience – Fierro is a great option for you.
They offer one tasting menu for €125, plus drink pairing options for €70 or €90.
If you're looking for some high-end fusion cuisine, then Fierro is definitely one of the best Michelin Star restaurants in Valencia for you.
Riff
Website: Riff
Neighborhood: La Gran Via
Price: $$$
Location: C/ del Comte d'Altea, 18, 46005
Riff, led by Chef Bernd H. Knöller, boasts one Michelin star for its exceptional cuisine.
This crowd favorite focuses on seasonal and local ingredients. They have a focus on seafood straight from the port, and produce direct from the surrounding farmlands.
All of their tasting menus change daily. From small lunch-time menus to 20-course meals, Riff is one of the best Michelin Star restaurants in Valencia thanks to its flexibility. With completely vegetarian options, smaller tasting menus, and a deep dive into the best flavors – you get to choose your own adventure here.
Their menus range from €65 to €165 per person, plus a wine pairing.
La Salita
Website: La Salita
Neighborhood: Russafa
Price: $$$
Location: C/ de Pere III el Gran, 11, 46005
La Salita, under the culinary direction of Chef Begoña Rodrigo, is a Michelin-starred haven that celebrates creativity and flavor.
With a commitment to excellence, La Salita has become a beacon of culinary innovation in Valencia. The restaurant is a tiny palace hidden in the busy streets of Russafa, featuring classic home-style decorations.
It's one of the best Michelin star restaurants in Valencia with outdoor dining. The tasting menus offer high-end local ingredients with a global influence. From nigiri with local mushrooms to a white all i pebre, La Salita takes Mediterranean ingredients to the next level.
Their menus range from €116 to €150 per person, with a €50 kids menu as well.
Kaido Sushi Bar
Website: Kaido Sushi Bar
Neighborhood: Mestalla
Price: $$$
Location: C/de Xile, 3, 46021 València
Kaido Sushi Bar is one of the most interesting Michelin star restaurants in Valencia, offering a fusion of Japanese and Mediterranean flavors. Chef Yoshikazu Yanome's expertise transforms each dish into a masterpiece, showcasing the diversity of Valencia's culinary scene.
This Michelin-level sushi bar has become a fan favorite in the city. It offers an intimate setting that is as much an experience as it is a meal. Their courses start exactly at 2:00pm and 8:30pm, encouraging people to enjoy this tailored culinary journey.
If you love seafood and you're looking for a memorable experience during your stay in Valencia, this is the high-end dining choice for you.
The singular tasting menu is €130, plus a €68 drink pairing.
Valencia Restaurants in the Michelin Guide
You don't need a Michelin star to stand out as a leader in the culinary world. That's why the official Michelin Guide offers special recognition to some eateries that offer exceptional service and food, but just didn't quite earn their stars yet.
So if you're looking for an upscale restaurant in Valencia, but you're not quite ready to dive into a multi-star experience (or tab), then I have some recommendations for you.
Here are a few noteworthy mentions of restaurants in the Michelin Guide in Valencia:
Canalla Bistro
Website: Canalla Bistro
Neighborhood: Russafa
Price: $$
Location: C/ del Mestre Josep Serrano, 5, 46005
Canalla Bistro, nestled in the vibrant heart of Russafa, is another fan favorite by chef Ricard Camarena.
It doesn't have 2 stars like Camarena's other restaurant, but don't let that stop you from trying them out. With an eclectic menu that draws inspiration from global cuisines, this restaurant offers a culinary journey that delights the senses.
The fusion restaurant features flavors from around the world, making it the perfect spot for even the pickiest of eaters.
Choose from the €41 tasting menu or go à la carte.
Bonus Recommendation: Check out Central Bar in the Mercat Central. It's by the same chef, but offers more wallet-friendly options for an esmorzaret or snack.
Apicius
Website: Apicius
Neighborhood: Mestalla
Price: $$
Location: Carrer d'Èol, 7, 46021
Apicius, featured in the Michelin Guide, is synonymous with elegance and gastronomic finesse. The restaurant also earned 2 Repsol Suns for their culinary excellence.
Chef Enrique Medina crafts dishes that showcase his commitment to quality, making this restaurant a standout in Valencia's culinary landscape.
They describe themselves as creating modernized versions of traditional meals with local ingredients.
With a €48 tasting menu, Apicius is a great way to ease yourself into fine dining without blowing your holiday budget.
Casa Carmela
Website: Casa Carmela
Neighborhood: El Cabanyal
Price: $$
Location: C/ d'Isabel de Villena, 155, 46011
Casa Carmela is one of my top recommendations if you're looking to try out some paella restaurants in Valencia.
The classic beachfront restaurant has a long history of making the delicious rice dishes Valencia is famous for.
And while they haven't officially earned a Michelin-star, they're still one of the best paella restaurants in Valencia.
So head down to El Cabanyal for a top-tier experience with Valencia's national dish.
Note: Paella is traditionally a lunch-time dish.
Entrevins
Website: Entrevins
Neighborhood: Sant Francesc
Price: $$
Location: C/ de la Pau, 7, 46003
Let's finish off our list of the best Michelin Star restaurants with Entrevins, featured in the Michelin Guide.
As the name suggests, they offer a sophisticated wine and dine experience in the heart of Valencia. With a carefully curated wine list and a menu inspired by local flavors, this restaurant is a testament to Valencia's rich gastronomy.
They offer elevated Mediterranean cuisine with the tasting menu options ranging from €27-49 per person.
But if you're coming to Entrevins, I highly recommend getting the wine pairing options. Entrevins partners with over 200 wineries to offer a highly curated drinking menu to go perfectly with every dish.
And since they're located just 2 minutes away from the cathedral, you're in the perfect place to have a great date night and enjoy an elegant meal in the heart of the city.
Enjoy Your Luxury Travel Experience
Valencia's Michelin-starred restaurants promise a culinary journey that ranges from simple, refined dishes with farm-to-table ingredients to inspired innovations that make cooking an artform. Enjoying this level of luxury experience is definitely one of the best things to do while you're in the city.
With famous chefs like Quique Dacosta and Ricard Camarena, you can be sure to get the highest level of treatment when you're in the Valencian Country.
So head out to the best Michelin Star restaurants in Valencia, savor the experience, and make the rest of your trip memorable. 
Bon viatge
Looking for some other Valencian restaurants?
Check out some other top recommendations:
FAQs
Does Spain have Michelin star restaurants?
Yes, there are 226 Michelin-star restaurants throughout Spain. 
How many Michelin Star restaurants are in Valencia?
Valencia currently has 22 Michelin Star restaurants, just behind Catalonia (49) and the Basque Country (24).
Are all the Michelin-Star Restaurants expensive?
No, there are definitely options if you have a lower budget. While the most noteworthy restaurants will be at least €100 per person, there are more affordable Michelin-recognized restaurants for around €40 per person. 
Is there a Michelin-Star Restaurant in Valencia with Vegetarian options?
Yes! Some of the restaurants offer fully vegetarian options: Ricard Camarena, Lienzo, La Salita, 
Need help planning your trip to Valencia?
Here are the tools I use for the cheapest (and most reliable) vacation planning:
🏠Booking – Affordable hotels and apartments
🏠Hostel World – Safe and budget-friendly hostels
✈️Skyscanner – My favorite tool for cheap flights
🚗Discover Cars – Best place for car rentals
🚄Trainline – The easiest way to book local trains in advance
📶Airalo – eSim cards for easy internet access while traveling
🦺Safety Wing – The #1 travel medical insurance
💸Airhelp – Cancelled flight compensation (it's free!)
💱Wise – Easiest low-fee way to transfer currency
Affiliate disclosure: This post may contain affiliate links. These are links to services I personally recommend using for your trip to Valencia. At no extra cost to you, I may earn a small commission from these brands if you choose to make a purchase. Your support helps me pay my bills and eat more bunyols!