Indulge your sweet tooth while you're on vacation with my top 5 best bakeries in Valencia. Spain is a multicultural state, so every culture offers its own sweet treats and pastries. With Valencian sweets being on a class of its own, let's go through my curated list of the top five pastry shops and bakeries in the city.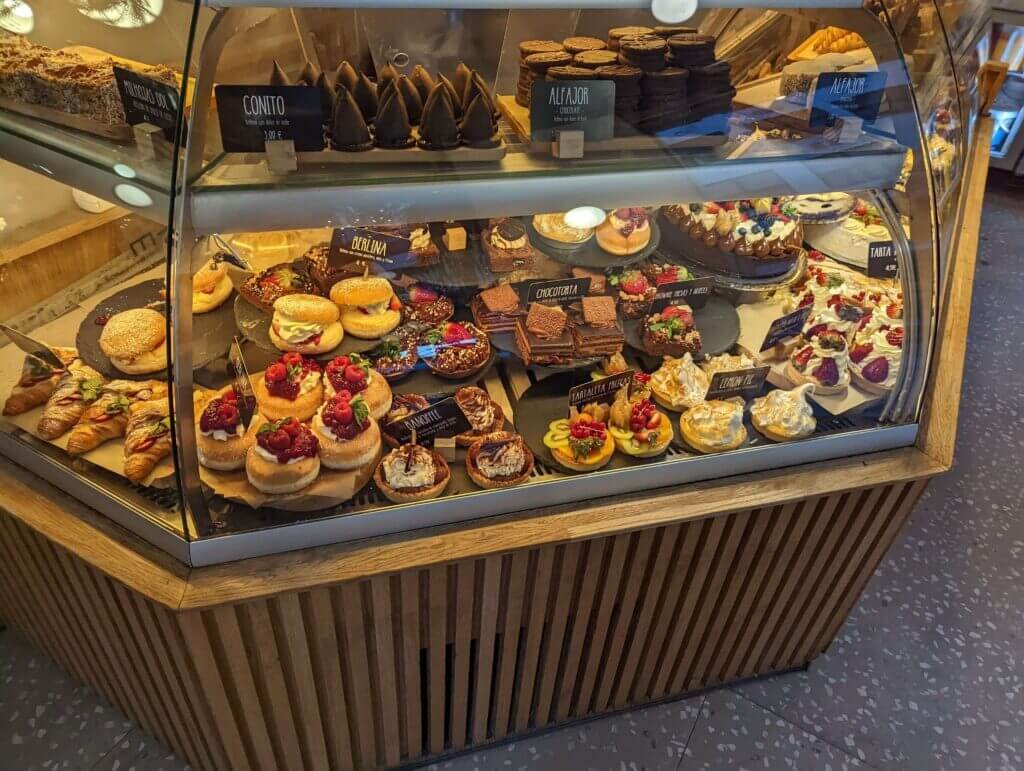 Top 5 Bakeries in Valencia, Spain
If you're looking into all of the best restaurants in the city, you'll also want to find some of the best spots to satisfy that sweet tooth.
Valencia offers a range of bakeries and cafés filled with sweet snacks. In this list of the top pastry shops in Valencia, I'll be giving you a mix of traditional, contemporary, and trending favorites. Here's what you'll see:
Cafés: Sit-down style spots for a dessert and a coffee (best in the evening)
Forns: Traditional counter service for on-the-go snacks (best in the morning)
Oxateria: Sit-down or to-go style specializing in orxata (best in the evening or on holidays)
So whether you're looking for a contemporary post-lunch dessert or you're looking to enjoy a typical Valencian berenar – there are tons of great bakeries and pastry shops in Valencia. While just about every neighborhood will have its own local bakery, this list will point out a few that stand out as a local's favorite.
So let's dive into my top 5 bakeries in Valencia. And remember – don't be afraid to try any local shops that catch your eye.
Here are my favorite dessert places in Valencia.
1. Dulce De Leche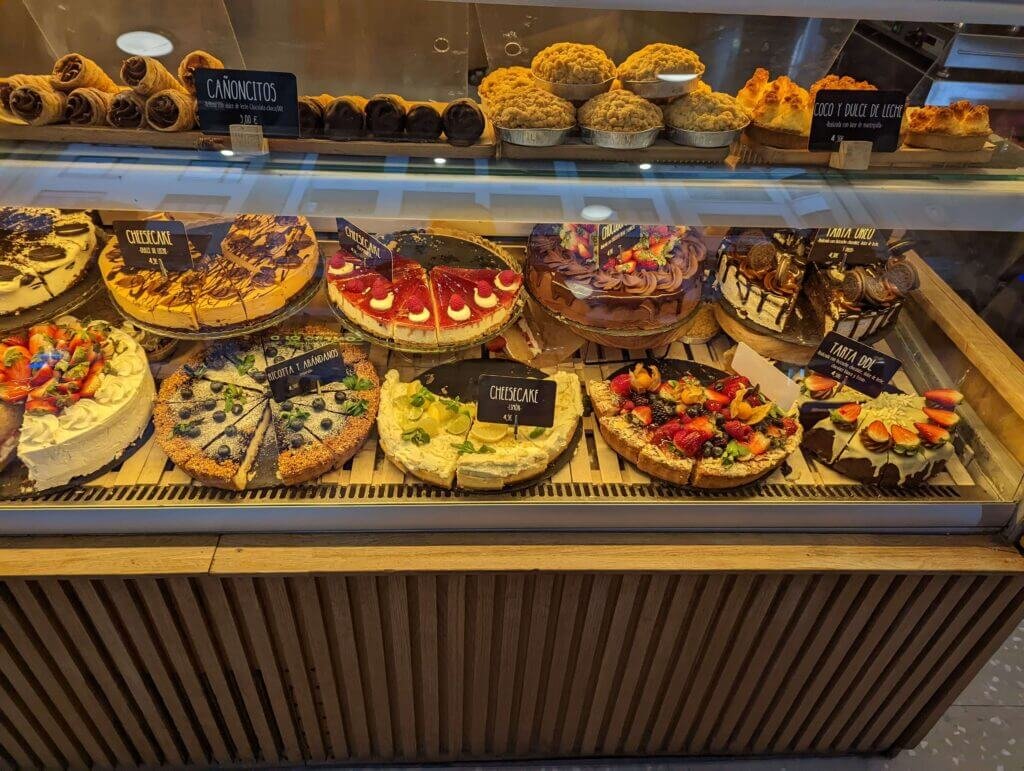 Website: DDL Boutique
Neighborhood: El Mercat
Price: €€
Location: C/ de Sant Vicent Màrtir, 52, 46002
Before we get into the traditional, let's start with something a little more contemporary. Also known as DDL Boutique, this has been one of my favorite bakeries for years. This is one of the trendiest spots for a berenar – a mid-evening snack.
With relatively large portions and reasonable prices, it's easy to see why they have locations in both the city center and in Russafa.
Truly, you can't go wrong with anything you pick. I don't have a big sweet tooth, so I usually get a light strawberry cake. But my husband always gets the richest, most chocolatey slice he can find.
So DDL is absolutely the best café / bakery in Valencia for a sweet treat – at least in my opinion.
They're open from 9am to 9:30pm, so whether you want a sweet breakfast or a rich berenar, the centric location makes it an easy option, too.
Pro tip: Unlike most places in Spain, you actually have to order before grabbing a table. So make sure to get in line right away!
2. Manolitos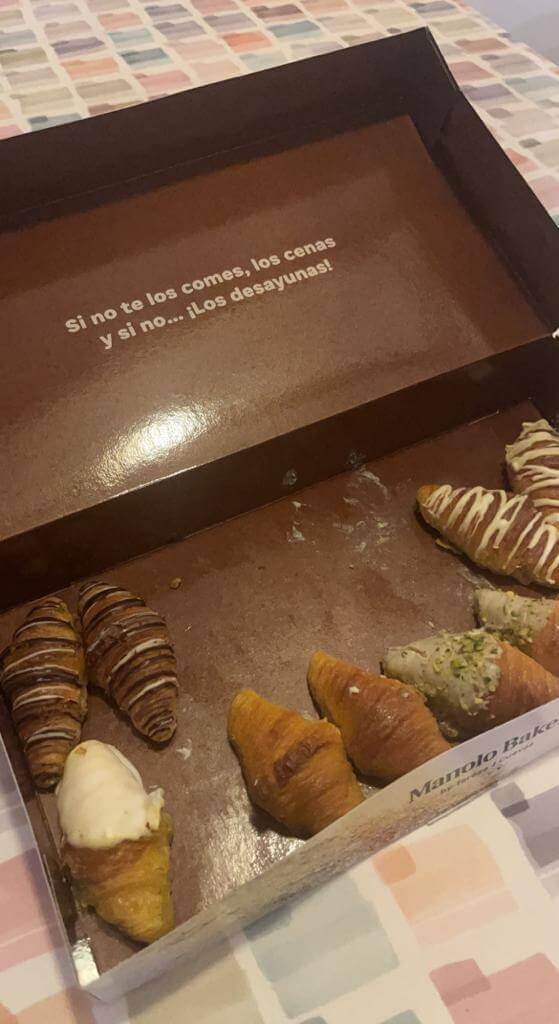 Website: Manolo Bakes
Neighborhood: La Seu
Price: €
Location: C/ de la Pau, 10, 46003
Another one of the best bakeries in Valencia is found just a few minutes away from the cathedral. While it's also not traditional, it's another contemporary cafeteria that's been on my obsession list.
Manolo Bakes, also known as Manolitos, is a bakery that's famous for their miniature, decadent, and can't-stop-eating-them croissants. With typical flavors like dark chocolate or mocha, plus seasonally changing ones – it's one of my favorite spots for a sweet treat.
There are a few locations in Valencia, but I find that the one next to the cathedral is usually the most convenient. Some swing by and try them out. You can always buy a box of them and then have the leftovers for breakfast (if there are any leftovers)!
3. Orxateria Daniel's
Website: Orxateria Daniels
Neighborhood: El Pla de Remei
Price: €
Location: Mercado de Colón, Carrer de Jorge Juan, 19, 46004
Now it's time to look at the classic desserts places in the city. Daniel's is one of the most traditional bakeries in Valencia for a berenar. Although the original location is near the beach in Alboraia, this café has become a Valencian staple.
They are famous for their orxata and fartons. Orxata is a tigernut milk drink that can be either liquid (think of a sweetened almond milk-esque flavor), or as a slushie (my preferred choice). Fartons are a sweet bread that is traditionally dipped in the orxata.
This is the go-to choice for a sweet afternoon snack for Valencians, especially in the summer.
And Daniel's is a trusted bakery that has stood the test of time. If you're coming to Valencia, you absolutely have to try this place out. Although in my experience – orxata tends to be a hate-it-or-love-it type of food. So go experience it for yourself!
4. Orxateria Santa Catalina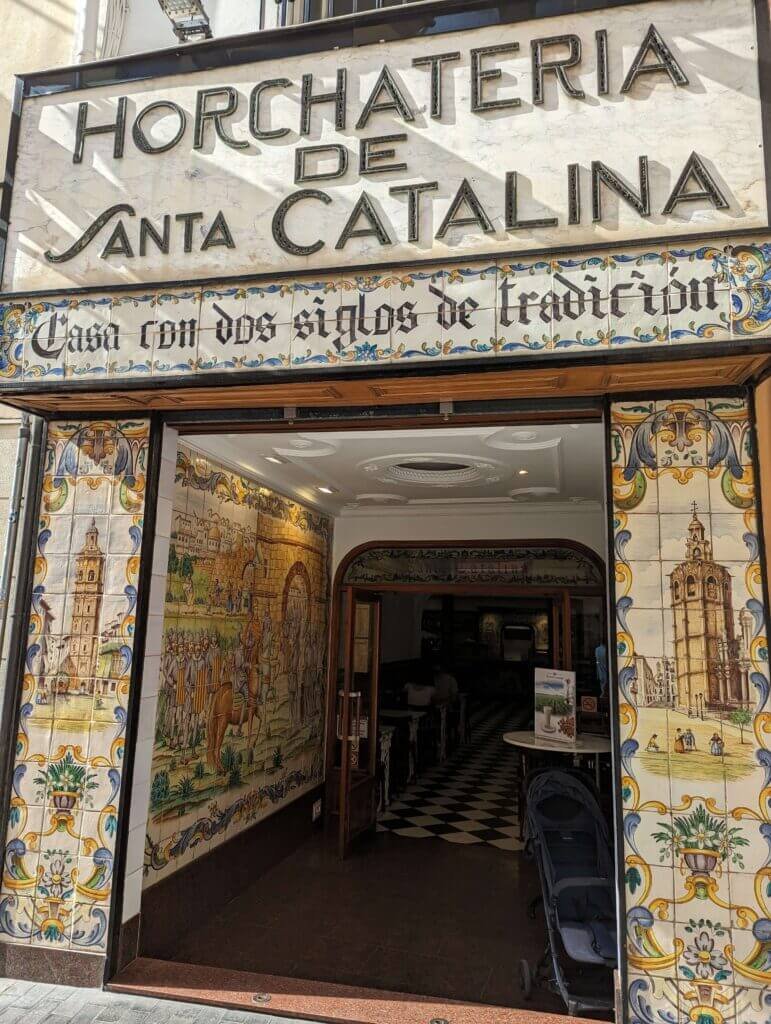 Conveniently located in the heart of the city, Santa Catalina is another one of the most famous bakeries in the city. While naturally, they're famous for their orxata, you'll start to see long lines in March for one big reason –
Bunyols i xurros.
In March, Valencians (and of course, tourists) get their fill of these sweet fried pastries as the dessert of choice for the Falles festival.
Santa Catalina has nearly 200 years of tradition serving bunyols (fried pumpkin pastries) and xurros (fried dough) with hot chocolate. It's a classic mid-evening snack that is synonymous with the festival's atmosphere.
In fact, these types of desserts are so common that there is type of activity called the Xocolatà. This is where people get together to enjoy a big meal of bunyols, xurros, and hot chocolate.
And while the hot chocolate might not be the most appetizing in the summer months, if you're coming any other time of the year – definitely make sure to try out this centuries-old tradition!
5. Horno San Bartolomé (Forn del Tossal)
Website: Horno San Bartolomé
Neighborhood: El Carme
Price: €
Location: Plaça del Tossal, 6, 46001
When you ask a Valencian to imagine a forn (bakery) – they'll think of something like Forn del Tossal. 
It's a traditional, counter-service bakery that serves fresh bread, sweet and savory pastries, and cakes to-go.
So while there isn't any sit-down service, it's the perfect way to get a classic and traditional taste of Valencian desserts.
Located on the Plaça de Tossal in El Carme, it's definitely one of my favorite bakeries in Valencia. They have a wide selection, and even have some vegan and gluten-free options (which isn't very common to find)!
Now this Valencia bakery isn't nearly as famous as the previous four, but it's also the more typical, everyday style that locals go to all the time.
I highly recommend trying out their pastissets (also called empanadillas in Spanish) for a taste of the local flavors.
Note: The same owners have another bakery in Russafa the business name "San Bartolomé". So you'll see both "Forn del Tossal" and "Horno San Bartolomé Tossal" when you Google this location. 
Traditional Desserts in Valencia
Whether you're heading into the best bakeries in Valencia or you're looking at the dessert menu at a restaurant – you need to know how to find the authentic treats.
So let's go over some traditional Valencian sweets:
Torró A nougat confection made with almonds and honey – typical during Christmas
Fartons: Sweet bread pastries often enjoyed with orxata
Orxata: A sweetened tiger nut milk drink served chilled or as a slushie
Bunyols: Deep-fried pumpkin pastries, typically enjoyed during the Falles festival
Xurros: Deep-fried pastries topped with sugar (not cinnamon!)
Pastissets: Baked pastries that can be sweet or savory
Coca de llanda: A typical poundcake
Mocaorà: Marzipan treats made in October 1st to the 9th
Except for torró (which you usually buy in a store), those are all typical ones that you can find at a bakery or an orxateria.
Every bakery will also have their own specialities. And literally every single town in Valencia will have a traditional dessert. So if you go exploring on some day trips, make sure to try out some new sweets! For example:
Monjàvena in the town of Xàtiva
Flaó in Morella
Catxap in Paterna
Advice on Bakeries
This list is some of the best bakeries in Valencia, but mostly because they are different and stand out. For example – Dulce de Leche is amazing, though not necessarily a traditional spot. It's a contemporary and trendy café that I highly recommend.
While San Bartolomé is a more classic example of a Valencian "forn". So I recommend this one because I really like the pastries here and can personally vouch for it.
But to be honest – just about any neighborhood bakery is going to have some amazing options for pastissets, savory flatbread (coques), and their own specialities – just like San Bartolomé. If the bakery is traditional – it's most likely a good choice!
So with that in mind, I have a few pieces of advice:
Don't limit yourself to this list. This list is a great starting point, but there are hundreds of bakeries that serve traditional sweets. If it looks good – walk in!
Avoid chains like Panaria. They usually have processed/factory-made food and won't give you an authentic taste.
A "forn" and a "café" are not the same. Forn (horno in Spanish) only serves to-go food, while a café/cafeteria will usually offer sit-down service.
Bakeries often close on Sundays. Especially family-run, traditional bakeries. So make sure to keep this in mind!
Look for signs in Valencian. If all the signage is in English or Spanish – it probably isn't very traditional.
Enjoy the Best Bakeries in Valencia!
Whether you're looking to satisfy that post-meal sweet tooth, or you're looking for a mid-morning snack to get you by – all of these are highly recommended options I can vouch for.
So go out and try these top 5 best bakeries in Valencia, and let me know what you think! Or if you discover any other hidden gems, just let me know!
Bon profit i bon viatge!
More Articles on Valencian Food:
Need help planning your trip to Valencia?
Here are the tools I use for the cheapest (and most reliable) vacation planning:
🏠Booking – Affordable hotels and apartments
🏠Hostel World – Safe and budget-friendly hostels
✈️Skyscanner – My favorite tool for cheap flights
🚗Discover Cars – Best place for car rentals
🚄Trainline – The easiest way to book local trains in advance
📶Airalo – eSim cards for easy internet access while traveling
🦺Safety Wing – The #1 travel medical insurance
💸Airhelp – Cancelled flight compensation (it's free!)
💱Wise – Easiest low-fee way to transfer currency
Affiliate disclosure: This post may contain affiliate links. These are links to services I personally recommend using for your trip to Valencia. At no extra cost to you, I may earn a small commission from these brands if you choose to make a purchase. Your support helps me pay my bills and eat more bunyols!