With the city being known for its rich culinary scene, let's dive deep into all the best vegetarian restaurants in Valencia. Spain offers a delightful array of vegetarian (and sometimes vegan) dining options. From quick meals on the go to relaxed spots to savor vegetarian tapas, Valencia has a restaurant for you. So let's look at the top vegetarian restaurants in Valencia (from a vegetarian that actually lives here…).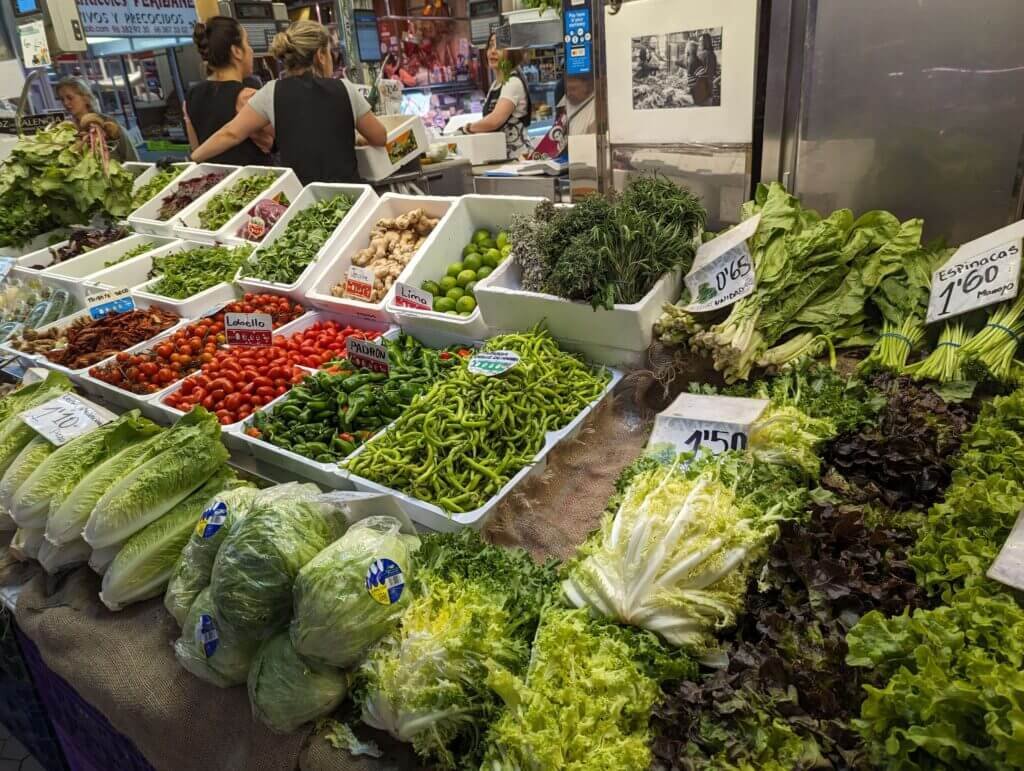 The Best Vegetarian Restaurants in Valencia
Spain is known for having some of the best culinary traditions in the world. And with different cultures within the peninsula, there is a ton of diversity to explore.
Valencia's food scene is filled with rice dishes, fresh produce, and rich flavors ready to be tasted! So if you're looking for vegetarian restaurants, Valencia does not disappoint. 
While just about every restaurant (for the most part) will have vegetarian options, let's go through some of my favorite veggie-friendly establishments to squeeze into your itinerary. 
Unless noted, all of these are strictly vegetarian. I'll also mark which ones are vegan-friendly (which, to be fair, is more difficult to find).
I hope you're hungry! Here are my top 13 best vegetarian restaurants in Valencia. 
1. Copenhagen
Copenhagen is a vegetarian heaven for anyone coming to visit the city. This long-standing restaurant has a tasty and varied menu that goes far beyond your typical "salad and a veggie burger".
And since it's located in the heart of Russafa, it's an easy choice for the best vegetarian restaurants in Valencia.
You get a range of entrees like pastas, Asian-cuisine, and rotating specials. Plus you get to enjoy so many appetizers and vegetarian tapas. Valencia doesn't have so many places for vegetarian tapas, so Copenhagen really stands out.
If you're coming during the week, come here for lunch one day for their Menú. This is a set 3-course meal at very affordable prices.
I'm a big fan of their homemade Fiocchi pasta with pear, pecorino, and a red pesto sauce!
2. La Lluna
Website: La Lluna
Neighborhood: El Carme
Price: €
Location: C/ de Sant Ramon, 23, 46003
This is another one of my favorite vegetarian restaurants in Valencia. It's nestled away in a small square in El Carme and has that classic homemade feel to it. 
They offer both traditional dishes and some more modern twists. This makes it the perfect spot to get a mix of tapas and dishes you'd normally only get from a Valencian Iaia (grandma).
They're also incredibly accommodating if you have any allergies. I came here with a friend who is allergic to practically everything – nuts, fruits, anything tropical, etc., and they had no problem offering up alternatives to help her enjoy the meal.
I recommend getting the stuffed eggplant and their mushroom croquettes. Also, I recommend trying a bunch of different dishes and sharing! It's truly the best way to get a great taste of some authentic flavors. 
3. Khambu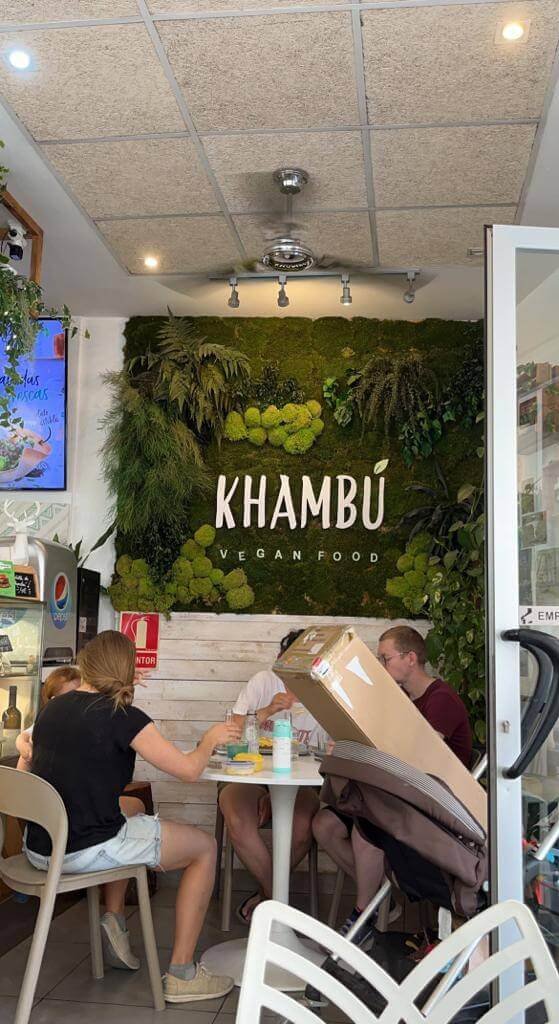 Website: Khambu
Neighborhood: El Carme
Price: €€
Location: C/ de Quart, 41b, 46001
A restaurant I visit way too often is Khambu. This is a completely vegan restaurant with a fast-food style.
Burgers, sandwiches, wraps – you name it. If you need something quick, easy, and without complications – Khambu is one of the best vegan restaurants in Valencia.
It's located just 2 minutes away from the Torres de Quart, so it's easy to get to if you're in the city center.
My favorite burger is La Indiana (because I'm a sucker for a good fake chicken burger). But their menu often changes, so don't be afraid to try something daring!
4. Lo de Ponxe en el Kinto Pino
Website: Lo de Ponxe
Neighborhood: Extramurs
Price: €€
Location: Pl. de Rojas Clemente, 5, 46008
This is one of the best vegetarian restaurants in Valencia if you're looking for a healthy, tasty meal to reinvigorate your soul after so much traveling and stuffing yourself with tapas.
They have an entire vegan and gluten-free menu, making it a great spot if you have other dietary restrictions.
Full disclosure here – I haven't actually eaten here yet. It's been on my list for years, but I'm a creature of habit and I haven't managed to try it out yet! But I have some very health-conscious friends who absolutely loved it.
It's right outside the center, in the Botànic neighborhood of Extramurs. So it's really easy to get to and has a relaxed, laid-back vibe if you want to escape the chaos for a bit. 
5. The Nature
Website: The Nature
Neighborhood: Extramurs
Price: €
Location: Plaça de Vannes, 7, 46007
Cheap, vegetarian, and all-you-can-eat. This is the vegetarian budget traveler's dream come true.
The Nature offers Asian-inspired vegetarian and vegan options that are fantastic! This is one of the most talked-about vegetarian restaurants in Valencia, and for good reason.
The relaxed atmosphere, buffet-style food, and friendly service definitely makes it a spot to add to your list.
Again – this is one I haven't visited myself just yet, but I've only ever heard good things about this place.
It's located just a bit further away from the center, but you'll get very reasonable prices by taking a 10 minute walk! So I highly recommend checking it out.
6. La Cuina d'Adel
Website: La Cuina d'Adel
Neighborhood: El Carme
Price: €€
Location: C/ del Forn de l'Hospital, 2, 46001
This small gem is one of the best vegetarian restaurants in Valencia for one reason – quaint, relaxed, and traditional meals in the heart of the city.
If you're looking for an authentic taste of the city (without relying on meats and fish), then La Cuina d'Adel is a great spot to try out.
Their Menú constantly changes, but it tends to have a homecooked style, with typical recipes that are giving a modern touch.
Pro tip: If you're heading to La Cuina d'Adel – make sure to call in advance! It's a small spot that often fills up fast!
7. La Tastaolletes
Website: La Tasta Olletes
Neighborhood: El Carme
Price: €
Location: C/ de Salvador Giner, 6, 46003
Looking for a casual place to enjoy some light meals? Head over to La Tastaolletes.
From bowls and wraps to hot dishes, they offer a little bit of everything if you're in the mood for some lighter and healthier vegetarian food. Valencia is also really big on fresh, local produce. And luckily – La Tastaolletes gets all of their ingredients straight from the Mercat Central.
So you can be sure that the quality is top-notch for a reasonable price.
I especially recommend checking this place out if you need some takeaway food. While they also offer seating, it's a convenient option if you want to have a little picnic in the Túria Gardens nearby.
8. Mestiza
Website: Mestiza
Neighborhood: El Cabanyal
Price: €€
Location: C/ de la Reina, 186, 46011
Headed to the beach? One of Valencia's best vegetarian restaurants is right around the corner.
Mestiza is located in the heart of El Cabanyal and offers a variety of plant-based foods and very generous portion sizes.
This all-vegan restaurant is the perfect spot if you're checking out La Malva-rosa beach. With homey decorations and everything from jackfruit tacos to vegan meatballs, it's the perfect spot to fill up after exploring this area of town.
Note: Mestiza is only open for lunch on the weekends.
9. Almalibre Açai Bowl
Website: Almalibre
Neighborhood: El Carme
Price: €
Location: C/ de Roteros, 16
Looking for a late breakfast?
Head over to Almalibre, one of the best vegetarian restaurants in Valencia. Spain typically has bars and cafeterias that serve simple breakfasts – toast, croissants, coffee, and juice. But Almalibre Açai Bowl offers some healthy vegan options for anyone looking to fill up for the day ahead of them (or recover after a night out).
Naturally, they're famous for their açai bowls, but they also serve vegan burgers and salads if you're looking for something heavier.
It's a simple, relaxed café style restaurant situated in the heart of the city, making it the perfect spot for a quick pick-me-up. And since açai isn't very common in Spain, this is your chance to get your fill of it!
10. Kukla
Website: Kukla
Neighborhood: El Carme
Price: €€
Location: C/ de Palomino, 8, 46003
Tucked away in a tiny street near the Torres dels Serrans is a 100% vegetarian Middle Eastern eatery that is fantastic.
With tasty Mediterranean cuisine, reasonable prices, and plenty of vegan options, it's no wonder they make it on the list of the best vegetarian restaurants in Valencia.
Their homemade pita is amazing, and I was blown away by their pepper brulee (a spicy red pepper dip with crunchy, caramelized top layer).
The last time I came here, I meant to take photos of all the food. And I forgot. Twice… It's just that good.
So if you've already tried your hand at some tasty Valencian dishes, and want to taste the variety of Mediterranean food, then head over to Kukla.
11. La Casa Viva
If you're hanging out in one of the trendiest areas of the city, then you'll want some fantastic veggie-friendly restaurants.
La Casa Viva is a 100% vegetarian restaurant with a varied menu and a huge terrace to enjoy the outdoors.
It's easily one of the best vegetarian restaurants in Russafa. Valencia has a lot of great Mediterranean-style restaurants, but this is one of the only places with a huge vegan selection, as well.
You can get fresh pasta (like homemade vegan lasagna with pumpkin), or even a gluten-free, vegan pizza. So if you're looking for some great vegan options, this is the spot for you.
Tip: Try to make a reservation ahead of time through their website, as they'll fill up fast!
12. Café Madrigal
Website: Café Madrigal
Neighborhood: Russafa
Price: €
Location: C/ de Puerto Rico, 41, 46006
A quaint vegan café in the heart of Russafa – it's everything the plant-based traveler needs.
From a vegan tortilla de patatas to a vegan cheesecake, they've got a little bit of everything to settle your cravings. So whether you just want some coffee and some sweets, or you need something heartier, this is a great spot for some casual dining.
Their prices are very affordable, as well. If you want to try out some vegan tapas, Valencia doesn't have a huge range of options. But with this homey café, in the middle of Russafa, with outdoor seating – you've found the perfect option.
13. Les Maduixes
Website: Les Maduixes
Neighborhood: El Carme
Price: €€
Location: C/ Daoiz i Velarde, 4, 46021
We're finishing off this list of the best vegetarian restaurants in Valencia with a local's favorite.
Les Maduixes is a bit off the beaten path, heading towards the university area. It's a relatively small restaurant with a lot of creativity.
They offer elaborate, delicious, and affordable vegetarian meals. As one of the very first veggie-only restaurants in the city, they've earned their fame over the years for using fresh ingredients.
They have a rotating daily menu, making it the perfect spot for an affordable lunch.
It's a bit further away from the center, but if you're studying at the Universitat de València or you decided to take a bike ride to the beach, it's a convenient option!
Advice for Vegetarians in Valencia
As the 3rd biggest city in Spain, Valencia has plenty of options for vegetarians. In general, you're not too limited when it comes to the gastronomy.
Of course, Valencia is a coastal town – so you'll see seafood everywhere. But if you go to any of the places I recommended as the best 13 vegetarian restaurants, Valencia and its food won't disappoint.
But if you decide to go to a "normal" restaurant, I have some advice to make sure you don't run into any trouble.
So as a vegetarian or vegan coming to Valencia, here's what you should know:
Ask About the Caldo
Especially if you're eating any paella or rice dishes – ask about the caldo (broth).
I would say that 90% of the time – restaurants will use veggie broth to cook their paella de verdures. But once or twice, I ran into the problem of restaurants still using chicken broth.
So make sure you ask the waiter: "És caldo de verdures?"
Celebrate Braves and Pimentons de Padrón
If you're heading out to your average tapas bar with friends or family (who don't want to only go to vegetarian restaurants), then you'll have a couple staples to get you through it.
Braves are a fried potato dish with aioli and a spicy red sauce. Pimentons de Padrón are sautéed green peppers. And the ever-present truita de creïlles (or tortilla in Spanish) is a thick omelet, often filled with potatoes and onions.
Every bar or restaurant will have at least one of these dishes. They're incredibly tasty, and always vegetarian (although not always vegan).
So make sure to celebrate these vegetarian tapas, Valencia will have you eating tons of them!
Watch out for tuna
One thing that has bothered me for YEARS, and to this day, I cannot understand the logic.
But the bocadillo vegetal (the vegetable sandwich) always has tuna in it.
Many people in Spain don't consider seafood to be "meat". They usually put seafood (peix) in its own category, separate from carn (meat).
Top that off with the issue that many people still think that vegetarians eat fish – and you'll find SO many "vegetarian" options with some tuna snuck in.
This problem is getting better recently, but you'll still find a lot of older folks who don't really understand vegetarianism. So, my advice:
Never get a "bocadillo vegetal"
Learn the phrase "No porta ni carn ni peix, no?" (It doesn't have meat or fish, right?)
All i Oli Should be Vegan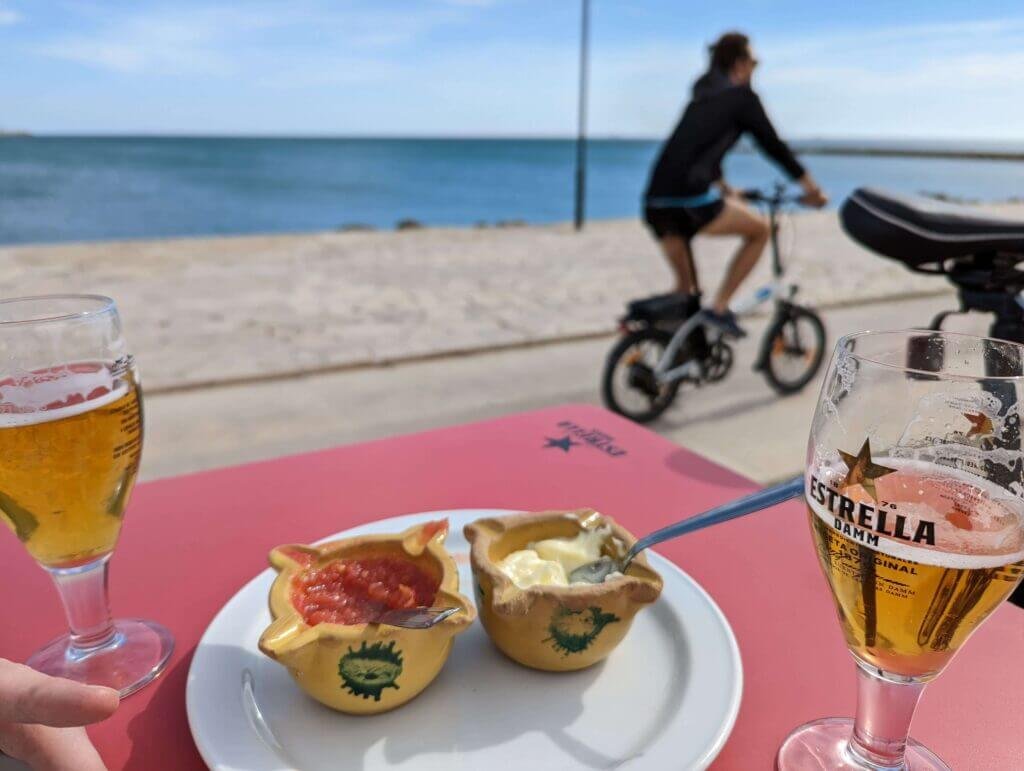 The word "aioli" comes from a traditional Valencian sauce, all i oli. The name says exactly what ingredients it should have: garlic (all) and (i) oil (oli).
So the traditional recipe is completely vegan. However, store bought versions and some restaurants will use egg in it, as well. That's because it makes the all i oli last a bit longer (and frankly, it's easier to make this way).
Which means that if you're vegan, make sure to double-check if there's any egg in it: Porta ou? (Pronounced "ow", as in "ouch")
It's Not Hard Being Vegetarian in Valencia
My advice here is really – don't stress. Valencia has plenty of vegetarian options and you'll have no problem trying authentic, local dishes that are also veggie-friendly.
Now if you were heading to Asturias, or Cantabria, or Galicia – you'll run into some problems.
(Flashback to my trip to Asturias, where all I ate for 5 days was bread, cheese, and cider like a drunken medieval peasant…)
But Valencia is a big city with a gastronomy rich in vegetables, so you won't have any problems eating well.
If All Else Fails — Un Kebab
Let's say you're desperate. That hangry feeling is kicking in. It's a Friday night, you didn't make any reservations, and you can't find anywhere to eat.
Those kebab shops are here to rescue you. Just about every neighborhood will have at least one, and they pretty much always have a falafel option.
They're super cheap, they're filling, and they're easy takeout food.
Is it going to be that paradise-esque, wine and tapas Mediterranean experience? No.
Is it a cheap and tasty option when you don't know what else to do? Yes.
Take a vegetarian paella cooking class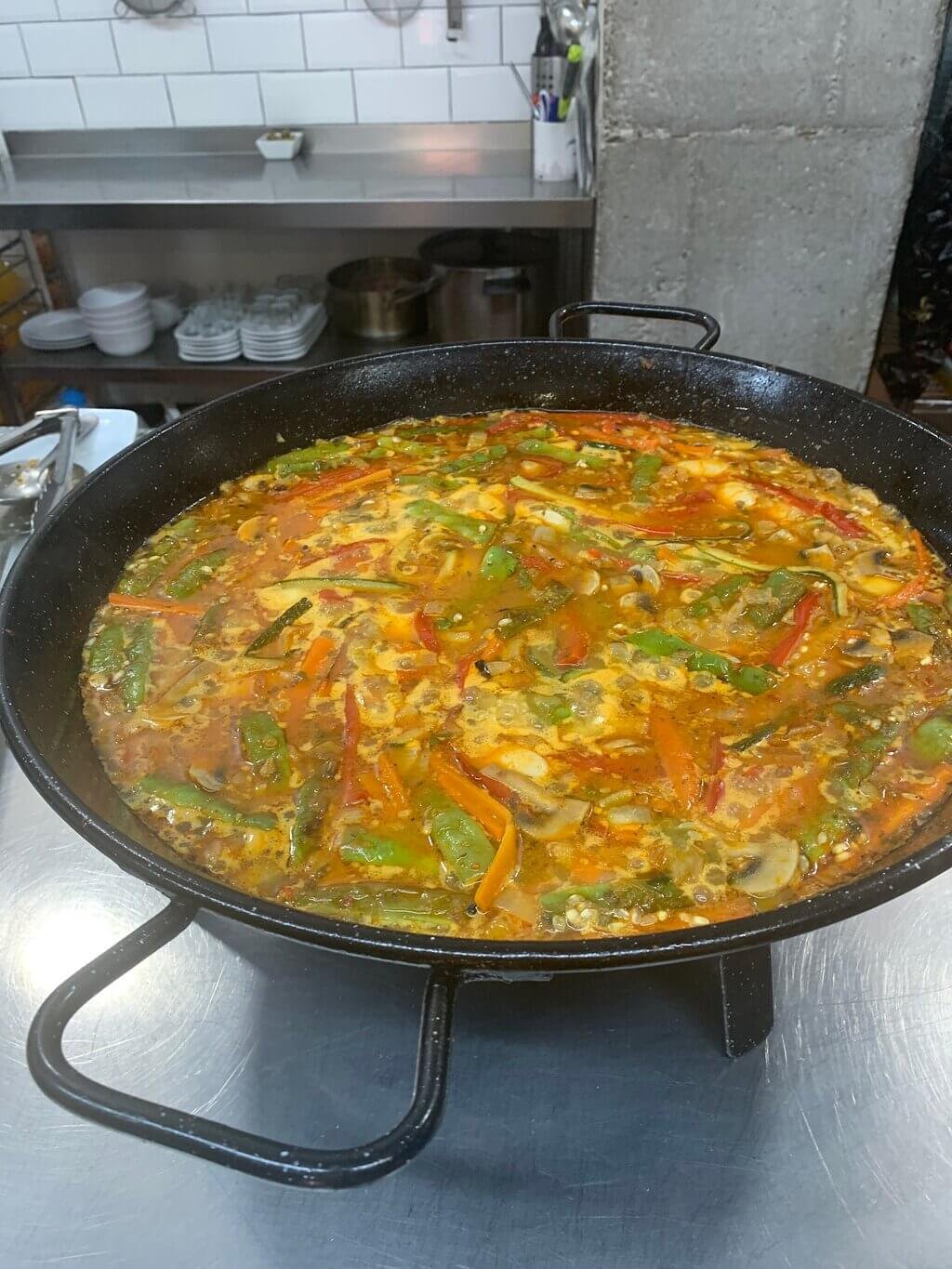 Source: Viator
As far as I know, there aren't many strictly vegetarian restaurants with traditional rice dishes. And while some paella restaurants will offer a paella de verdures, there's an even better way to get a first-hand experience of vegetarian Valencian food:
Book a vegetarian paella cooking class.
I'm a huge fan of gastro-tourism, and these types of classes are a great way to learn more about the local cuisine. They're always one of my favorite things to do in the city!
And in this class, you'll be taken to the Russafa Market, you'll pick out your own ingredients, learn the history of paella, and then get to make it (and eat it!) yourself.
Plus you get to try some tapas and some mistela (a sweet wine digestif). So it's a fun, interactive, and immersive experience!
Enjoy the Best Vegetarian Restaurants in Valencia
Head out and enjoy the local cuisine from this list of the best vegetarian restaurants in Valencia. Spain (and especially Valencia) has a rich gastronomy, with plenty of authentic, veggie-first options to try. 
From hearty rice dishes to vegetarian tapas, Valencia really makes it easy to be a vegetarian (I should know, I've been a vegetarian since 2017, and I've lived here since 2018).
So if you try out any other places, make sure to tell me about your experience! I'm always looking for new restaurants to try out.
Bon profit i bon viatge!
Want to see more restaurants in Valencia?
FAQs
What Is Your Favorite Vegetarian Restaurant in Valencia?
My favorite vegetarian restaurant in Valencia is La Lluna for their traditional, homemade-style meals. But if you want something fast and easy, Khambu is another top choice of mine. 
How Vegan-Friendly Is Valencia?
Valencia is VERY vegetarian friendly, but only moderately vegan-friendly. For fully plant-based meals, you'll have to go to vegetarian/vegan-specific restaurants for more options, but a vegetarian can go to almost any restaurant. 
What Is the Best Vegetarian Cuisine in Valencia?
In Valencia, you have plenty of vegetarian options. Braves, pimentos de padrón, truita de creïlles, formatge, escalivada, croquetes, paella de verdures, etc. 
Is Spain Vegetarian-Friendly?
Depending on where you go, Spain is vegetarian-friendly. Bigger cities like Madrid, Barcelona, and Valencia are all very vegetarian-friendly. Smaller towns and places in the Pyrenees mountains tend to be more difficult for vegetarians. 
Need help planning your trip to Valencia?
Here are the tools I use for the cheapest (and most reliable) vacation planning:
🏠Booking – Affordable hotels and apartments
🏠Hostel World – Safe and budget-friendly hostels
✈️Skyscanner – My favorite tool for cheap flights
🚗Discover Cars – Best place for car rentals
🚄Trainline – The easiest way to book local trains in advance
📶Airalo – eSim cards for easy internet access while traveling
🦺Safety Wing – The #1 travel medical insurance
💸Airhelp – Cancelled flight compensation (it's free!)
💱Wise – Easiest low-fee way to transfer currency
Affiliate disclosure: This post may contain affiliate links. These are links to services I personally recommend using for your trip to Valencia. At no extra cost to you, I may earn a small commission from these brands if you choose to make a purchase. Your support helps me pay my bills and eat more bunyols!