Grab a drink and enjoy the skyline by checking out the best rooftop bars Valencia has to offer. From stylish lounges with panoramic views to vibrant venues offering unforgettable experiences, Valencia's rooftops are a must-explore.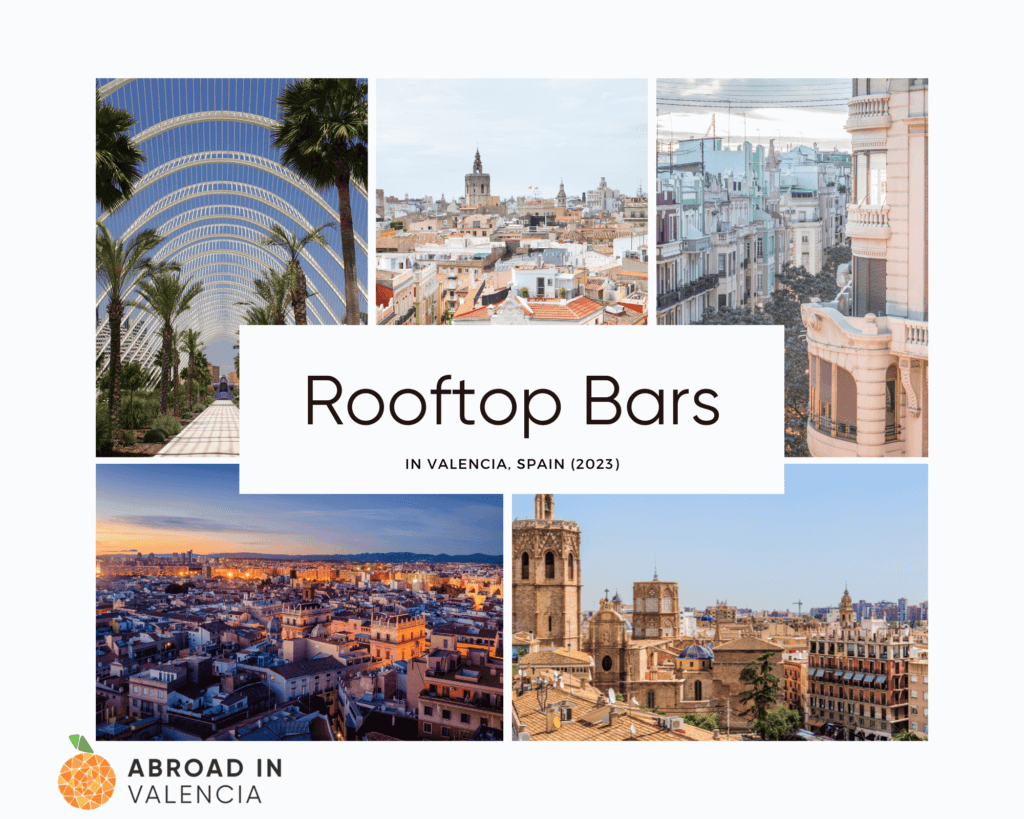 The Best Rooftop Bars – Valencia
Whether you're looking for a drink after a great meal or you want to explore some tardeo culture, in this guide I'll show you all of Valencia's high-elevation gems.
Most of the rooftop bars specialize in cocktails, wines, and vermouth, making it the perfect way to finish off an evening. The world of rooftop bars in Valencia is relatively new and growing – so you'll be able to enjoy a chic, relaxing, and luxury-style drink in this warm Mediterranean city.
So let's dive into my list of the best rooftop bars Valencia has to offer.
1. Atenea Sky
Website: Atenea Sky
District: Ciutat Vella
Price: €€
Location: C/ Moratín, 12, 46002
My top recommendation for a rooftop bar in Valencia – Atenea Sky.
It's located in the heart of downtown with views overlooking the entire city center. And that's exactly why it makes it to the top of my list. It's on the top of the historic Ateneu Mercantil building, so you'll also see it listed as the Ateneo Sky bar.
The location is perfect and the terrace has a chic, but not over-the-top vibe. And best of all – the cocktails are actually a reasonable price.
You'll find cocktails for around 12€ and mocktails for 9€. Wines and vermouths range from 4€-8€.
The only downside in my opinion is that their beer selection is lacking, so I would stick to the cocktails.
Pro Tip: Cocktail hour starts at 11pm and you can make a reservation for 4 or more people. If you're coming on the weekend, definitely make a reservation.
2. Blanq Carmen Hotel Rooftop
The next spot on this list of skyline bars is Blanq (Carmen). The bar itself belongs to the hotel, but anyone is welcome to head upstairs and enjoy some terrace-level drinks.
Situated in one of the best areas of the Old Town, this hidden gem is a treat for anyone looking for a laid-back vibe with live music.
The great location makes it one of the most popular rooftop bars in Valencia.
Since it's a hotel, the prices are slightly higher than some others – but it's a great option if you're nearby. Head up to the 5th floor from 16:30 – 24:00 to enjoy some cocktails and tapas overlooking the Jardins del Túria and the Torres dels Serrans.
Note: The rooftop terrace also has a pool and spa reserved for hotel guests. Book your stay if you're looking to go for a dip!
3. Àtic Resto Bar Palau Alameda
Website: Palau Alameda
Neighborhood: Mestalla
Price: €€€
Location: C/ de Muñoz Seca, 2, 46010 València
The Palau Alameda is an interesting space with events changing daily.
Just a few minutes outside the center and you'll discover an enormous building that features restaurants, a concert area, and even a nightclub. So if you want a single place to enjoy it all – here's your spot.
Take part in the Tardeo Àtic from Tuesday to Sunday to enjoy the Valencia skyline and some high-end cocktails.
It's a more exclusive venue with luxury, innovative drinks. So depending on your budget, it might not be everyone's top choice. But if you're looking for an unforgettable way to see the sunset, make sure to reserve a table.
4. Madre
Website: Madre
Neighborhood: Cabanyal
Price: €€
Location: C/ d'Eugènia Viñes, 227, 46011
Madre is a beachfront bar/restaurant with an eclectic, high-energy Latin vibe. Grab a drink (and some Peruvian food) here to enjoy the sea breeze, the exciting music, and the dance shows.
To be fair – this isn't exactly a skyline rooftop. It's really just the terrace on top of a two-story building. But you're directly in front of the beach with a bright and invigorating atmosphere.
All of the cocktails are around 8-10€, which is a very affordable price considering the location.
So if you're looking to enjoy some late-night Cabanyal experiences, Madre is a great place to enjoy.
5. Kamikaze Sky Bar
Website: Kamikaze Sky Bar
District: Eixample
Price: €€€
Location: C/de Colom, 32, 46004
Head over to the biggest shopping street in the city and go up to the top floor for some high-end cocktails.
Kamikaze Sky Bar is known for their simple, fresh cocktails with views overlooking the city. It's on the 7th floor of the NH Collection Valencia Hotel and offers a range of wines and drinks to enjoy the sunset.
They also offer a piano bar and live weekly concerts, which is exactly why they'll make it on this list of the best rooftop bars in Valencia.
6. Barceló Valencia
Website: Barceló Valencia
Neighborhood: El Cabanyal
Price: €€€
Location: Av. de França, 11, 46023
Want a view of the City of Arts and Sciences while enjoying a cocktail? Then you'll want to see the 270 Bar at the Barceló Valencia Hotel.
This makes it to the list of the best rooftop bars Valencia has to offer because of its location. It's one of the only bars with views to the modern areas of the city, making it a unique addition to the list.
They also have an inside area with huge glass windows, so it's great option during a rainy day or the colder months.
Enjoy some fantastic drinks from 16:00 to 23:00, or stay at the Barceló Valencia hotel to take advantage of their rooftop pool, as well!
7. La Plaça Gastromercat
Located on the top floor of one of the El Corte Inglés's, you'll enjoy nice panoramic views of the city.
This makes it to the list of the best rooftop bars because of its convenient location, great food, and reasonable prices.
While it may not be the most chic experience, the Plaça Gastro Mercat is a great spot to sit down and relax if you've been doing some heavy shopping.
Since it's found on the top floor of one of the biggest department stores in the city, you can relax and recharge after buying all of your souvenirs.
Note: There are 3 El Corte Inglés's on the same street – so make sure you go to the right address!
8. L'Umbracle
Website: L'Umbracle
Area: Ciutat de les Arts i les Ciències
Price: €€€
Location: Carrer de l'Enginyer Manuel Soto, 5, 46013
To be fair – I'm stretching the concept of Valencia rooftop bar a bit, but L'Umbracle offers fantastic views and great cocktails in the modern City of Arts and Sciences.
At night, this elevated garden turns into an elegant bar, making it an exciting way to make the most of your experience in the city. Then, the floor beneath turns into Mya, the nightclub.
So if you're looking to get a drink and do some dancing to spice up your culture trip – this is the perfect outdoor venue for you.
Mya and Terraza L'Umbracle are open from Thursday to Saturday and require tickets in advance.
9. Only You Hotel
Website: Only You Hotel
District: Ciutat Vella
Price: €€€
Location: Plaça de Rodrigo Botet, 5
Only You is one of the biggest hotel groups in Valencia, with plenty of great locations downtown. In the luxury hotel next to the Plaça de l'Ajuntament, you'll be able to enjoy the sunset bar on its rooftop Mirador.
This Valencia rooftop bar gets a special mention because of the top location and the prestige of the bar/restaurant that accompany it.
However – it's only open during June, July, and September. They'll close down during August. So make sure you keep that in mind while planning your trip!
Rooftop Bar Honorable Mentions
The 9 bars I mentioned are the ones that I recommend the most. But if you're looking to head on a lengthy tour of the city's skyline drink options when you travel to Valencia, here are a few alternatives to check out:
Marina Beach Club (Marina Real Juan Carlos)
VLC Urban Club
Enjoy the Best Rooftop Bars in Valencia
This Mediterranean city enjoys plenty of sun, warm weather, and clear skies. In other words – it's the perfect place to enjoy a cocktail from one of its rooftop bars. Valencia might not have a ton of options for high-elevation drinking, but the spots you do have are worth the visit.
Check out the best rooftop bars in Valencia for an unforgettable addition to your trip to the city.
And as always – if you need any help planning your stay, just reach out! 
Bon viatge!
FAQs
What's the best rooftop bar in Valencia?
In my opinion – Atenea Sky offers the best views, great cocktails, and reasonable prices. 
Does Valencia have a good nightlife?
While you'll have fewer options when compared to Barcelona or Ibiza, Valencia still has an exciting nightlife.
Do I need to stay at the hotel to go to their bar?
Nope! While some hotel rooftop bars have extra amenities for their guests, anyone can enjoy the restaurant and bar at any of these hotels in this list. 
Need help planning your trip to Valencia?
Here are the tools I use for the cheapest (and most reliable) vacation planning:
🏠Booking – Affordable hotels and apartments
🏠Hostel World – Safe and budget-friendly hostels
✈️Skyscanner – My favorite tool for cheap flights
🚗Discover Cars – Best place for car rentals
🚄Trainline – The easiest way to book local trains in advance
📶Airalo – eSim cards for easy internet access while traveling
🦺Safety Wing – The #1 travel medical insurance
💸Airhelp – Cancelled flight compensation (it's free!)
💱Wise – Easiest low-fee way to transfer currency
Affiliate disclosure: This post may contain affiliate links. These are links to services I personally recommend using for your trip to Valencia. At no extra cost to you, I may earn a small commission from these brands if you choose to make a purchase. Your support helps me pay my bills and eat more bunyols!