Thinking about visiting Valencia in October? This guide will go through everything you need to know to make the most out of your trip and prepare for the Valencia weather. October is a great fall time month filled some of the biggest cultural activities of the year! So let's explore whether October is a good time to visit Valencia, what the weather is like, what to wear, things to do, travel tips, and more!
Is October a good time to visit Valencia?
October is absolutely one of the best times to visit Valencia, with one caveat – it's peak rainy season.
So why is it still a good time to visit? Well, plenty of reasons. The temperature is perfect for exploring the outdoors, Valencia's national holiday takes place, and the rainy season in Valencia still isn't all that rainy.
Let's look at some pros and cons:
Pros
Cool days with an average high of 24.3°C (75.7°F)
The holiday on the 9th brings huge parades and events
Slow tourist season means better rates on hotels and flights
Cons
An average of 5 rainy days
The most likely time of the year for storms
Not the best time for the beach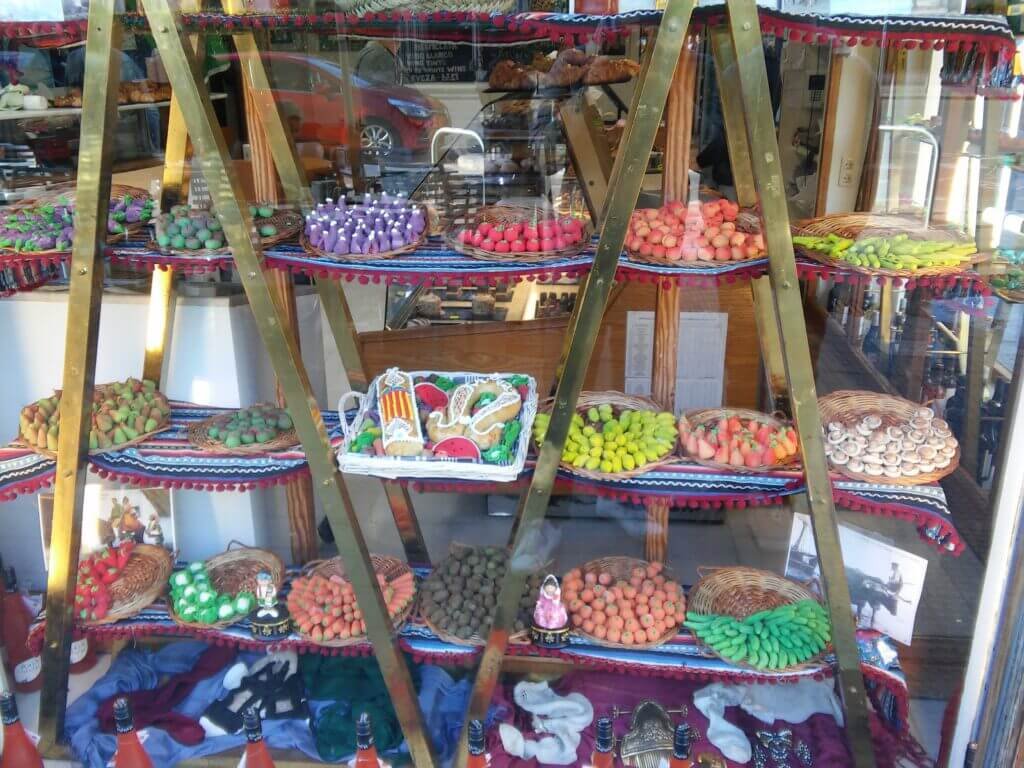 In my opinion, the pros definitely outweigh the cons. So if you're planning on visiting Valencia in October, let's dive deep into what to expect, fun things to do, and then extra travel tips to make the most of the trip!
Valencia Weather: October
The weather in Valencia in October starts to bring cooler days as summer finally came to an end. But if you're from a colder area of the world, you might consider it to be prime T-shirt weather.
The only downside is the higher chance of precipitation. So let's talk about exactly what to expect with these weather conditions.
Temperature
Like most of the months, when it comes to Valencia weather, October is generally mild and pleasant.
The average high temperature is around 24.3°C (75.7°F), while the average low temperature drops to a comfortable 15.2°C (59.4°F). 
This means that the days are warm, but evenings can be slightly cooler, so having a light jacket or sweater is recommended. October is also known for having an occasional heat wave, pulling things back up to summer weather. So there is a pretty good chance you'll have warm and sunny weather to enjoy your trip.
Rain
However, October is the month that sees the most rain in terms of Valencia weather. In October, you can start seeing more rain showers, with an average of 5 days of rain and averages 74mm (2.9 inches) of rainfall. 
So maybe if you're coming from Southern California or drier regions of the world – this probably seems like a lot.
But the truth is – 5 days of rain still isn't that much. You do run the risk of having a thunderstorm mess up some of your outdoor plans, but it's not a very high risk. You'll also see lower wind speeds, but with more cloud cover. In other words – gray days are more common.
In my opinion, the beginning of sweater weather and all the festivities make up for any chance of rain ruining my Valencia October plans. But if you're pressed to guarantee the maximum amount of sunshine possible – you'll want to come in June or July instead.
What to wear in Valencia in October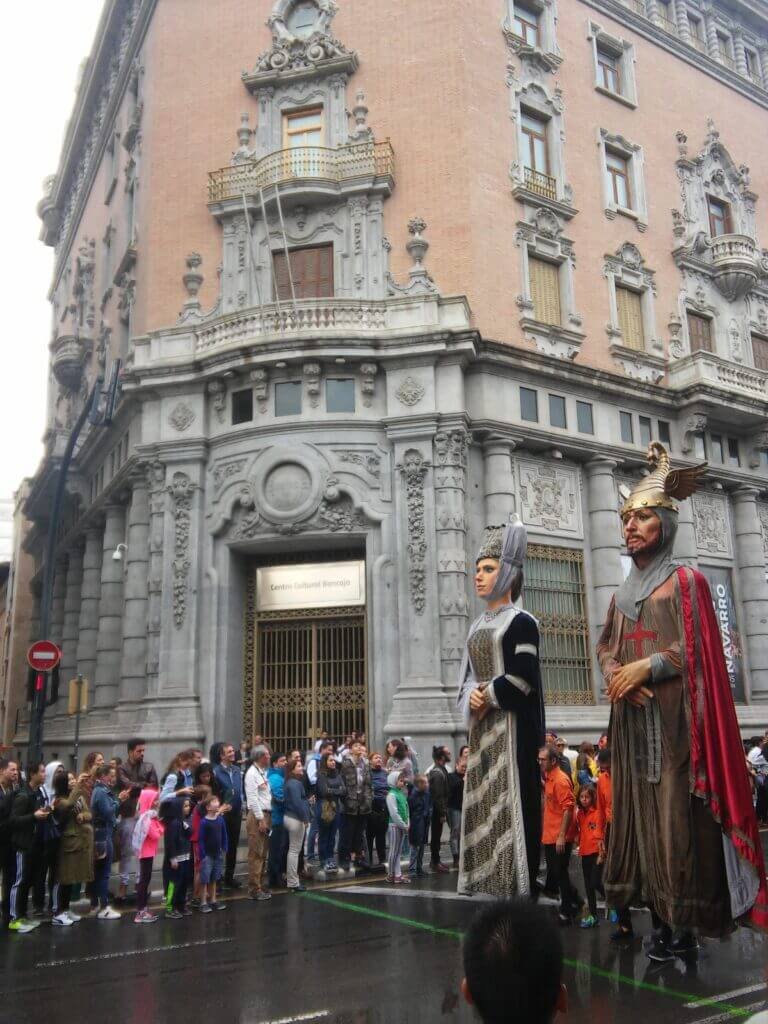 Packing should be relatively easy for your October trip to Valencia. You'll just need comfortable clothes for exploring, plus an extra layer to handle the rain or chilly nights. Here's a packing list to help you stay prepared:
Light and breathable clothing for the daytime
A light jacket or sweater for cooler evenings
Comfortable walking shoes for exploring the city
An umbrella or a compact rain jacket in case of rain
What to do in Valencia in October
If you want to get to know Valencia, October is a great time to visit. From cultural festivities to cool temperatures for exploring – it's one of my favorite times to enjoy the city.
Make sure to check out my article on everything there is to do in the city. But for now, let's focus on those October-specific events that you don't want to miss!
Nou d'Octubre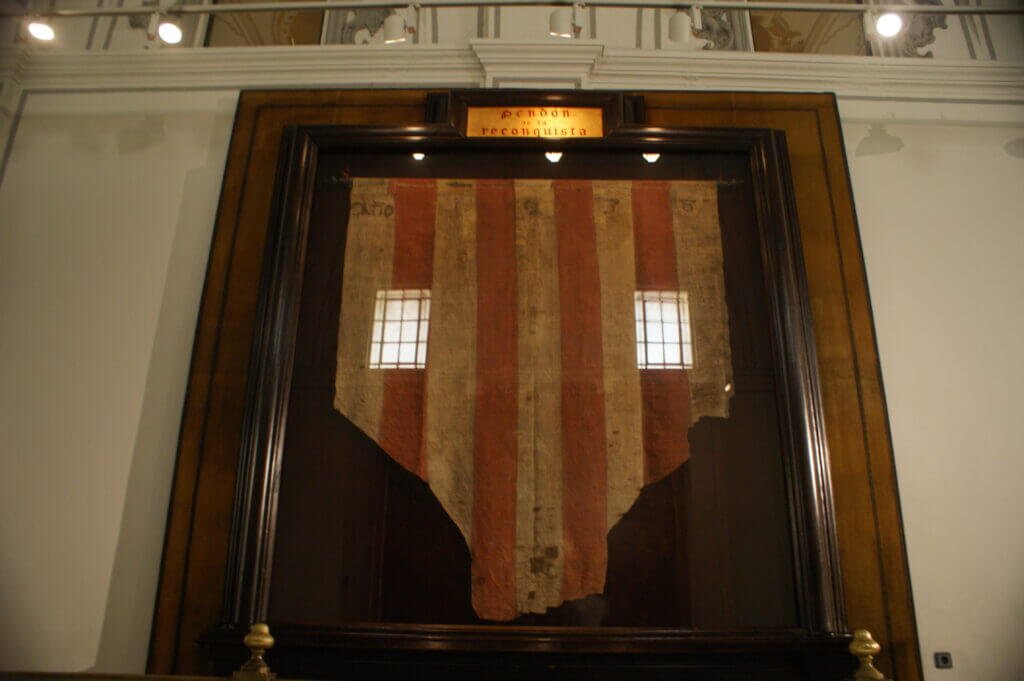 The flag flown during the reconquest of 1238 – visitable inside L'Ajuntament
The 9th of October marks two important festivities in Valencia. The first – and most significant one – is the Diada Nacional del País Valencià, Valencia's National Holiday. It celebrates the reconquest of the city by King James I in 1238. 
Today, the holiday is celebrated with parades, commemorative concerts in the Palau de la Música, firework displays, and a flower offering to a Statue of King James I.
There is always a huge firework display in the Túria River around midnight of the night before (the night of the 8th/morning of the 9th), so you don't want to miss out on that!
And finally, El 9 d'Octubre is always marked by large protests during the evening, pushing for various political and human rights. To tell you the truth – the 9th of October is a complicated day, with relatively complex political topics touching on identity, nationalism, and oppression. And as a tourist – you probably don't need to get to involved. But if you see protests – now you know why.
So for now, let's focus on the more celebratory aspects of the holiday. That brings us to the second important festivity, which just also happens to take place on the same day:
Sant Donís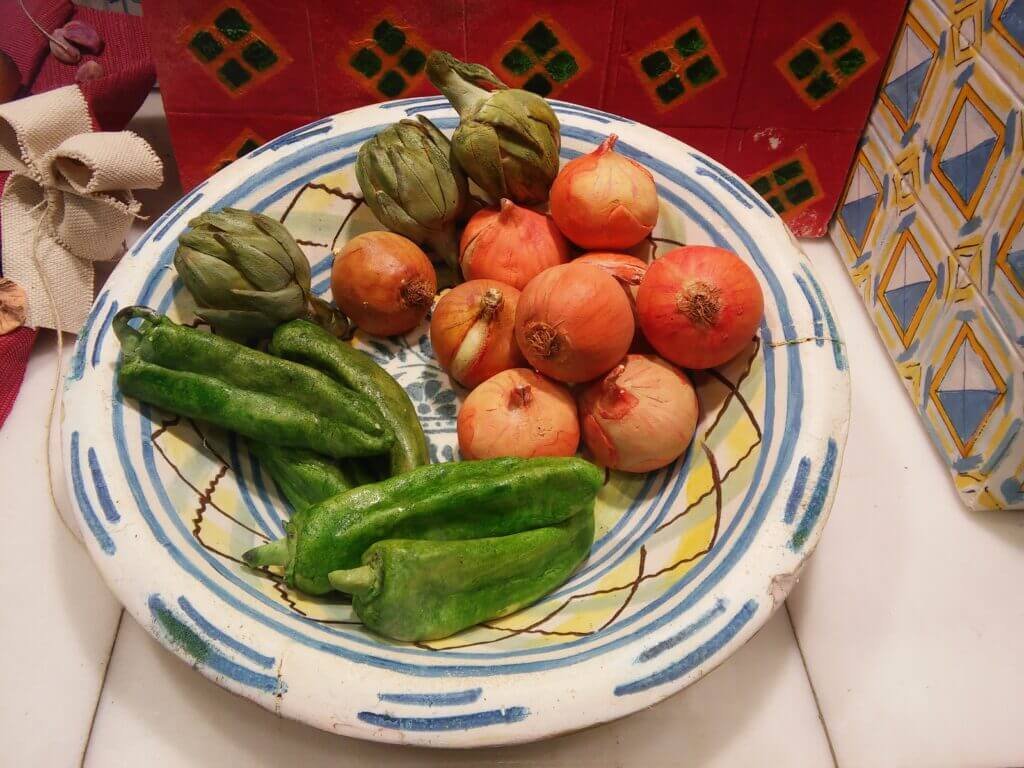 La Mocaorà – marzipan sweets made to look exactly like local vegetables
Sant Donís (San Dionisio in Spanish and Saint Denis in English) is a 500-year-old festival characterized by incredibly artistic sweets. 
Walk around the city and check out the bakeries to see these delicious, artisan marzipan sweets shaped like fruits and vegetables.
One legend states that the Valencians gave fruits and vegetables as gifts to King James I, which came from the rich Valencian farms. And to celebrate and represent this act, people give sweets shaped like fruits and veggies during important events. But whether that is true, Valencians have been giving each other these sweets since the 15th century.
In more modern history, this has evolved into a common tradition where a man would give these sweets to his girlfriend/wife, so Sant Donís is also referred to as El Dia dels Enamorats (Lovers Day).
These days, there's also been a push to make this day less heteronormative/sexist and to celebrate love in general.
So if you visit Valencia in October, make sure to try the following sweets that all fall under the category of La Mocaorà:
La piuleta
El tronador
Fruites de massapà
Medieval Markets
Another great thing to do in Valencia in October is to go see the Medieval Markets. These often pop up in the park at the Túria Gardens and on the Pont dels Serrans.
You'll find traditional foods, fresh baked goods, and lots of artisanal crafts. These happen sporadically throughout the month and the official dates change every year, but you're likely to see them during the second week of October.
With the nice weather in Valencia in October, this is a great way to spend some time outdoors. You can grab some snacks, get some souvenirs, and enjoy the views of the city amid one of the most emblematic areas.
Día de la Hispanidad
If you come to Valencia in October, it's important to remember that October 12th is a holiday throughout the entirety of Spain. The Día de la Hispanidad is Spain's national holiday.
In Valencia, there isn't a whole lot going on to celebrate. There aren't any famous parades or celebrations, but everything will be closed and people will be resting.
So if you plan to visit during this day, you may notice that flights and hotels are going to be slightly more expensive. Lots of shops and museums may also be closed – so keep this in mind as you're planning.
And while you can take advantage of the nice October weather in Valencia, Spain has cities with bigger celebrations for the Día de la Hispanidad. The most famous celebrations are in Madrid – so it could be worth timing your trip to Madrid on the 12th.
Tips for traveling to Valencia in October
All planned and ready for your Fall trip to the city? Let's go over some tips to make sure everything goes smoothly!
Enjoy the cultural immersion
October is an important month for Valencians! You'll see lots of celebrations around the 9th, as well as plenty of social activities surrounding it. It's the perfect month to practice your Valencian skills and embrace the culture during your holiday.
Bring an umbrella
If you're coming in October, Valencia experiences some rainfall, so don't forget to bring a compact umbrella or a light rain jacket.
Again – Valencia isn't a super rainy city, but it's still better to be prepared!
Consider getting your flights covered
If you're coming to Valencia in October from abroad, I highly suggest looking into travel insurance – especially to cover your flights if you're coming from the U.S.
My reasoning for this is that October is hurricane season in the U.S., so you have a high chance of your flights getting cancelled. So even if you just have a connecting flight that goes anywhere close to stormy areas – you don't need the hassle of having your trip ruined by this.
And then to top it off – there are lots of storms in Europe in October as well. So personally – I would spend a few extra dollars to make sure that those $500+ flights don't go to waste.
I recommend using Safety Wing for this. They are travel medical insurance that covers just about any stressful situation. And maybe I'm just overly cautious – but I've had way too many flights cancelled on me, so I always invest in some peace of mind for international flights.
Enjoy the fall foods
Valencia has a rich gastronomic scene, so make sure to head to the Mercat Central to try out some local produce. There are also many restaurants that utilize local and seasonal ingredients for their dishes.
If you've never had them before – make sure to try caquis (persimmon). I had never had them before moving to Valencia, and they are super tasty!
And don't forget to go on a bakery tour, checking out the most spectacular displays for the mocaorà!
Is Valencia worth visiting in October?
October is a great time to visit Valencia! Spain, in general, has very pleasant weather in October and Valencia sees less rain than most places in Europe.
You'll also get to see important cultural events, see exciting festivities, and enjoy seasonal food. And most importantly (for me) – those summer crowds are gone! So you get a more authentic experience for your October trip to Valencia.
Bon viatge!
FAQs
Is October a good time to visit Valencia?
Yes, October is a great time to visit Valencia. The weather is cool, with the occasional chance of rain. You can also enjoy cultural events and attractions without the summer crowds.
What is Valencia like in October?
Valencia in October is characterized by mild temperatures, occasional rain showers, and cultural celebrations, making it an ideal time for exploration and immersion.
How warm is Valencia in October?
Valencia in October experiences average high temperatures around 24.3°C (75.7°F), which is perfect weather for walking around the city. The water temperature may be too cold to swim, but you can also enjoy a pleasant walk at the boardwalk on the beach. 
Need help planning your trip to Valencia?
Here are the tools I use for the cheapest (and most reliable) vacation planning:
🏠Booking – Affordable hotels and apartments
🏠Hostel World – Safe and budget-friendly hostels
✈️Skyscanner – My favorite tool for cheap flights
🚗Discover Cars – Best place for car rentals
🚄Trainline – The easiest way to book local trains in advance
📶Airalo – eSim cards for easy internet access while traveling
🦺Safety Wing – The #1 travel medical insurance
💸Airhelp – Cancelled flight compensation (it's free!)
💱Wise – Easiest low-fee way to transfer currency
Affiliate disclosure: This post may contain affiliate links. These are links to services I personally recommend using for your trip to Valencia. At no extra cost to you, I may earn a small commission from these brands if you choose to make a purchase. Your support helps me pay my bills and eat more bunyols!