Two days in Valencia might not seem like a lot, but it's plenty of time to get a quick introduction to the Mediterranean city. Read through this Valencia 2-day itinerary for a fun and realistic way to get to know the Cap i Casal.
Valencia: 2-Day Itinerary
The sunny paradise offers a range of sights, events, and culture to take in. From UNESCO World Heritage Sites to hidden medieval gems, it's no wonder that Valencia is a fast-growing tourist destination.
But with everything there is to do in Valencia, it can be hard to narrow it down.
Which is why I've prepared a detailed itinerary to spend 2 days in Valencia. It's a realistic plan that you can actually manage while still getting a taste of the culture and history.
So have a look through the travel plans.
And don't forget to check out the alternative activities and events in case you want to personalize your 2 days in Valencia!
Day 1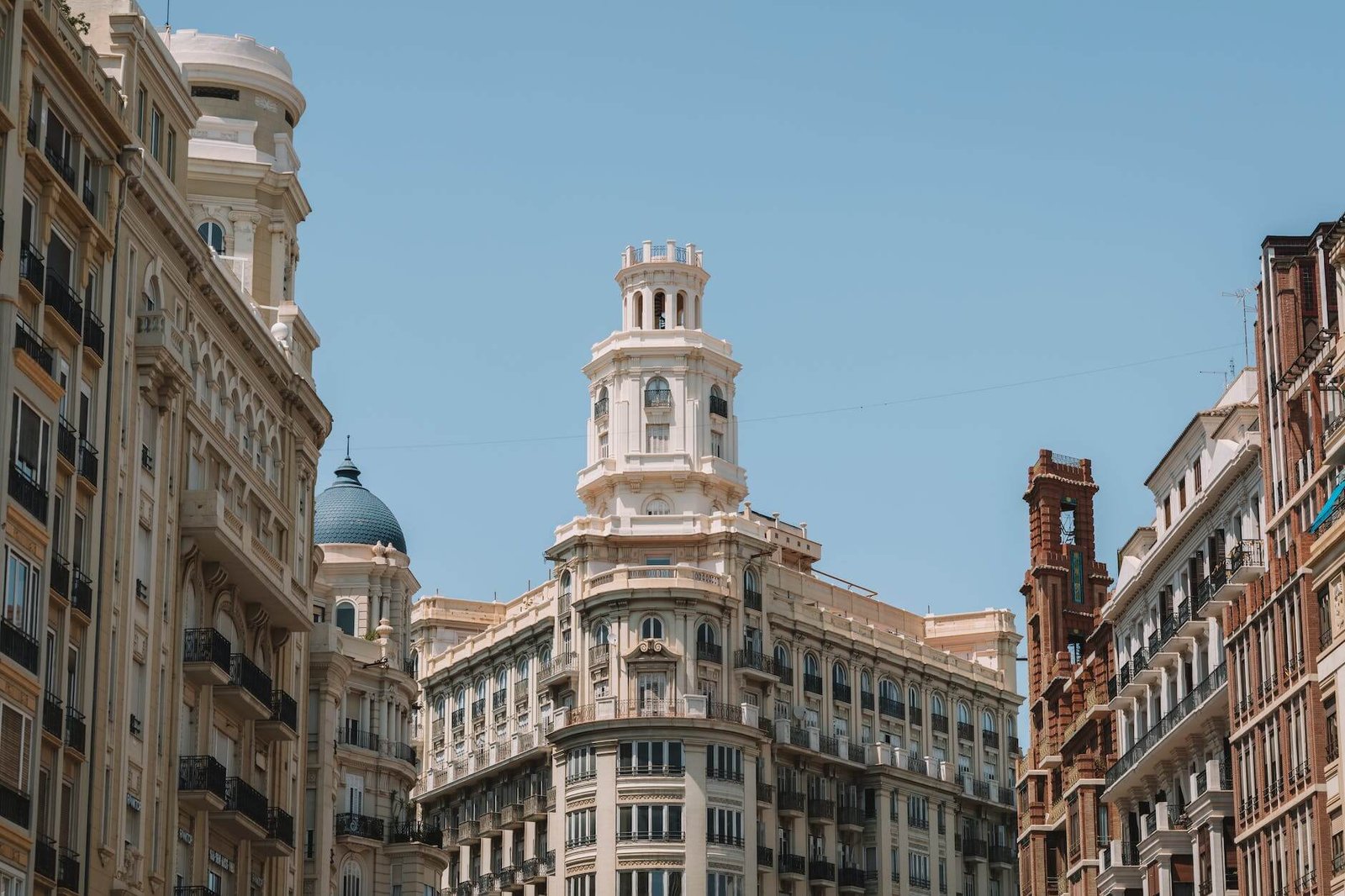 To start off your 2 days in Valencia, we'll be dedicating plenty of time to the historic city center. From Roman ruins to modernist landmarks, there is a lot to take in.
The best part of Day 1 is that you won't really need to take any public transport. Everything is easily accessible by foot.
And if you've booked lodging within the city center, that makes it even easier. So put on some comfy shoes, make sure your phone is charged, and get ready for an adventure.
Plaça de l'Ajuntament
I always recommend starting off your 2 days in Valencia at the Plaça de l'Ajuntament – The City Hall Square.
It's the largest plaza in the city and has tons of gorgeous buildings. From the neoclassical Town Hall to the eclectic central post office – it's a great place to start the day.
This area tends to be busy, with lots of entertainment events and social movements taking place. If you're coming on a Saturday, you can expect a lively ambiance.
But if you're coming on a weekday, then here's a pro tip: visit the City Hall. Not many people know that it's actually visitable M-F from 8-3. You can see the palace-like interior, check out the seat of government, and explore 800 year old relics. And don't forget to head out onto the City Hall balcony for a selfie overlooking the square!
Mercat Central
Once you've explored the City Hall Square, the next spot on our Valencia 2 day itinerary is the Mercat Central – the Central Market. 
It's the largest enclosed marketplace in Europe and is as gorgeous as it is functional. You'll still see local farmers and artisans selling their products directly. This makes it an excellent stop to grab a nice mid-morning snack, too.
Also referred to as the Mercado Central in Spanish, this food market is the perfect spot to get your fill of farm-fresh veggies and seasonal fruits.
Pro tip – when you're in the center, look up. You'll see giant murals on the ceiling that tells you which fruits and veggies are seasonal in Valencia!
La Llotja
Directly in front of the Mercat Central, you'll find La Llotja (The Silk Exchange). At the height of the Valencian Kingdom, this was used as the seat of commerce and a key point for the Silk Road.
This palace-style marketplace is one of the most important symbols of Valencia. It only costs a couple of euros to visit the inside, so it's definitely worth dropping in.
When you go in, you'll enter a patio filled with orange trees. Then head into the main marketplace to find an enormous space with twisting columns and bright, symmetrical tile floors. You'll definitely want to come in here for a quick selfie.
Head upstairs to check out the gold-adorned ceiling. It's just another exhuberant detail to show off the wealth and importance of the city during the 15th century.
Note: You'll also see this referred to as La Lonja. That's the Spanish translation, while the official name is in Valencian (La Llotja de la Seda de València).
La Seu
One of the most memorable spots during your 2 days in Valencia will absolutely be La Seu. The Valencian Cathedral is an architectural wonder full of history, art, and The Holy Grail (probably).
The cathedral currently doubles as a religious space and museum. After going in, you'll head to the right to check out the Holy Grail in a small chapel space.
Afterwards, spend some time exploring the archeological ruins. Once you finish through the museum, you can enjoy the rest of the church space. Check out the famous artworks, an enormous altar, and the uncorrupt arm of Saint Vincent.
Saint Vincent the Martyr is one of the two patron saints of Valencia. And his arm that has miraculously never rotted is one of the most unique attractions in Valencia. 
Once you finish visiting the Valencian Cathedral, you can pay a couple euros to go up the famous bell tower (El Micalet). It's definitely a hike, but you'll get an excellent view of downtown Valencia. 
Les Places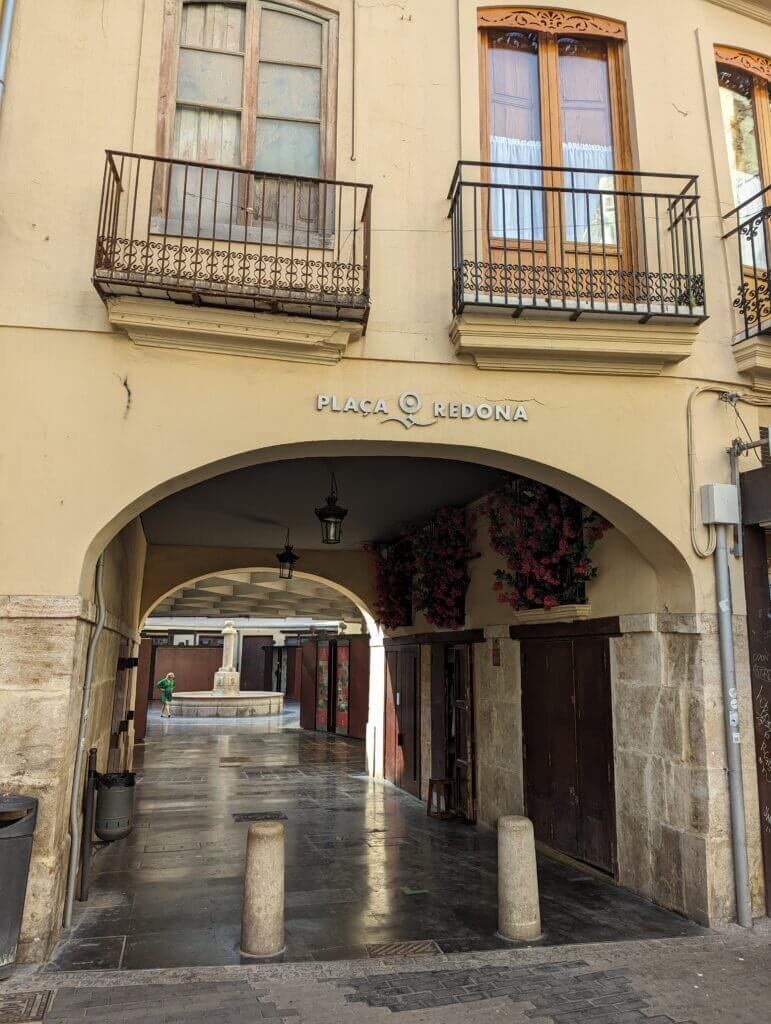 One of my favorite parts of this 2 day Valencia itinerary is visiting all of the plazas. There are tons of stunning city squares in the downtown area, and they're all worth visiting.
It's also a great idea to go on a quick tour right after visiting La Seu. The cathedral is located in a triangle between la Plaça de l'Arquebisbe, la Plaça de la Mare de Déu dels Desemparats, and la Plaça de la Reina. 
So besides the fact that each of them have something amazing to see – it's also a great spot to grab a quick coffee or granissat de llima (lemon slushie). 
Here are my favorite squares to add to your Valencia 2 day itinerary:
Plaça de la Mare de Déu
Plaça de la Reina
Plaça de Manises
Plaça del Patriarca
Plaça Redona
Plaça de l'Arquebisbe
Palau del Marqués de Dosaigües
Near the Plaça del Patriarca, you'll find a stately mansion with some less-than-modest decorations. The marquis' palace is a stunning display of Baroque architecture in the center of the city.
Head over here for a quick peek of the exterior. Since you only have 2 days in Valencia, I don't think it's worth checking out the inside. Currently, the interior is the National Ceramics Museum, so it won't be something everyone's interested in. But the exterior is definitely worth the visit! 
So just make a quick detour while visiting all of the town squares and enjoy the views of the entrance.
L'Almoina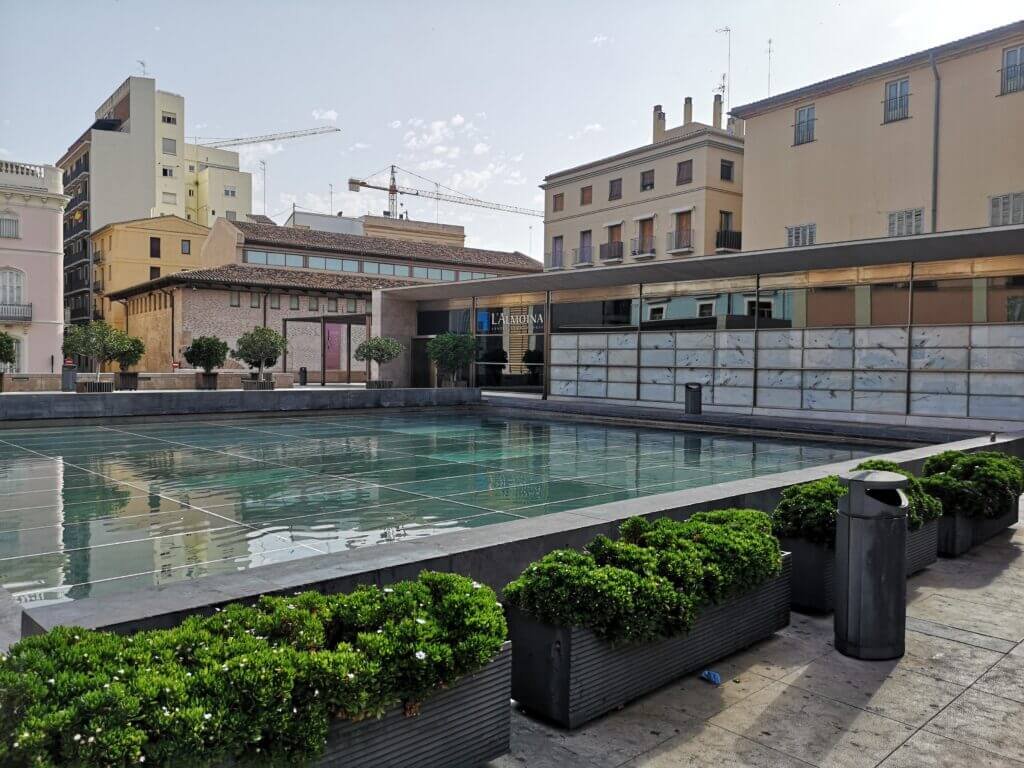 Since you have a bit more time on this Valencia 2-day itinerary, one of my favorite spots to check out is L'Almoina Archeological Museum.
It's located directly behind the basilica and gives you a quick tour of the history of Valencia. The museum shows the ancient Roman roads that crossed through the city. You'll also see ruins from the 700 years of Moorish rule in the city.
This museum only costs a couple of euros and is a pleasant introduction to learn more about how the city evolved over the last 1,000+ years. 
Depending on how fast you're heading through all the major spots – l'Almoina might be a good spot to visit after lunch. Since it has air conditioning, this is an easy way to stay indoors during the hottest part of the day.
Torres dels Serrans
One of the most emblematic monuments in the city is the Torres dels Serrans. These medieval towers mark one of two entrances into the previously fortified city. 
Along with the Torres de Quart, these towers are the only sections that remain from the old city walls.
If you're not afraid of stairs, this is another great place to go up for a bird's eye look at the city. You'll get a great view of the city center and the sprawling Jardí del Túria (Turia Gardens).
And while the views from above are fantastic, the towers themselves are worth seeing, too. Head across the avenue and towards the bridge to get the best look at the towers. This will be one of the best spots for a quick selfie.
Sant Nicolau
Sant Nicolau (or San Nicolás in Spanish) is one of the best churches to visit in Valencia. It's also known as the Valencian Sistine Chapel — and for good reason.
Every inch of the church is filled with spectacular details, artwork, and stories. When you go in, I recommend getting one of the audio tours so you can really appreciate the interior. With so much detail, some guidance helps you appreciate it more.
Note: Make sure to check the official website for their touring hours.
Mercat de Colom
It's best to check this next place out in the afternoon/evening.  The Mercat de Colom (also referred to as Mercado de Colón in Spanish) is a huge open-air market near the shopping district. 
The building is one of the most important works of the Valencian Art Nouveu. Featuring Valencian motifs, it's simultaneously similar and completely different from the Central Market.
I recommend coming here to enjoy some orxata and fartons from Daniels. This traditional cafe serves one of the treats Valencia is most well-known for. And since its located right in the market, you also have a gorgeous area to sit down, relax, and recharge. 
If you still have time afterwards, you can walk down Carrer de Colom to get some shopping done. You'll find all of the biggest brands in this area, so shopaholics can make the most of their 2 days in Valencia.
El Carme
To finish off Day 1, you'll want to spend the evening walking through the streets of El Carme. It's one of the liveliest neighborhoods and is full of hidden gems.
From great restaurants to grab dinner to tons of tucked-away squares and bars to enjoy a drink, it's the perfect way to unwind.
So take a walk through the maze-like roads, enjoy the street art, and take in one of my favorite parts of the city.
Day 2
The first part of our Valencia 2-day itinerary was all about exploring the downtown and medieval historic center.
On Day 2, we'll head over to the most modern areas of the city. With plenty of museums, gardens, and one of the hippest neighborhoods – this is the best way to finish off your 2 days in Valencia.
La Ciutat de les Arts i les Ciències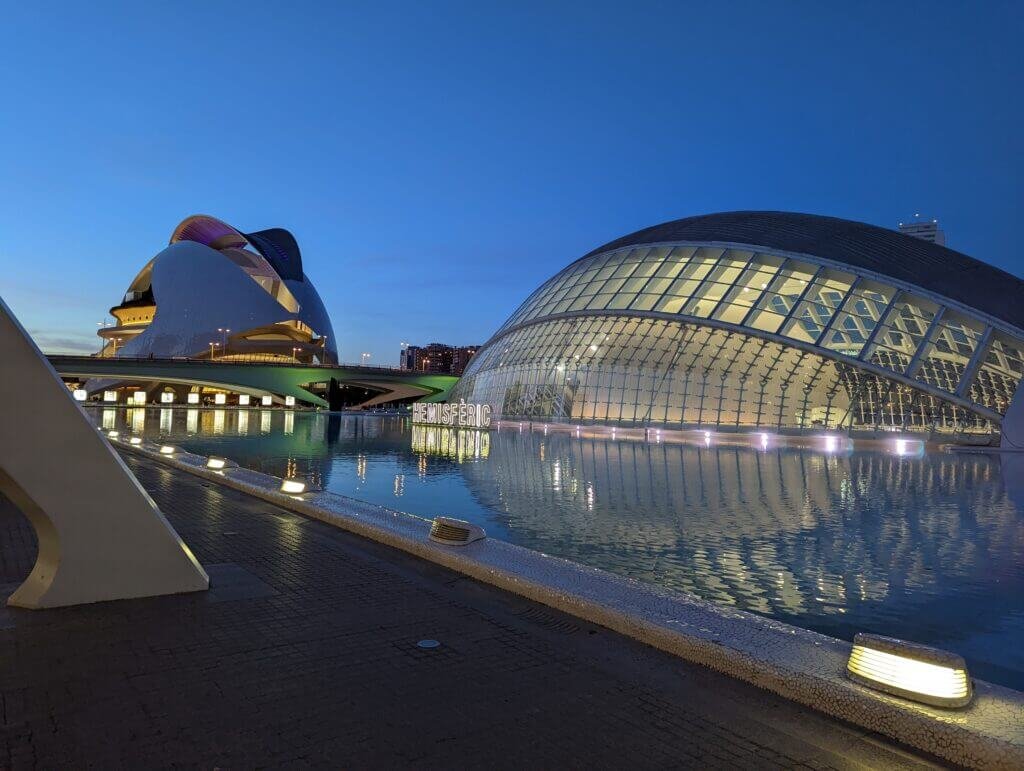 The City of Arts and Sciences is one of the most famous tourist destinations in Valencia. It is an enormous complex, formed up of futuristic museums and venues.
Everything here has an aquatic theme. From the aquarium to the fish-shaped buildings – it's an homage to the city's maritime connection.
You'll want to head over here early because it will definitely take you a lot of time to explore everything. If you decide to go into the interactive science museum, you'll need around 3 hours. But even if you don't go in, give yourself at least an hour to walk around and explore everything.
Here are the main buildings at the City of Arts and Sciences:
El Palau de les Arts Reina Sofia (an opera house)
L'Hemisfèric (an IMAX theater)
Museu de les Ciències Príncipe Felipe (a science museum)
L'Àgora (an events venue)
L'Oceanogràfic (Europe's largest aquarium)
L'Umbracle (a garden area)
L'Oceanogràfic
The aquarium is still part of the City of Arts and Sciences, but I like to keep it separate since I consider it a completely different experience.
L'Oceanogràfic is Europe's largest aquarium and is definitely worth the visit inside. Whether you're coming with kids or just appreciate the air conditioning – it's one of those can't-miss spots in the city.
It will take you at least 3 hours to completely see everything. But they do have plenty of food courts, so you can fill up after all that walking.
This is definitely one of the most famous spots on your Valencia 2-day itinerary and one of the most family-friendly.
Museu Faller
This relatively small museum is one of my favorite hidden gems in the city. Located across the road from the City of Arts and Sciences (look for the blue dome), it showcases the history and culture of Les Falles.
During Les Falles festival every year, the streets are filled with enormous artworks. Then on March 19th, all of them are burnt to the ground. All of them except for one small piece of the winning artwork, the ninot indultat. 
The museum holds all of the ninots indultats from the last 100 years. This gives you a chance to see how society, culture, and art have evolved in Valencia since the early 1920s. 
This is the perfect way to get an inside look at Les Falles and get a deeper understanding of its history and significance.
Note: The museum closes at 6 pm, so make sure to head over before then.
Jardí del Túria
The Turia Gardens are situated within the old riverbed. After some serious floods, the city decided to divert the river. Now, that empty space has been transformed into a park that stretches through the entire city. 
The gardens begin on the outskirts of the city and head all the way down to the sea, ending at the City of Arts and Sciences. So naturally, this makes it a great spot to see on the same day. 
You can rent a bike for a relaxing ride through the park. Or you can just take a nice walk and enjoy all the different sections. And if need some exercise after over-indulging – there's a dedicated jogging lane that's almost 10 km long.
It's the perfect space for kids, couples, or anyone just looking to breathe in some fresh air. So make sure you at least take a short trip through the park to make the most of your 2 days in Valencia.
Russafa
The final stop on our Valencia 2-day itinerary is Russafa. Also unofficially referred to as Ruzafa in Spanish, it's currently one of the most lively neighborhoods in the city. 
It was previously its own town, but eventually Valencia absorbed it. Now, you get to enjoy the shorter buildings and town-like charm in an exceptionally hip area of the city. 
Besides its pretty architecture, Russafa is known for being the hub for up-and-coming restaurants. From completely unique experiences to modern takes on classical dishes – this is one of the best neighborhoods to eat in Valencia.
So take a walk through the city, and grab a bite to finish off seeing Valencia in 2 days. Here are some of my suggestions for restaurants and bars:
Food
Zalamero – A modern twist on classic Valencian coques
Voltereta – Known for its impressive interiors at all its locations
La Casa Viva – A tasty vegetarian/vegan restaurant
La Salita – A Michelin-star restaurant inside an 18th-century palace
El Rodamon – Features global cuisine and an extensive wine list
Canalla Bistro – The Fusion restaurant by Michelin-Star Chef Ricard Camarena
Maui – An affordable restaurant with Mediterranean food
Mare Meua – A great tapas bar
Drinks
Birra de Brian
Ubik Café
Delorean Lounge
Olhöps
Ruzanuvol
Bukowski
Alternative Valencia 2-day itinerary plans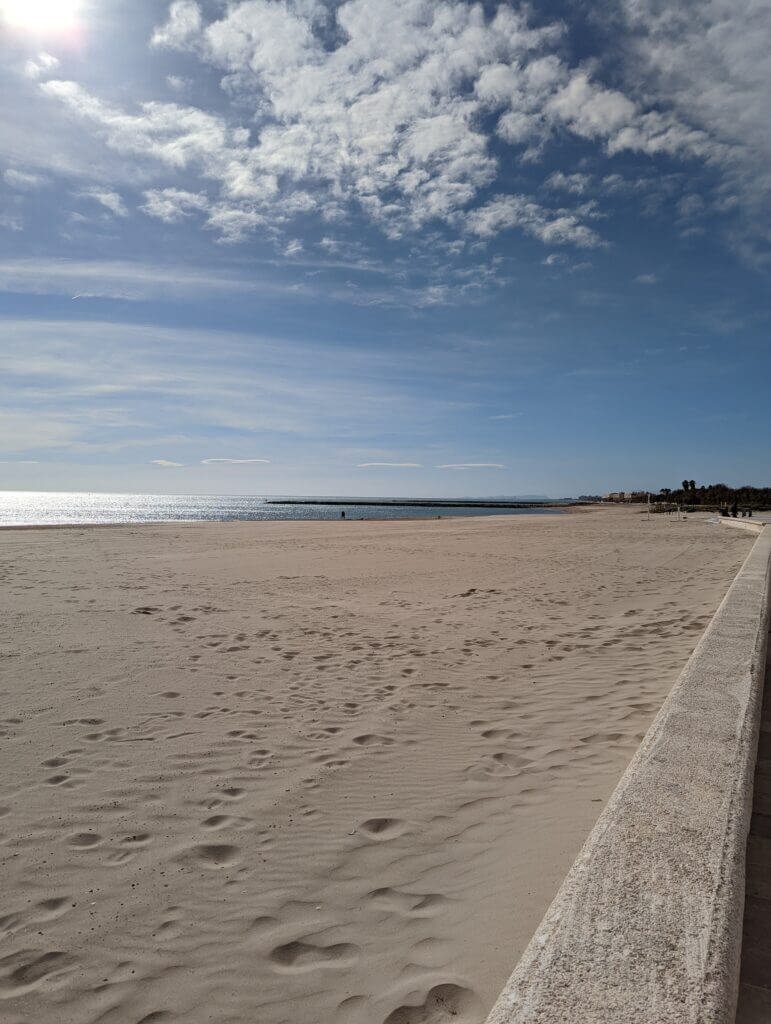 Everything I listed above is my general recommendations for how to spend 2 days in Valencia. Spain is full of amazing places to see – so let's make sure you're making the most of every day you have!

But of course, everyone is going to have their own preferences. Maybe you're not into museums or maybe you just want to avoid so much walking … 
No matter what the case is, here are some alternative plans to see Valencia in 2 days:
Bike Tours – Get a quick view of the city and check out the surrounding areas.
Bus Tours – Rest your feet, enjoy the breeze, and listen to your guide.
Malva-rosa Beach – Work on your tan and go for a dip in the Mediterranean.
La Marina – See a new side of town and get some beach-side paella.
Paella Cooking Class – Get your hands dirty and try something new!
Still need more options? Check out the top 50 things to do in Valencia.
So, are 2 days in Valencia enough?
2 days in Valencia is enough to get a quick view of the city. You'll have to move at a quick pace and you might not be able to spend as much time at every location, but it's still worth visiting.
But if you want to check out the most important monuments, as well as see 1 or 2 museums – then 2 days should be enough.
However, I generally recommend 3 days to be able to see things at a more pleasant pace. 
Go plan your Valencia 2-day itinerary
I hope these Valencia travel plans give you everything you need to enjoy the city. Don't forget to check out some of my travel tips for Valencia before you come, though!
So save this page, and don't be afraid to personalize the itinerary to suit your tastes. Let me know in the comments below if you think there's anything missing or if you have any questions!
Enjoy your 2 days in Valencia!
FAQs
What should I see in Valencia for 2 days?
Plaça de l'Ajuntament
Mercat Central
La Llotja
La Seu
Les places
L'Almoina
Torres dels Serrans
Sant Nicolau
Mercat de Colom
El Carme
La Ciutat de les Arts
L'Oceanogràfic
Museu Faller
Jardí del Túria
Russafa
Are these 2 days for the weekend?
Nope, this counts for any two days of the week. I have another guide for a Valencia weekend itinerary. It's a little different since some things are closed while other places are free on Sundays!
What isn't worth seeing in Valencia in 2 days?
Personally, I wouldn't go to the beach because I believe there are better beaches and things to see in Valencia. I would also ONLY go in the museums you're really interested in.